If you're not involved in ad tech, transitioning to another client after a strategic sale might be a feasible option. However, in the digital advertising realm, making a sale marks just the beginning.
Picture a digital advertising platform as a colossal mechanism with numerous intricate components and operational variables. For newcomers, navigating a system with such complexity can seem nearly impossible.
Ad ops professionals play a crucial role in ensuring everything runs smoothly, from the ad server to client communications. Outsourced ad ops specialists, on the other hand, have the ability to drive your revenue generation forward without the additional burden of time-consuming employment-related challenges. Let's explore how the behind-the-scenes ad operations team handles the intricacies of ad-serving processes in an outsourced capacity.
What is a Dedicated Ad Ops Team?
A Dedicated Ad Management Team is a specialized group of professionals responsible for overseeing and optimizing the entire lifecycle of advertising campaigns on ad exchanges. This team typically consists of experts in areas such as campaign strategy, ad operations, data analysis, and creative development. Their primary goal is to ensure the successful strategic planning, execution, and performance of advertising initiatives.
Aspects and objectives of ad operations:
Ad trafficking
Ad ops monitor the ad operations from head to toe, starting from the deliverability of the campaigns. Ad trafficker tunes a campaign up according to the most suitable targeting strategies, performs online ads optimization, and makes sure that campaigns are set up appropriately to go live without a hitch. Ad ops also assist pixel creation for the clients in order to track how the audience interacts with creatives. If necessary, they also perform troubleshooting.
Scheduling
As known, programmatic advertising helps to automate ad buying and selling. Ad ops, in turn, make sure that the campaign is started due to a particular deadline and is delivered timely to the targeted demographics. For targeting and retargeting users, advertisers can pick special days: holidays, weekends, or a certain time of the day. Ads ops know when the CPMs are higher and lower throughout the season, so they can use knowledge about daily fluctuations to optimize client scheduling.
Optimization
Programmatic ad ops support the day-to-day online ad operations of both programmatic and programmatic direct campaigns (non-RTB direct sales). Also, these people are involved in optimizing campaigns in order to reduce cost and suit creative performance best according to the ad placements (and the ad viewability). They fine-tune the campaign so that it could achieve the desired metrics and performance during the period. You can check an example of ad placement optimization matched to the digital content below.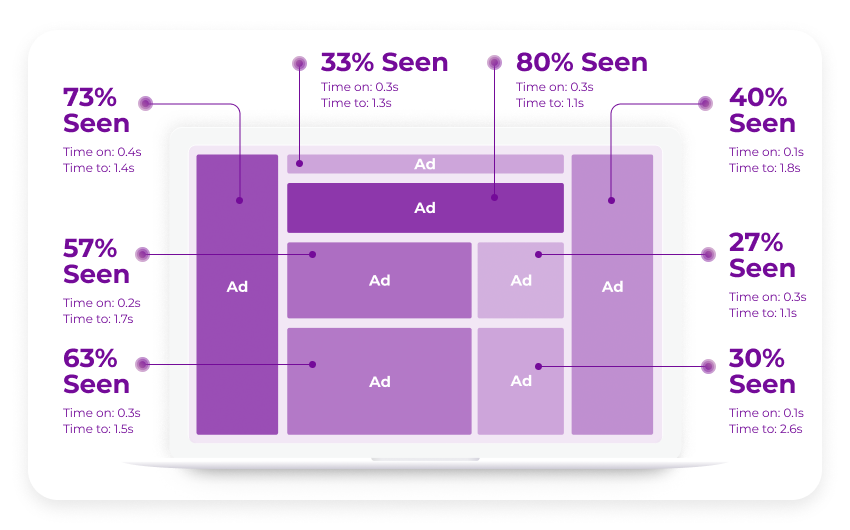 Maintaining demand
When the marketer, advertiser, or media buyer submits the creative on DSP, online banner, video, or display ad is getting instantly reviewed and checked by ad operations to ensure that the creative adheres to the specifications set by the rest of the network partners. Plus, it should match the advertising inventory. Also, in a non-programmatic environment, publishers often require professionals to manage demand for them: keeping contracts, negotiating prices with demand sources, etc.
Revenue generation
Digital ad ops are directly in charge of revenue generation as they are the ones who run ad campaigns behind the scenes. An employee in charge of yield management and revenue generation specifically looks for such opportunities and stirs progress in this direction, e.g., allocates ad budgets to the various ad space types and placements to achieve greater profits.
Generating reports
Ad ops pull together the data from a first-party ad server and third-party ad server; for this, they need to generate and review weekly, monthly, and daily system reports. The examples of what these reports may contain are discrepancies, such metrics as impression count, along with attribution metrics like CTR.
In a nutshell, people employed in ad operations understand how to set up a campaign for a client and achieve desired results, leveraging all capacities and functionality of the operating advertising stack. Their functions are widely diversified. Apart from the mentioned tasks, the ad ops team also closely collaborates with the rest of the media team and updates them about any possible change in campaign flow.
Why do companies hire outsourced ad ops?
Advertising operations are complex, and numerous studies of the programmatic market regularly indicate that the main factor that inhibits media business development is the lack of qualified specialists. In fact, 44% of professionals who already work in Internet advertising report that they don't understand what programmatic advertising is and are not familiar with the procedures and processes of digital advertising campaign operations.
Ad agency typically faces the situation when it has to have:
Strong knowledge of digital advertising and programmatic processes;
High level of in-house tech capabilities (especially if you plan to create your own ad network, SSP, or DSP);
Strong established relationships with advertising vendors — publishers and advertisers, plus the rest of the tech vendors.
Despite such a colossal request, only a few media companies are engaged in training programmatic professionals (ad ops including) worldwide. Why? Because maintaining and training ad operations is very difficult — you have to own your proprietary ad technology, training methodology, market knowledge, industry trends, and understanding of business connections.
Only big ad tech companies with sufficient expertise can afford to train and grow professionals under their own roof. Some of those are willing to share their expertise with other companies so they can provide managed services that are beneficial for both parties.
Benefits of outsourced ad operations team
Outsourced ad ops become increasingly popular among companies because they enable entrepreneurs to save time and money essential for finding rare programmatic professionals. This way, companies solve tasks associated with the hiring process: screening, testing, interviewing, and the tasks related to keeping professionals on staff: paying salaries, labor taxes, and so on. Let's sum up what all these benefits boil down to:
Cost-effectiveness. Those who outstaff professionals free themselves from labor-related payments, including payrolls, paying money for employee search, office programs installation, let alone renting the office.
Saved time. Programmatic professionals of a high level are hard to find. It is convenient if you can reach them all in one place and gear your advertising solutions on the market without losing time in building your own team.
Guarantee of expertise. As a rule, outstaffing professionals work for big ad tech providers for quite a long time. They deepen their knowledge at summits and regularly polish skills while performing day-to-day work.
Well-orchestrated campaigns. In order to be effective online, advertising needs carefully designed ad operation strategies according to which work will be adjusted. People employed in ad operations create and successfully execute strategies for campaign management.
Long-term collaboration. It will depend on the conditions of the contract you negotiate, but in general, it is possible to hire ad operation professionals who will work side-by-side with your in-staff team for a long time.
Ready-made employees. No need to monitor ad tech markets or train your own employees; outstaffing professionals are ready to work from day one.
Greater performance Since the revenues of the outsourced ad ops team normally depend on the profits of the company they work for, they are automatically incentivized to deliver better results.
When do you need online ad operations?
Whether you are just starting or conquering new market niches, having an ad tech team by your side is a great idea. Outsourced ad ops is an effective way to ease and simplify any ad operation, as you will have professionals on board who know how to buy and sell the right media programmatically.
If you just started a business with a white-label ad exchange and are searching for highly experienced outsourced ad ops, we can create a custom team of ad ops suited specifically for your business. Likewise, you can streamline media-selling outstaffing professionals for your white-label SSP or build the team for your white-label DSP solution.
What ad ops will do on your behalf: ad campaign management, revenue management, online ad trafficking, scheduling of ad campaigns, yield campaign optimization, and troubleshooting. Professionals employed in ad operations will aggregate the supply and collaborate with vendors.
They will also generate daily reports to nail down what needs to be optimized. Ad ops will coordinate the ad preparation and ad delivery of both programmatic and direct media. They will also support the team in managing branding campaigns that exceed client expectations and beat campaign performance goals.
How do we hire outstaffing ad ops at SmartyAds?
Embarking on the quest for top-tier ad ops professionals involves a meticulous process that mirrors the precision required in the realm of advertising. Here's an insider's look at our recruitment journey:
Screening Excellence
Our HR team spearheads the journey with a rigorous pre-screening process.
Applicants are handed a test case, a litmus test of their prowess in the dynamic world of ad ops.
Face-to-Face Encounter
Candidates venture into a face-to-face rendezvous with our HR team, either virtually on Skype or in the hallowed halls of our office — adapting seamlessly to the ebb and flow of quarantine rules.
Navigating the Litmus Test
For those who leave an indelible mark, the journey deepens with a test case evaluation and an interview, often conducted by the esteemed Director of Enterprise Solutions or the luminary Team Lead of Account Management.
Director's Seal of Approval
The selected few who scale the pinnacle of approval receive a golden ticket — an endorsement from the Director or Team Lead.
Their CV and salary expectations are dispatched to the esteemed client, paving the way for the final interview, where client approval becomes the ultimate accolade.
Beyond the Horizon
The introduction to our system involves a deliberately planned three-month adaptation period. During this time, clients have the flexibility to make adjustments to their decisions, either sticking with their initial choice or considering alternatives.
This period is not merely about the new recruit settling into their role; it's also an opportunity for clients to review their choices and potentially take a different course. The three months provide a timeframe for reflection and assessment, allowing both parties to gauge compatibility and alignment with organizational needs.
Importantly, the dynamics don't conclude at the end of this initial period. Clients maintain the authority to shape the ongoing narrative. They can decide to continue with the same individual who has become an integrated part of the team, or they can opt for a different direction that better suits the evolving requirements of the organization.
This process goes beyond a simple cancellation or dismissal. It's a pragmatic exploration of career paths and professional journeys, where decisions are made with an eye on the long-term relationship between individuals and the organization. The initial three months serve as a practical starting point, setting the stage for a continuous and evolving narrative where adaptability, growth, and unforeseen developments are integral parts of the story.
Essential Insights for Outsourcing Ad Operations
Embarking on outsourcing ad ops opens the door to a pool of highly skilled and seasoned ad tech professionals. This move allows you to seamlessly navigate past labor-related challenges, such as the intricacies of hiring, testing, selection processes, payroll management, sick leave, and tax concerns. Outsourcing ad tech professionals relieves you from the burden of continuous training responsibilities.
It's crucial, however, to recognize distinctions between outsourcing ad ops and outstaffing. To navigate these differences effectively, there are several key considerations to bear in mind. Understanding these nuances is pivotal for a successful outsourcing strategy.
Outsourcing ad professional
By outsourcing an ad professional, you basically sign a contract with a contractor who is in charge of all working processes and delivering you the result of the project. Campaign management, ad serving, execution, task giving, and controlling — everything is supervised by the contractor you deal with. In other words, you don't take part in the process, which is surely convenient because it's a full service.
Outstaffing ad professional
The outstaffing model gives you more control since the employee will be absolutely involved in your working processes. Put simply, such an employee will be just like the virtual employee who works only for your project, communicates with you directly, and collaborates with the rest of your in-house team. Campaign management, ad serving, and the rest of the processes become more transparent and clear this way. You select, grow, and prepare employees according to your own objectives while at the same time freeing yourself from HR and labor-keeping-related duties.
What's Next?
Outsourced ad operations offer a streamlined collaboration model between an ad tech vendor, providing skilled professionals, and the client company. This model allows companies to effortlessly onboard rare programmatic experts, relieving themselves of the burdens of recruitment, training, and other labor-related complexities. This approach enables companies to delegate the servicing of their advertising platform to professionals, allowing them to concentrate on core business priorities.
As your outsourcing partner, SmartyAds takes the lead by mobilizing its own ad operations specialists and recruiting additional talent tailored to your specific needs. Our cohesive team will be assembled at one of our offices in Ukraine, ensuring seamless communication and collaboration with the rest of your operational team.
Engaging in ad operations online with SmartyAds will significantly bolster the capabilities of your in-house team, granting you the freedom to focus on strategic decision-making. Leveraging our team's robust programmatic skills, technical prowess, and adept problem-solving abilities, your ad campaigns will be meticulously managed, ensuring correct pacing, effectiveness, and timely execution. This collaborative approach ensures a harmonious synergy between our expertise and your strategic goals in the dynamic ad tech landscape.
Define ad operations with effectiveness and stable ROI uplift. Use our Dedicated Ad Management Team!
FAQ
How does an outsourced ad ops team work?
An outsourced ad ops team streamlines digital advertising processes, managing tasks from the ad server to client communication. They navigate the complexities of the digital advertising landscape, optimizing campaigns for efficiency and effectiveness. By leveraging specialized expertise, outsourced ad ops teams enhance revenue generation without the logistical challenges associated with in-house operations.
Why is an outsourced ad ops team useful for business?
An outsourced ad ops team is invaluable for businesses, offering specialized expertise to streamline digital advertising operations. They optimize campaigns by managing tasks from ad serving to client communication, ensuring efficiency and effectiveness. This model enhances revenue generation without the administrative burdens associated with in-house operations.
Can outsourced ad ops increase ad revenue?
Yes, outsourced ad ops can significantly boost ad revenue. By leveraging specialized expertise, they optimize ad campaigns, ensuring efficient delivery and maximizing performance. This streamlined approach enhances revenue generation, allowing businesses to benefit from the proficiency and strategic insights of external ad operations teams.