How to make money with a blog?
This is a question that bothers every blog owner who at some point hits the bar of 500 daily visitors — the essential amount of traffic that opens the door to the world of profitable online advertising.
Blog monetization is something hard to think of in terms of the variety of choices, especially if your blog has not reached that solid traffic bar so far.
A robust monetization strategy is a magic button that holds the power to convert visitors into money, however, no matter how resourceful you think you are, time and money are both limited luxuries. So how to make money with a blog or how to monetize your blog? Apart from traffic monetization, a blogger needs to think of writing posts, creating their own products, attending online courses, and doing other energy-consuming things to monetize a blog. You can also make money online with affiliate marketing and online courses.
How to monetize your blog and manage to deal with all these daily routines simultaneously? Focus on the core passive income monetizing blog strategies that proved to be effective in the long run. We'll tell you how.
How to monetize a blog? Choose the right topic?
If you already have a blog on any topic, you can get started with another paragraph. However, if you are just planning to start a new blog and don't know which niche to put it in, then this paragraph will be useful for you.
Start a blog and make money from it.
There are 2 main reasons for choosing a particular topic for your blog: financial and out of interest.
Financial
You choose the topic based on the price per click in the advertising niche of a similar info product. For example, the price per click on the topic of finance will be much higher than on the topic of fashion or beauty. However, it is worth bearing in mind that you need to write something in your blog all the time. And even if you have a sufficient level of expertise in your chosen topic, you can quickly get bored with the constant processing of monotonous information. In that case, it is worth considering whether you have the resources to hire a competent freelance writer for your topic.
Out of interest
In that case, you choose the topic of your blog based on your personal interests. It can be anything, from world history to a blog on your favorite video game. Here the cost per click may not be as pleasant as in the first case, but you will have enough motivation to create content in the necessary volume before there is additional motivation in the form of monetization.
The ideal, of course, is for both of these selection strategies to overlap somewhere, meaning that the topics you are interested in are also pleasant in price, but even if they are not, it is better to choose something that is at least somewhat interesting because creating content is work, which can be very exhausting.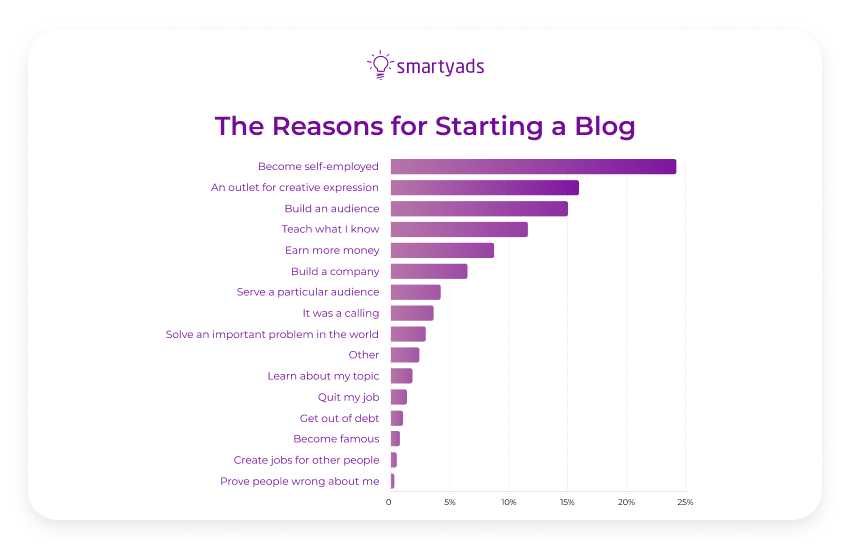 How much money do bloggers make?
Of course, a blogger's income depends on the success of their blog. For example, Ryan Robinson, who writes a blog about blogging earns more than $30,000 a month.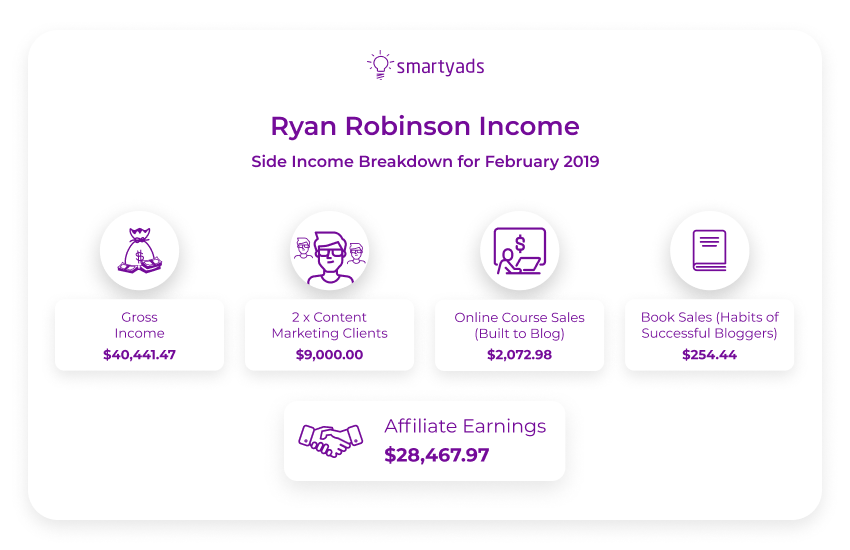 And Adam Enfroy started blogging in 2019 for extra money, and 2 years later he earned $1.5 million on his blog.
But regular bloggers with less traffic to their sites aren't poor either. So, the average blogger's salary is about $8,000 a month, 25% of bloggers using WordPress do it as a full-time living, and 65% of bloggers make money from copywriting.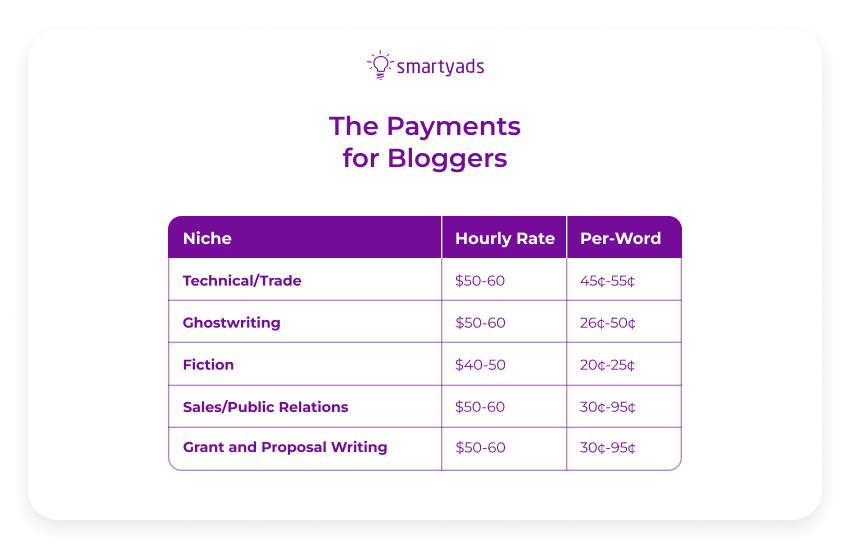 This is a very inspiring statistic for those who would like to monetize their blog. However, in order to make a blog truly successful, it's worth first determining the strategy that you will use to develop it. It's similar to a business development strategy, just in a virtual space.
In addition to the usual monthly earnings from monetization through advertising, bloggers can make money by selling their blogs. There are platforms like Flippa that do such deals. Price tags on such sites can reach six-figure marks.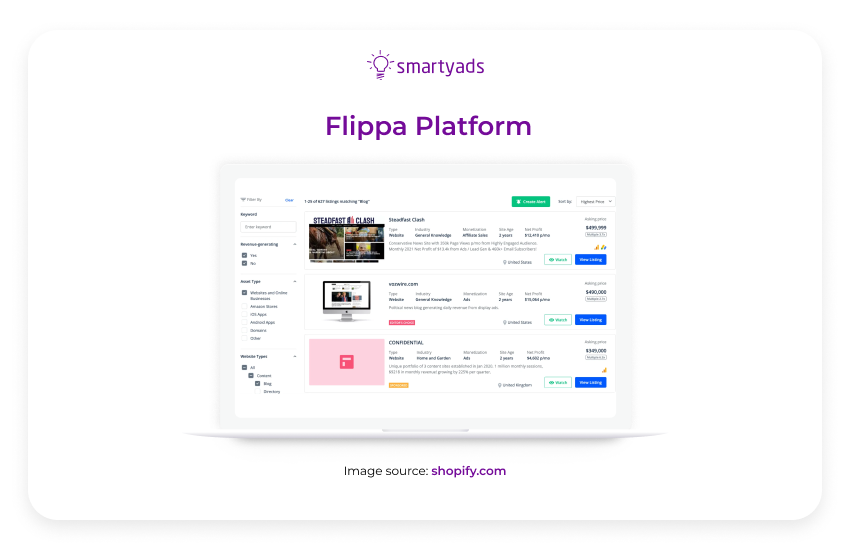 The level of your income from the blog can depend on different factors. But the main ones are these:
Niche. As mentioned earlier, some industries generate more income than others. For example, the software industry can be very profitable, as many companies pay commissions for mentioning them in text.
Here's a list of the most profitable niches for blogging:
Marketing;
Personal finance niche (blogging about earning money);
Weight loss and fitness blogs;
Personal development;
Health and wellness blog;
Lifestyle;
Raising Kids;
Travel;
Beauty and Fashion Blogs;
Technology;
Careers;
Education;
Food blog.
Monetization Strategies. It is important to choose a monetization strategy that is appropriate for you (we will talk about it later). It's also important to remember that some types of monetization may not be available to you. For example, many successful bloggers refuse to publish and get paid for content they disagree with because they hold certain values.
Also, don't forget to give your readers the possibility to leave a reply. It will help you to know what content your readers need or like more.
How long does it take to start making money from a blog?
Some people are able to find ways to make money by blogging almost instantly. Sometimes this happens because the person has thought out a competent strategy to develop their blog, and sometimes by pure luck. You know, the Internet is pretty chaotic these days. For example, Brittany Berger, founder of Work Brighter, started earning money almost immediately. Her newsletter could be downloaded for $20, and she just advertised it in her weekly paper.
Mushfiq Sarkar, on the other hand, started his blog back in 2008 but didn't make it his main source of money until 2021, when it grew significantly.
So there is no definite time frame that can tell you when you will start making money from your blog. However, it will definitely be easier if you have a clear plan of action in your head.
So, how to get started?
Know what you reach monetizing your blog
Monetizing your blog has never been a piece of cake, it is impossible to achieve the goal if you don't know what it is. Creating the best blog monetization strategies will be a good practice to follow. Such strategies should not be abstract, they need to comprise certain indicators you are intended to use in order to define effectiveness: should it be measured in traffic, clicks, or the number of your email subscribers — depends on the blog monetization methods.
For example, the goal is to attract an additional 1000 subscribers to your email list in a month. If you create the online posts 8 hours a day that takes 168 hours (in 21 days) and it brings you 48 new subscribers daily. That's perfect, you'll keep up getting 1000 subscribers monthly. If not, you need to increase the time span for blog post creation or try different ways to earn from your blog.
Work it out one way — define the necessary amount of subscribers or daily/monthly amount of traffic to your blog you want to achieve, draft a step-by-step implementation plan, and only after that engage in blog monetization. Try to think about the development of the resource.
Let's imagine trying email marketing. You decided to obtain an output from creating your own digital product, presentation, or offer coaching. It took you 47 hours per month to work with but as a result, you got the same 1000 subscribers, bingo, you got the same results by doing less.
Now it's up to you to decide which ways to monetize your blog will suit you better and how you will make money. Doing the analysis, consider each important activity indicator so that you could see the whole picture.
Blog monetization and amount of traffic
For many people, making money by blogging is a single source of income but in order to achieve stunning results you need to know — it is a perfect combination of hard work, a successful blog monetization strategy, and a little bit of luck.
Speaking of luck, several hundred visitors per day can provide you with decent revenue in case your blog is in the rare luxury commercial niche, while the entertainment niche will not make money on the Internet easily. In this case, a few thousand visitors a day may not be enough to make earnings from your product or service.
Even the best ways of monetization of a blog may not be working if you just decided to start a blog. On average, it takes at least one year to achieve a good amount of traffic, sufficient attendance, and a substantial number of subscribers. After you achieve the goal, you will be able to earn money from your blogging gathering the email addresses of your visitors via email. An even better opportunity will be there — blog monetization through online advertising!
In order to drive $100000 income in the majority of consumer niches with single blogging, you will have to achieve around 1500000 amount of traffic monthly. Sure thing, it takes time but after managing this number you can have money in any niche quickly. Afterward, you can also showcase your product or service on YouTube as an authoritative expert.
Some blog owners may be unaware that even the best way to monetize a blog may not drive the essential amount of traffic and that even with stunning traffic figures the blog may not provide you with more than 1% or even 0.5% conversion. Why? Because your visitors may be interested purely in reading while purchasing a product somewhere else for a smaller price.
Blog monetization sites that managed to nail it, achieve great daily and monthly page views, revenues, and overall website worth. Nevertheless, their owners achieved it slowly. They had tried different approaches and blog monetization program combinations that allowed them to gain good amounts of money from their websites.
Here is the list of these blogs, which according to Forbes now gain outlandish amounts of revenue. All of them are going their own way. For instance, the owner of the "Mashable" Pete Cashmore gets $2,000,000 in revenue per month. He started gaining money from blogging a few years after the blog was founded in 2005.
The blog is devoted to social media, reviews of various web products and services, Internet technologies, and news. Now his website is getting traffic around 273,137 daily visitors only from the US. The traffic from this renowned blog is getting started monetized with different types of on-site advertisements, like banners, video, or native kinds.
So make sure that you have enough traffic.
Mario Armando, the owner of the Perezhilton source decided to monetize a blog that brings 400000 daily visits via sponsored advertisement. For now, blog posts full of celebrity gossip bring the owner $575,000 in income monthly.
Let's talk about a few of the most successful blogs on the Internet right now and how they monetize their content. But before that let's get to know such a notion as Alexa Rank. It is a statistical system for ranking sites; it considers the number of visitors and page views.
For each site, the numerical expression of the rating in Alexa Rank is calculated as the ratio of attendance indicators with similar data of other web resources existing on the Internet. The data are counted for the last three months only. We will refer to this system in our review of popular blogs.
Arianna Huffington and her co-founders Andrew Breitbart, Kenneth Lehrer, and Jonah Peretti launched the Huffington Post in May 2005.
They wrote many news articles a day, some of which went viral and brought them new followers. At the time, it was pretty much unheard of for one site to publish 100 articles a day.
In 2011, the blog was bought by AOL for $315 million, and in 2017 they rebranded and changed the name to HuffPost.
Alexa Rank: 1346.
In 2020, the blog earned $500 million. And the site has monthly traffic of 126 million visitors.
Most of the blog's income comes from advertising publications and corporate investments.
It's a bit overwhelming and very inspiring, isn't it?
However, it's worth remembering that it will be at least as difficult to create the same site today as Google's search algorithms have improved a lot in the last few years. Now you can't write a lot of articles and put them on the Internet hoping that some will go viral. If your content isn't really useful, it simply won't show up in search engine results.
Timothy Sykes created his blog back in college and made $1.65 million (from online trading) back then.
He created his blog in 2007, in which he taught people how to make money by investing in stocks.
The Alexa Rank for his blog is 41,208.
Currently, it is not known reliably how much Timothy earns from his blog, but several years ago Forbes estimated his income at $15 million. Now the numbers are probably in the area of $5 million, which is still a lot.
John Morrow, the creator of the famous Smart Blogger site, launched it in 2012, and at the time it was known as Boost Blog Traffic. Today, his blog has more than 4 million readers and it is one of the most popular websites dedicated to blogging and freelance writing.
Alexa Rank: 17,356
Smart Blogger makes about a million dollars a year, as they claim in their earnings reports. Its main source of income is from selling online courses, membership sites, and affiliate marketing.
Before launching the website, John worked as a writer for Copy Blogger and his articles were very popular among readers. So even before launching his own blog, he had a solid audience.
4. Copy Blogger
Brian Clark created Copy Blogger in 2006. The blog is dedicated to content marketing and how to use it. Now it is one of the most well-known sites dedicated to internet marketing.
Brian researched the market and the needs of his users. This led him to create content that his blog readers wanted. This strategy doesn't just work for blogging.
The Alexa Rank for Smart Blogger is 19,038.
Smart Blogger earns 35.1 million a year. The blog makes money through course sales and paid membership. An experienced team of experts creates quality content that provides real value to their readers.
5. Moz
The Moz blog was launched in 2004 by Rand Fishkin. It is dedicated to SEO and previously was known as SEOMoz. One of the blog's slogans: "earn clients, not buy them". Many website owners wanted to know how to increase traffic through organic search, so the blog quickly gained popularity.
Alexa Rank: 1788.
Moz's blog now makes about $45 million a year. The main source of income is software sales through a subscription service that helps business owners generate more traffic through SEO.
How to monetize your blog: 8 ways that work
If you're ready to monetize your blog traffic, there are a variety of different approaches, each one featuring its own pros and cons. What are their specifics and what can you expect from them?
1. Affiliate marketing
Affiliate marketing is a blog monetization strategy that helps to achieve spectacular revenues without demanding big efforts. If the traffic amount to your blog is already substantial, you can place affiliate links (or affiliate products) on your blog so that your business partner (the owner of the affiliate program) could submit you a fee for every click on the link placed on their blog.
However, for making a blog with affiliate marketing you should know the following.
Affiliate marketing programs can be different, they're not only measured in the number of clicks. Sometimes the target action will be purchasing a product or service from your site. In such cases, your fees will also be higher meaning you can monetize your blog more effectively.
According to various sources, the best affiliate marketing programs for bloggers in 2017 were Amazon, eBay, Target, ClickBank, and others with the Amazon approach considered to be the true alternative to AdSense.
The principle behind blog monetization with affiliate marketing is simple: your blog's topic should be somehow relevant to the affiliate program's subject. The commission fee generally varies from 1 to 5%. If the commission is paid for such an action as a sale, the fee will normally reach around 30% of the overall cost of the product.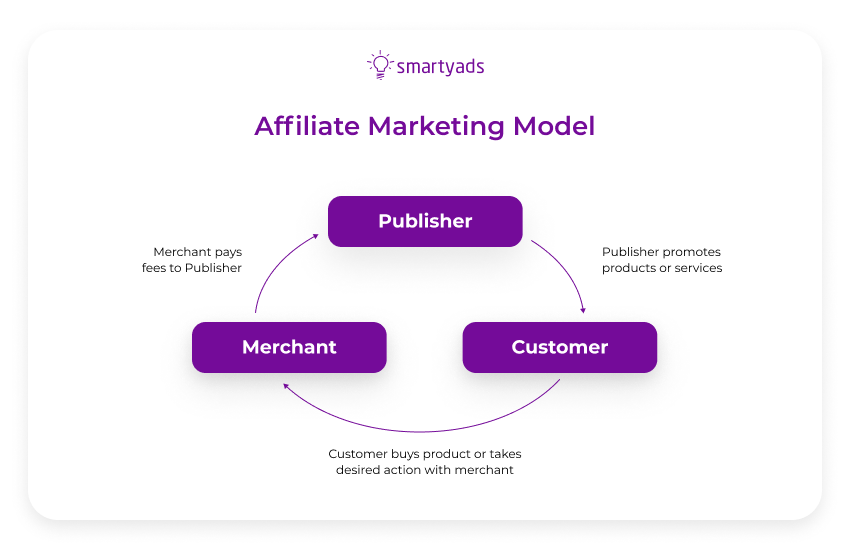 Some of the best affiliate marketing platforms for bloggers right now:
Amazon Associates
If you've ever talked about products you could potentially sell on Amazon on your blog, you should consider taking advantage of this platform for affiliate marketing. It allows you to earn small commissions for clicks on affiliate links.
Here's a list of commission rates from Amazon for major product categories: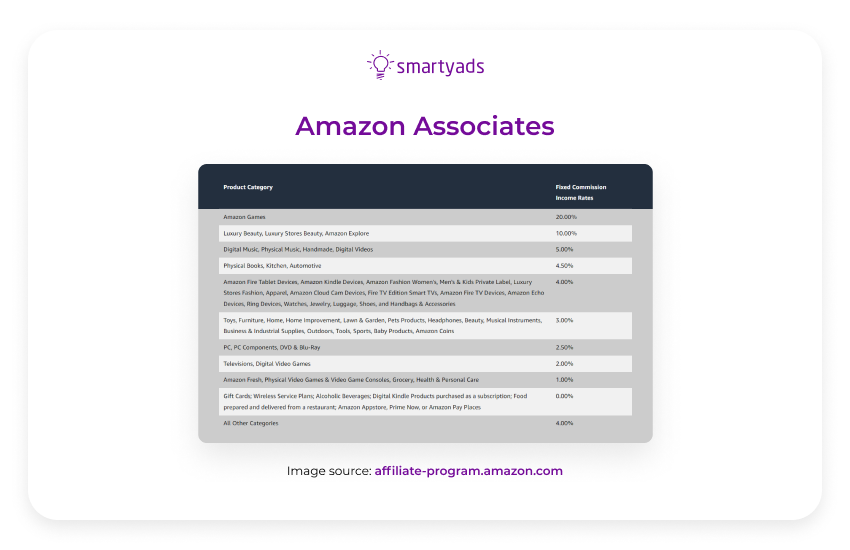 However, the first payouts you can receive only when your affiliate sales reach the minimum of $10.
Another disadvantage of Amazon's affiliate program: the cookies (which are responsible for your payout percentages) are only valid for 24 hours. They last for up to 90 days if a referral adds an item to their shopping cart during a session to which you're referring.
But, this is probably the most famous and proven service for earning money from blogging. If you do not understand something or have any questions during your work with them, you can always contact their support and they will help you.
Etsy
Etsy is another great online marketplace for crafters, needleworkers, and anyone who makes something with their hands.
They have an affiliate marketing program that pays commissions ranging from 4 to 8% of sales. However, they don't indicate these rates on the affiliate registration page.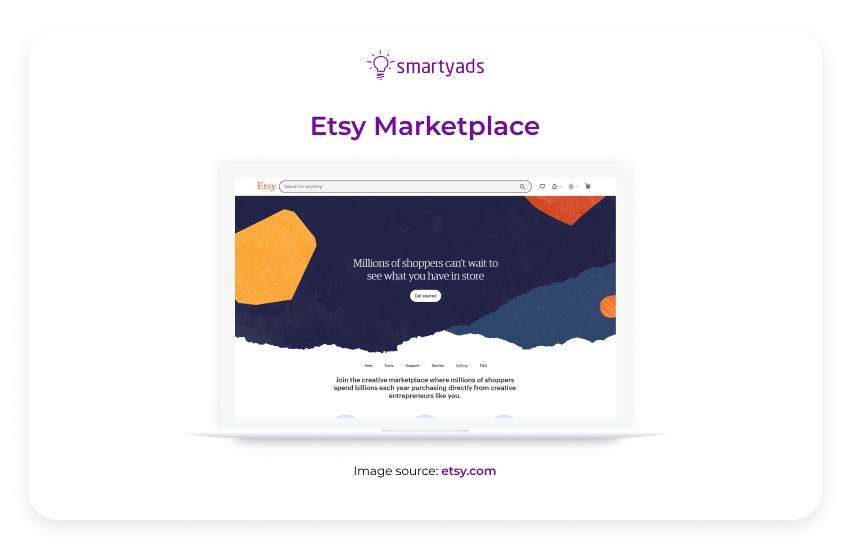 One of the downsides of this platform is that no guarantee that your site will be approved is provided. Sites are evaluated in terms of site quality, content, diversity of this content, brand identity, and alignment with Etsy values, but no clear criteria are specified anywhere.
Unlike Amazon, cookies on Etsy are valid for 30 days. Also, any sales made during the 30-day cookie period are attributed to the affiliate, not just the initial sale.
Registration is fee-based and will cost $5.
Skimlinks
This is an affiliate marketing platform for bloggers. It allows you to automate the process of monetizing links of commercial content. There are now about 60,000 bloggers on the platform. The platform works with such websites as the Huffington Post, Conde Nast, and Hearst.
Once you sign up and are approved by the platform, you can receive commissions from 48,500 partners around the world.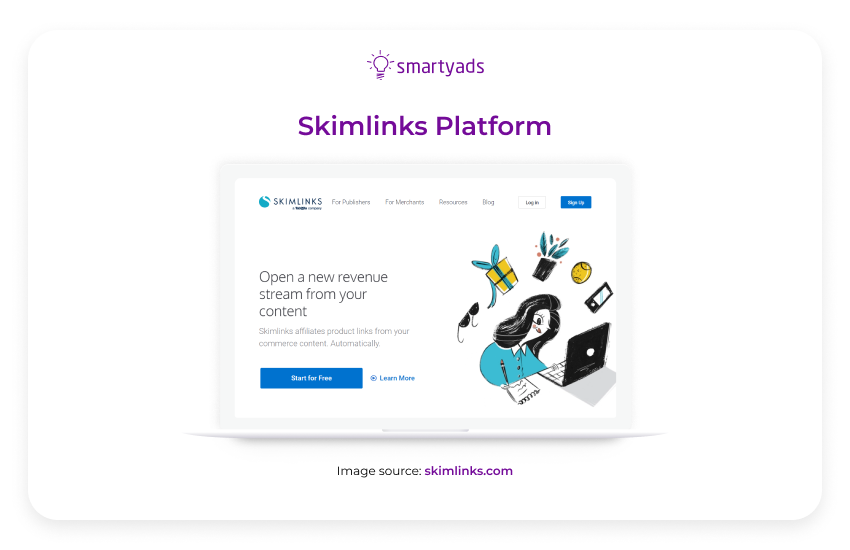 The commission rate depends on the merchant's terms and conditions and can range from 1 to 80%. However, the platform tries to create conditions in which affiliates will get higher rates. For example, in order for merchants to become preferred affiliates, they need to increase their rate to a minimum of 50%.
The duration of cookies also depends on the sellers, but most often it is 30 days.
Payouts can only be received after reaching a minimum threshold of $65.
Registration on the platform is free. However, platform approval is also not guaranteed, as they only approve sites with a very good quality commercial content to work with.
This is an example of an affiliate program related to e-commerce.
There are similar programs for other areas of online activity.
Here is a list of such programs organized by category:
Web Hosting Affiliate:
One of the 20 largest web hosting companies in the world. Good for WordPress blogs or writing blogs.
Web hosting provider. Pays up to $200 when you sign up, depending on the plan you choose and the number of clients you bring to them.
Web hosting provider. The initial rate is $50 per sale; the rate increases as the number of sales increases.
Web hosting provider. The initial rate is $65 per sale, the rate increases as sales increase.
Hosting Provider. The initial rate is $85 for 1-10 sales per month, the rate increases to $140 for 31 or more sales per month.
Hosting provider. Commission rate from 60%, paid 45 days after purchase.
A hosting provider that offsets its carbon footprint by buying renewable energy credits. The rate is $50 for the first customer on a referral link and up to $100 for 6 or more sales.
Hosting provider. Also does VPN and mobile app security. The commission rate for bloggers is from 20 to 50% of the sale.
Cloud web hosting provider. Offers 2 types of commission: either $50 for each affiliate (rate increases with the number of clients), or $30 for each affiliate + 7% lifetime commission.
Marketing & Blogging Tool Programs:
E-marketing provider. Allows attracting new customers through email tools. The rate is 30% for the duration of each of your affiliate's subscriptions.
A platform for teachers to post and sell their courses. The rate is 30% for the duration of each of your affiliate's subscriptions.
Service for launching automatic referral programs. The rate of $50 for each client from you.
Service that allows you to sell courses and digital downloads. The rate is 30% for each month of the client's subscription to the service.
A service that allows business owners to contact reliable dropshipping suppliers from the EU and the US directly. The commission is 20% per customer (can go up to 30%).
A service that allows you to create and sell courses. The rate is 20% per referral, with bonuses for an annual subscription.
Marketing Platform. The rate is $250 for the basic plan, $500 for the professional plan, and $1,000 for the enterprise plan.
A platform for creating email campaigns. The commission rate is 30%.
E-commerce platform. The median rate is $58 per paid user and $2,000 per Shopify Plus user.
E-commerce platform. The rate is 200% of the customer's first monthly payment and up to $1,500 for each corporate subscription.
The constructor of landing pages. The rate is 50% for the first-time payment and 30% for each following payment.
Computer software company. The rate depends on the product and can be a one-time payment of $72 or a percentage of the sale (from 8.33% to 85%).
Financial Tool Programs:
Accounting software. The rate is up to 10%.
Accounting software. The rate of 30% for the entire term of the referral subscription.
A platform for calculating and paying taxes. The rate is 5-15%, $1-2 for selling products.
Accounting software. The rate is $5 for a free trial and $55 for a paid subscription.
Online Education Programs:
Online learning platform. The rate is 20% for new customers, 10% for repeat customer purchases, and $1 per lead.
The platform for online learning. The rate is 15%.
Online educational community. The rate is $10 per registration.
Online Job Site Affiliate Programs:
An online recruitment portal. The rate is $15 for each paid subscription.
A platform for finding freelancers. The rate is 35% for each new paid subscription.
A platform for freelance job postings and learning. Rates up to $200 depending on the subscription plan.
A platform that helps users get paid for completing surveys of major global brands. The rate is $1.5 per registration.
Niche Affiliate Programs:
Platform with reviews for tourists. The rate is 50% of income from each client brought in.
An affiliate of the travel search engine Aviasales. The rate is on average $7 for a plane ticket and about $20 for a $400 hotel reservation.
Website dedicated to bodybuilding and fitness. The rate is 8% for new customers and 3% for regular customers
Online retail store. The rate is discussed after a partnership agreement.
Store sporting goods. The rate is 3%.
Company for the production of eco-friendly and animal-friendly cosmetics. The rate is 8% of each sale.
2. Pay-per-click (contextual advertising)
Contextual advertising is a type of digital advertising that allows monetizing blogs with high click-through rates. The logic behind the strategy is the following: the advertisers place their ads in the designated ad slots on the blog posts, and the impressions are served to the users when they visit websites.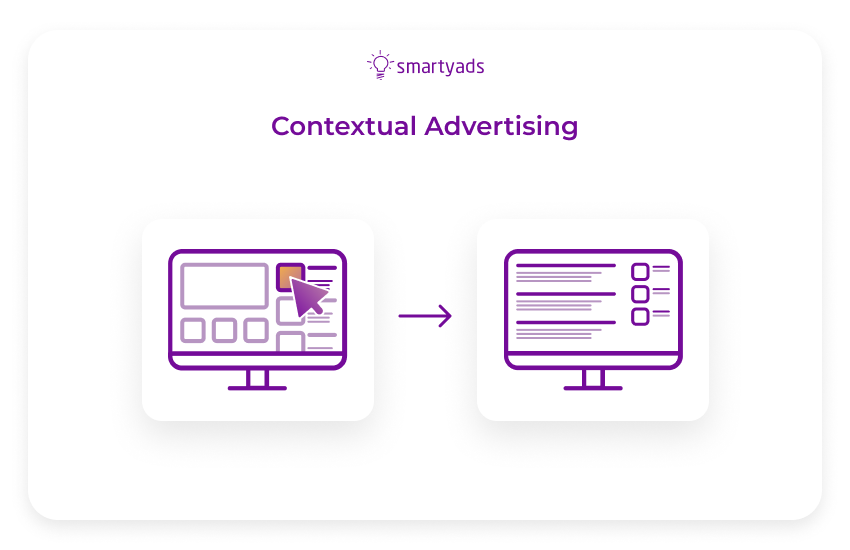 For instance, if the visitor reads the post called "how to monetize my blog?" the odds are very high they will spot related ads at the top, left or right sidebar of the blog featuring popular affiliate offers or 'drive traffic' service offers from SEO companies.
Google AdSense is the core contextual advertising blog monetization method that allows placing ad units right after the blog has been created, it has no solid formal restrictions considering traffic.
AdSense places strips of its own code on your website so that it could scan the table of contents of your website, and display ads to the visitors.
The average good-level CTRs can reach from 1 to 5 cents per click in entertaining blog niches to 1-10 in commercial ones. This blog monetization idea will perform as well as your traffic currently is. This way, while some bloggers gain $10,000 monthly, others may barely get by $100.
Don't forget that you can also use contextual advertising to increase the popularity of your blog. Meaning, that you can not only provide it as an advertising platform but also run your own advertising campaigns for some particularly good and useful articles in your opinion (or in the opinion of user request statistics).
Then, based on the results of your advertising campaign, you can collect data on your readers and retarget them via email or any other tool like this for contacting your followers or potential followers.
3. Premium content
You can create another option on your site to subscribe to premium content. This can be an access to exclusive content or the ability to communicate with you.
This method of monetization is suitable for almost any niche that a new blogger could potentially write about. The method assumes that readers will pay you directly to get access to more great content from you.
You can leave some of the content for free for public access, and leave other, more exclusive and useful publications for paid access.
Some bloggers put the highest price on the content that is most viewed on the site.
Pros and cons of making money on a blog with premium content
The main advantages of selling subscriptions:
Constant income. If you sell subscriptions to your blog, you'll have a steady income.
Staying in your niche. If you know how to create content, subscriptions allow you to focus on that. This is the easiest way to monetize a blog post.
It's very simple. If you want to monetize your blog with subscriptions, you'll find it's a good way to make money online, relying only on your own work and site.
Some of the disadvantages of selling subscriptions:
Creating extra content. Keep in mind that you'll have to put in extra effort to create both free and paid content for your blog.
Unreliable. Convincing people to be willing to pay for current subscriptions can be tricky.
You need to make the content of high quality. To justify asking your readers to pay for subscriptions, bloggers who decide to start blogging on subscriptions need to create truly high-quality content.
4. Sell online courses, digital products, or services
This is about how to monetize a blog and not let your talents die if you have some. If you're a natural-born writer, baker, or builder, why not share your experience with the rest of the world?
If you already have an essential amount of traffic with relevant users or just purchased such a blog, you should think about traffic monetization. You can sell digital products or services on the spot. Those can be: online courses, a virtual summit for your readers, paid additional content, books (you can also sell ebooks), and brochures of your own authorship.
If you gained some expertise, the task will not be a tough one. Plus, you'll help people who want to learn something new. Using Google Analytics you can see how your method of monetization works, assess the number of purchases and channels that bring the most sales, and find out more about your target audience.
The income from monetizing a blog with your own products will directly depend on the audience and their trust and willingness to purchase the service or product from you. As well, it will depend on what you actually intended to sell, for example, a selling course is a thing that brought the Honkey Handbook author $1,000 during the first month.
Pros and cons of making money on a blog with online courses
The main advantages:
Passive Income. Successful courses can generate a steady income with minimal work after you collect materials.
High chance of becoming popular. If you hope to become an online celebrity, create a course. It is a good way to make yourself well-known.
Low Investment. Apart from your time, it's usually relatively cheap to invest in creating an online course.
Some of the disadvantages:
Dependence on platforms. If you don't put it on your site, course hosting will force you to depend on the platform you're using. And most likely, you'll have to pay a lot of money for it.
A high level of expertise. People buying your courses will expect a great level of professionalism in the sphere.
Limited audience. Even if you become a successful freelance blogger, you may be disappointed by a few people who want your courses.
5. Add an online store directly to your blog
Almost any blog and niche is designed to allow you to sell physical products through an online store.
Whether you're producing products yourself, purchasing branded merchandise for your blog, or simply selling items related to your niche, an online store is a great way to generate income directly from your site visitors.
You just need to specify what products your visitors will be interested in. Since you should have enough information about who your readers are and what they are interested in, this shouldn't be a problem.
If you're blogging about food, think about selling recipe books or condiments. If you're a fashion blogger, consider selling clothing or accessories. You can also use those products to promote your blog.
For example, the online store Beardbrand appeared thanks to Erik Bandholz's blog. In the blog, he wrote about beard care and soon began to sell products devoted to it.
Now Eric's business, which started with a blog, brings him about a hundred thousand dollars a month.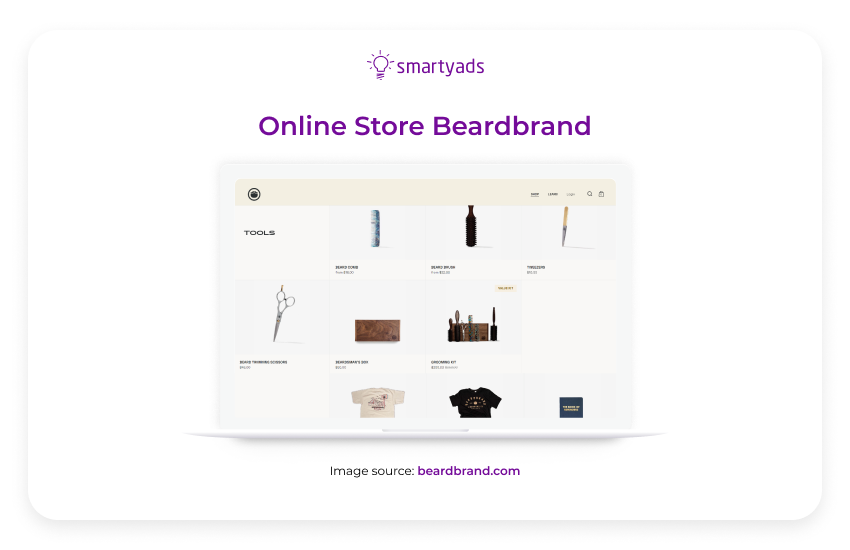 It's easy to add an online store if you use an online website builder. You can simply add a store page, add a link to the main menu, and direct your readers to look at your products.
Pros and cons of starting an online store on your blog
Key benefits of starting an online store:
Relevance to all niches. Your offer is easy to adapt to whatever visitors are interested in.
Direct Income. The store on your site receives the money directly, without third parties.
Scalability. As interest in your blog grows, your store should increase profits.
Some of the disadvantages of opening an online store:
Extra work. If you don't use a direct delivery system, running an online store can be very time-consuming. You can go from blogger to online seller.
Excessive cost. Running an online store involves a lot of expenses, including purchasing inventory, paying sales taxes, and managing the shipment.
Unreliable. Do you have a specially printed batch of merchandise that no one buys? It just shows how online stores can be frustrating.
6. Sponsored blog content
Sponsored posts are one of those ways to monetize a blog that is usually paired up with native ads on your site that blend with the rest of your blog's content.
Here is how it works: you decided to start a blog about technologies, namely about your favorite iPhones that you change every year and AppStore applications that you like. In such circumstances, Apple sees great potential in your blog as it gathers many IOS fans.
The advertiser asks you to write a review of their newly launched product and here you go — that's a win-win monetization of blog and product advertising for both parties. Some digital marketers advise doing it through advertising review forms like Pay-Per-Post.
Pros and cons of sponsored posts
The key benefits of publishing sponsored content:
Keep doing what you're good at. Since you're already writing blog articles, it's not that far from what you're already doing to write sponsored content.
Free content. Often advertisers will give you free content to publish, easing your workload.
User-friendly. Sponsored content is so effective because it serves advertising in another way that makes users happy to consume it. Although many Internet users don't see ads, they pay attention to sponsored content.
Some of the disadvantages of publishing sponsored content:
Authenticity issues. If you publish too much explicitly sponsored content, your readers may get sick of it.
Strong ties. More than other forms of marketing, sponsored content is a real endorsement of advertisers, meaning your public image is tied to their image.
Indirect revenue. Sponsored content can be unreliable income because it is indirectly tied to your own work and dependent on third-party advertisers.
According to statistics by Moz, however, editorial content takes more attention: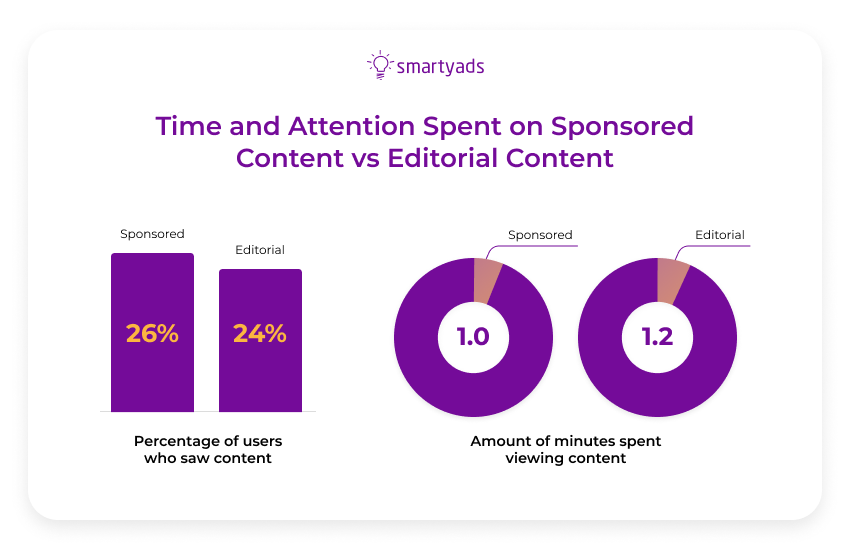 7. Direct advertising
In case you use Google AdSense to monetize blog traffic or other related systems, a part of your full-time income is needed to be shared with intermediaries for their services. In case you want to keep all revenue to yourself you can venture out to contact advertisers directly.
Direct advertising is probably the best blog monetization method for news portals and large narrowly-themed blogs.
While the benefits from the direct interaction are obvious — you don't have to share your blog revenue with third parties — the problems hide in the dark corner of the room: the topic of the advertisement coming from your direct advertiser may not match with publications you create. That may drive your visitors away.
If you decide to monetize your blog with direct ads that don't resonate with your visitor's interests, in the best-case scenario they will ignore it instead of clicking, which means you're losing money from your blogging.
Another nuance related to this is that your blog will only be regarded by direct advertisers if it is able to drive much traffic starting from 500-1000 visitors, dealing with blog monetization services (intermediaries) usually doesn't bind the publishers with such restrictions.
8. Programmatic monetization
Widely used and approved by digital marketers worldwide, programmatic advertising is considered to be among the best blog monetization strategies due to the high level of flexibility it provides for the publisher.
Programmatic technology helps to deliver the most targeted and relevant user advertisements due to the variety of available targeting options it features.
The greatest benefit of such blog monetization is that the process of selling your blog space will become a matter of microseconds.
This is targeted advertising, so the publisher receives benefits such as a simplified mechanism for selling advertising space, excellent opportunities for cooperation between the advertiser and publisher, and relevance to users through the demographic targeting capabilities of programmatic placement.
These ads match the tastes of the audience and even help them find the product they want, so there is no need to worry that the ads will scare people right away from your site.
Also, the platform has the ability to control and moderate advertising messages so there is no need to worry about the image of the site, design, and content visibility.
You can set up which advertising formats to support if you find some formats unacceptable or too distracting from the main content on the page.
You can set a minimum budget per impression, so you can control your advertising revenue and not waste space on an ad that's not profitable for you.
Moreover, research from Contented shows that 57% of users prefer to see banner ads on the site instead of sponsored content.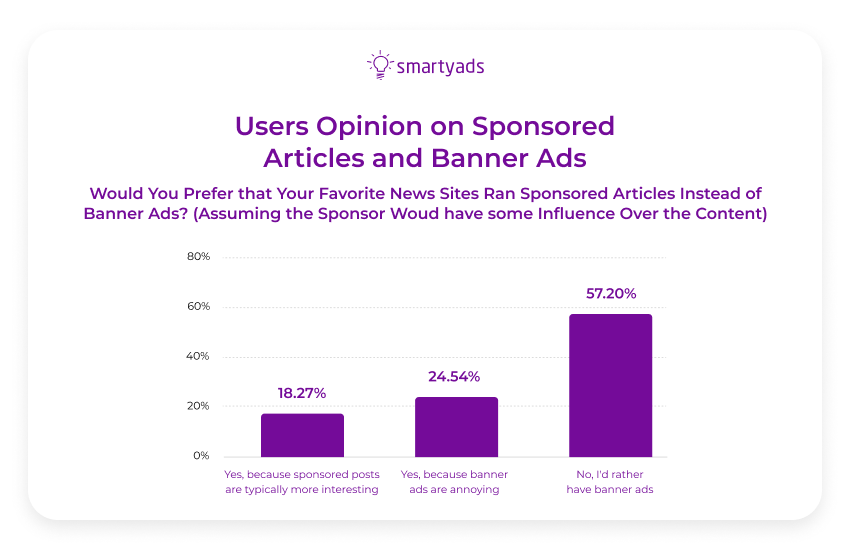 How do you monetize a blog via SSP?
First of all, it is important to understand how programmatic monetization works for publishers (blog owners). The system creates a real-time market where advertisers and publishers meet in order to purchase and sell website inventory on conditions most beneficial for them.
The blog owner can monetize the blog by joining the system as a publisher through SSP which opens access to automatic inventory selling and interacting with DSPs, ad networks, and ad exchanges.
If you plan to start monetizing a blog, it can be different for every website owner but advertisers are different as well. Some set demands and priorities considering placement, the others consider the price and deal conditions. That's why displaying ads is a thing that should be individually adjusted and SmartyAds programmatic platforms for publishers and advertisers enable this customization.
Real-time bidding
Here's how real-time bidding monetization works in a nutshell: when the users visit the site, the browser collects their information (IP, browser type, etc) automatically and submits it to the SSP that processes the data and passes them to ad networks where the real-time bidding is happening. The advertisers make bids through DSP, the highest bid wins, and the ad is displayed on the user's screen while the page is loading. Such sources as Forbes successfully use RTB blog monetization setting the floor price for inventory selling for avoiding potentially disadvantageous deals.
Header bidding
Header bidding is a programmatic monetization solution that allows publishers to raise their revenue by 10-30% due to the simultaneous bidding that replaced the "waterfall" — when advertisers get the only right to bid in turns. The bigger competition causes the elevation of the price so the blog owner gets more money and knows the real value of the inventory. Much more information about what header bidding is you can find here.
Programmatic direct
Blog monetization with programmatic direct is beneficial for publishers and advertisers as well. Using this technology the publishers don't lose the active cooperation with advertisers they collaborated with previously, the deals are happening faster through programmatic algorithms. The whole process is taking place on private auctions and is highly valued by advertisers who care about deal safety.
How to choose a Supply-Side Platform
Learn the benefits of a potential SSP
Today, competition in the advertising niche is intense, so a good Supply-Side Platform must have the tools to overcome that competition. It's important for it to be more profitable than contextual advertising from Google or Facebook. Therefore, a good Supply-Side Platform should have the tools to manage your own account, which is much cheaper than hiring a group of professionals to do so.
Check out the analytics options
It's critical today to constantly monitor what's happening in the marketplace in any business niche. And the more frequently the data is updated and the more accurate and detailed it is, the more you'll be able to build a smart strategy for working with the platform.
Does the platform have advertising servers?
Ad prices are unstable because demand is constantly fluctuating and can change literally in a few hours. That's why any good major Supply-Side Platform has its own ad servers that make the integration with demand platforms easier. This makes the ad sales marketplace constantly growing and becoming more diverse and profitable.
Can the platform protect your brand?
TheMediaTrust, DoubleVerify, and Forensiq are tools that help protect both publishers and demand platforms from a variety of industry threats. No one wants to suddenly have ads that don't align with their values pop up on their site or have all ad space cost the same regardless of viewability rates.
Header Bidding
We've talked about this already, but we'll say it again. This technology can increase a publisher's revenue by 10-30% due to the fact that it allows them to understand how much the ad impressions on their site actually cost. It is very important to have this tool integrated into your chosen SSP. However, keep in mind that this tool can slow down displays, so the load factor for your SSP should not exceed 200 milliseconds.
Why you should try programmatic
Keeping your time
Monetizing your blog with programmatic brings a blog owner essential benefits by removing unnecessary intermediaries, emptying time from negotiations with advertisers, and automating the process of selling.
Proven advertisers
Sure thing, programmatic monetization strategy should be individual for every publisher and focus on those factors that will prove to be the most important. Advanced SSPs like SmartyAds SSP enable blog owners to work only with reputable advertisers.
Brand safety
Publishers can gain money from blogging and protect their own brand by selecting preferable ad types, restricting the list of ads and advertisers, and setting the price floors below which the deals will not be regarded.
Expert supporting
Blog website monetization with programmatic has proven to bring essentially better yield for publishers than other monetizing blog types, in case technology and the scheme of collaboration with advertisers has been picked correctly. SmartyAds features the best programmatic technologies and top-notch specialists with great expertise in the programmatic industry, always happy to consult, assist, and support publishers who're searching for the best way to monetize a blog.
Register at SmartyAds SSP, gain more money online utilizing the best programmatic system!