A white label DSP gives a big promise to the independent programmatic advertising sector. What is a white label DSP and how it is different from regular self serve DSPs? 
What is a White Label DSP?
White label DSP is a fully developed, customized, and maintained DSP tech core that enterprise purchases from providers without a label. Prepackaged software core is what makes white label DSP solution fairly easy to deploy and requires only minimal custom retouch. 
What do ad networks need white label DSP for?
Ad networks strive to automate the process of choosing the perfect ad slot without sales reps, agencies, and third-parties. The self-operated system is more transparent and can be scaled along with business anytime. Reducing media budgets: Commission of buyers who have extensive media-spend - the commission for self serve platform usage for them grows proportionally with ad spend. Thus, an independent solution appears to be the only way to reduce budgets.  
Wait, but isn't it all possible to do with a self serve DSP?
Sure, automation, RTB bidding, and the rest of the groundbreaking programmatic technologies could be found virtually on any advertising platform, e.g like self-serve DSP. Still, as an advertiser, you only serve your campaigns on it and that means you pay a certain share of costs to the provider of such software and the platform itself doesn't belong to you. You are only getting access to the self serve dashboard that lets you configure, launch and run your campaigns with a certain budget. Those costs that you pay for using self serve ad platforms aren't big, they are quite humble, however, if you regularly spend lots of budgets on programmatic campaigns, this share may end up being quite hefty after a certain period.
Solving pain points associated with building DSP from scratch
If you never tried even a self serve programmatic advertising, and even more so never built your own technology, you probably hardly imagine the process of building and maintaining of the demand-side platform. White-label DSP technology helps to overcome problems:
Time & cost. The prebuilt advertising platform shortens the time and eliminates the necessary resources necessary for building the platform from scratch.

Risks. Self-developed software can be crude but a prebuilt white label DSP from a reputable tech provider is a guarantee of trouble-free operation.

Integrations. There's no need to lose existing partners with API connection enabled.

Scalability. White-label DSP is quickly customized and scaled when needed. 
With a white-label DSP solution growing and scaling an independent advertising business is much easier for ad networks. Now, let's find out what tasks ad networks solve with white-label DSPs. 
Demand-side platforms: what are they created for?
Demand-side platform is a technological platform for advertisers that connects to SSPs, ad networks, and advertising exchanges globally in order to automate media buying. Typically powered by RTB (real-time bidding algorithm), they take part in the auctions and bid on potential ad impressions. 
Self serve vs. managed serve solution
Normally a DSP is operated by brands and marketers based on a self serve model. A self serve in this case means that advertisers are provided with access to the dashboard but the whole process of setting up campaigns, management, analysis, and so on is performed independently and without assistance. On a self serve platform, however, the marketer is assigned with an account manager.
The difference between self serve and managed one
Unlike self serve, managed option offers the client the opportunity to configure, set up, and run campaigns on their behalf by managers. Managed model is typically chosen by advertisers that don't have experience in running self serve campaigns. As well, managed serve model is chosen by marketers who don't have the who could operate a self serve platform (since it all requires time and regular optimizations). 
What about while label DSP?
The new owner can choose how to monetize a white label DSP platform too - as a self serve service or managed option (or both).. However, for the managed service the platform owner also has to have the team to run and operate campaigns of clients. Self serve is the best option for WL platform owners that don't have much of an in-stuff team, however, ad ops and account managers can be always outstaffed. 
Find out if you need to build your own DSP
The ultimate goal of the managed or a self serve demand-side platform is to buy ads for the most optimal price (the lower - the better), from those publishers, whose users most closely match particular advertisers' needs. One DSP for one ad campaign may work best, but for another campaign type, it will perform worse and charge higher (depending on so many criteria - available formats, targeting options, partner connections, pricing model, etc.). WL DSP can solve these problems at once by:
Saving media costs by reducing comissions
Commissions and service fees are not very high and the service provider earns approximately 30% per initial bid. Thus, if you spend no more than a thousand or two, it won't make a big difference. Still, if your media spend equals ~$29,000 per month the overall fee may climb up to $8,700. WL DSP technology is provided on the basis of service commission or fee of ~5% of generated ad spend. So, do a little math, if you earned e.g $29,000 per month, your fee will be only $1,450, not $8,700.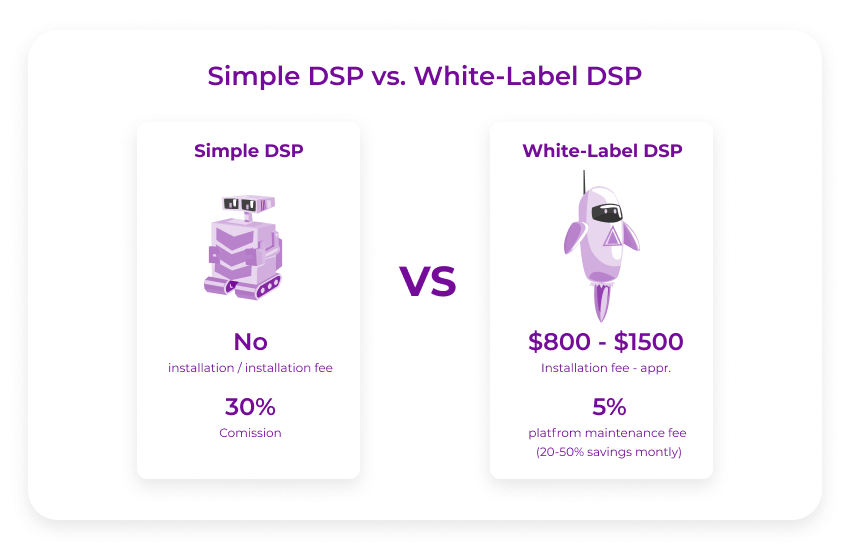 Preventing risks of competing against yourself
In order to maximize reach advertisers oftentimes collaborate with a handful of DSPs at once. Especially when it comes to advertisers that don't use RTB and prefer programmatic direct advertising. In order to fully manage advertising campaigns advertiser needs to exchange data with several advertising platforms at once. This results in a situation where you need to apply supply-path optimization, otherwise you risk bidding against your own bids. With a WL DSP, this problem gets resolved.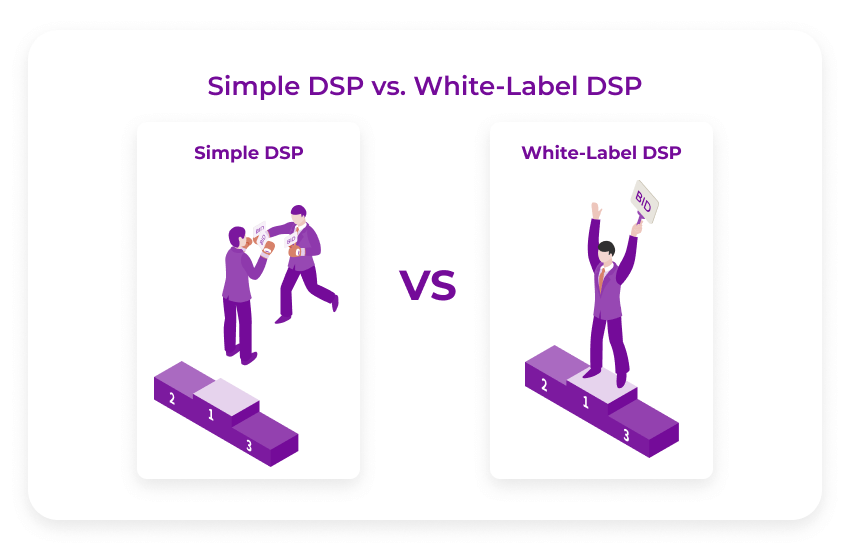 Scaling transparent and accountable ad business quickly
Advertisers that give preference to white label DSP solutions want to obtain more transparency over the media-buying process. Plus, there are plenty of white-labeled advertising and marketing products for business, because many companies want to open their own business to rely less on third-party providers. White-label demand-side platforms are updated and maintained by service providers. 
So, how to understand whether you really need a White Label DSP?
There are 3 strong indicators why you need a white label DSP platform (according to IAB Europe programmatic advertising survey 2019).
Reasons why advertisers set up white-label DSP

Increasing operational control/bringing programmatic in-house

Reducing media costs

Promoting transparency

Establishing own terms of operation

It is easier to manage partners and operations in such an environment.

Using a self serve white-label DSP company doesn't have to pay to third-party platform providers - commissions, margins, etc.

To know where the campaign is run, who sees impressions and when.

To work according to their own pricing model, traffic quality standards, reseller fees, etc.)
4 main benefits of white label DSP platforms
Apart from ultimate operation control, transparency, and significant media-cost reduction, with white-label DSP solution enterprises benefit from gathering all media-buying activities under one roof. With a white-label DSP, you can ditch all other DSPs that you currently work with and join one comprehensive system that streamlines buying activities and organizes partners. When you create white label network, you can connect DSP and SSP partners of your choice and set up an exclusive marketplace. Self serve white-label DSP meanwhile, enables you to connect custom SSPs via API - that's why you don't lose partners you work with. 
This way the benefits of white label DSP boil down to the following points:
Obtaining bug-free time-proved self serve technology that stands in the line with famous branded DSP platforms. You can set your own branded self serve demand-side platform and re-sell it to customers.

No need to pay a service fee to third-party providers. As a result - you shed off from 20% to 50% of advertising costs. 

The chance to utilize all the benefits of self serve white label DSP for your own needs

A chance to get valuable user data transmitted from certain SSPs (in case you have an agreement in place) to your while level DSP.
White label DSP solution from SmartyAds
SmartyAds is a leading white-label technology provider that tailors proprietary DSP technology according to your business needs so that you can reach peak return on investment as a reseller. Our self serve WL DSP solution releases entrepreneurs from platform-building burdens associated with developing technology from scratch. So what DSP solution of SmartyAds can offer?
Competitive advantages of SmartyAds WL DSP
These undeniable benefits stem from an advantageous white label business model, however, the proprietary DSP white label technologies of SmartyAds deliver even more benefits.
Intuitive front-end user interface that's easy to navigate
If navigation on some advertising platforms looks like you operate, a space shuttle, it's definitely not about self serve SmartyAds White label DSP. It is SaaS-based which means that owners do not need to overload their systems with additional software. The core capacities of white label platform are unfolded at remote servers so you simply obtain access to your DSP platform via a unique URL. 
Automatic regular updates for a stronger system
The self serve WL demand-side platform is fully hosted, maintained, and regularly updated by our experienced technical professionals. This means that as soon as the new advantageous feature is developed, it will immediately arrive at your user interface. All essential updates on such self serve WL DSP are automatically performed in the background.
Smart optimization with a core programmatic bidder
Based on the smart ML and AI algorithms, our self serve white label DSP solution manages to single out only the optimal impressions for advertisers. It means that decision-making mechanics are designed to find the perfect balance between inventory quality and cost. The proprietary bidder finds such impressions at auctions and processes arrays of data in real-time to make bids on the right impressions. 
Precise targeting & abundance of available ad formats
Set up self serve white-label DSP from SmartyAds and see how your advertising campaigns get accelerated with precise targeting segments. URL targeting, geo, language, traffic type, time of the day, frequency capping, contextual targeting aren't making the full list of functions according to which you can channel a great variety of digital ad formats to the users. (Display, native, video, and so forth). 
Win rate optimizer & fill rate booster for better outcomes
Win rate optimizer and fill rate booster are the exquisite modules of our self serve DSP white label technology. While Win rate optimizer will tech ML algorithms on how to improve win rates in the future, fill rate booster will analyze statistics to let you act upon changes in fill rates. 
Ad spend pacer for saving ad budgets 
No advertisers want their ad budgets to run away in a few days. SmartyAds self serve white-label DSP has a spend pacer extension that protects you from overspending and helps you spend your money reasonably. The extension takes into account natural daily traffic falls and rises and evens out impressions according to these fluctuations.  
GeoEdge security for healthy traffic
Self serve white-label DSP platform knows how to verify ads and effectively prevent ad fraud with in-built anti-fraud systems. Multi-layered protection from GeoEdge security continuously verifies inventory quality in real-time applying predetermined policies to ensure superb quality of inventory. 
Customization and partner connection 
DSP white label technology is customizable. Apart from user interface customization we also support API modules that enable general bidder functionality. Via the bidding platform, you can also transmit the data from publishers in case you have a direct agreement with one of the SSPs. In the self serve dashboard, as an admin, you can manage and monitor QPS rate, start and pause endpoints, and turn traffic to a particular user on and off. 
To wrap it all up
White label DSP is a self serve technology that enables bringing programmatic platforms in-house without the tremendous time and financial resources invested in development. Your self serve demand-side platform - your rules. White label self serve DSP platforms can work virtually for any agencies or enterprises that strive to purchase this software platform and resell it for their clients. SmartyAds also makes it easy for you to launch the manage serve platform with outstaffed account managers who support your business. 
Create your own customized enterprise-level programmatic advertising solution with our white label DSP. Don't hesitate to ask your questions!