Many businesses cannot afford to develop their solution from scratch. The better alternative is to use off-the-shelf software that allows partners to launch their own brand based on existing technologies, taking into account all the high standards and innovations of the industry. It is called white labeling.
All technical issues related to the white labeling platform's development and further support and maintenance are fully outsourced to the white labeling company. White label business opportunities can range from outsourcing marketing services (marketing automation) to building a SaaS platform or social media platform or app. In this article, we will review how white label software works, in what niches it is applied, and why marketing agencies often build their own software for advertising monetization (programmatic platforms).
A few entry words about white label marketing automation
Building a custom solution on the custom domain (aka building software in house) requires not only resources and money, but also expertise to build it the right way, especially when specific features are required.
White label providers are companies that make the installation of digital marketing automation platforms easier, cheaper and faster (thanks to the prebuilt core).
Additionally, the business receives a product manufactured by the technical requirements set before implementation. So, the brand receives a product manufactured by the technical requirements set before implementation, requiring minimum investment. You only need to choose the right white label partners and white label products.
Most business owners will benefit from new services and a white label reseller program for their own branding. In practice, the white labeling approach works well for companies across industries. It can also be suitable for a small business or e-commerce store. Especially suitable for online business and digital marketing automation (e.g lead generation, centralized reporting, paid advertising, and other service offerings). Among the main advantages are saving money, and time, but these are not the only reasons for using such digital marketing services.
Let's figure out what white labeling is in programmatic and how to work with it.
Why create a programmatic platform
A few services are as profitable as programmatic as it makes purchasing and selling of digital inventory super effective and thus, many small businesses strive to open and capitalize on such a solution based on an unbranded platform (white label). Still, it can be a very expensive endeavor.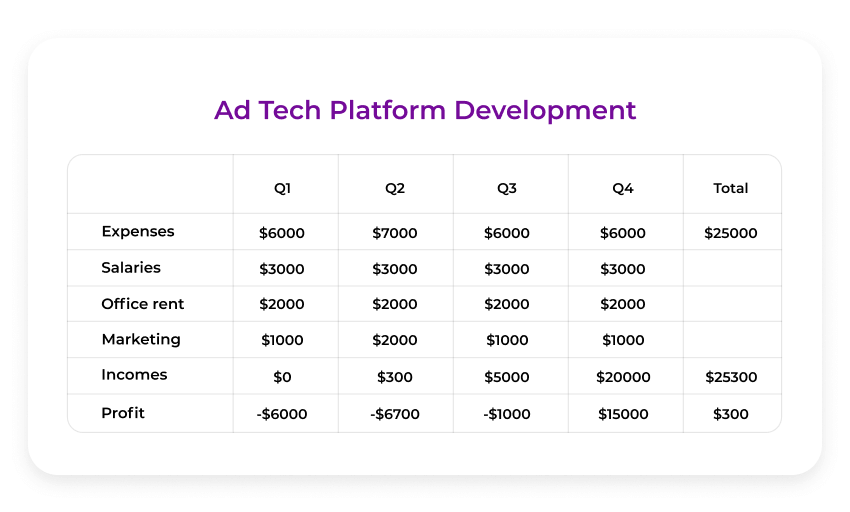 Programmatic advertising allows advertisers to place their ads on publisher websites with little or no human intervention, thanks to AI-powered algorithms and a complex software ecosystem.
In programmatic many processes are automated: buying media, placing ads, tracking performance, and optimizing the campaigns. Many platforms also offer an editing tool for developing campaign creatives and additional services.
Publishers can manage their advertising inventory through advertising platforms. Ad inventory is the ad space an online or offline publisher must sell on their website, mobile device, app, video, etc.
Transactions take place automatically without price discussions and the signing of contracts. This makes the process simple, fast, and efficient.
As a result, costs are reduced, and the quality of the advertising campaign is growing.
Every year the share of programmatic advertising and budgets for its increase. According to a study by eMarketer, in the US, in 2021, 86.5% of display advertising will be purchased through programmatic platforms, which is approximately $79.61 billion.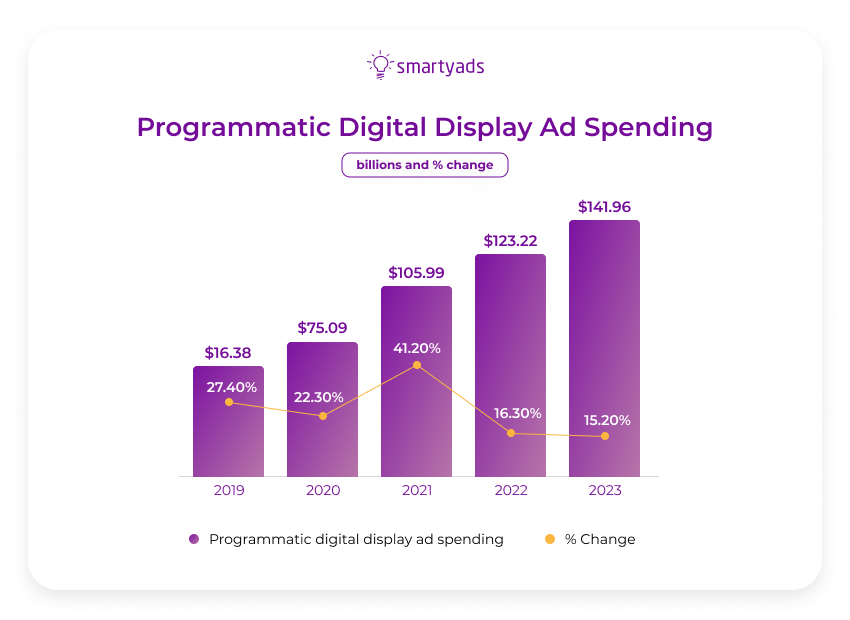 So why would a company need programmatic? The main reason is that the programmatic business is very profitable and will only grow and become more popular in the future. The above statistics confirm this.
However, the programmatic business is complex and it is challenging to build a platform from scratch. Thus, many businesses strive to create their platform but choose a more accessible way while using white label service offerings.
How programmatic works
The programmatic ecosystem has several types of platforms and offers white label services. Some represent the interests of different players in the digital advertising market and seek to sell space on the site profitably. Others aim to find and buy the best placements for the advertiser.
Finally, others collect data. Let's consider each of the white label services.
Supply Side Platforms (SSP) are platforms for publishers (websites, applications, CTV). They allow publishers to monetize audiences and optimize ad impressions.
SSPs often work through RTB (Real Time Bidding) but can also work on a direct sales model.
Demand-Side Platforms (DSP) — platforms where advertisers and agencies buy ad impressions (inventory), effectively manage campaigns, analyze results and optimize placement.
Ad Exchange is a traffic exchange aggregating web publisher supply (SSP) and advertiser demand (DSP) for real-time ad impressions.
Ad Server is a web server that stores advertising formats (banners, videos) and data about them. Then, it delivers advertising content to the publisher in response to user requests.
The server is also responsible for targeting ads, tracking the number of impressions, and monitoring the effectiveness of campaigns.
Data Management Platform (DMP) is a platform that collects and processes different types of data. It then fuels targeted campaigns on DSP. Based on data, the DSP determines who to show ads to.
The programmatic ecosystem is built on the interaction of these platforms and services. For example, DMP provides audience information, while SSP publishers sell ad space. And through Ad Exchange, DSP and SSP platforms interact in real-time.
As a result, advertisers can show ads at a favorable price to the selected audience on suitable sites.
What is white label software?
White label software is software that a company uses to build its own solution (platform like DSP, SSP, etc). Best white label software is usually sold on a Software as a Service (SaaS platform) model (white label saas).
Vendors normally have a reseller program that has a certain cost per month. Some change based on the revenue that the platform owners receive as a result of platform operation.
Businesses usually purchase access to the software, add their branding to it and resell it as their own. When they also order additional or custom features from the vendor, it usually costs more, however, this way a newly-created business can expand its customer base and land more clients by offering unique functionalities.
Essentially, the existing business using the software "rents" or "leases" the software for a monthly or annual subscription.
The white label software is provided to the reseller without a trademark. Instead, the reseller adds its branding and then sells access to the platform as if it had developed it.
White label business opportunities
White label SaaS reseller provides companies with various benefits. For example, here's what you achieve with white labeling:
Comprehensive product offerings. A reseller may add the best white label software product to their product line;
With white label SaaS software reseller offers faster software launch (time to market) and new market entry;
Reduce short-term costs — no development costs, no costs for web design and licensing;
Low risk. You can cancel the subscription and leave if you are not happy with the platform;
Great quality. White-labeled software is not a crude newly-created platform, it is a time-tested solution that many other clients interact with. Thus, it almost excludes bugs and problems with solution functioning;
Scalability. White-labeled platform can be scaled up when you need bigger capacities without stopping the platform's functioning. Normally, directly from the client's accounts, the users can request shifting to the bigger QPS plans.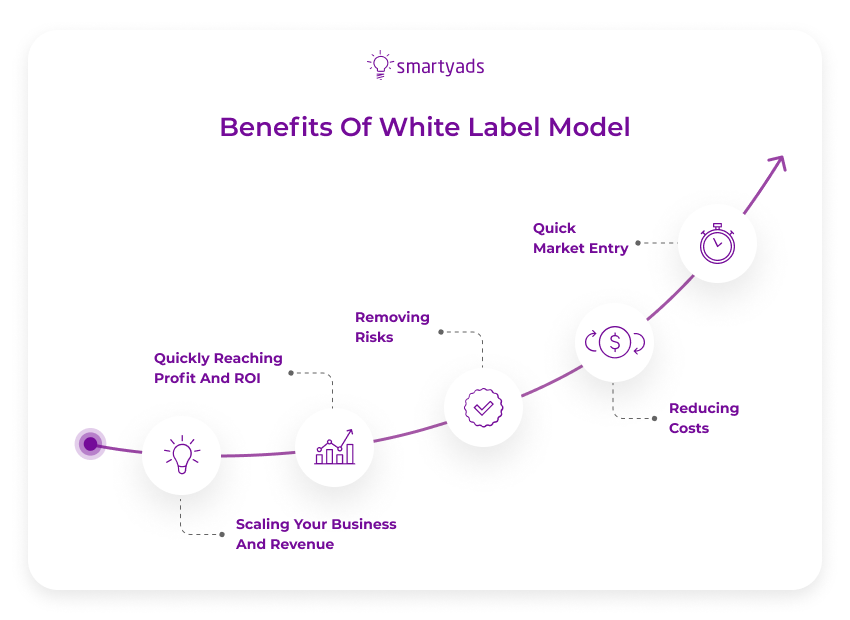 How does white label software work?
White label service involves a business buying software, customizing it, and presenting it to other people as their own.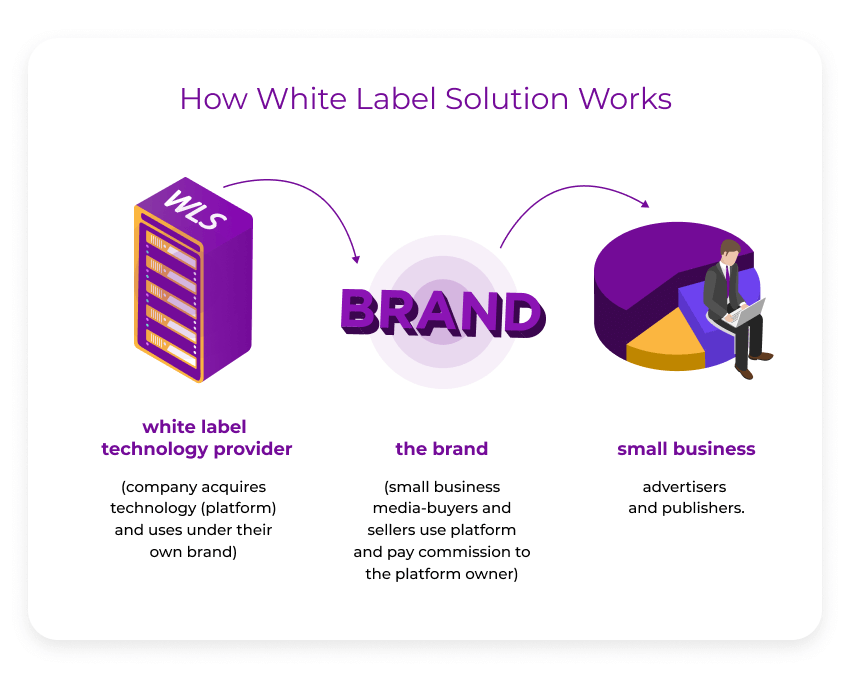 For example, the usual white label software process is as follows:
1. Software Company A develops a product and offers it to the market;
2. Company B subscribes to the software, renames it to match its identity, and resells it under its name (attracts new customers);
3. Company/A customer uses this software to run ad campaigns (and pays particular fees to the owner).
For advertising automation companies often create white label PPC and white label CPM platforms. However, white label software is also applied to create other kinds of products.
4 common white label SaaS products
Social media marketing software
This kind of software can be very useful for generating leads. This software manages social media, including integrating multiple social media platforms, compiling and scheduling posts, monitoring interactions, measuring engagement, and even content creation. In addition, white label software social media includes dashboards and a user interface that you can customize to match brand colors and graphics and then resell to customers.
SEO services
Since most organizations don't have the time and resources to develop their SEO software, SEO services can prove valuable. Especially often it is used for marketing services to expand services and include SEO in offerings, buying, rebranding, and reselling white label SEO software can be a lucrative business venture.
This type of software can offer APIs such as the Google Trends API, Keyword APIs, Google Ads, etc., which can help create some unbranded tools such as auditing, analysis, reporting, and dashboards covering everything, from keyword research to backlinks.
Mobile applications
Many mobile apps out there do pretty much the same thing, just with a different look and branding. So not only do they help develop their own mobile apps for payment and loyalty programs, but they also brand them for businesses so they can sell and promote them as their own.
Email marketing software
Similarly, white-labeled email marketing software allows agencies to offer email software solutions for newsletters, automated emails, or emails to reach even more customers while maintaining their brand identity. These marketing services providers typically allow buyers to customize their domain and edit fonts, colors, and buttons to suit branding requirements.
Event management software
White label software for event management allows agencies and event organizers to manage events from start to finish, from registration to attendee engagement, sponsorship, and communication.
This software will enable organizers to create event websites, registration forms, virtual environments, and mobile apps customized to match the client's branding.
How white label SaaS software works
Custom solutions for your SaaS tech stack can reduce costs, save time, and create the branding your business needs. Sometimes these platforms are also based on the PaaS model (platform as a service). There are several milestones you need to pass to start selling and using your white label product:
Find the right product
Once you've decided on the direction your business is going to take with white label products, you'll need to explore if any companies out there are willing to make that product for you. For example, let's say you want to provide a social media management platform but don't want to build one. You need to find a company that not only makes a social media platform but is also willing to white label it for you.
Test the product
It is essential to test the white label product that you will be reselling to customers. Whether it's a freemium model, a free trial, or even if you need to invest a small amount to get a prototype, you'll want to test the product to see if it's worth using.
Pay license fees
License fees are the costs associated with using a white label product. Regarding SaaS, license fees are charged on a subscription basis, just like any other SaaS product or tool. You pay for an annual or monthly subscription to use the product, brand the product, and resell the product as your own.
Customization of logos and trademarks
Once you have agreed to the terms with your provider and paid the license fees, you can customize the platform with your designs and colors to match your brand. Of course, adding your logo is critical, but other things like changing the font and font size will also help embed your organization's brand into the product. Additionally, you can ask the vendor to implement more custom features for you (for additional payment).
Sell to customers
Whether you are using this software to sell or resell to your customers, you are free to use this software as you see fit. The choice is yours.
What is white label software in programmatic?
For advertisers
The white label DSP from SmartyAds offers the opportunity for marketers to get a platform that can be easily customized. It will have all the necessary modules and functionalities to drive efficient ad buying.
The platform also allows smart bid optimization, CTR boosting, and support for all ad formats. Some companies offer white label PPC platforms, however, exactly CPM solutions like the ones from SmartyAds, offer the most favorable conditions for raising brand awareness and lead generation (as they are based on the per-impression cost model).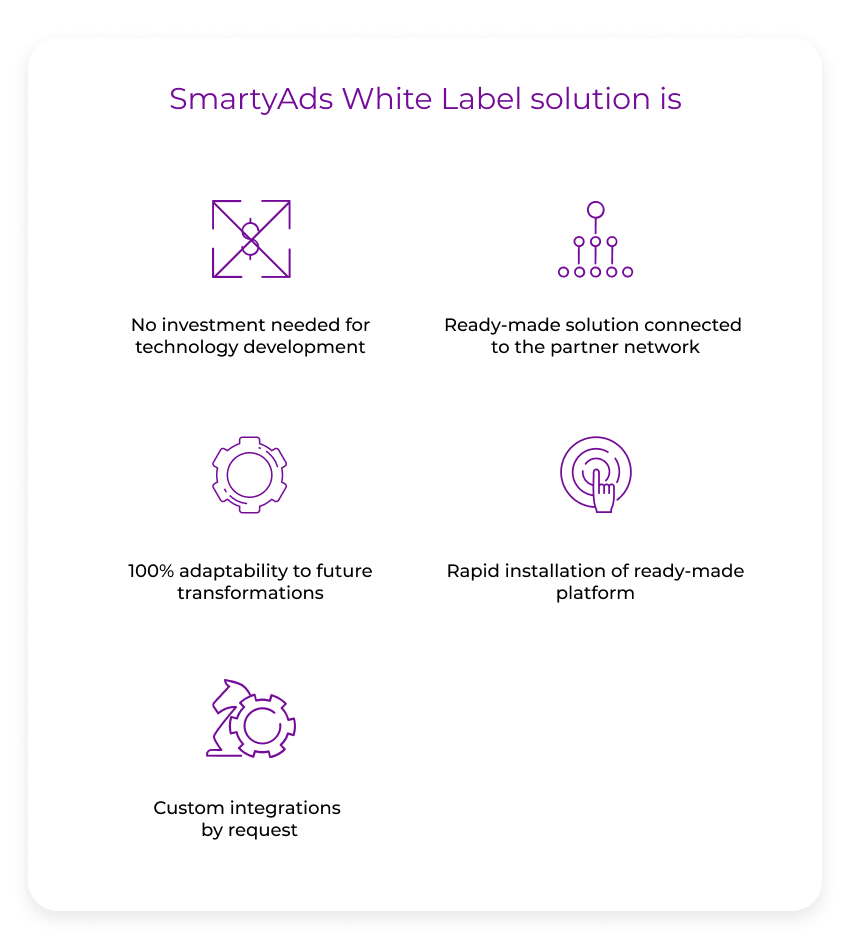 For publishers
Publishers also need white label business solutions for online business. For example, white label SSP is aimed at publishers who want more control over their inventory and those who need to track records regarding their deals more precisely. Publishers can get a white label SSP platform from SmartyAds. It offers a great engine for RTB and private marketplace deals.
As well, the white label SmartyAds Ad Exchange is a good suggestion for advertisers and publishers who need an open marketplace where advertisers and publishers trade directly without intermediaries.
Ad Exchange as an independent solution helps you integrate partners and customize your media buying or selling up to your own terms. For example, as a platform owner, you can connect only selected publishers or advertisers to the ecosystem. This allows you to ensure the cleanliness and relevance of traffic, filter requests, and responses, and establish your own comfortable pricing.
Best white label software options for programmatic industry
White label tools are fully customizable and include a wide range of optimization tools to provide a completely new and delightful experience that meets the end user's needs.
White label opportunities allow you to create your own branding environment with your own corporate identity and custom features to start using advertising platforms.
White Label SSP
Ready-made software technology to set up your own transparent and well-controlled monetization platform.
Set your trading conditions, tailor your media sales to your needs, and increase profitability efficiently.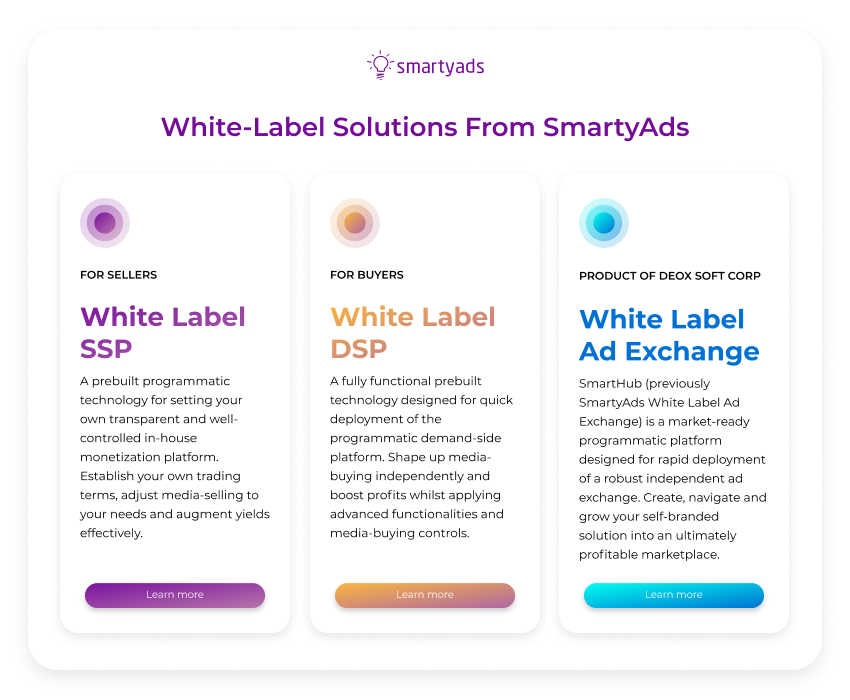 White Label DSP
Full-featured off-the-shelf technology designed to rapidly deploy a software platform on the demand side.
Customize your media buying and increase profits with advanced media buying functionality and controls.
White Label Ad Exchange
It is a market-ready software platform designed to quickly deploy a robust independent ad exchange. Build and turn your private label solution into a highly profitable marketplace.
What is White Label DSP
White label DSP is a fully developed, configured, and maintained technical DSP core that a business purchases from unlabeled vendors.
The pre-packaged software core makes the white label DSP solution reasonably easy to deploy and requires only minimal custom retouching.
Why use white label DSP technology?
Time and price. A ready-made advertising platform reduces the time and resources needed to build a platform from scratch.
Safety. Self-developed software may have bugs, but a white label off-the-shelf DSP from a reputable technology provider guarantees trouble-free operation.
Scalability. Another white label business opportunity; it is quick to set up and scale as needed.
With a white label DSP solution, growing and scaling your independent ad business is much easier.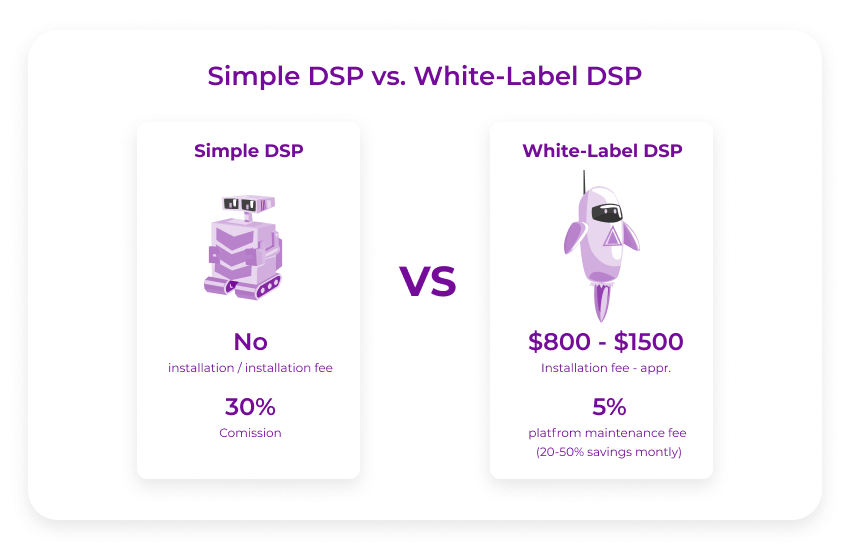 To wrap it all up
White label services are designed to help you focus more on your business goals. There is no need to reinvent the wheel and spend countless hours and money on research and development. White label service promotional products are great because they require a minimal upfront investment.
Therefore, they are suitable not only for large but also for small businesses. You only need to find the right white label service providers.
White label solutions are highly customizable, so you can optimize the platform to work perfectly which will help you achieve unprecedented results.
The white label solution requires minimal upfront capital investment, as the supplier covers all issues related to software licensing, data center space or servers, and technical support costs.
Once a company has customized the product, it can start selling the product as revenue and make great money on it.
Create your own programmatic white label platform with SmartyAds WL solutions!