For many years marketers have been pursuing the quest for effectiveness and relevance of advertising. While in the age of traditional advertising client-attraction methods have been of rather random nature, nowadays advertising is becoming more and more sophisticated in terms of reaching new audiences with innovative targeting solutions. One of the greatest game-changers in this area is behavioral targeting. That's why we would like to study it in detail in order to understand how this technique works. We will also determine how advertisers can benefit from it.
Behavioral targeting definition
Behavioral targeting (aka online behavioral advertising) is a marketing technique that allows advertisers to collect and use information about users' web behavior in order to create and show ads most relevant to every consumer. In other words, to define behavioral targeting, we can say that it provides an opportunity to deliver an advertising message to the most interested audiences, using certain data.
These data sets include but are not limited to: the history of web pages visited, history of web searches, time spent on a particular website, last time of visit, abandonment of a shopping cart, ads and buttons clicked, and other specific actions. These details are often combined into single informational user profiles, which help advertisers to understand their audience. Such customer profiles help to understand: what targeted audiences are looking for and what they tend to avoid, their specific passions and preferences, what kinds of messages they find the most appealing and attractive, etc.
Understanding users' key interests, advertisers can create stronger and more engaging campaigns and communicate with potential customers more productively. To get a better understanding of how it works, let's turn to behavioral targeting examples. Imagine a customer searching for information about a specific car every day for two weeks. The user reads reviews, checks a few types of designs on several manufacturers' websites and compares models. If an advertiser targets this user with a product that features similar properties they search for, ads will be more effective.
Common confusions around behavioral targeting
Once we have defined what is behavioral targeting, it is now time to understand what behavioral targeting is not. This way, we will avoid typical confusion with related terms.
Behavioral targeting is sometimes referred to as online behavioral advertising, but there are some differences between the two. Online behavioral advertising is a name for advertising types that apply behavioral targeting at some stages, whereas behavioral targeting is a name for a technique that works as a fundament for this type of advertising.
Similarly, retargeting is sometimes mistaken for behavioral targeting. The main difference here lies in the scope of data used for campaigns. While retargeting is aimed at users who have already visited the company's website or interacted somehow with it, behavioral targeting works with much broader information and can usually operate with third-party data in addition to first-party data.
Another common mistake is to mix up behavioral targeting and contextual targeting. The contrast here can be spotted in the definition itself, as behavioral targeting is based on user behavior, while contextual targeting depends mostly on the context of the advertisement.
The main purpose of contextual advertising is to make sure that the advertisement is relevant to the website it is published on. It does not involve any data about users in general but is rather focused on the content of the pages where the ad is placed.
Types of behavioral targeting
As you have probably noticed, behavioral targeting is a broad notion. This technique deals with enormous amounts of information which should be managed accurately. To navigate better around sources of big data and algorithms, it is recommended that behavioral targeting should be divided into two main types: onsite and network.
Onsite behavioral targeting
Onsite behavioral targeting, as can be guessed from the name, takes place on a certain site and is merged with a personalization system algorithm. The information about user behavior is gathered from the entire website. It also includes data from interaction with ads, buttons, shopping behavior, and other details. This type of information makes an important contribution to the process of evaluation and development of user experience.
It gives great website usage insights - what works effectively and what needs more improvement. The same statistics are then used to decide what kind of ads should be displayed to a particular user. Usage of onsite targeting helps to engage and convert users, as they receive only relevant recommendations and information. This, in turn, encourages them to spend even more time on browsing and interaction with the company.
Network behavioral targeting
While the advertiser's website can give a lot of important information, especially for personalization and retargeting, it is sometimes not enough to have a big data analysis from onsite behavioral targeting. So, some advertisers turn to alternatives that can offer a wider look at user behavior online. Such an alternative can be found in the second type of behavioral targeting - network behavioral targeting. This method includes the collection and sharing of information across various platforms around the web. These statistics can incorporate device identification data, such as IP address or other IDs usually provided by a data-management platform. Personal details such as names, telephones or emails are usually not included. If a person frequently visits sites oriented at a specific gender or age segment, an algorithm will evaluate it as an indication of gender, age or some specific interest. For example, a person who is browsing the best travel destinations for seniors and female-fashion websites will most likely be attributed to retired women. Based on this, the user will see ads customized accordingly.
How does behavioral targeting work?
After we have discussed what is behavioral targeting and distinguished types, it is time to dive into technical details and investigate how this method actually works. The process can be divided into four simple steps. It takes data all the way from the unstructured mass of cookies to the delivery of customized content to the user.
Step 1. Data Collection. As we already mentioned, information about the user is the key element in behavioral targeting. The more data sets are collected and analyzed, the more successful a targeting campaign will be. Pieces of user behavior information which we all know as "cookies" are collected from various sources, mostly first and third parties. The collected measurements are then stored within data-management platforms (CDP or DMP). DMP is an extremely useful tool for an advertiser with the function to collect, store, and segment data, which we will discuss in detail further on. Apart from this, advertisers can add up some details about registered users who already purchased something at their website, information collected from Internet service providers, and other sources.
Step 2. Segmentation. All collected data is then segmented into various groups. At first, user profiles are created. This includes all acquired behavioral data about a particular user, such as search patterns, page visits, clicks, shopping preferences, etc. After user profiles have been created and their habits defined, they are separated into different groups depending on their interests and behavioral patterns. There can be numerous different behavioral targeting segments, such as people who are interested in the arts, people who often travel abroad, people who like to stay up late, and many others. Any trends, purchasing habits or interests can become criteria for segmentation - it is all up to the advertiser's intent.
Step 3. Targeting. The first two steps can be considered a preparation for the main one - the targeting itself. The success at this stage can define the success of the entire campaign. Once the data is collected, an advertiser should choose specific groups of visitors to target. It is now time to create relevant ad campaigns and strategies aimed at these specific segments. One should customize content carefully in order to maximize the results of the behavioral ad targeting campaign and deliver high-quality personalized ads. If everything goes well, next time when users with matching interests and behavior visit website, they see exactly what they look for, at the right time and place. This is how behavioral targeting companies work.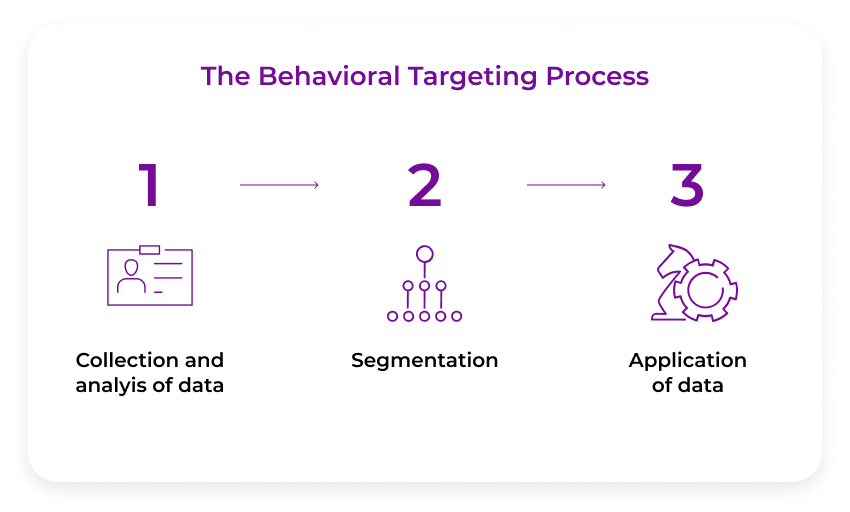 Behavioral targeting tools
The crucial element of any successful behavioral targeting marketing, as well as any user data collection in general, is a data-management platform. DMPs can store and analyze lots of different data types. The actions processed by DMPs include the following sets of data:
Viewing periods. The webpage might fascinate some users so that they want to spend some time on to study content more closely. At the same time, other users might find it irrelevant after a first look through the page is taken. The thing is, both of these visits will be counted as a page view. Apparently, these metrics alone cannot give us a full picture of how people interact with the website. By calculating how much time users spend on particular pages, DMPs give advertisers better insight into the efficiency of their content. The duration of the visit is also an important indicator that helps to understand the relevance of advertising. It clearly shows how many of the new visitors are actually interested in the website once they get there.
Clicks and interactions. Other important metrics when it comes to the effectiveness of advertising are clicks and interactions. These metrics immediately reveal which elements grab attention, what kind of products are most popular, and which types of messages are getting the highest response. Whether those are engaging videos, informative blog posts or aesthetically pleasing graphics - with DMP you will know exactly which elements of your website are the strongest. Moreover, it also can interpret users' online behavior or habits, which is a great resource when it comes to the creation of highly-targeted campaigns. For instance, some people might be more interested in reading, while for others it is easier to perceive information from videos or other formats. So, in order to engage more people, one should know what users can be potential customers and which digital ad formats deliver messages to them in the most accurate and relatable way.
Searches on the website. This is one of the most important user information types as it shows exactly what your customers look for. This way you can better understand each of your visitors, plus, it also gives you a better picture of the audience. Once this information gets to your behavioral targeting campaign, you can target potential customers with the thing they have been looking for.
Visits frequency. The frequency of visits is a type of data that can show you interesting trends of individual onsite behavior as well as the general effectiveness of each page compared to others. This is especially crucial for products - once you see a user has shown interest in some product repeatedly, it might be enough just to retarget them now. It works the other way round as well, as this data shows gaps between visits and, therefore, how valuable the website is to the particular reader.
Shopping history. DMPs can track if a user bought anything and make assumptions about which products they might be looking for in the future. Once a user became a customer, further relationship with the brand can become long-term with the help of professionally created retargeting campaigns. Moreover, DMPs also collect information on users who added a product to a shopping cart but haven't made a purchase. Highlighted at the proper time, this product can spark interest once again with a much higher purchasing probability. While it might seem challenging to create content relatable exactly to your target audience, with the help of the information gathered and analyzed by DMP, this task becomes attainable. Combining all the accumulated information provided by data management platforms, advertisers could understand their clients much better and launch campaigns that achieve great results.
Benefits of behavioral targeting
We have discussed the mechanism of behavioral targeting and its relation to the data management platform, but why would you use this type of targeting and not some other? The answer is - enormous amounts of data collected for behavioral targeting online make website visits much more effective and beneficial for both users and marketers. Let us examine some of the behavioral targeting pros and cons in detail.
The only challenge some users of behavioral targeting might face is the General Data Protection Regulation. GDPR mostly concerns collecting and storing behavioral data about users and their consent to make use of such information. It states that visitors whose data is getting collected have to first freely give their 'specific, informed, and unambiguous' consent. Moreover, GDPR also secures that users could see and revoke such consent at any time. So, this option should also be available on websites that use behavioral targeting. These changes in law apply to EU citizens and residents, but if your website or app has visitors from Europe, it is essential to make sure your data policies comply with new rules. There are many online tools to evaluate how GDPR will impact you, but if you're still unsure, you may find it useful to consult a lawyer.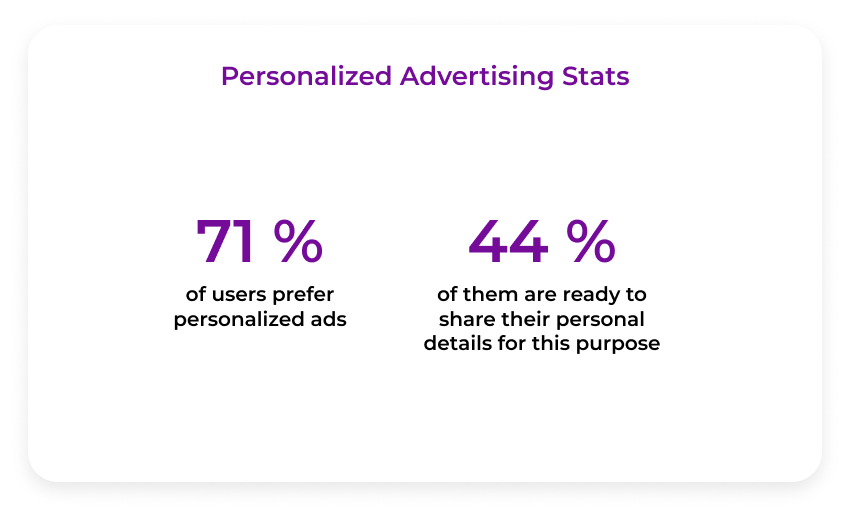 How to get started
So, how exactly can I get started with behavioral targeting and get all these benefits? The process is beautiful in its simplicity:
First of all, you should definitely know your goals and what advertising strategies you intend to use in order to achieve them. Whether it's raising brand awareness, increasing sales or getting to new audiences, the goal should be clear as it is an essential part of building an advertising campaign.
Your second step is to evaluate and understand your audience. To achieve this, turn to your website analytics or statistics of purchases. You can also investigate data provided by registered users if it is available. The lack of data is not a problem at all -data-management platforms will provide you with more information than all of these sources together!
At SmartyAds we offer white label DMP which will assemble your 1st, 2nd, and 3rd party data from all available sources: CRM, site browsing, email, and more. This is a chance to create a robust and unique proprietary data infrastructure on an enterprise level.
Finally, it is time to set up an advertising campaign. The best choice for this will be to use a demand-side platform, which will allow you to get plenty of advertising inventory at once. Acquiring SmartyAds white label demand-side platform, you can do it with scale and an additional level of transparency over advertising costs.
At SmartyAds, experienced advertisers, as well as beginners who only plan to set up their first campaign, will always find support at each stage of behavioral targeting campaign set up.
Contact us to find your own personalized solution!