Seo title Black Friday Advertising Ideas for 2020 Seo Descr Black Friday advertising ideas: when to start an advertising campaign, how to craft a message, how to target and reach the right audience using DSP. Black Friday Advertising Ideas: What's Trending in 2020?
Black Friday advertising season is peaking after the celebration of Thanksgiving, however, the preparation for it starts weeks prior to the actual Black Friday. This is a period when brands offer grandiose discounts to their customers, it is also the time when people spend a record amount of money for shopping and purchasing presents. This day gives a start to the biggest shopping craze of the year that's why the tradition has marched far beyond the borders of the United States.
In 2020, Black Friday will be November 27th. The three most intense shopping days will start this day. With the right Black Friday advertising ideas, advertisers can get almost a month's revenue worth during the discount period, as well, it is an outstanding chance to promote the new brand, and expand the client base. In 2020 people will be more inclined to buy online (because of lockdown restrictions), so Black Friday marketing strategy should adapt accordingly to leverage the opportunities online shopping has to offer.
Can't afford to miss: why Black Friday marketing is a must?
During the holiday season, Black Friday, Cyber Monday, Christmas, and Thanksgiving day including, retailers achieve the best yields throughout the year: people tend to spend at least $1,00 - $1,250 per holiday. We've gathered mind-blowing statistics that clearly demonstrate that Black Friday advertising campaigns will still be exceptionally important for advertisers this year:

Who needs Black Friday campaigns and why
Here is a list of reasons why your strategy needs to include Black Friday campaigns:
In order to increase sales
To provide income for low seasons.
To retarget the users who previously postponed the purchases.
To increase interest and brand awareness.
To promote new products and acquire new customers.
To foster the loyalty of existing customers
To offer bonuses as a way to increase retention.
To get rid of old products and introduce new ones.
When to start advertising for Black Friday?
So, when to start advertising for Black Friday? Days or weeks before the actual date? Thing is, in 2020 retailers will start to advertise earlier than they did in pre-pandemic time. According to the Adobe Analytics Holiday Forecast, during the Pre-Thanksgiving day (Nov 1-22), consumers will spend $56B (+37%). 1/3 of all consumers will complete holiday shopping by Black Friday and for this reason, 75% of all retailers will offer discounts earlier in 2020. Now as a marketer or advertiser you know when to advertise for black Friday - a week before and after Black Friday will be the hottest period for shopping.
It is the best time to launch a target black Friday advertisement. However, bear in mind that certain preparation stages should be done a month prior to the launch, e.g preparing online stores, Black Friday deals, and gathering Black Friday advertising ideas. Don't want to miss anything out? Then take a look at the checklist of things you should lay your fingers on before the deadline.
A month before the campaign:
Make sure that your online store website can handle a surge of traffic caused by an increasing number of visitors (test servers, check for 404 errors, etc.).
Shorten the user's journey from order to payment (configure speedy registration, shorten the order form, set up autocomplete, etc.).
Select products for Black Friday deals. While offering a discount for each product, make sure they don't run out of stock.
Determine the amount of the discount for each product or service. Remember that in order to qualify for a Black Friday sale you must reduce prices by at least 20%. If you can't afford it try to offer discounts for the next purchase or prepare a complimentary free gift or bonus.
Before you air your best buy Black Friday advertisement, launch a warm-up ad campaign on DSP. This will help you gather suitable audiences (potential buyers) for the Black Friday promotion campaign or e.g mobile retargeting.
A week before the campaign:
Announce big sales on social networks, instant messengers, and newsletters.
Add countdown timers to your website and ads.
Choose digital ad formats that suit your purposes best. Think if you want to use static or dynamic ads, and what benefits each format can give for you. For instance, banner ad formats are the most affordable and are supported in any environment, while interactive ads like rewarded video generate the highest engagement (but will suit mobile video game, etc.).
Choose the right wording and craft the creative ad unit.
Few days before the campaign:
Pre-load the creatives on the DSP, set up the targeting criteria, configure the budget, campaign start, and end. Submit creatives for approval. The holiday season can get intense so at some platforms, approval may take some time. By making sure your campaign settings and creatives are okay, you release yourself from potential anxiety. Don't leave everything to the last minute, make sure your best buy Black Friday advertisement is ready to see the world.
Best buy Black Friday advertisements: 5 outstanding examples
An hourly deal
An hourly deal is one of those Black Friday marketing ideas that can solve several tasks at once. The essence of it is changing deals - every hour your website offers different products or services for a discounted price. This way you appeal to different audiences and simultaneously keep them interested so they return to your site to see what's coming next. If you already announced a discount for all assortment, let's say 40%, in your hourly deal you can suggest a greater discount of 50% or 70%. Don't forget to craft the banner for each hourly deal applying the most popular display banner ad sizes.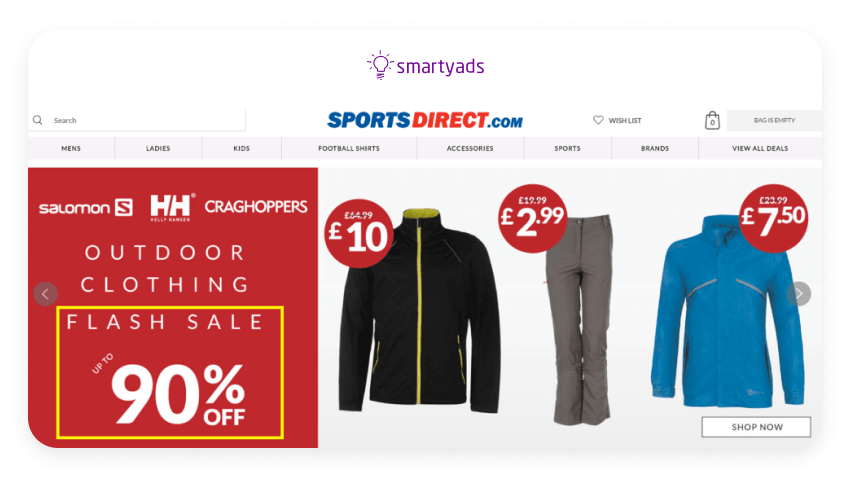 A gift guide
Marketing black Friday deals with a gift guide make it easier for the customers to find you when they don't have certain products in mind but specifically look for discounts. You can accommodate a gift guide in a specialized blog post or craft the catalog in Shopify. For this, enter the subject line and the description of your collection of Shopify according to the guidelines. In the same way, you can use Shopify to create a blog post featuring your thematics, e.g "Best gifts for moms on Thanksgiving day", "Black Friday gifts for the football lovers", etc.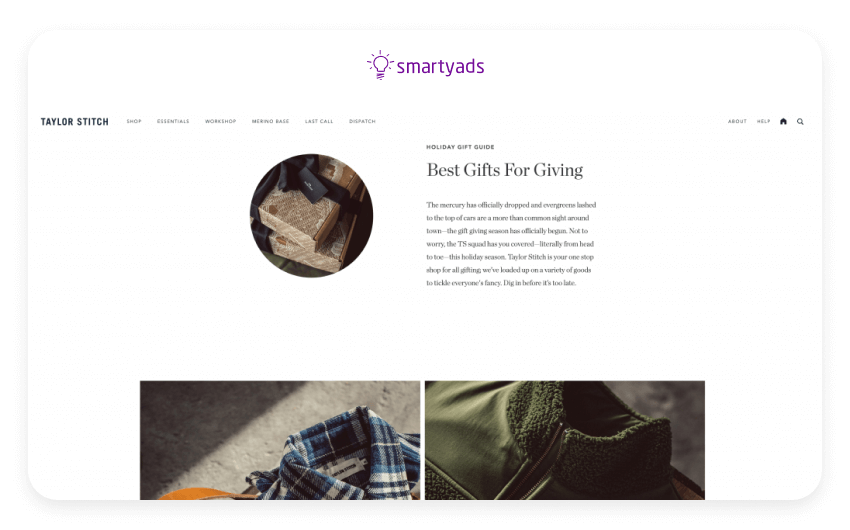 Extending sale
Extending sale time is one of those Black Friday marketing ideas that gives you an additional advantage over competitors. Whereas the majority of companies in your industry may stick with giving out discounts on Friday, you can extend the best buy offers to Cyber Monday. Plus, you can also diversify and set discounts for all assortments on Black Friday - the rest of the week you can offer only best-selling items with a discount.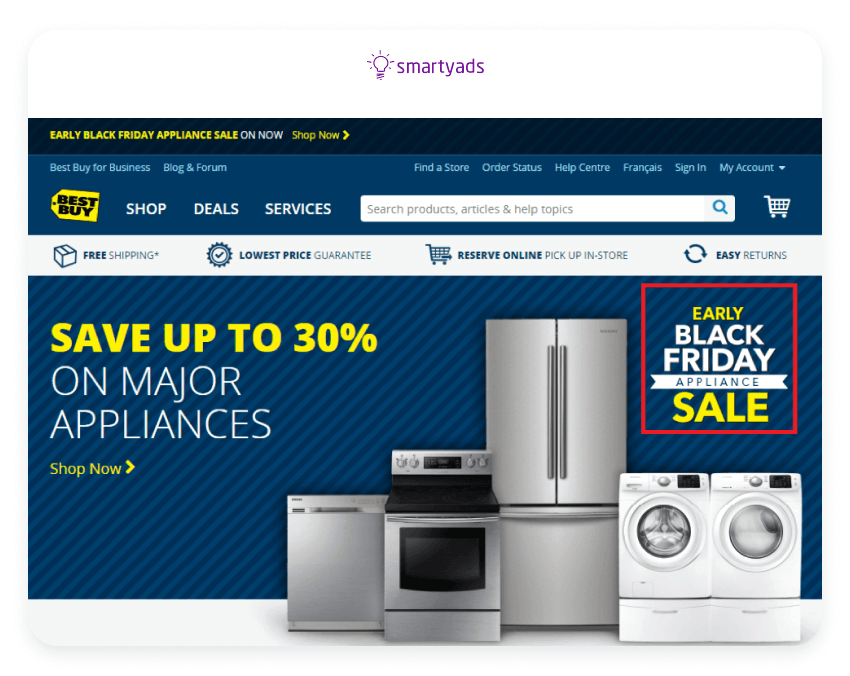 Scratch cards
Marketing black Friday deals with scratch cards can be specifically beneficial. Especially for a small business. Luckily, paid and free to use online tools nowadays enable online store owners to add interactive cards to their products. After scratching such cards the customers receive a certain individual discount for the product, it works as an element of surprise. Add this element to the near-transaction stage as a surprise and you'll prevent a lot of abandoned carts.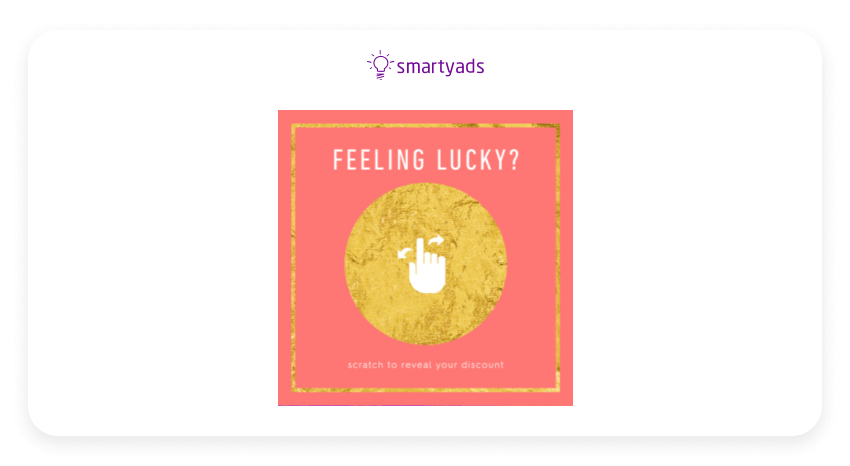 Gamification
Black Friday sale advertisement can be gamified and this, for sure, will draw more customers to your online store and will increase engagement along with sales. You can develop your own on-site game where users get bonuses depending on how many game stages they pass. The other way you can use to achieve this effect is to apply interactive ad formats (like rewarded video) on DSP. Such ads will help the user to collect additional bonuses for ad watching.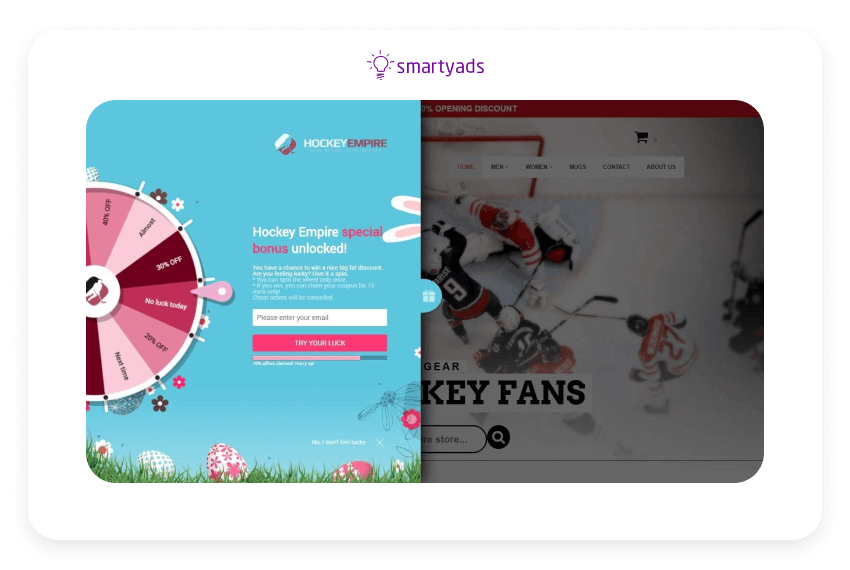 In case you work in the B2B segment
When your business operates in the B2B niche it will surely take a long time from consideration to purchase (compared to B2C). If you provide services to other businesses, it's important to launch hot offers in advance so that these businesses, in turn, have time to offer discounts to their clients. Leave at least 3 weeks to decide what exactly you will offer to your clients, define the terms and conditions of the promotion, as well as methods of informing.
Oftentimes B2B businesses offer very complicated services in the niche where the consideration stage may last up to several months. In such circumstances, several days of active Black Friday advertising simply won't be enough to encourage the purchase. For this reason, it is recommended to run a preliminary branding campaign a few months before the date and then launch a Black Friday campaign with the same offer but with a much better discount. You can make it a retargeting campaign. Such promotion will work well - a one-day limitation will push those of your clients "who are still thinking" towards quicker and more confident decision-making.
Black Friday advertising strategies that boost ad effectiveness
Black Friday advertising strategies that you choose for this year can be boosted up by automation tools and precise targeting. As a media buyer, you can buy advertising space programmatically in real time. When you advertise on DSP it is important to know how to use all ad platform functionalities to make the ad delivery timely and the messaging relevant to each viewer.
Increase your ad budget
Increased demand means increased Internet advertising costs. The rest of your competitors will be spending on ad campaigns more than usual. This means that in the holiday season you need to increase your ad budget so that you could show more video or banner ads to the viewers. The optimal number of impressions for average campaigns should be 2-3, for the holiday season it may reach 3-7 per day. However, showing more than this may cause ad fatigue so we recommend limiting the number of impressions per day with advertising frequency on SmartyAds DSP.
After you've created a campaign, fill in the basic settings and frequency capping (number of impressions per day). This way each user will see only a particular number of ads per 24 hours.
Set the right targeting
In terms of targeting Black Friday, advertising campaigns are not different from other campaigns. They must be relevant and interesting to the target audience to generate sales. Let's see how this can be achieved. For starters, analyze the visitors of your online store with Google analytics. Find out what regions your most active customers come from. Make use of geographic and user data reports. Don't target the regions that do not increase click through and don't grow your sales.
If you make an additional demographic analysis of your audience you can make your targeting even more narrow. On SmartyAds DSP you can target according to the age range, gender, geo, OS, device type, browser, and many other criteria.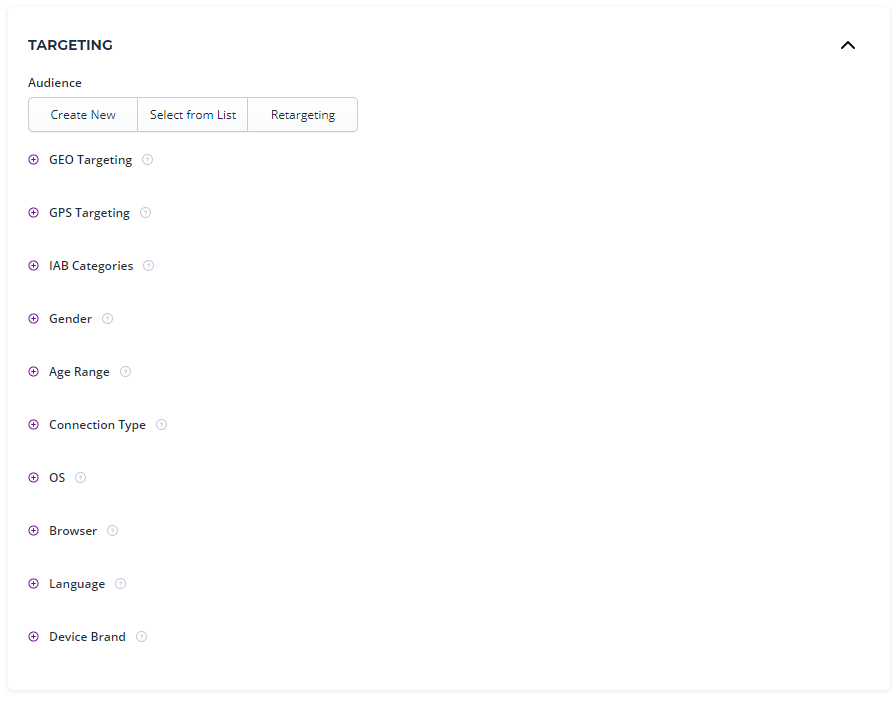 Note: precise targeting helps you to show Black Friday sale advertisement only to the users who can be potentially interested in your products. This helps to make impressions up to the point and prevents overspending (since ads are not served to users that are unlikely to convert). Still, we recommend applying 2-3 targeting options to avoid the situation when your target audience is too narrow (so the ad serving/traffic becomes very weak).
Set up correct dayparting
If you advertise across regions dayparting is a feature that will help you to maximize the effectiveness of the Black Friday marketing strategy. Use a display schedule based on the time your target audience is most active. The dayparting feature on SmartyAds DSP will help you to schedule the ads according to the selected timezone. Plus, as you can see on the screenshot below, the platform enables you to select the start and end date of the campaigns and precisely choose what hours are best for your ad serving during each day of the week.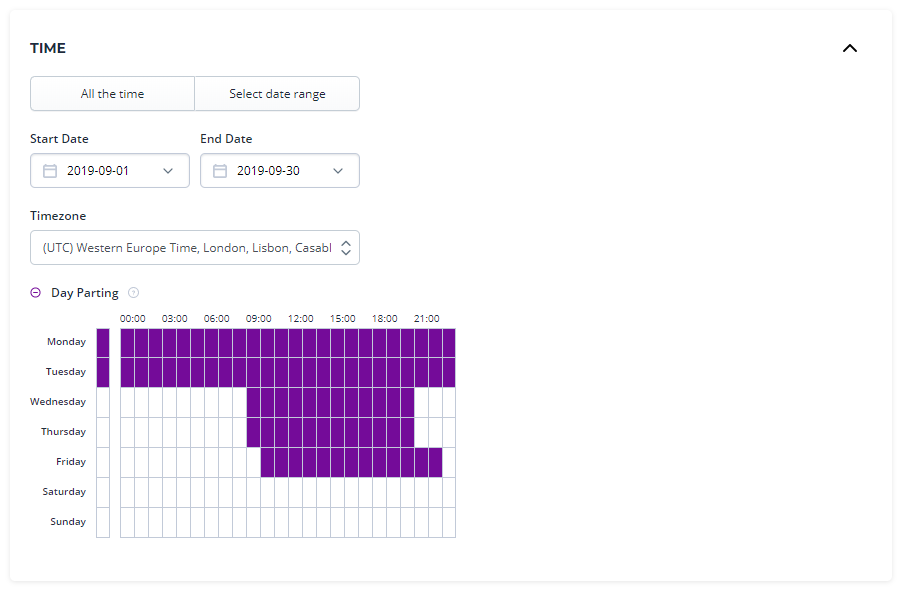 Apply mobile retargeting
If previously you've already run a branding campaign on DSP and it worked well, it means you already have a "warmed up audience" at your disposal. You can use this audience again to deliver the Black Friday marketing campaigns. Plus, if you previously advertised let's say on desktop, Black Friday gives a good chance to remind these audiences about your offer - this time on mobile devices. For this, when you create an ad campaign in the "targeting" section simply - "select the audience from the list". Later on, you can conveniently manage each audience for your campaigns on the dashboard. More about audiences in the DSP guide.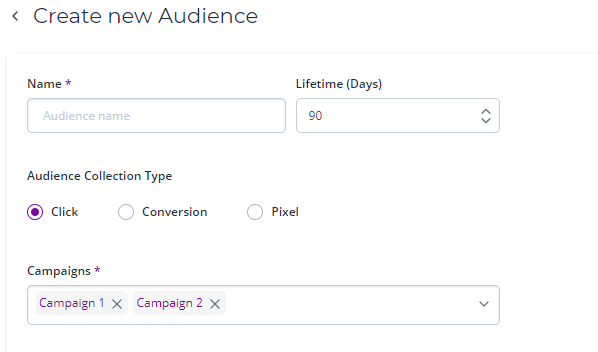 Analyze what works
How to advertise for Black Friday when you are not sure what kind of campaign or creative will work better? In any case, it is better to run a preliminary A/B test two weeks prior to the deadline. In case you no longer have time for this, advertising solutions like DSP will help you to analyze campaign flow regularly. Attribution is important! In the SmartyAds DSP dashboard, you can track your target black Friday advertisement on a weekly, monthly, and even daily basis so that you could change the campaign flow if needed. These stats will give you a guideline for marketing black Friday deals next year and also it will help you to see what really works for your business.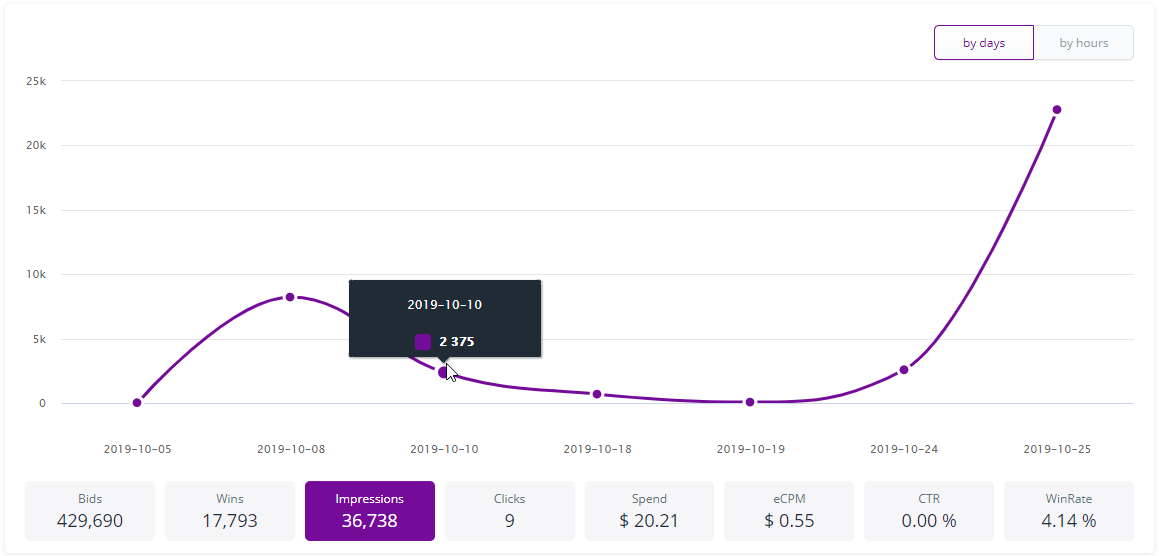 The last word
How to market Black Friday deals in 2020? Well, it is not rocket science. This year people are inclined to make online purchases like never before. If you properly plan everything and keep close to the checklist we've provided in this article, you will be 100% ready before the deadline. This checklist paired with fresh Black Friday advertising ideas and campaign optimization tips should cover most of what you need to know about preparing for this holiday season. As soon as the purchasing craze is over, analyze your campaign performance, calculate profits, celebrate the success, and get ready for Cyber Monday and the new Christmas sale achievements.
Adjust and automate your Black Friday advertising campaigns on SmartyAds DSP in several clicks. Register now!