DMEXCO 2023 once again confirmed its status as the top event for the digital industry. On September 20th and 21st, more than 800 speakers gathered to talk about AI in marketing, retail media surge, automation, Web3, sustainability, and the rest of the hottest topics. The event attracted around 40,000 trade visitors and over 650 renowned companies, making it Europe's biggest digital hub. 
Join us as we take you through the highlights of our team's visit to DMEXCO 2023. We'll dive into the trends, insights, and technologies shaping the digital landscape. 
What was the spirit of DMEXCO 2023 like? 
Day one at DMEXCO was a whirlwind of energy. Renowned speakers on the Tech Stage dived into the most trending topics – from Metaverse to spatial computing, conversational AI, Web3, NFT economics, and engagement driven by new rich media ad formats. 
The industry's thought leaders graced the Center Stage to share their perspectives on the new technology developments, the dominance of big tech, global energy struggles, and challenges they pose to the martech/adtech scene. As well, fireside chat subjects included the evolution of TV and streaming, cross-channel brand communication, the rise of 3D social platforms, and the exploration of novel video advertising formats. 
The digital landscape is undergoing a dramatic shift, encompassing everything from boosting engagement and loyalty to transforming infrastructure and enabling the tokenization of tangible assets. That's why a lot of attention during the first day at the Tech Stage was glued to the subject of Web3 and its implementation in advertising. 
3D experiences, avatars, and new gaming channels are proving that the age of the internet continues to evolve while opening new opportunities to elevate branding, marketing, and e-commerce to unprecedented heights. Additionally, in the fast-changing world of media and entertainment, technology is driving a big shift in how content is made and shared.
A lot will change in terms of ideation and creative development. For example, non-designers can independently generate content that automatically follows brand guidelines, and it all becomes possible thanks to ChatGPT. Still, it gets clear that now AI complements marketers rather than replacing them, handling repetitive tasks and allowing them to concentrate on creative and strategic objectives. 
The key message – true advantage of smart algorithms also lies in greater precision and their ability to tailor ad messages to what resonates most with the target audience. Automating tasks for efficiency while seamlessly implementing advanced, personalized approaches and making smart technology choices,  were central ideas in the speech called 'The True Bottleneck to Personalization.'
We also listened to the speech about immersive rich media advertising and how it can be a game-changer for brands and media agencies, addressing common advertising challenges like banner blindness and lack of differentiation. Improved brand recall, lift, and engagement, interactive and attention-grabbing nature, it is all about modern rich media formats. There were case studies demonstrating the effectiveness of the format and practical tips for implementing such campaigns.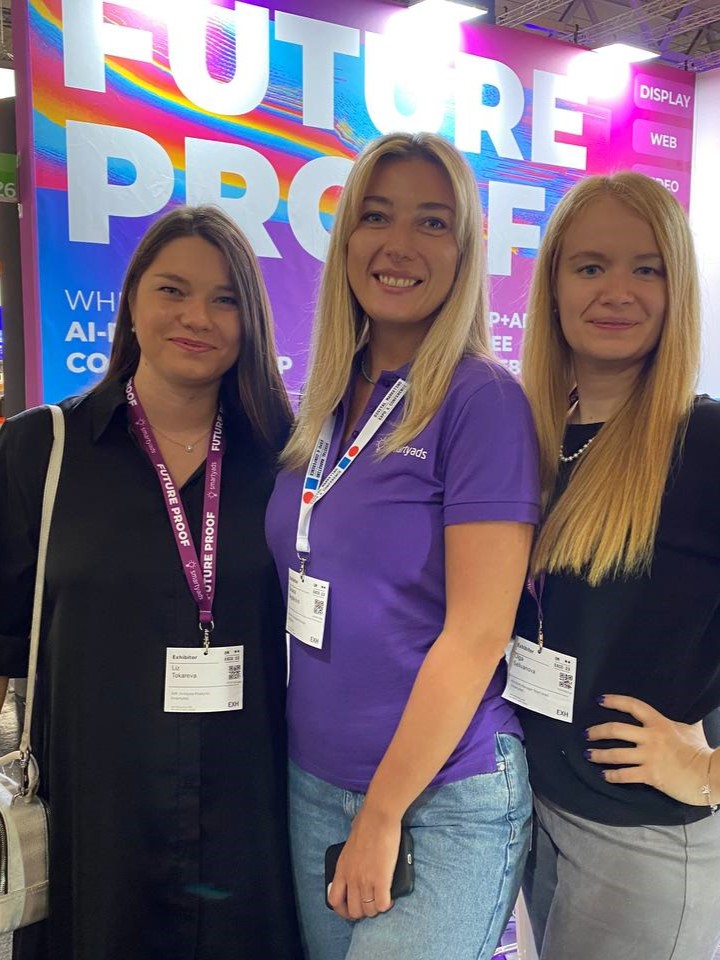 We dived into the most relevant subjects, exploring the use of AI in advertising, targeting in a cookieless landscape, and the progression of retail media. This fusion of insights forms a dynamic reservoir of creativity for brands and enterprises to draw inspiration from. Reconnecting with our valued partners, building new connections, and exchanging exciting updates about our product advancements was an exceptional joy this year, so I already can't wait for DMEXCO 2024.
On the second day, discussions and engaging presentations continued to captivate attendees. September's weather, meanwhile, offered warm embraces of sunshine that seemed to carry with it the promise of new beginnings.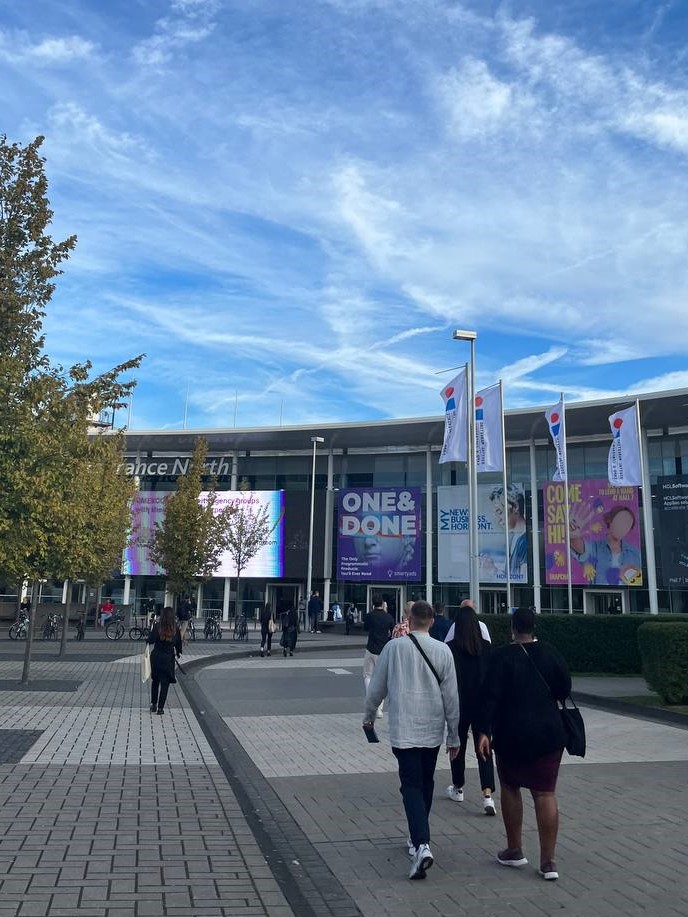 My first experience at DMEXCO was breathtaking. Discussing future endeavors and solidifying existing relationships with industry players was a special highlight. Moreover, forging new alliances and friendships added an extra layer of excitement to the DMEXCO. The Tech Stage sessions focused on pioneering Web3 marketing advancements and digital innovations while providing a glimpse into the future of our dynamic industry.
DMEXCO also served as an ideal platform for brand-building initiatives, offering extensive opportunities for establishing meaningful business connections. 
I'd highly recommend attending DMEXCO to everyone — there's no other opportunity like this to connect with your partners, discuss possible concerns, and build strong strategies while communicating face-to-face in a very inspirational environment. It's a unique chance to embark on a sort of roadshow with all your partners in one place over two days. There are very few events like DMEXCO that truly excel in lead generation. The entire industry gathers under one roof, and all the major market players, even those that you normally can't reach online, join into communication.
Given the particularly diverse agenda this year, we made it a priority to delve into some of the most significant subjects that are already shaping the digital landscape and which we believe will have far-reaching effects in the future.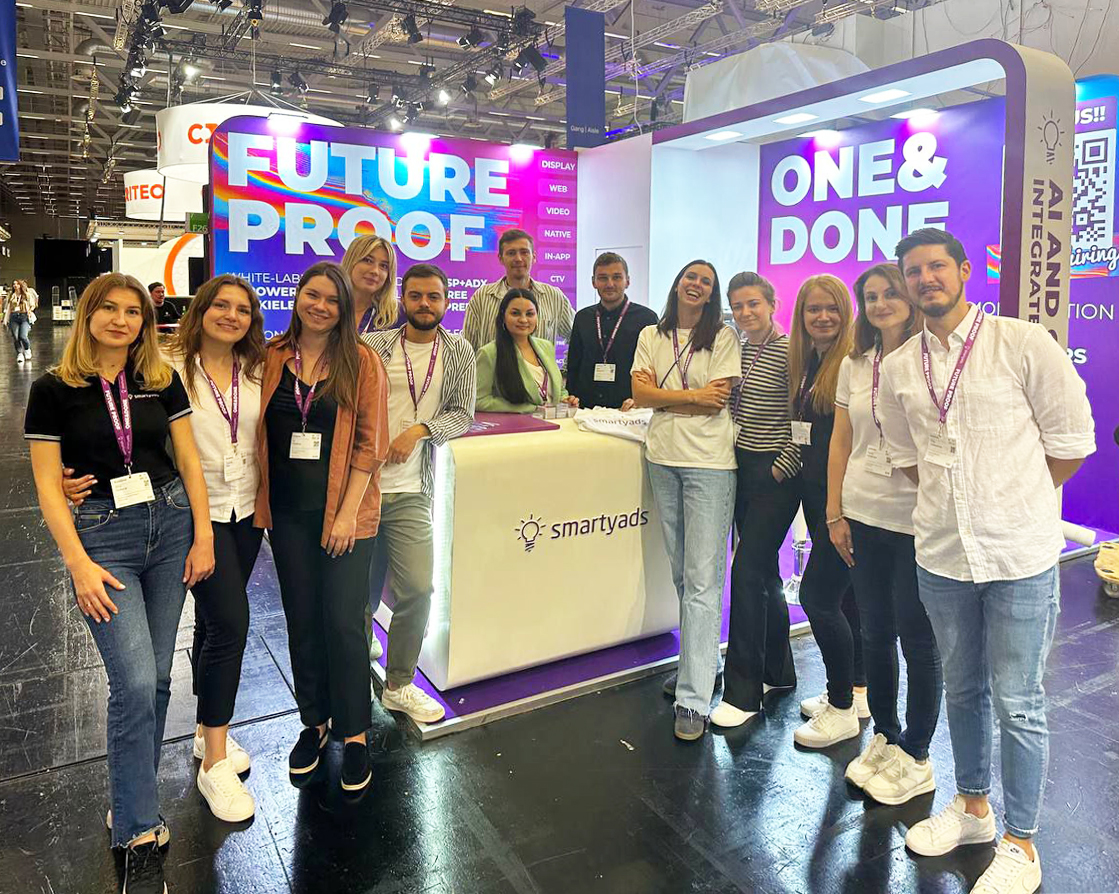 AI is now omnipresent in marketing and advertising
As we've mentioned earlier, the focal point of this year's DMEXCO was the ascendancy of generative AI technology in all spheres of marketing and advertising. The prevailing sentiment in most speeches and panel discussions was clear — the digital revolution is here, driven by artificial intelligence and machine learning that are being actively implemented in technological platforms. 
These algorithms enable real-time data analysis, allowing marketers to make data-driven decisions instantly. They enhance ad targeting by analyzing user behavior, preferences, and demographics to deliver highly relevant content to the right audience at the right time.
Moreover, AI-driven programmatic platforms can automate the bidding process, ensuring advertisers get the most value from their ad spend. They continuously learn and adapt, optimizing campaigns over time for improved ROAS.
The implementation of smart algorithms into programmatic advertising was a pretty popular subject of discussion since it equips marketers and media buyers with essential tools for achieving greater campaign efficiency, precision, and personalization. Today, AI and ML can do a lot for streamlining advertising, from bid adjustment to optimizing budgets, extending targeting capabilities, and more — exactly these features we introduced in the latest white-label update of our DSP.
The integration of AI into programmatic platforms also aids in fraud detection and prevention. AI algorithms can identify suspicious activities and patterns, helping marketers avoid ad fraud and protect their budgets. This is why it is crucial to use their capabilities to ensure the continued prosperity of one's digital enterprise.
Ad spend in retail is soaring 
In the face of recent economic challenges, if there's one digital market segment that has demonstrated resilience, it's retail media advertising. Notably, in 2023, retail media networks have evolved into comprehensive data-driven entities. They now stand as the new publishers in the post-cookie era, providing advertisers and brands access to their inventory and broadening their reach through programmatic advertising.
Current data from IAB indicates that a substantial 92% of European advertisers are already engaged in collaborations with retailers. By 2026, retail media spending in the United States could soar to as much as $100 billion! This represents an entirely new and lucrative category within the realm of performance marketing.
These days, retailers step into the role of publishers, thus becoming competitors for established media companies. This underscores the need for standardized channels, transparent KPIs, and a unified approach to cross-retailer outreach. 
New digital realms are driven by Web3 and Metaverse
NFTs, Web3, and the Metaverse have finally evolved from mere buzzwords into established business strategies. Technological advancements that are based on them open up exciting avenues for consumers and brands to craft distinctive customer experiences. 
The DMEXCO Conference offered a diverse range of lectures and compelling practical demonstrations, providing intriguing insights into the opportunities and challenges of Web3. The introduction of the Digital Fashion format at this year's DMEXCO underscored that digitalization has firmly taken root in the fashion industry. 
The integration of physical objects with digital ones is already possible and was featured at the event, unveiling immersive worlds where users can adorn avatars in real-life products within video games, among other applications. The highlight at DMEXCO was Tesla's presentation illustrating the diverse ways it's incorporating multimedia digital apps into its new vehicles.
Authenticity, inclusivity, and sustainability have become new trendsetters
In various collaborations, whether it's between different genders, generations, or ethnicities or among agencies, influencers, and brands in areas like AI, data, creation, and retail, most speakers at DMEXCO 2023 agreed on one fundamental principle: success hinges on working together on an equal footing.
This is the time when businesses can engage on a global scale while communicating with individuals locally in a genuine manner that resonates with them. Prioritizing authenticity, inclusivity, and sustainable development in adtech can propel businesses to success as it is an additional, highly efficient way to capture customer loyalty in the long run. 
SPO and data: what matters most in adtech
It's crucial to recognize the strategic significance of supply-path optimization SPO in enhancing the transparency of programmatic advertising; that's why 2023 has been called a year of SPO, so the subject was actively discussed at DMEXCO. By strategically managing the paths through which ads are delivered, buyers today are striving to gain clearer insights into the process, ensuring they buy the most cost-efficient impressions and save their investments. 
We also witnessed significant attention directed towards the topic of data. This surge in interest might be cause by the scarcity of data that emerged in the wake of tightened privacy policies, the phasing out of cookies, and the introduction of various global privacy measures several years ago.
Because of this, there was notable enthusiasm for first-party data solutions in programmatic, along with a keen focus on automation that optimizes targeting and yet doesn't sacrifice user privacy. Exploring contextual targeting was also actively discussed by brands and marketers as a way to turn advertising privacy-friendly, eliminate dependency on cookie-based targeting, and future-proof their marketing communications. 
To wrap it up
As always, DMEXCO stood as the pivotal gathering for international digital experts, firmly embedded in our annual business calendar. 
For us, it was a hub for delving into crucial ad tech subjects like embracing responsible media practices and disseminating cutting-edge insights gained firsthand. While engaging in industry-specific discussions, we were also happy to deepen personal connections with our valued clients, partners, and friends. We thoroughly enjoyed the vibrant atmosphere at DMEXCO 2023 and relished the opportunity to connect with all of you! We eagerly anticipate the chance to reunite next year!