This year Apple has already banned third-party cookies support for the Safari browser, this time the company announced a shutdown for (IDFA) - advertising identifier for IOS smartphones. Even though the (IDFA) function wasn't completely removed, starting from September users will decide whether to opt-in for themselves. Without the user's opt-in, IDFA tracking will be impossible.
This news caused a serious disturbance in the ad tech industry since changes are expected to affect all aspects of cross-device targeting, personalization, and attribution. How will this transform the way advertisers work with targeting and is there a possible way out of the situation? Let's try to connect the dots.
What is IDFA and how is it used for advertising?
IDFA (The Identifier for Advertisers) is a unique number that Apple assigns to each device. Using IDFA, companies accurately link the installation of an app on a specific phone with a particular advertising campaign that attracted the user.
For instance, when Facebook shows an ad to the user in the FB app, it collects and retains the IDFA. Next, the ad leads the user to the App Store, the user installs the application, opens it and it triggers the Facebook SDK, which reads the IDFA of the device and sends it to the Facebook server, (that matches and attributes the user to the source).
How IOS 14 will change the ad tracking
In the new iOS 14 operating system that arrives in September 2020, the application will need to explicitly request user permission to access IDFA. This is an example of how this notification may look like: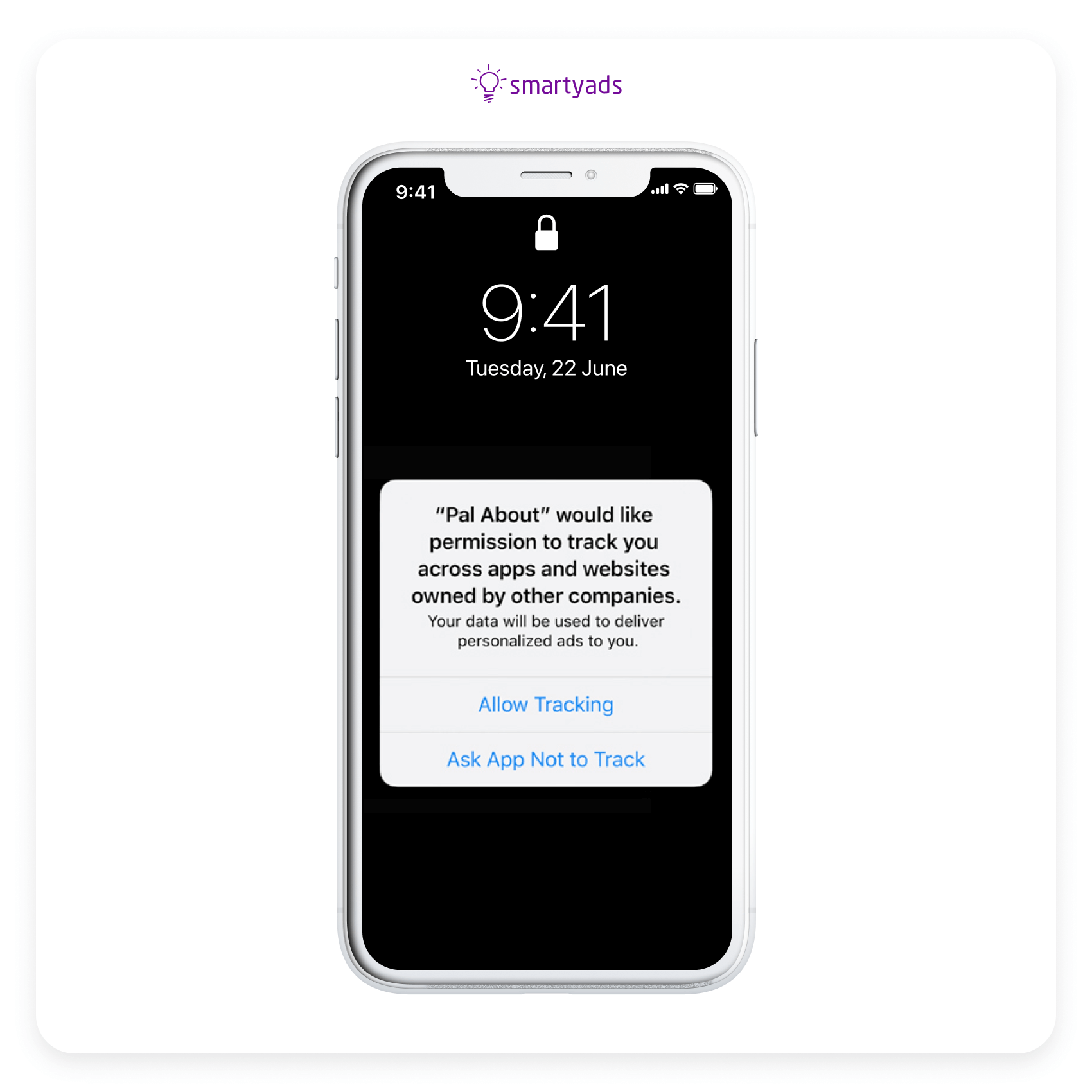 With the transition to opt-in consent mechanism, it is expected that the proportion of users that enable tracking on their devices may barely reach 20%. This may make the further application of IDFA for mobile attribution troublesome. Chances are, this will lead to fundamental changes in the mobile attribution market. Without the ability to accurately attribute app installs to advertising campaigns, the effectiveness of advertising on major platforms such as Facebook and Google will significantly decline.
Apart from mobile ad attribution, IDFA is also used for ad measurement and ad fraud detecting and preventing. DMPs apply IDFA in order to create identity graphs from targeting audience segments. Plus, it is also involved in frequency capping on mobile devices. In the case in the future IDFA will be completely shut down, there will be no chance to perform these activities, as well, it will heavily affect the targeting and retargeting capabilities of ad platforms.
3 main changes we should expect from IDFA restrictions:
Mobile ad campaign attribution with IDFA will be borderline impossible.
Frequency capping on device level will be hindered as well as app-level frequency capping.
DMP audience tracking will be affected.
Understanding that the attribution needs of mobile advertisers can't be completely ignored Apple came up with a temporary solution called SKAdNetwork. SKAdNetwork enables ad networks to collect anonymous user data according to which app attribution is happening. At the same time, this solution doesn't even nearly stand in the line with capacities previously delivered by IDFA. Thus, there's the chance that Apple will consider developing an alternative to it that will function in a privacy-friendly framework.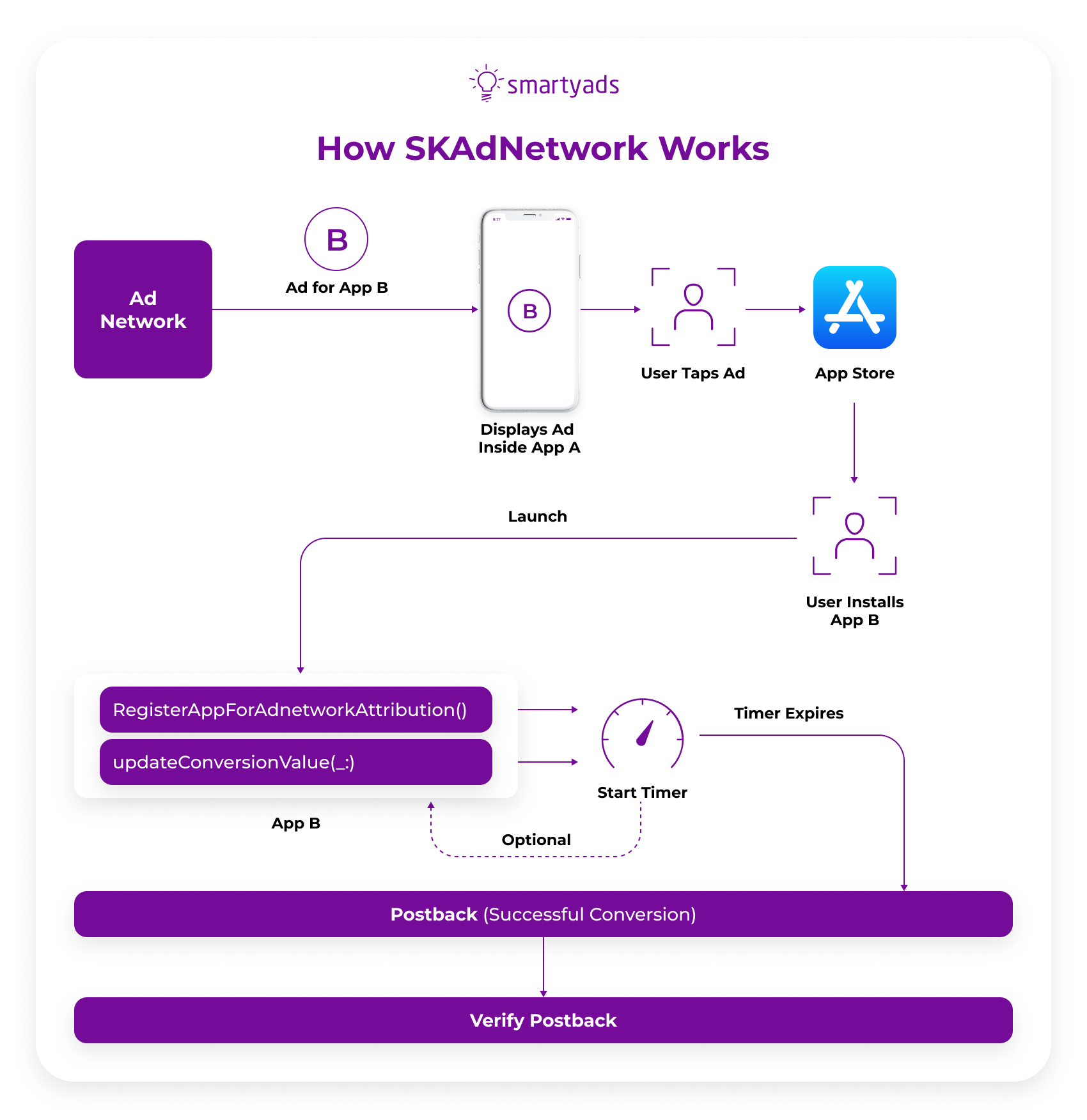 Despite the lack of clear vision about the future of IDFA and other online identifiers, one thing is certain - the ad tech industry needs standards that enable efficient yet safe data collection mechanisms that protect fundamental user rights.
Mobile measurement in post IDFA period: 4 scenarios to follow
While certain ad tech players may see these changes as a serious barrier to effective targeting and attribution, the practice shows us - we've encountered similar disruptions in the past, and in no way it is able to stop the evolution of digital advertising. In such a situation advertisers do not reduce their advertising budgets, they simply redistribute them to areas where they can apply targeting and objectively analyze the results. How will the advertising function after IDFA restriction gets into action? The industry experts highlight 4 possible scenarios:
Fingerprinting
User recognition is happening based on the device configuration information such as a fingerprint or different types of first-party data. This method is already used by large platforms in order to increase attribution accuracy.
Consent incentivization
It is expected that certain app owners will try to motivate users to make an opt-in with bonuses and benefits, however, such an approach may provoke a negative reaction from Apple.
IDFA alternative
There might be developed an API-based IDFA alternative for the App Store that will attribute user transition source to the campaign.
Contextual targeting
Since the placement of contextual ads relies on content category rather than a particular user's data, contextual targeting can become a real way out for advertisers who look to overcome IDFA limitations.
What can be done now?
Shifting to contextual advertising currently appears to be the most viable and customary option for advertisers who need to target and attribute users without IDFA. As known, contextual targeting on the desktop is heavily based on content. In the mobile ecosystem where the content appears to be more dynamic and changing, contextual targeting can be based on such criteria as app category, keywords in App Store, app language, and more. In case you plan to transition to the contextual targeting it is important to keep in mind the following personalization practices:
Type of content. There's still a chance to personalize app ads according to content. Some apps in the entertainment niche, e.g like YouTube apply contextual targeting this way - they analyze what the initial video is about and place ads according to the thematic.
Format. Contextual advertising can benefit from the same digital ad formats that are used for conventional targeting. For instance, native videos will suit well video apps. Native widget blocks can be located near content blocks with matching subjects.
Segmentation. The apps can be segmented according to the genre (e.g games), audience category, age, etc. In the games, there's also a chance to distribute users into cohorts according to the behavior such as session length, engagement, etc. In case app publishers find a way to share such data with advertisers, brands will still be able to develop a personalization approach for separate categories of customers.
The last word
In between this IDFA restriction announcement and Google's impending abandonment of third-party cookies, the ad tech industry undergoes a major transformation. Every novelty that is currently disrupting the landscape of data safety, collection, user privacy, sooner or later will contribute to the clearer advertising ecosystem beneficial for all participants. Like every new process, this one will entail new challenges, however, they will be resolved as soon as advertising systems are redesigned enough to meet the increasing industry requirements. Until then, advertisers can apply contextual targeting, which also offers great opportunities for personalization. At SmartyAds we fully support the transition to the stronger advertising ecosystem. We will continue to innovate and improve our targeting solutions supporting privacy, transparency, and control in order to help users interact with brands and ad content that they really enjoy.
Need a robust targeting solution to freely connect with your customers? Register at SmartyAds DSP!