The mobile gaming market is currently growing fast. The years of the pandemic have only pushed this segment of our lives to rapid development. People stayed home more, and accordingly, their eyes turned more and more to various games for the entertainment and leisure available at home.
Therefore, the gaming industry has made a qualitative leap in the last few years, with consumer spending growth over the top. So let's explore this biggest mobile game market opportunity to find out how advertising in popular games is happening.
What happened to the mobile gaming market during the pandemic?
During the pandemic, the development of many games froze and only now reached post-production, so many people played "endless" games like Fortnite, Call of Duty Warzone, League of Legends, etc. The release of Genshin Impact by HoYoverse (formerly miHoYo) also greatly impacted the mobile game market, earning $1.2 billion in 2022 alone.
The game's main feature was that the developers could adapt the incredible single-player mechanics from AAA PC and console games to small screens. That is, the game's mobile version on the user experience is not much different from the PC or console version.
This was quite a timely achievement, as the mobile game market continues to grow despite everything, while the console and PC global video game market has slowed down.
This is especially evident in how the console-first regions will face the biggest growth challenges this year. For example, the North American games market grew only +0.5% year-over-year to $51.3 billion in 2022, while the games market in Europe shrank slightly (-0.03%) to $34.1 billion.
Strong mobile growth and, to a lesser extent, modest PC growth in these regions are the only factors offsetting the sharp overall decline.
Meanwhile, regions where mobile devices are the first growth markets see a solid increase this year, with the Middle East and Africa regions growing +10.8% to $7.1 billion and Latin America growing +6.9% to $8.7 billion in 2022. The decline in gaming consoles had almost no impact on these mobile-focused markets.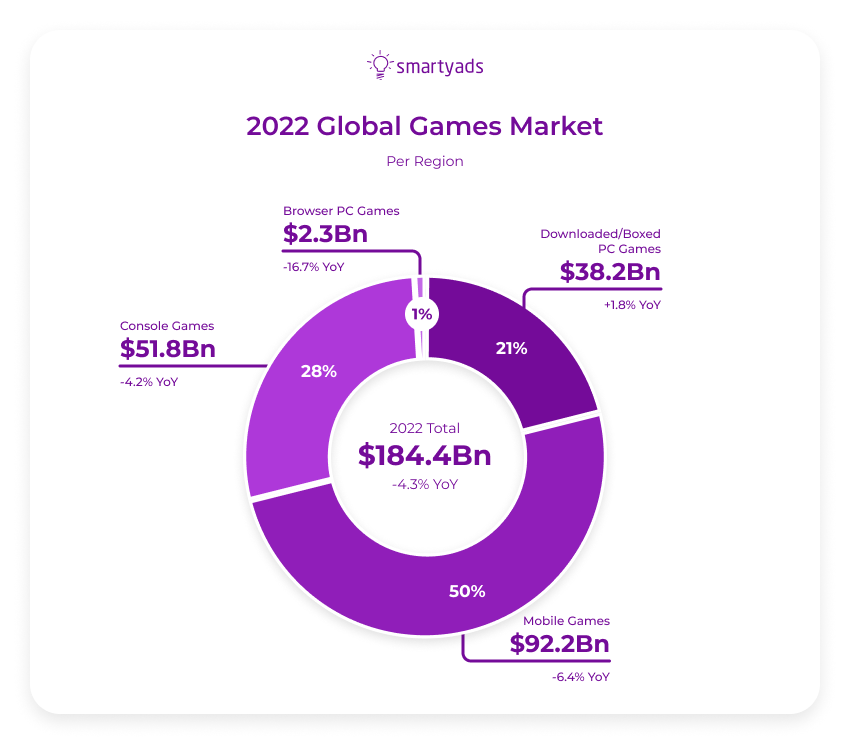 In 2022, the global gaming market, including mobile and other platforms, brought in more than $184 billion. This is 4.3% less than the previous year. It is projected to grow to $211 billion by 2025.
It is already clear to us that the mobile gaming market is currently the driving force behind the entire gaming industry, but let's take a closer look at the major trends in mobile gaming.
Hyper-casual games are still in the lead of the gaming industry
At least by the number of downloads in the US, the hyper-casual games are still in first place for the last couple of years.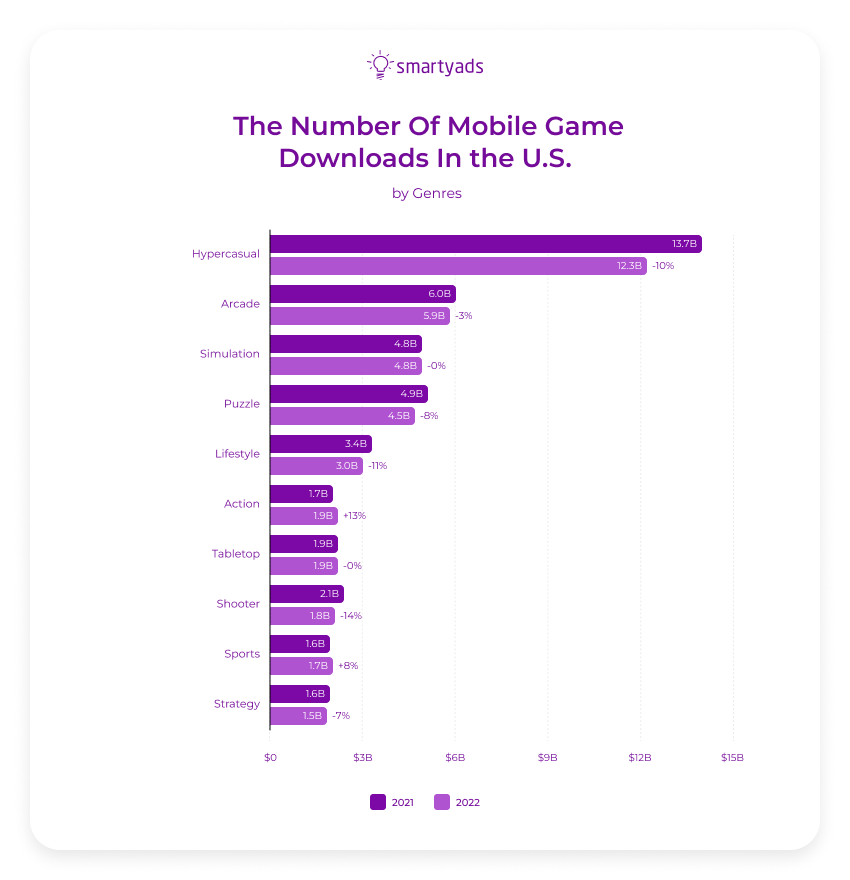 If you are a big fan of the hyper-casual genre, then you will be happy to know that it is here to stay, and we can safely add it to the list of game trends on mobile in 2023. Hyper-casual games are very lightweight, which makes them suitable for most mobile devices.
Such mobile video games have very basic mechanics and provide instant gameplay. Some big names in the hyper-casual genre are games such as Base Attack, Blob Runner, Catch And Shoot, and many others.
Hyper-casual apps require very little time for app development and production. Besides, they offer a simple interface without any tutorials required.
The mobile gaming market analysis shows that an increasing number of gaming companies are entering the hyper-casual gaming area. Some companies intend to do it independently, while others focus on acquiring smaller competitors.
The competition for acquiring new casual mobile gaming industry users will be fierce. Mobile game developers who do not have the money to stay competitive will have to transition to publishing deals or selling their businesses in order to stay competitive.
Puzzle mobile games take it to the next level
Puzzles are one of the favorite subgenres of mobile games among mobile gamers (by the way, here's an interesting fact: 85% of mobile gamers don't consider themselves gamers). One of the latest puzzle genre trends is adding extra gameplay and the appearance of new meta-layers.
It's hard to come up with something new in match-3 games and even harder to compete with such giants of the mobile games market as Candy Crush, which is a recognized and deserved leader in this field.
Elements of additional gameplay and meta-layers can be seen in puzzle games like Homescapes, Gardenscapes, Clockmaker, and even successful new puzzle games like Project Makeover, which have meta-layers of fashion, decor, and storytelling.
Such a strategy allows developers to target a broader audience. It turns out that instead of focusing on players who prefer match-3 games, they may also interest female gamers or enthusiasts of storytelling, design, or logic puzzles.
All of this is a result of mobile gaming market saturation. Many one-size-fits-all offerings make users selective, so mobile game developers should have creative teams to invent new ways to entertain players. But, thanks to this, the core games industry continues to evolve, so it's all for the best.
App Store continues to impact the mobile gaming industry
Apple's change in the use of IDFA will continue to impact mobile game advertising greatly. Targeted advertising has become much stricter, directly affecting user acquisition, engagement, and monetization.
But because, in this case, there are users' personal data at stake, not only the income of game companies, it is unlikely that there will be any easing of the situation in the near future, as it happened with Google Play Store, for example, that reduced commissions for small mobile games developers from 30% to 15%.
So the only logical and adequate solution for developers seems to be to adapt to the current realities and look for new channels to attract users. One can take advantage of offline advertising or DOOH, for example.
This also means that in the current realities, advertising creatives are a crucial part of advertising in the mobile game market. Mobile game publishers will have to pay close attention to this.
Independent Game Stores
Leading mobile app stores — Apple App Store and Google Play Store — were forced to allow developers to sell cross-platform apps. This is quite a significant event because it will enable developers to monetize apps outside the official stores and not depend on the commission set by Google and Apple.
Of course, the marketplaces would not benefit from this, but they were forced to agree to it by law. US courts issued a permanent injunction in September 2021 in response to the Epic vs. Apple lawsuit (although both sides have recently appealed this decision).
This is also governed by the European Commission's Digital Markets Act (Nov. 1, 2022), which goes into effect on May 2, 2023.
This is quite significant for developers, as independent game stores served by third parties offer lower fees and more payment options while allowing them to offer branded, consumer-oriented content.
Forward-thinking developers and publishers will continue operating existing stores, directing users to more profitable outlets.
Social functions of mobile games
The gaming community is quite close-knit and communicative, but mobile games were slightly losing out to PC and console games because they lacked the features of communication between players.
However, the pandemic definitively showed game studios that players were hungry for more communication with fellow players. So developers began adding more communication features to mobile games, among other things.
Now two-thirds of the top 50 mobile games have at least one feature that allows players to communicate with each other.
These features may include:
in-game chat;
connection to social networks;
guilds;
cooperative modes;
PvP modes.
According to Facebook, "Four in ten (38%) new players in the US said they prefer to chat with others when playing games, compared to three in ten (29%) existing players in the US who said the same".
We can see developers adding communication functionality to their mobile games. This is especially common in the Asian mobile gaming segment (for example, the already mentioned Genshin Impact has a cooperative mode in addition to player chats and events in which users can participate together with other players).
However, the Western mobile gaming market is not lagging behind: Call of Duty: Mobile added rooms for partying and Roblox, where players can enjoy the show.
However, the reason for adding these features is the need for greater player satisfaction and the possibility of monetization. Because these rooms are often a place to show off your avatar, skins, and gear; also, it's a great way to improve user retention.
5G helps mobile gaming grow
5G will help consolidate the growth of mobile games. Newzoo reports that 43% of active smartphones will be 5G-ready by 2023.
Among the many benefits of 5G for mobile gaming are lower latency, more capacity for a richer multiplayer experience, and more streaming capabilities for cloud-based mobile games. The simplicity and appeal of better gameplay will greatly boost the industry.
The high speed of mobile Internet will also affect the development of mobile advertising and mobile games.
There will no longer be any delay in loading apps or websites due to the loading of ads. 5G is a powerful impetus for the development of mobile apps, advertising, and everything that can be connected to mobile gadgets.
Monetization in Mobile Gaming World
Mobile game industry leaders rely heavily on in-app purchases and subscription-based monetization models. This has proven to be very successful. However, more and more IAP game developers have also started to implement in-game advertising. Not only do ads serve as an additional source of revenue, but they can also increase in-app purchases.
Monetization by subscription
Mobile game subscriptions can take different forms and work according to different principles, so that this popular monetization method can suit many developers.
In addition, these types of subscriptions can combine different types of monetization (for example, a battle pass can be replaced by advertising with rewards, and a subscription for the no ads can easily pay for the presence of these very ads in the free-to-play version).
Some examples of subscriptions in mobile games:
Battle Passes (e.g., Fortnite, Genshin Impact, PUBG Mobile);
Booster subscriptions (e.g., Boom Beach);
VIP access (e.g., Wheel of Fortune);
Remove Ads subscriptions (e.g., Sand Balls).
Additionally, subscriptions are very often combined with in-app purchases and are not the only form of monetization in the mobile gaming market.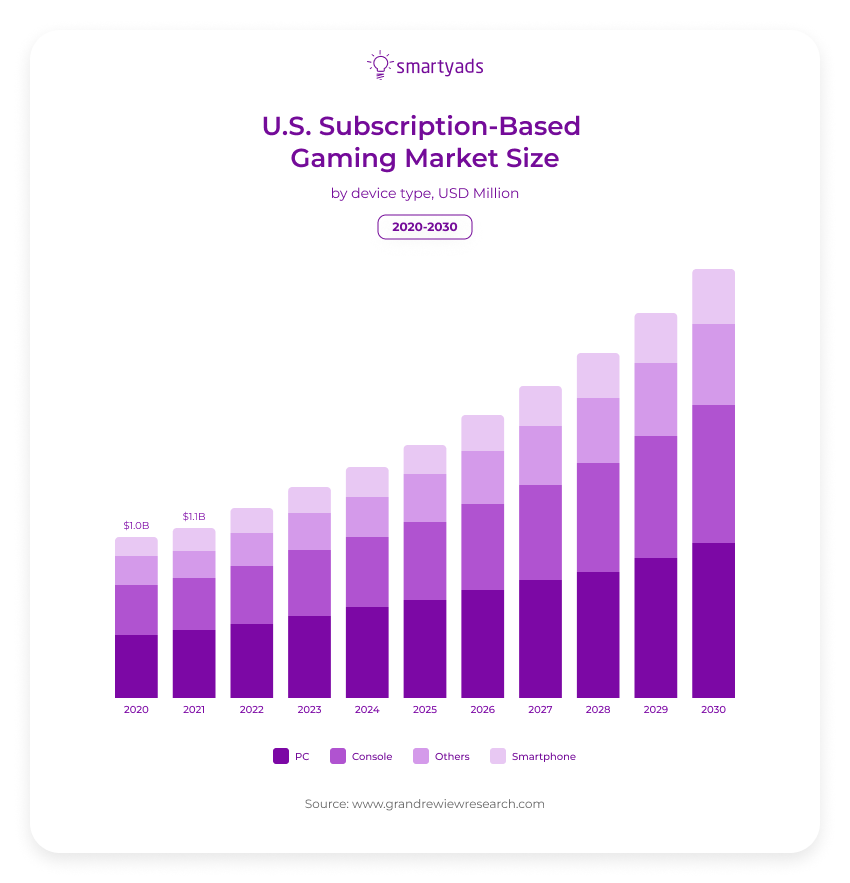 Rewarded video
The rewarded video is an especially promising format. In fact, according to a recent study, users prefer rewarded video ads, so the engagement rate for this format is very high and usually stays at level 92%.
The opt-in rate reaches 79%, almost impossible to accomplish with any other ad format. This ad unit is so memorable because the user watches the ad video until the end to get an in-game reward afterward.
This way, advertisers who use rewarded ads always receive impeccable completion rates. At the same time, game publishers also profit as player engagement and retention rates increase.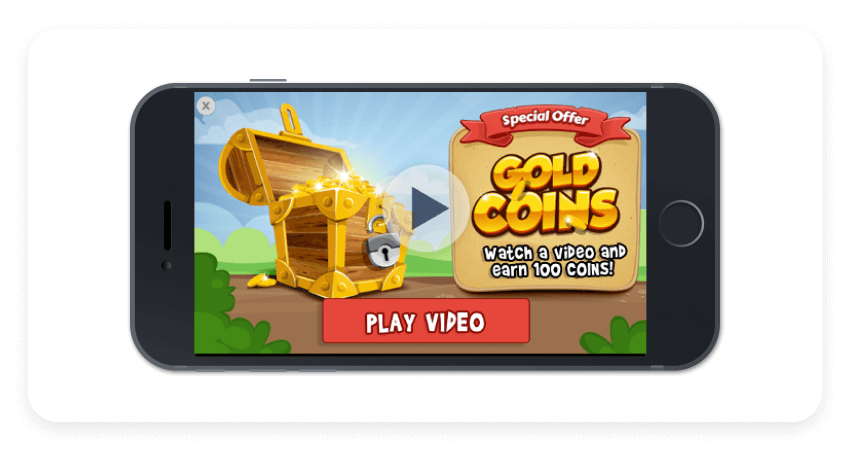 Offer Walls
The age-old offer wall is not going anywhere since it is a very useful tool to monetize users who are not willing to spend money on apps. An offer wall is a page that appears in front of users while the app is browsing. It usually offers them various rewards if they spend some money or complete an action.
Offer walls are also starting to be used in non-gaming apps like messengers and dating applications. Such a non-disruptive opt-in format helps boost engagement and increase retention while providing game publishers and developers with a good payout.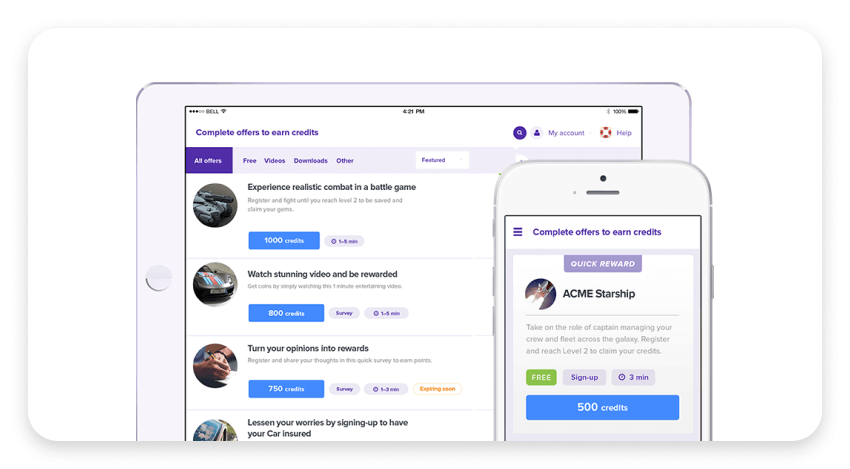 The game continues
All the mobile gaming trends mentioned above show that the mobile games industry only continues to grow. All kinds of new technologies are being created to engage the users in mid-core games and immerse them in the gameplay.
People want to play mobile games. Currently, mobile games represent half of the entire gaming industry.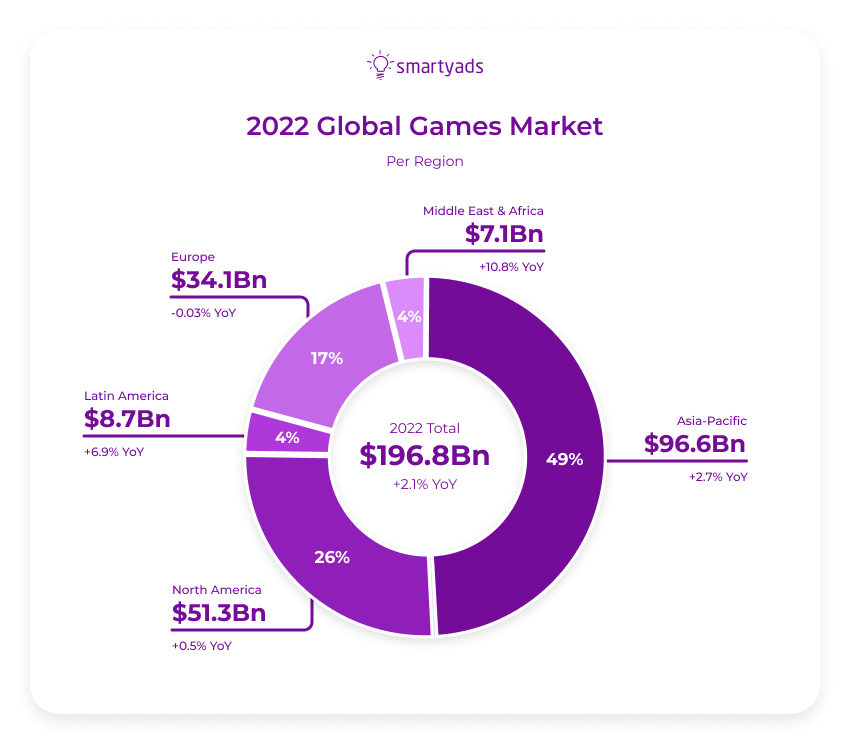 Keep in mind that monetization does not have to be solely focused on in-app purchases or advertising. Whenever users download game apps, they leave valuable information such as name, age, email address, phone number, and other details, making a treasure trove of information for the digital industry.
This information can reveal many insights businesses can turn into millions of dollars. In this quest, mobile app developers could be the biggest winners within the game industry.
They have access to tons of information. Even though data monetization is still one of the emerging mobile gaming trends, it could be a very effective mobile monetization platform for publishers and app developers.
A wrap-up
Online games and mobile ones are quickly swooping IOS and Android users in. Cross-platform experiences, gaming influencers, mobile esports, and streaming services define the modern gaming landscape.
SmartyAds provides ad monetization solutions for digital publishers and app developers to monetize their digital space.
On the SSP platform, you will be offered highly contextualized advertising so that you can generate the most value from user engagement. Give your monetization effort a jumpstart with the SmartyAds SSP.
Create your SSP account to get the most value out of your inventory.