Over the top advertising platforms along with mobile networks of the fifth generation (5G) are among technologies that have been developing for quite a long time. This year's MWC in Barcelona has helped to steer it clear - the robust working solutions based on them are finally close to us, regular users, advertisers and publishers.
What is OTT advertising, how immersive and OTT content already change the way we consume information, and why 5G gradually becomes a new mobile standard, we'll discuss in the article based on our own MWC takeaways 2019. Firstly, let's overview the largest event that regularly sheds light on telecom industry evolution - yearly mobile world congress.
MWC in Barcelona as an iconic mobile industry milestone
Mobile world congress is a venue where the most interesting, and most importantly, unexpected announcements in the area of mobile technology and telecom occur. This year, the tech trade has gathered over 100,000 international visitors and 2400 exhibitors, including industry giants like Intel, Huawei, Xiaomi, Samsung, and emerging tech startups that showcase their innovative mobile products for the first time.
MWC, however, attracts not only mobile professionals, today it revolves around absolutely different subjects. That's why it gathers all sorts of technology-related companies, professionals specializing in traditional TV and smart TV, AI, VR, AR, video content producers, and other tech experts.
For a couple of days spent at the MWC 2019, we sank ourselves into emerging technology trends, which haven't been featured in media yet. This was an excellent opportunity to examine the mobile market in details, investigate the current state of OTT video advertising, and find out how new advertising era will look like.
The action time for OTT ads has come
Over the top advertising has been mentioned among the hottest trends on DMEXCO 2018 and here it goes again. What does OTT stand for in media? OTT advertising definition encapsulates many notions such as addressable, connected, and programmatic TV, which are frequently used interchangeably.
OTT platforms use demographic and behavioral user data from many sources to determine the correct target audience for every ad impression on Smart TV sets or any other Internet-powered digital video streaming devices.
Today, OTT advertising opportunities are stunning. Such solutions are fundamentally different from traditional TV advertising placements because they help to buy targeted impressions, instead of ineffective time slots between broadcasted TV shows. Advantages and benefits of OTT streaming ads are stemming from programmatic buying technology characteristics. It means that programmatic OTT services provide inherently flexible, measurable, and targeted experience when it comes to adjusting and optimizing ad campaigns in real-time on TV, the same way as you knew it on the web.
OTT advertising increases year over year. More than 13.5 million households in 2018 shifted to internet-connected TVs. OTT viewers account for 8.1 percent of the overall TV viewing. Based on the results of IAB Video Ad Spend Study 2018, advertisers will spend around 80 billion dollars on OTT advertising & marketing by the end of 2022.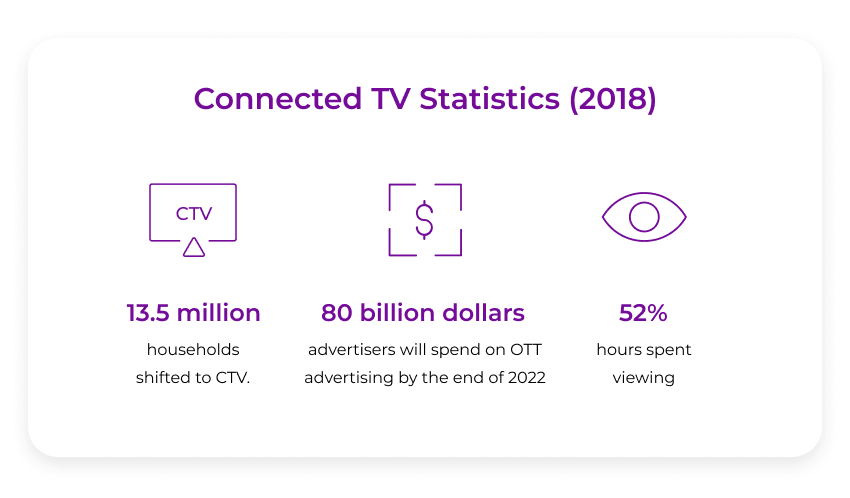 OTT video ads open new horizons for brands
Over the top video advertising provides brand-new fruitful ground for raising memorable and interactive ad campaigns. Marketing OTT ads bring in the new opportunity of so-called 'second screen' when the users watch OTT video on Smart TV set and browse the web on smartphone or tablet at the same time.
This is a chance to combine the main advantages of these two advertising media: the big screen immersion and the possibility of advertising on another device. Furthermore, OTT content on the big screen TV sets is usually watched by families that significantly reduces the cost per watch for the brand.
Advertising on Smart TV devices features 100% viewability and delivers pure, fraud-free organic traffic. The low level of advertising noise, allows brands to communicate with their audiences without having to compete for user attention and without fighting for space with nearby ad banners.
5G changes lives and gadgets
Just like OTT TV advertising, the fifth generation wireless technology falls into the category of long-lasting trends. In 2016 it was still somewhat a general subject for discussion, whereas in 2017 technology was searching for major areas of application. Only in 2018 5G has been finally adopted by the largest mobile operators like AT&T, Verizon, and T-Mobile as a network standard.
5G mobile standard is primarily focused on solving industrial problems: it offers high connection speed that helps to address delay issues where they can be crucial - in medicine and complex industrial areas. At the same time, MWC 2019 has given us numerous examples of how 5G will find the new life in connected devices. The software-defined networking (SDN) piled up with network-function virtualization (NFV), and 5G offers incredible connection improvement, power consumption reduction, and battery life extension for new 5G-powered gadget owners.
In some countries, commercial 5G networks already exist. For now, such networks are still relatively small, but by the end of 2019, we can expect a fairly extensive coverage extension in USA, South Korea, Japan, China, and the European Union. By 2025 5G will account for 15% of worldwide networks.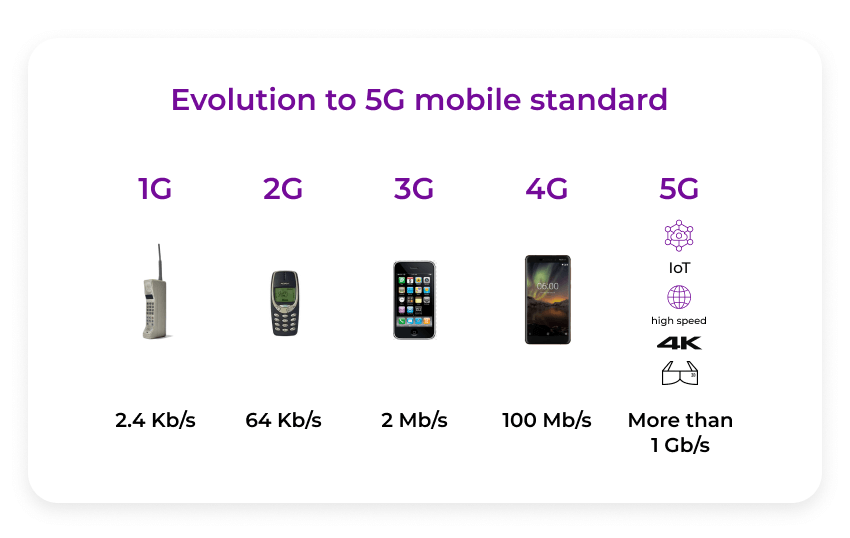 Innovations against risks
At MWC 2019, a large number of talks were devoted to security and safety, risks of AI, "IoT," 5G equipment implementation, and the OTT digital advertising ecosystem that is believed to be completely fraud-free.
5G technology delivers not only faster speed, but a larger number of connections to sensor-driven devices that continuously deal with data collection. Thus, safety flaws and vulnerabilities gain even more significance. Everyone, from suppliers to corporate users and consumers grows more concerned about their trendy new IoT, 5G or AI devices that bear more risks of being compromised.
That's why at the fair, many companies were introducing their own security and safety technologies for connected edge devices. Sirin Labs, for instance, introduced their blockchain-powered smartphone that's created secure by design, it resists all fraud and hacking attempts due to its safe core based on the decentralized ledger.
The others were talking about the Open Web Application Security Project that's aimed to facilitate understanding of security issues associated with the Internet of things and help manufacturers, developers, and consumers deal with them more effectively.
Safety of programmatic, targeted TV and OTT ads
OTT media ads were also discussed from the perspective of digital advertising safety. Digital fraud is responsible for stealing $1 from every $3 spent on the digital ad campaign. Non-human traffic generated by bots and botnets, pixel stuffing, cookie stuffing, domain spoofing, and click farms lead to tremendous yearly budget losses.
Technically, for fraudsters, it will be much harder to fake ad impressions on connected or Smart TVs. Targeted OTT advertising is considered to be the safest digital advertising ecosystem since programmatic advertising on TV doesn't face major problems with bots.
Nevertheless, OTT platforms like SmartyAds also provide additional anti-fraud video streams scanning and protection to ensure the safest message delivery.
In 2019, we all expect significant changes in the relationship between publishers and advertisers. Essential improvements in terms of safety and transparency have already arrived in the form of Ads.txt and Ads.cert. These are generally accepted standard tools from IAB that incorporate encrypted signature, provide inventory authentication and help to track all placement details, including IP address, creative format, location and more.
Immersive video content is here to stay
Smart devices at MWC were almost omnipresent: they played musical instruments, mixed drinks, launched airplanes, spoke and danced, demonstrating everything their in-built technologies were capable of. Massive change in technology entails the shift in content development, and the way we consume this content, impacts the way brands advertise.
Today brands strive to escape the status of irritants who interrupt the user experience. On the contrary, they try to create complementary content so that consumers would take time to plunge into engaging, fun, and useful communication. Such interactive formats like playable and rewarded illustrate the point really well. The on-screen experience and the proactive role of the viewer in such content consumption in many concerns overlap with VR, AR, and online games.
The implementation of new interactive content approach is a good way for a brand to test different options and prepare for intense work in the long run. When you put a user into the reality you've created, you instantly leap from the first point of contact to the formation of personal experience and loyalty. For the users, it is not important who is the author of the content as long as it's immersive, exciting, and of high quality. OTT streaming ads are not exceptions.
Content producers gradually shift to VR / AR and OTT advertising storytelling. "Try on" a T-shirt with your face, "put furniture in your apartment, "change the color of hair in real-time" are only the first steps towards new immersive content era. Nevertheless, they already exceed the possibilities of traditional advertising.
No matter how futuristic it may sound, over the top advertising, VR, AR, and gamification shape up a new marketing reality. Developing such content along with its further promotion is absolutely real with advantageous AI-based programmatic algorithms.
On this point of decision making, it is important to understand that interactive content should organically integrate into your existing strategy, taking into account the target audience, the main channels of communication, the style of information delivery. For TV it's no longer a challenge since programmatic advertising OTT platforms like SmartyAds help the brands deliver the message to the target viewer at the right time and context.
Pioneer the world with smart video advertising OTT platform. Ask us how to start advertising with impact!