Yes, we've made it together again, thanks to our customers and fans we won the title of the fall 2021 high performer on G2. This year we've already gained a couple of high performer titles, namely, SmartyAds was featured as a high performer of summer 2021 and high performer of winter 2021. SmartyAds is proud to collect this new title since it is just another proof that our hard work and dedication to our customers helps them grow. Let's get a little refresher on what G2 is and how SmartyAds DSP manages to win the hearts of advertisers again and again.
Why G2 reviews matter a lot
G2 is a well-known peer-review website that works like a platform for software comparison. It is specifically designed to aggregate the reviews from customers directly which makes this space especially valuable in case you hunt for genuine and unbiased customer opinions. Based on these opinions and the rating system G2 evaluates the software providers and particular functionalities of their product.
Who are these opinions valuable to? Entrepreneurs, managers, advertisers, publishers, investors - everyone who uses professional software for marketing, advertising, or project management can read the reviews and compare the software options (by particular feature including). This facilitates decision-making as reading an insider's opinion saves many entrepreneurs from testing products themselves.
To this day G2 accumulated more than 1,390,700+ software reviews which help more than 5 million people effectively compare, assess and choose software products. On top of this, every quarter G2 also defines the top-performing software solutions across every industry while taking into account the customer satisfaction rate and market presence of every solution.
How we scored the high performer of fall 2021
This fall marks the third quarter in a row that SmartyAds DSP has achieved the title of the high performer on G2. To select the winning products and add them to the report of winners G2 uses particular calculations and assessment criteria that they build their methodology on.
This way you can open the product page of SmartyAds to see the rating that G2 attributed to it based on customer reviews. This rating measures the customer satisfaction with the overall product and particular features, plus the system also takes into account the vendor size, market share, and social impact. On top of that G2 employs comparison grids to make it easy for the users to compare the software options of their own choice.
Selecting the platforms to compare. In case you want to compare the platforms on your own go to the list of demand-side platforms and scroll this page down. During the scrolling, you will see the suggestion - "compare demand-side platforms" in the header. Press the button view filters to see the numerous platforms sorted according to criteria - highest-rated, easiest to use, etc. In case you have particular platforms in mind and you want to compare them, compare options by adding them to the comparison list. This way you can compare from 2 to 4 options at the same time.
We selected SmartyAds DSP and 2 random options + SmartyAds DSP to make our comparison. All selected DSP platforms fall within the SMB market segment (small to medium size). Then we scrolled the page down to see how the system compares the options. Features of SmartyAds DSP are represented in the rear right column.

As seen from the very start, campaign dashboard and optimization are among the most outstanding features of SmartyAds DSP. The reach is also a strong capacity of SmartyAds DSP as it was rated higher than 9 (just like the second alternative in the grid whose rating is based on a slightly bigger number of responses).
The dashboard is really very user-friendly and easy to grasp while campaign optimization is built on the ML and AL algorithms. With such features as the CPM optimizer the advertiser never overpays for the impression as the bid for it always stays optimal. Meanwhile, the click booster makes the ad more clickable by selecting and prioritizing only those sources that work best for the advertiser. The reach on DSP is represented by the broad range of verticals and inventories, including in-app, mobile web, desktop, and CTV.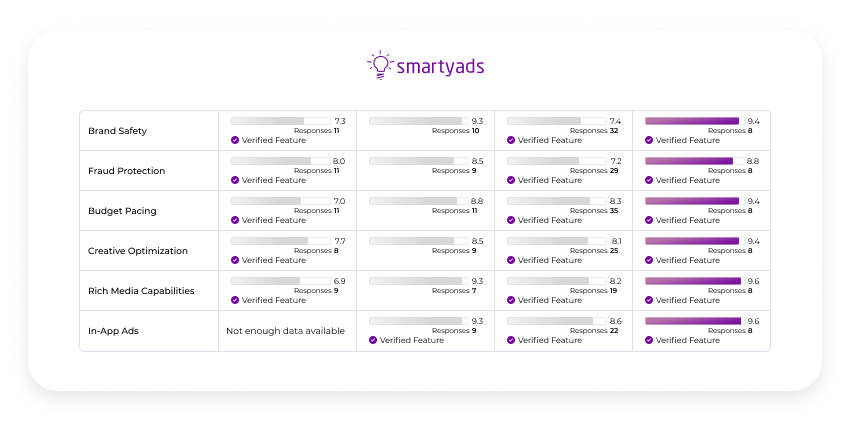 Just like the last time, the G2 defined that customers give SmartyAds DSP high rates when it comes to brand safety and fraud protection. This is because we collaborate with traffic safety providers such as e.g Pixalate and Protected Media and have our own people monitoring and preventing threats. Probably the most important thing we do for safety and quality of traffic is partnering with renowned publishers whose inventory is proven, safe, and well-performing (e.g Xiaomi, Meitu, KaiOs, Reface, etc.)
In addition to this, SmartyAds has a convenient budget distribution mechanism and creative optimization features as well as rich media capabilities. In-app ads are also rated high since our platform has a wide range of trending in-app and mobile ad formats including rewarded video and playable.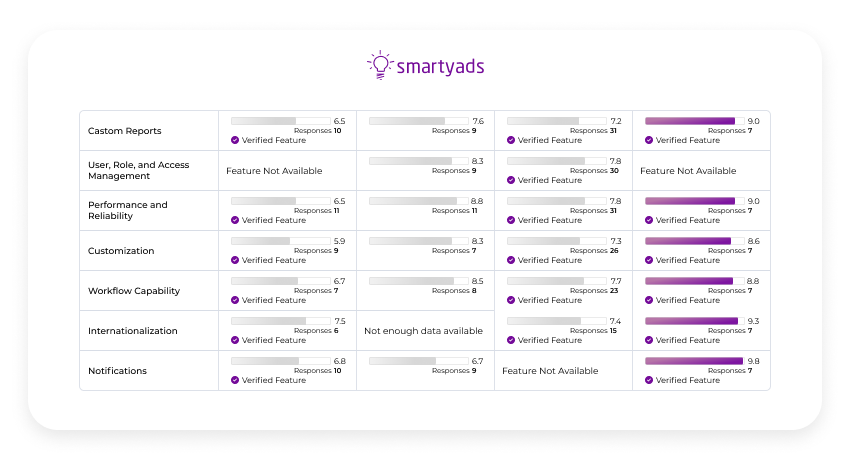 Custom reports on SmartyAds DSP are generated in real-time and according to the parameters chosen by advertisers, which makes it very convenient for making conclusions and predictions. Aside from that, the system keeps the advertiser updated about all the changes through convenient notifications (this time it got rated 9.8).
The next quality that makes SmartyAds DSP outstanding is customization (rated 8.6 which is also quite high). There are plenty of customization features such as optimization rules which can be used by advertisers to instruct the system which sources to prioritize (according to source performance).

Targeting on SmartyAds DSP is represented by multiple targeting options, including geolocation, OS, device type (also by such additional tools that make targeting precise as a time of the day (dayparting) and frequency capping). After running an ad campaign with SmartyAds DSP advertisers can also retarget the same audiences with retargeting campaigns (in-app, mobile web, desktop, or CTV).
This is another big win for us to receive this title again. This award represents the voice of our customers and that's why it's way more valuable than any other analytical measurement. We have this victory thanks to our customers who we value most.

Liz Tokareva, Director of In-house Products at SmartyAds
To sum up
The high performer title on G2 is one of the most valuable awards that we regularly receive because it symbolizes the direct voice of our customers. This win is just another sign that we are moving in the right direction each time we upgrade the DSP and make it better for our customers. We don't stop here and promise to keep providing you with top-notch quality services. If you want to become a part of our story, feel free to join the conversation on G2 and tell the world what you think about SmartyAds DSP on SmartyAds DSP G2 page, your opinion matters to us!
Never tried SmartyAds DSP in action? Join our platform and advertise with us!