The year 2023 is just around the corner — it means that ad tech experts all over the world are making quick recaps while trying to craft their own versions of how the ad tech trends will look like.
Contrary to some pessimistic predictions made earlier, in 2022 ad tech industry grew along with programmatic advertising.
As we are directly involved in the whirlpool of events, from ad tech solutions development to the execution of ad campaigns and serving our clients, in this article, we'll share our own insights and observations regarding the subject.
We've analyzed the global trends and matched them with our own experience to pinpoint the strongest ad tech trends that will reshape the advertising industry in 2023.
Privacy-friendly targeting and attribution
During the last couple of years, the world moved towards privacy and user data protection more relentlessly than ever before.
Google's decision to shut down the third-party cookies in Chrome undoubtedly shattered the entire ad tech industry.
Apple restricted IDFA for tracking, and the international privacy regulations that came to the scene (like GDPR, CCPA, and COPPA) kept changing advertising routines for many businesses worldwide. Especially since it affected mobile advertising — brands now need to analyze data and track performance by using alternative solutions.
As the consumer privacy scene tightened, third-party data turned into a scarce resource. Those significant changes pushed ad tech companies to use less personal data, plus the overall marketing landscape started relying more on first-party data collection.
As of 2022, companies moving towards alternative targeting are exploring new options that also bring significant value to the table. Alternative targeting solutions are basically becoming very relevant among the rest of ad tech trends.
Around 55% of advertisers are using social media. 54% are relying on first-party data, and the rest are using Google topics, universal IDs, and contextual experiences.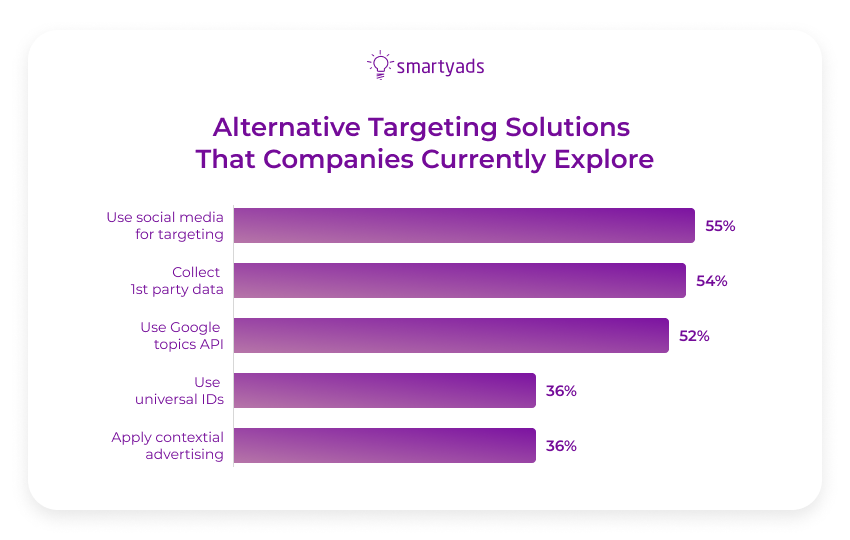 Cookieless world and revival of contextual advertising
These changes have pushed the brands to revive their good old targeting practices that involved contextual ad placement. In such circumstances, advertisers and brands will keep investing certain shares of budgets into contextual targeting tools.
As third-party data becomes even more scarce, many media businesses return to the practice of using contextual advertising based on interpreting the context of the web page instead of personal data.
With contextual targeting, the necessity of data collection goes to the past. Many ad networks apply artificial intelligence that interprets tons of important signals apart from webpage keywords.
New-generation digital marketing solutions based on contextual targeting come to the media and marketing landscape. The main idea behind their algorithm is to correctly identify the meaning of the web page and use this as a basis for ad targeting.
As seen from the stats of 2022, many marketers explore alternative targeting options for digital advertising.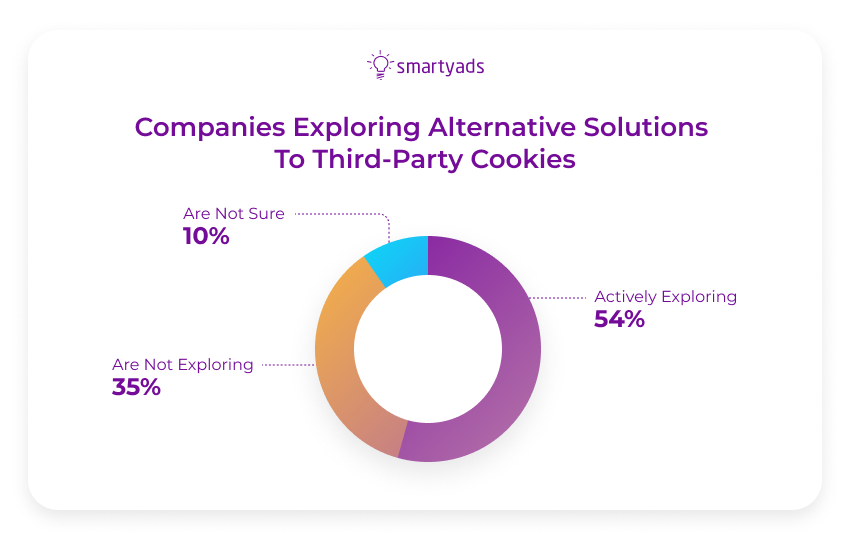 The good news is that Google's decision to shut down cookies was actually delayed until 2024, which gives advertisers a lot of opportunities to redefine their practices of personal data collection.
IDFA and Cookie alternatives: SkadNetwork, Unified ID, FLoC
As the world is looking for new ways to measure and attribute the users, new technologies emerge. One such technology is supposed to be SkadNetwork which will build the attribution and measurement based on the groups that users will be attributed to.
The second most known alternative on the scene is an open-source non-commercial initiative called Unified ID, which, in essence, is supposed to deliver the same cross-site targeting and attribution as third-party cookies (but with better control).
The FLoC, meanwhile, will also be working based on cohorts which remove the need to process the data of every single user in particular.
Data alliances and first-party customer data
Privacy regulations were on the world's agenda for a while, causing many companies to review their data habits in an attempt to run away from fines.
Coupled with the rest of the data restrictions, regulations created a new environment where companies and technology providers create alliances and associations to benefit from first-party data and use it to the fullest.
In the new realities, the importance of collecting and utilizing the brand's own first-party data (through quizzes and games) will only grow because such data is unique and especially useful for direct-to-customer marketing campaigns.
Some ad tech providers will most likely have to organize their supply chain to share information about audience segments so that advertisers that don't have their own data could benefit from this.
We are standing on a threshold of historical transformations in ad tech which are triggered by the changing privacy legislative landscapes in many countries. These changes are challenging but crucial as they will encourage the creation of new advertising practices that are transparent, safe, and socially responsible. Recently SmartyAds joined the IAB Transparency and Consent Framework as a vendor which signifies our commitment to maintaining a transparent and privacy-oriented full-stack advertising ecosystem at all times. Sofiia Dankovska, Legal Counsel at SmartyAds.
CTV, video ads, and digital audio as ad spend drivers
CTV/OTT remained one of the key programmatic growth areas in 2022, and in 2023 digital marketing will benefit from this medium just as much. CTV ads can drive great campaign performance, especially in terms of brand awareness and loyalty.
Meanwhile, video advertising and programmatic audio are gaining momentum as most content is being streamed on these mediums.
Ad budgets go to CTV
By the end of 2022, CTV ad spending will hit $17 billion, and by 2025 this number will climb to $28 billion.
Meanwhile, programmatic ad spending on CTV surged to $8.8 billion.
As well, on CTV, the IP addresses along with graphs can be tied to the advertiser's first-party data, which can significantly strengthen the targeting on this medium.
CTV ad commercials become interactive
The industry standards regarding CTV targeting are improving every day, which is also true when we talk about connected TV ad formats. So far, video is the most popular format on CTV, but interactive ads can already effectively capture user attention on Smart TVs as well — rewarded ads provide users with rewards in exchange for watching video commercials.
The QR code scanning in CTV adverts, meanwhile, redirects users directly to landing pages on their smartphones.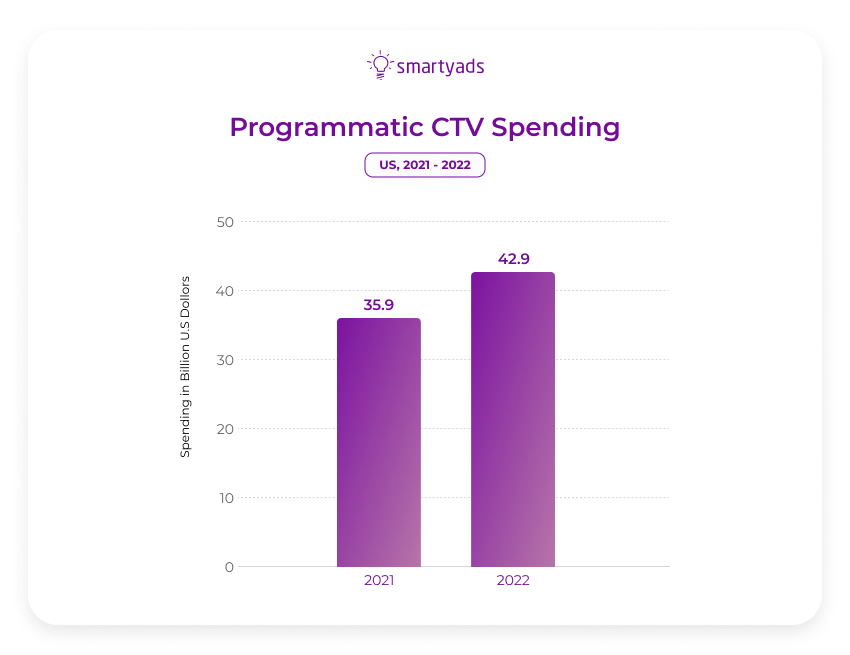 Video formats across digital channels surge
In 2022, video ad spending is projected to reach $43 billion. Programmatic video spending, as seen from the picture below, is supposed to reach $27.5 billion dollars in 2023 (US).
Pre-roll, super pre-roll, native ads, and OTT were among the most popular video ad formats in 2022.
After the pandemic, people got used to staying indoors, so they paid more for video services. As a result, the revenues of OTT subscription services in 2023 will reach $122.64 billion.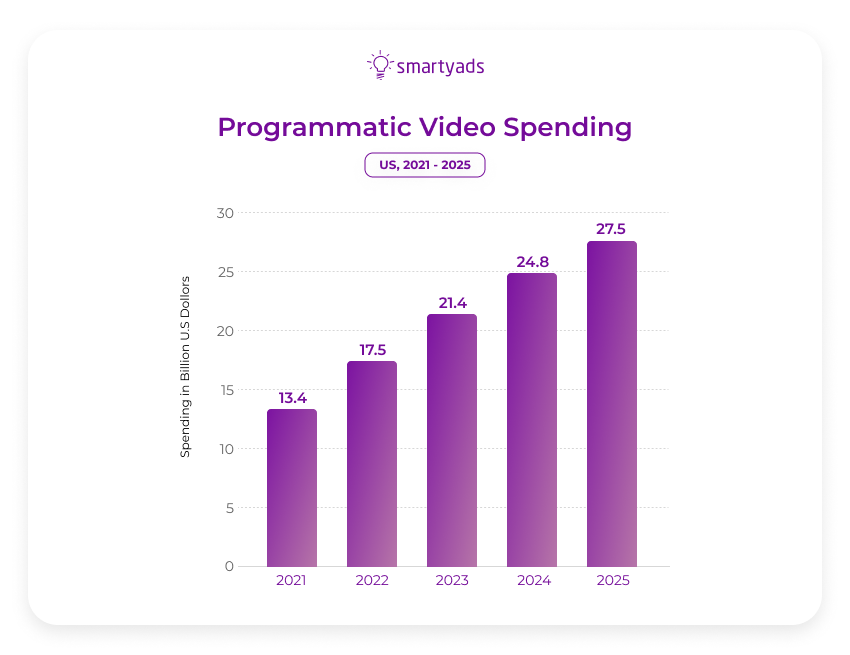 Programmatic goes audio
Streaming audio platforms also help advertisers deliver ads to the right audiences at the right time. And audio ad space, meanwhile, has become popular thanks to the growing consumption of podcasts.
With music, radio, and podcasts, people enjoy their favorite content hands-free while brands have the opportunity to personalize their digital advertising experience with the right offers (avoiding ad blockers).
Around 16% of all audio radio ads are now served programmatically.
In 2023, the ad revenue generated from digital audio will be tremendous. US digital radio spending will reach $5.30 billion, and in 2024 — $5.56 billion. Digital audio ad spending will hit the bar of $7.544 million.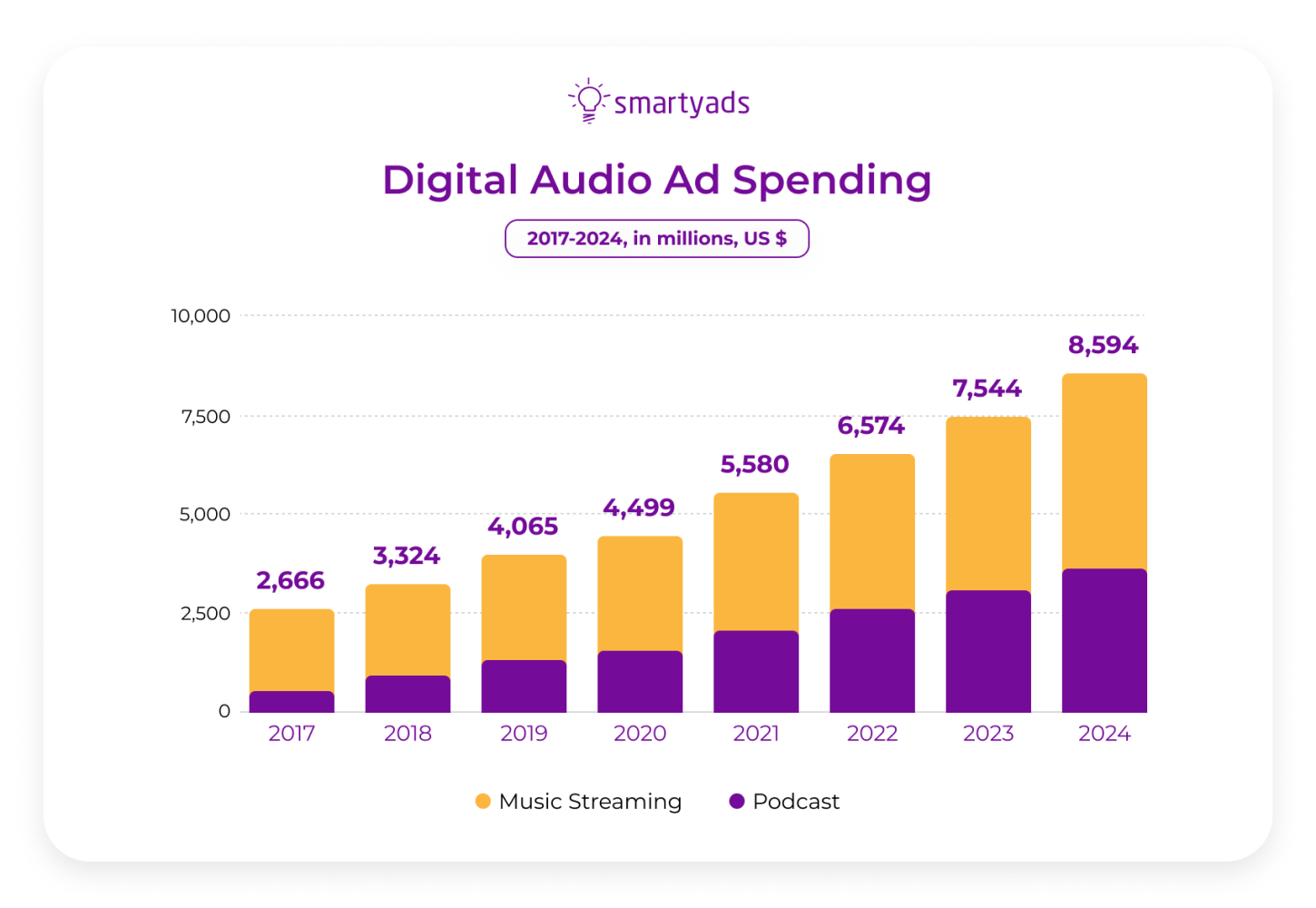 As programmatic audio came to the scene, any brand can generate ad revenue from this advertising on this medium too. Ad tech refers to many advertising tools, and programmatic marketing is on the list. It means that audio commercials can be served on demand-side platforms, ad networks, ad exchanges, and via agency trading desks.
Both publishers and demand partners can benefit from programmatic audio — while advertisers serve ads to the relevant audiences, publishers can monetize their audio inventory on SSP without burdening the visual experience on their websites.
Many advertisers and media buyers are investing their budgets into video, CTV, and audio — exactly across these channels, the traffic is surging as people continue to spend most of their time indoors during the pandemic. Immersive digital advertising formats that can be served across these channels, meanwhile, redefine user experience and bring in even better value exchange, engagement, and loyalty to the brand. Liz Tokareva, Director of In-House Products at SmartyAds.
DOOH advertising grows popular
While virtual reality and augmented reality advertising are still on the way, DOOH as an ad medium rapidly evolves. The global pandemic has subsided, and more and more people are spending their time outside. Data-driven approach on DOOH helps to make outdoor advertising interactive; additionally, it is almost 100% resistant to ad fraud so far.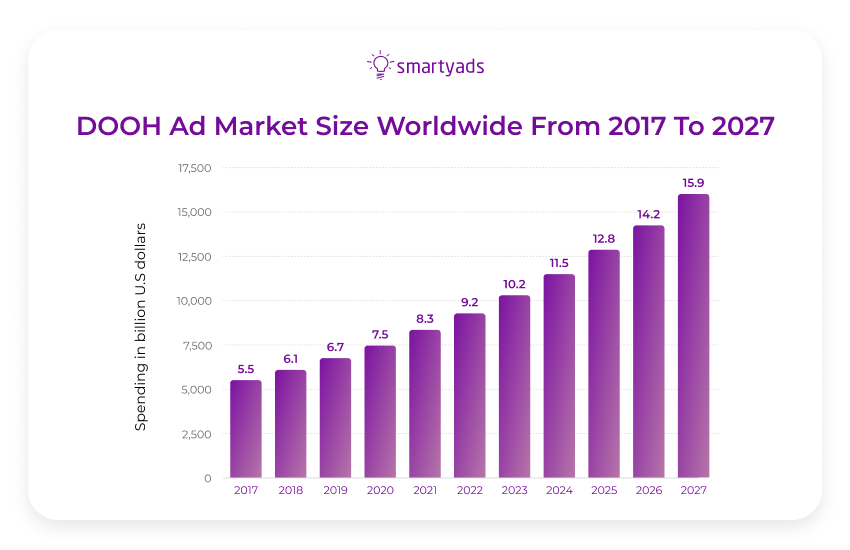 Programmatic DOOH advertising is also on the rise, and currently, advertisers can launch a DOOH campaign just as easily as they do it with display advertising, video, audio ads, and CTV. For example, on SmartyAds DSP, you can create a DOOH campaign in a couple of clicks.
Zero coding platforms and outsourced talent
The abovementioned privacy-related restrictions, Cookie shutdown, IDFA, legal regulations, etc., have pushed ad tech companies to invest more in identity solutions, new ad measurement technologies, and tools in 2022.
The preparation phase goes bumpy, but the market has already attracted more than $7 billion in terms of investments and funding when it comes to new advertising technologies.
In the ever-changing realities, successful companies need to act as quickly as possible, and for this reason, they often adopt low-risk, zero-code pre-built platforms that cut costs and simplify ad tech business entry.
White label, as one of the ad tech trends, helps companies to build their solutions without investing excessive budgets in platform building.
As known, product management is very important, but since programmatic talent is quite rare, many marketers are also outsourcing employees to maintain their new solutions. AdOps and account managers are the most popular positions in the ad tech outsourcing landscape.
White label technologies for building ad tech products
Just like website building no longer requires a technical background, the ad tech solution setup is increasingly simplified with white label technologies.
If previously only the largest players could afford in-house media-selling, today it is available to a broad category of companies thanks to the white label business models.
Pre-built white label tech core enables companies to deploy their own solutions in weeks while significantly cutting costs since a ready-made technology requires less labor and, thus, fewer investments.
With white label solutions, companies can utilize their own targeting mechanisms, build robust advertising strategies and benefit from first-party data, header-bidding technologies, and more. Finally, create their own unique and safe ad environments with proven partners onboard.
Client servicing takes center stage
With easy-to-enter programmatic niche technologies, advertising companies are becoming more and more technological; however, the main goal of this technologization is service improvement. For this reason, high-quality customer service is one of the hottest ad tech trends.
The pandemic years showed a tremendous rise in support tickets from 6% to over 90%. At the same time, newly-created businesses are hardly coping with a shortage of experienced ad tech employees.
Meanwhile, advertising businesses that enter a new niche with programmatic technology often outstaff AdOps, account managers, and services teams; this way, they resolve the problems of rare talent attraction and education.
Many companies today start their own technological products based on white label solutions: DSPs, SSPs, Ad Exchanges. The others reinforce existing capacities with RTB, diverse partner integrations opportunities, formats, or ad serving options. At the same time, impeccable service is becoming the new norm in ad tech environment, it is a key point that can differentiate your solution from competitors. At SmartyAds, we provide clients with white label technology they can build their solutions on; still, we also give our clients a chance to focus on their main competencies while we select the right outsourced professionals for their team. Anastasia Bansal, Director of Enterprise Solutions at SmartyAds.
To wrap it up
Stirred by changing legislative privacy framework, overheated media consumption, and new ad tech business opportunities, the ad tech market rapidly reshapes, giving birth to new ad tech trends.
Some advertising channels become outdated; others gain traction as advertisers try to redistribute their budgets toward those media that their audiences love most. These changes are challenging, yet they also bring in new unexplored opportunities.
Advertisers still have yet another chance to diversify their media mix with cost-effective formats and channels. Plus, they can adopt privacy-friendly technologies and enter programmatic without tremendous investments, efforts, or barriers.
Advertise on SmartyAds DSP to benefit from the hottest trending programmatic technologies!