Overall programmatic ads strategy may look different from, lets say, mobile marketing strategy. Nevertheless, like all advertising strategies, they share the same goal - to get the highest possible conversion rates from both new and returning customers. Full funnel marketing strategy is no exception.
For eCommerce sites average global conversion rates are only slightly higher than 2.5%, so more than 97% of website visitors don't end up making a purchase. However, this doesn't mean that your brand should be fine with such a result. The thing is, once you start to incorporate even some basic understanding of online advertising funnel into your marketing strategy, your results can significantly surpass the averages. Let us, therefore, thoughtfully consider how to incorporate a stage-by-stage funnel optimization process into your ads campaigns and eventually create a full funnel advertising strategy.
What is full funnel marketing?
Before we jump into practical tips for full funnel optimization, let's refresh basic terms and start with full funnel marketing definition. A full funnel marketing strategy usually includes a range of specific actions targeted at attracting a brand's customer base. Essentially, it uses the buyer's journey approach, in other words, the position that customer currently occupies in the sales funnel. This way, marketers can communicate with customers taking into consideration their needs at the exact moment of the decision-making process.
What is an ad funnel?
An ad funnel is a simplified representation of online customer journey which ideally leads the user from being a potential customer to becoming a returning client. Mapping such journeys is a fundamental element of building a full funnel marketing strategy with specific messaging developed for each of the stages.
There are five basic stages of the marketing process which start from building brand awareness and should eventually lead to the purchase and further retention. These include:
Awareness - a stage of the first interaction with the brand, which is also considered top of the funnel;
Interest - when the customers are mainly doing their research and the main task is to keep their attention;
Consideration - a more serious stage, where a customer is choosing between specific solutions and their alternatives; together with Interest this stage is considered middle of the funnel;
Conversion - bottom of the funnel, a stage where the purchase happens;
Retention - an optional beyond-the-funnel stage, designed to keep customers coming back.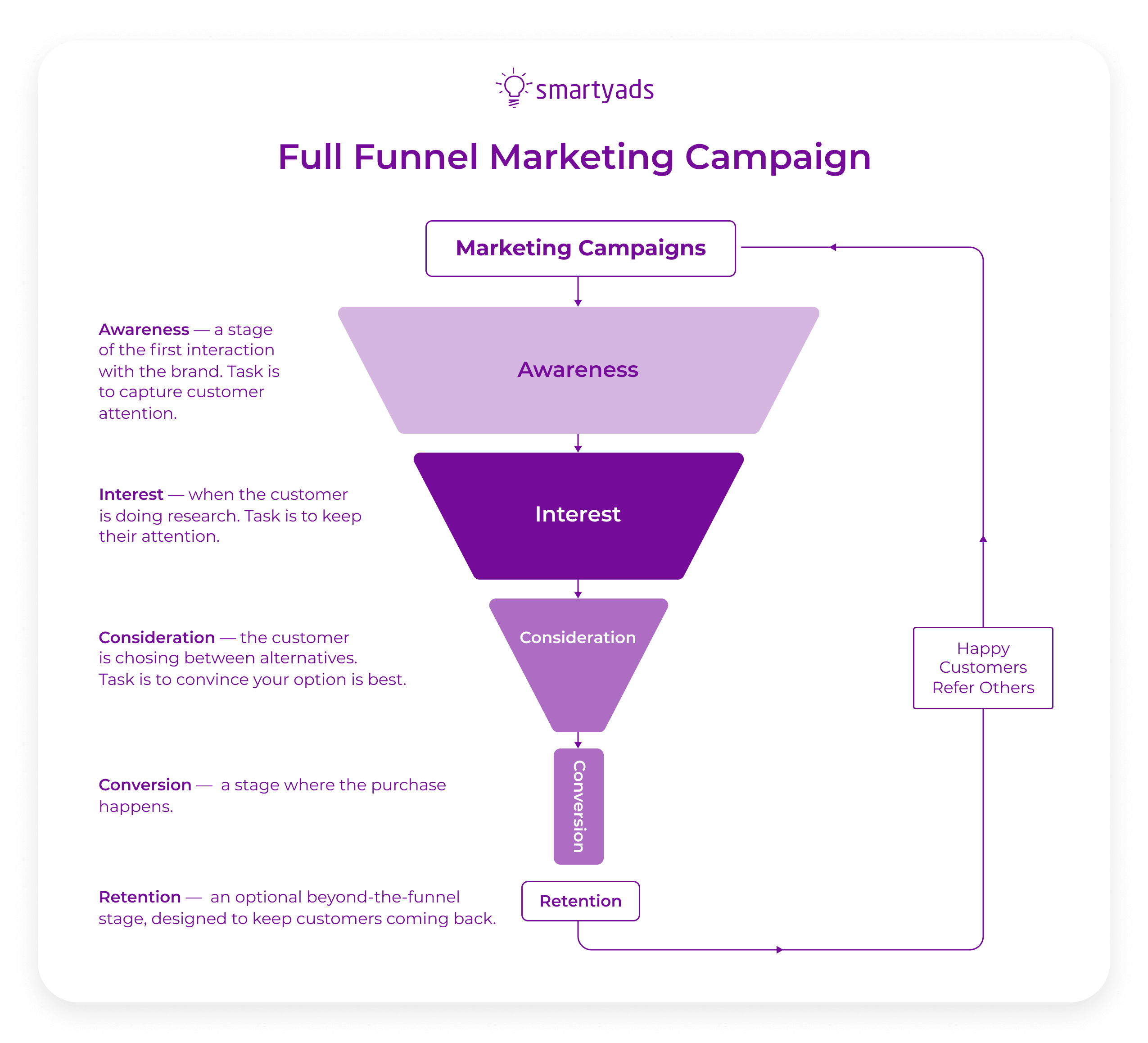 Top Funnel Marketing tactics
Presenting your brand to the world is always a unique experience that often defines many details of further relationships with your customers. At this stage, your marketing efforts are focused on reaching cold audiences - i.e. people who haven't previously interacted with your company. Once you reach the right people, you can then introduce your brand and show your solutions to clients' needs. Here are some tips on this:
Leverage user data with custom audiences. Your potential clients often have a lot in common with your existing audience. So, for example, your target audience persona for a brand awareness campaign may look exactly like your recent customer in terms of interests and demographics. You can use email lists or data from your recently converted customers for inspiration, and then create custom audiences for advertising on your demand-side platform or social media. For instance, your Facebook ad funnels strategy may include creating lookalike audiences from engagement lists or app activity data. Similarly, on the DSP, you can use your previously created Audiences from your best-performing campaigns for the future ones.
Launch a referral program. Referral programs are great instruments to make your existing audience useful, you can find more potential customers. In fact, a referral from a friend can often be more effective proof of your product's qualities than your previous advertising efforts. A good example of successful referral marketing is the case of Dropbox. They provided their clients with extra storage for a referral to a friend and, believe it or not, this simple move resulted in 60% more signups within the next 15 months.
Mid Funnel Marketing Tactics
This sector includes interest and consideration stages of full funnel marketing and is often regarded as the most important part of the customer journey. The techniques and tactics to hold user attention at these stages vary from carousel ad sets for showcasing the product to free trials where a customer can start using the product for free and then pay to continue. Our recommended mid funnel marketing tactics for your business include usage of user-generated content and remarketing campaigns. More specifically:
Encourage your existing customers to share user-generated content. Not only this will provide your brand with additional buzz, but it will also let your current clients communicate with your potential customer base. For instance, one user's brand-related content in social media may inspire potential clients to explore your niche or even buy from you. One such piece of content can significantly strengthen natural relations between these two groups and your brand. Moreover, the process of content creation can encourage them to discuss their needs and help each other to reach their goals by using your product.
Start launching remarketing campaigns. Apart from creating mid funnel content, you can also leverage the advantages of programmatic advertising by launching remarketing campaigns targeted at users who are already acquainted with your brand but never took action. With the right advertising frequency, your ad can play a decisive role for closing the deal. Remarketing is one of the most useful mid funnel marketing tactics, and beyond the online advertising funnel it can also be used to return your previous customers.
Bottom Funnel Marketing Tactics
Once your customers know exactly what problem they need to solve and how they do it, your job is to convince them that your solution is the best. To make the final nudge, lots of techniques can be used. A nice programmatic solution is launching a retargeting ads campaign oriented at people who already showed interest in your business. Other bottom marketing tactics might include launching a precise search engine marketing campaign and building an exit-intent strategy.
Make use out of search engine marketing. Some marketers argue that this channel is most suitable for this stage of the buyers' journey. When a potential customer is already motivated to make a purchase, their final search might be decisive and here's when search engine marketing comes in. Having a relevant landing page at the top3 rank may become your biggest advantage, and you don't want these potential buyers to choose a competitor. Don't forget to include calls-to-action and complements to your best offers.
Implementing an exit-intent strategy. Another one high-performing tactic oriented at the retention of the visitors who are about to abandon your website. Once the user decides to close the page, they are getting a push message with an offer. Implementing such a tactic quite often leads visitors to give it another try and convert. Such a scenario is a win-win situation for both sides, especially, in contrast to the cases when the customer simply leaves.
Building a full funnel advertising strategy
Full funnel optimization is one of the most effective tools for advertisers who want to reach their customers and deliver relevant messages at the right time and to the right people. Such an optimization requires to build a full funnel marketing strategy in accordance with the best tips for each of the stages:
Making use of the user data with the help of a demand-side platform or launching a referral program - for top funnel campaigns;
Encouraging user-generated content creation or setting remarketing campaigns - at the middle of the funnel;
Leveraging search engine marketing or creating an exit-intent strategy - for customers at the bottom of the funnel.
Build your perfect full funnel marketing strategy on SmartyAds DSP!