Mobile marketing strategies are not what they used to be a decade ago. They marched far beyond plain SMS text message delivery and email marketing campaign arrangement. Since the dawn of the Internet era and advertising on digital advertising platforms, mobile marketing techniques have gone omnichannel: smartphones, tablets, and small wearables have opened the gateway to personalized communication between brands and customers.
All that previously people did on the desktop they do on mobile. Given that now the mobile market is oversaturated and characterized by fierce competition, it becomes harder for brands to stand out. However, in case you combine the right mobile marketing methods and tips that prove efficiency year over year, your mobile marketing campaigns have all the chances to take off.
Mobile marketing methods: here's why everyone needs them
To answer this question, let's take a brief look at the latest data (Statista), retrieved from the market of mobile devices.
Last year (2019) the number of smartphone users was hovering at the bar of 3.2 billion, by the end of this year (2020), it is expected to rise to 3.5 billion.
In 2021, the number of smartphone users will reach 3.8 billion and will continue to grow further.
80% of Internet users own and regularly use their mobile gadgets.
60% of all media time is spent on mobile gadgets in the U.S.
70% of people who purchase something online, turn to their mobile gadgets before making a final purchase.
89% of people who had a good shopping user experience on mobiles are likely to recommend service to their friends and relatives.
Mobile marketing techniques & strategies
If you are already entertaining yourself with the idea of developing your own mobile apps, hold your horses, this market is uber-competitive and only 0.01 percent of apps actually become financially successful. If you don't have a strong and competitive application to advertise in, professionals suggest using programmatic advertising. This way you can advertise in all apps whose owners are willing to monetize their inventory on a per-impression basis.
With mobile advertising, promotion methods for products, services and brand image may vary depending on the purpose:
Increasing audience reach.
Attracting active mobile internet users: usually, residents of big cities, those of them who are aged from 25 to 45 y.o. are considered the most active audience with the highest purchasing power.
Reducing promotion costs. Mobile advertising is a relatively low-cost method of lead generation and user acquisition compared to traditional media channels like television and radio. Mobile creatives, in turn, are small in size, which also reduces the cost of the placement in comparison to desktop or CTV.
Higher engagement. Users have a deep connection to their mobile gadgets so they are more likely to open e.g push notification on mobile than the banner on desktop. Better contact with gadgets results in better interaction and better interaction translates in higher conversions: clicks, views, downloads, etc.
Direct sales. Whereas content found by users in social networks, search engines or on landing pages should also educate and entertain them, mobile marketing enables addressing target audiences directly with minimal information containing in creative. Such specifics are especially valuable for hitting the audience on the consideration stage of the buyer's journey.
How to create effective mobile marketing plans step-by-step.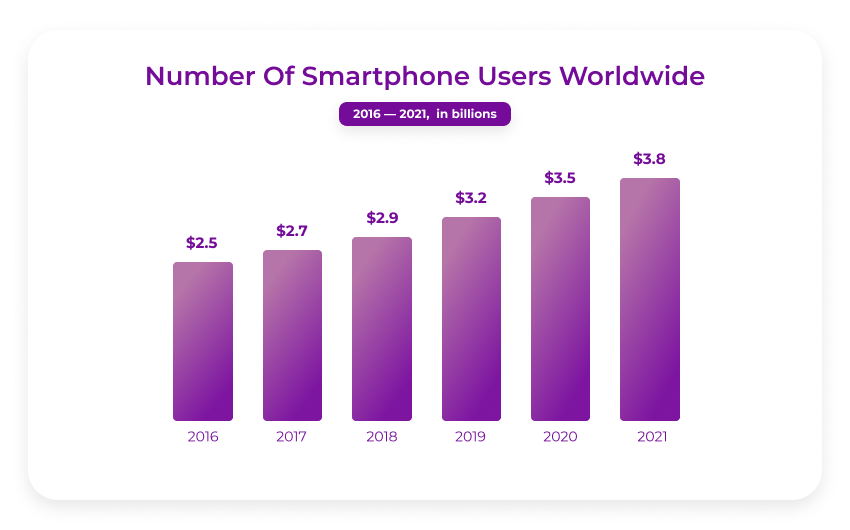 Mobile marketing plans aren't made overnight, in order to create one for your company you need to focus on individual objectives, needs, target audience, and industry specifics. Like no other environment, the mobile & in-app ecosystem opens a gateway to immense personalization opportunities, still, the first step you should take starts with determining mobile buyer persona.
1) Find the right buyer persona for your marketing strategy
A buyer persona is a theoretical representation of your potential customer. Marketers usually create several buyer personas for several segments of customers filling profile information with the following details: age, occupation, job challenges & daily challenges, needs, goals, preferred type of communication, etc.
These details make it easier for the marketer to understand e.g how much time a customer spends with mobile gadgets during the day, how, and as a result, develop suitable mobile marketing approaches. This valuable information bites you can usually find in:
Your CRM database
Also, you can gather it through web forms on your website Interview the prospects via the phone or take a survey
Statistical reports, e.g 95% of adults use mobiles to read content, 56% of B2B buyers use mobile phones to search for vendor's content, etc.
Monitor "audiences" in your Google Analytics from time to time.
Finally, run A/B tests in order to assess several variants of campaigns crafted for certain channels.
There's no definitive answer to the question - "how many buyer personas should I create"? The number will depend on the specifics of your business and the industry in general. Most companies have at least two or three buyer persona profiles. You should not go too broad in the description, it is definitely worth trying to narrow the scope when we talk about one buyer profile.
If you plan to aim for several industries at once, then you should probably develop buyer personas for each product within the industry you advertise. Several personas from different industries may overlap in terms of needs and have similar characteristics and interests. In such a case analyze whether they can be combined or not. In the majority of cases, it is recommended to create two different personas even if one important characteristic, e.g age group, doesn't coincide.
2) Define what goals your mobile ads should achieve
Mobile marketing methods can be used to achieve different goals: clicks, views, conversions, installs (for apps) or any other action (registration at the website, filling up the form, leaving feedback, etc.). If you don't define your goal beforehand, you won't be able to measure it after your advertising campaign ends. If it is hard for you to determine the goal, assemble your marketing team and together give answers to the following questions:
How do we currently adapt our product or service to the mobile market? This is a starting point that will inform all of your team members about your marketing efforts (if someone's not aware).
How does each marketing activity perform? (social media, search, paid advertising, etc.) This will help you to find out which channels perform best and which ones should be less prioritized. What do you want to achieve by involving mobile marketing campaigns in your plan?
What are your expectations of mobile marketing (per each channel)?
Who are your key buyer personas? How do they use mobile devices? Are these personas different for each product category? Do they use mobile differently?
How much advertising budgets are you planning to invest in mobile advertising? What advertising formats are you planning to use in order to make the user experience less intrusive and more engaging?
3) Establish KPIs
Advertising and marketing tools have a definitive set of metrics that you can track and measure while running mobile campaigns. In order to understand what you need to optimize in the future, take a look at your existing KPIs.
Engagement. If your primary goal is to raise brand loyalty and engagement among audiences, use highly-interactive ad formats e.g rewarded or playable videos. Engagement rate is not always easy to measure, however, you can apply tracking tags within creatives that will tell you how exactly users interact with your ad units.
Acquisition. For better acquisition don't forget to include in your ads and emails calls to action. In order to measure the acquisition rate, it will be enough to just divide all marketing expenses invested in the channel by the number of new customers acquired with this channel.
Brand awareness. If raising brand awareness is the main objective of your mobile marketing plans, make sure to select memorable ad formats like video ads that showcase product or service in detail. Unlike performance campaigns, brand awareness ones can be measured in the number of views on demand-side platforms. Furthermore, on the demand-side platform like SmartyAds, you will also be able to generate daily reports across a variety of metrics: clicks, conversions, spend, etc.
4) Don't forget about mobile-friendly website
A mobile-friendly website gives an opportunity for your users to adequately browse the website on all devices where it is opened. If you don't optimize the website for mobile you put at risk at least 35% of potential buyers. Plus, this is a key to convenient and enjoyable user experience and one of the most important Google ranking factors.
3 signs that your website is mobile-friendly:
The content of the page isn't wider than the mobile display.
The content of the page fits both the width and height of the mobile screen.
The content is loaded quickly and without errors.
Google also created a tool to help webmasters verify if the correct of the website displays correctly on all devices.
5) Incorporate digital advertising into your mobile marketing approaches
More than 91% of mobile phone owners state that they normally take a decision regarding purchasing products or services after watching relevant ads. Programmatic advertising tools will help you make your ads appear relevant to every user. This type of media buying accounts for at least 68% of global media ad spend.
Here's what is programmatic advertising and how it works in a nutshell: the user's cookies indicate that they are frequently browsing car-related web sources. When the same user opens a new website/app, their cookies are transmitted from the publishers (SSP) to advertisers (DSP). Based on the targeting settings advertisers set in DSP (age, geo, language, etc.) the platform decides whether to bid on an ad impression from a publisher or not. If it's "yes" automatic bidding occurs and the winner (who offered the highest bid) gets their ad served right inside of the app (or on the website). After a few milliseconds, the user sees the relevant ad "hey, buy a car from us!"
The benefits of programmatic media-buying for mobile campaigns
Relevance. Technology allows you to show ads to the right customers on different mobile gadgets.
Automation. It also allows you to buy ad slots in real-time thanks to the automation of the process (that positively affects ROI and saves media-budgets).
Targeting. Geo-targeting configured on mobile DSP helps advertisers to run geo-marketing campaigns, e.g. advertise to the users when they are few meters away from the brick-and-mortar store.
Formats. On DSPs, you can find an abundance of mobile-friendly ad formats specially tailored to satisfy particular campaign goals.
6) Diversify your media-mix
Mobile marketing tactics state: mobile or the in-app environment is totally different from desktop and in order to succeed in this medium you have to change the standard approach to design and user experience. After you've adapted the website to the dimensions of the mobile phones, it's time to think about mobile users and how to delight them and encourage views, clicks, or interactions.
It is important to keep in mind that Flash-banners are not suitable for mobile placements. Alternatively, you should pay attention to formats developed specifically for the mobile environment.
Pushes. If previously pushes were used solely for content delivery, now they are actively utilizedsed for advertising purposes. In case you'reIf you plan a geo-marketing campaign, there's nothing better than push notification ads because they can pop on the screen right when your customers pass by near the shop. AThe push notification should be short, concise and have a vivid CTA button in order to elicit high conversions and click through rates.
Playable videos. Playable ads work well when you need to demonstrate athe mobile game in detail and generate lots of installs. It appears at the screen in between the game or during certain logical gameplay intervals and features a little demo game that the user can try. These ads bring in a high-quality loyal customer database -- since people try the game before downloading they don't deinstall the game shortly after.
Rewarded videos. Rewarded video ads are preferred by over 70% of mobile gamers since they provide value in exchange for ad watching. Rewarded ads can only work in the in-app environment, they raise engagement and ad completion rate up to 100%. These ads typically warn the users "watch this ad and you will receive a bonus": the free game hint, coins, free hour of music listening or whatever can be valuable.
To sum up
Mobile marketing tactics can make wonders with your sales, conversions and user experience as people spend the majority of their time using mobile gadgets. However, it's worth keeping in mind that they include a variety of mobile marketing methods that should be used in complex to produce a synergic effect. Supporting each method of your strategy with the right automation tools, you guarantee that you reach potential customers at the right time at the right screen and with the right message. Luckily, there are a lot of tools for this, but as always, the most important thing before doing anything will be determining what kind of result you want to achieve.
Time to set up an effective mobile advertising campaign. Ready? Register at DSP!