Mobile apps and mobile games took over the world: it seems like game developers and game publishers focused their attention on the mobile game advertising ecosystem. The cost of in-app purchases grew significantly since the pandemic ended, so game advertising is on the rise again.
So how does the mobile gaming industry evolves and is there a way for mobile ads and in-game ads to become an alternative way for app monetization? If so, how should advertisers choose the right ad format so that it amplifies users' gaming experience, raises brand awareness, and increases loyalty to the brand?
Game advertising forecast for 2022-2030
In-game advertising is on the rise because gaming on mobile is obviously booming: 100,000 new apps (including paid and free games) are being released every month on Google Play Store and App Store. New users are flocking to mobile screens every year — their number in 2022 is reaching 6.6 billion.
By the end of 2027, this number will increase and reach 7.7 billion. With this, around 80% of their time people spend playing mobile games and using other apps.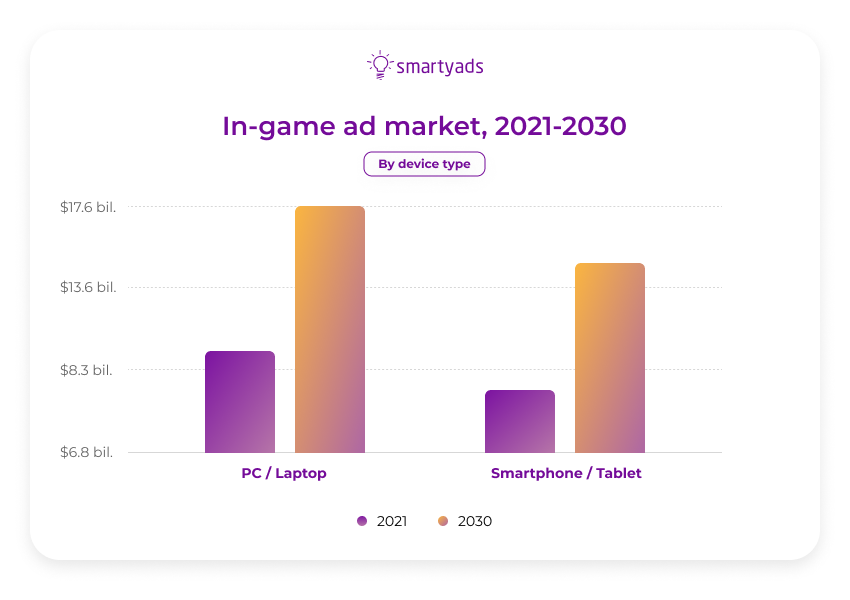 Meanwhile, app game developers are trying to increase user acquisition, user retention, and user engagement while incorporating the ads into actual gameplay. For this, they integrate different ad formats — native ads, rewarded video ads, interstitial ads, banner ads, and others.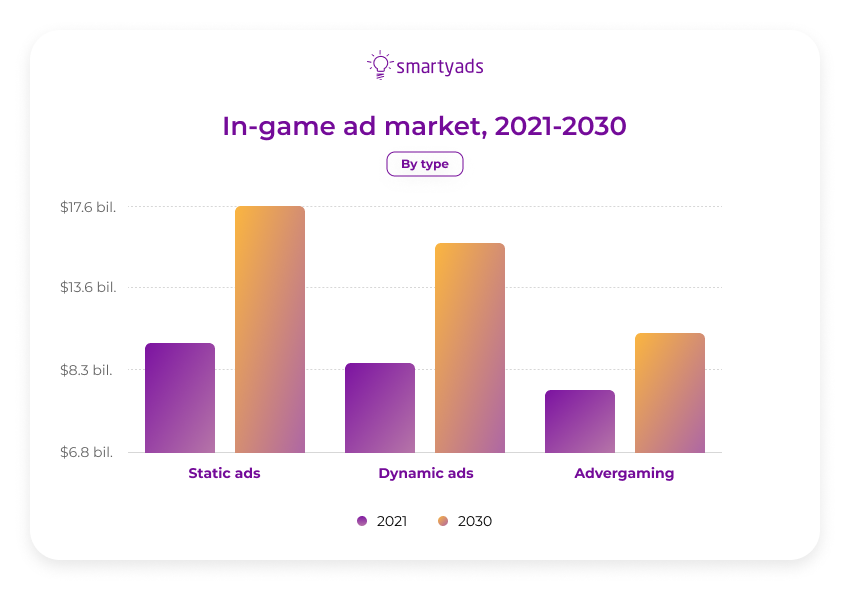 Mobile game advertising will most likely reach $17.6 billion by 2030. Therefore, different ad formats will be popular in the future — as seen from the picture, static in-game ads, dynamic in-game ads (like video ads), and advergaming will progressively grow till 2030.
In-app purchases drop. It's worth pointing out that the cost of in-app purchases increased significantly since 2021, which happened as a result of stiffening privacy regulations and the activation of Apple's ATT framework.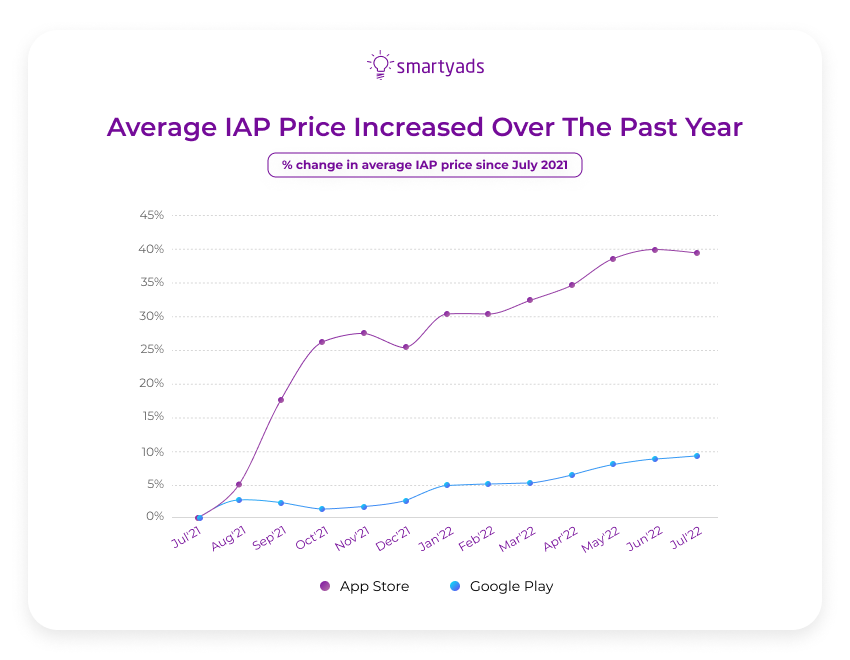 How COVID-19 impacted mobile game advertising
Advertising in mobile games was heavily affected by pandemics. It also changed the overall ad experience but luckily in a positive way.
The user acquisition turned costly for many gaming app publishers — they've spent $14.5 billion on it in 2021. In 2022 the opt-in rates on IOS decreased by 39% (which is reported to be the result of Apple's ATT).
Content consumption habits changed — as users started spending more time with their gadgets and playing games, advertisers are willing to invest more in game advertising.
In-game advertising of the future will be driven by tech advancements and innovative formats.
In-app advertising state in 2022
Regarding the general in-app advertising state, The App Discovery and Monetization (insights published in Business Wire), showed that mobile ads are still very popular across various genres of apps, including the mobile gaming niche.
74% of users watch ads (especially in-game ads) and as a result, discover new mobile apps.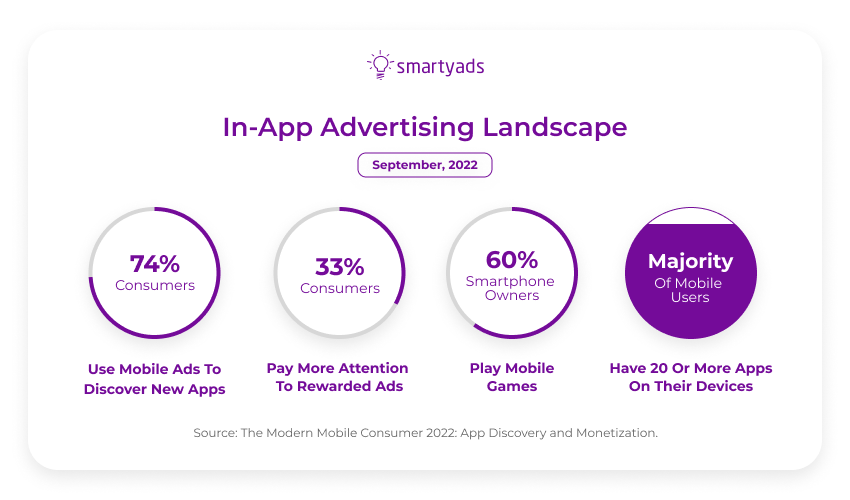 In-game advertising for app publishers and game developers
Naturally, profit is the main purpose of every app functioning, even those that come free and leverage indirect monetization tools — in-app purchases or mobile game ads. Since mobile market competition is extremely high, it is hard to gain money from selling a mobile game or through in-app purchases (to monetize your own games).
That's why game developers are looking for alternative ways to monetize their apps and for this, they often choose in-game advertising. In this case, they act like third-party apps that serve ads of other advertisers and gain ad revenue for this.
For the game developer, mobile game advertising can turn into an effective tool for monetizing in-game content and obtaining ad revenue. Additionally, game developers can act as advertisers and promote their gaming apps while using the ad platform.
This way the app will be advertised in other games (of other third-party developers). The users will see the fake gameplay or a demo of a game and then click on the ad button to initiate the app downloading (or transition to the app store).
In-game advertising for advertisers
For the advertiser who wants to advertise in third-party mobile gaming apps, it will become an outstanding opportunity to target users.
In this case, users watch promotional video ads or banner ads in the middle of an actual game, click on the ad, and get rendered to the page of the advertised product or service (instead of another app).
Let's go ahead and find out what formats will be commonly used in the mobile game industry and how to use them in order to protect and even enhance a typical user's gaming experience.
Advertising in free-to-play and freemium game apps
Mobile game ads may be implemented in the game in numerous ways but let's recall what is the difference between freemium and free-to-play games first.
Freemium is a classic try-and-buy model when a user downloads a game for free, and then has the opportunity to buy the full version for it. It can be implemented across different game genres.
Free-to-play is the most popular model among social games and mobile gamers like it a lot. It is also free but along the way, the user must make in-app purchases to access new opportunities and privileges.
You can season user experience with a mobile game ad so that it indicates the path that leads to the upgrade.
Another great practice is giving the user an option to play games without ads (for a small fee) or integrate rewarded ads that help to gain in-game bonuses in exchange for ad-watching (extra lives, providing access to in-game currency, etc.).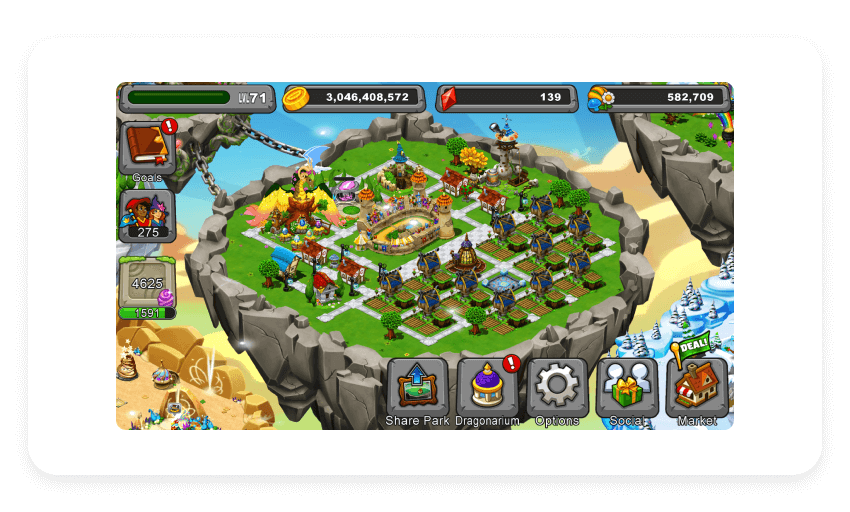 Dynamic or static experience?
If you're looking for the answer to the "what's better, dynamic or static mobile game advertisement?" question, there's no simple solution.
The prices for dynamic and static ads and the tasks they perform can be drastically different. While interactive solutions like rewarded video ads are well suited for promoting complex products, e.g new apps (playable ads), traditional static ads are more suitable for something more common.
Both static and dynamic ads can coexist quite well and even work in a single app (depending on the session length).
Interactive mobile ad formats can be used as bait, and traditional game banner ads as a destination this bait leads to. For example, users play rewarded ads, and, when the gameplays are over, they see the banner ads with a CTA — "download this game now". They click on the banner and end up in the game store.
In order to make the user experience seamless and streamlined, app developers need to carefully plan each interaction of the user with static or dynamic creative. For example, an in-game advertising ad can be placed at natural pauses or an initial game initialization process.
Well-organized in-game advertising doesn't irritate users, on the contrary, it can even boost the entire game experience, as those users who are not ready to pay, will watch ads to earn in-game bonuses they need (see rewarded video or rewarded ads).
The most popular dynamic ads in 2022 are playable, rewarded ads, in-game videos, and advergaming. Game banner ads will still be among the leading static formats along with static info bites that you can find displayed on the billboards in games (see below).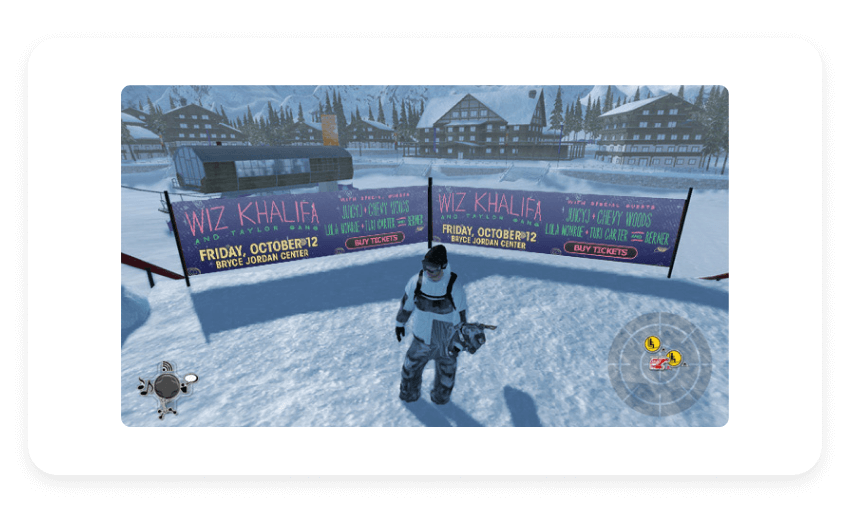 Most trending online game ads
Playable ads
Playable is one of the most popular game ad units normally placed across strategy games and other genres. The playable game ad suits well both IOS and Android platforms. In the nutshell, this game ad features a mini version of another gaming app that the user can test drive in several seconds.
It motivates the audience to interact with a featured button "try the gameplay". At the end of the gameplay, a call to action appears — "install the game in the AppStore or Google Play". Users acquainted with the gameplay want to continue playing in the full version and click to download the app.
Playable ads are proven to deliver 8 times better performance than usual ads. They will remain to be increasingly popular in 2022 because they are interesting and they deliver an engaging ad experience.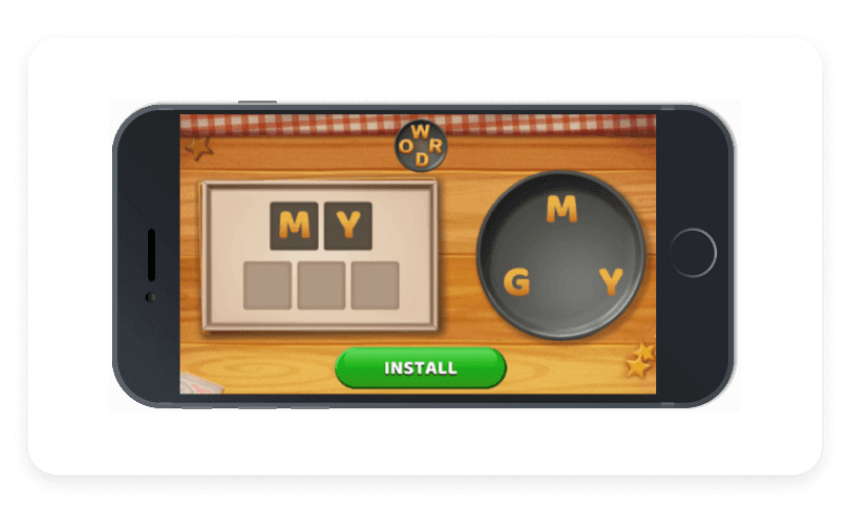 Rewarded ads
Rewarded ad is another star of in-game advertising for the years to come. The rewarded video ads look natural in the app's content and can be embedded in various functional parts of the game menu.
These online game ads reward players in exchange for ad-watching. An extra life, a hint, additional items, and functionalities are just a handful of incentives that developers can apply as game bonuses.
Rewarded video ads don't distract users from gameplay and provide additional values. For this reason rewarded ads normally generate much better user loyalty, engagement, and eCPMs on a $30+ level. Plus, rewarded ads can increase in average revenue received per user by up to 40%.
In order to correctly integrate a rewarded video into the gameplay, the developer should allocate the placements where ads will irritate users the least. Some developers also create a whole menu section where rewarded videos can be found.
According to the stats, a rewarded video in 2022 has grown on both platforms, IOS and Android, although banner ads are still remaining popular because they have the best reach and are suitable for all kinds of apps.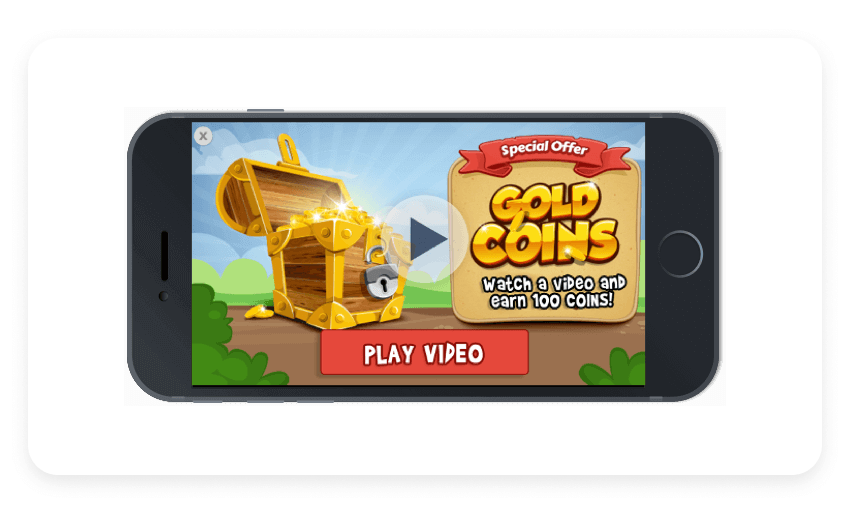 Native ads
Unlike rewarded video ad units, native ads are pretty universal for all kinds of apps, non-gaming too.
IAB's Native Advertising Playbook identifies six main interactive formats that are currently used in native advertising.
The native banner has several reasons to be the most popular one. Typically, the task of the native teaser is to attract attention and encourage the user to click and follow the advertising landing in detail.
Native ads may look like any other functional elements of an app. Native ad units are usually non-intrusive and generate 20–60% better engagement indexes than other formats.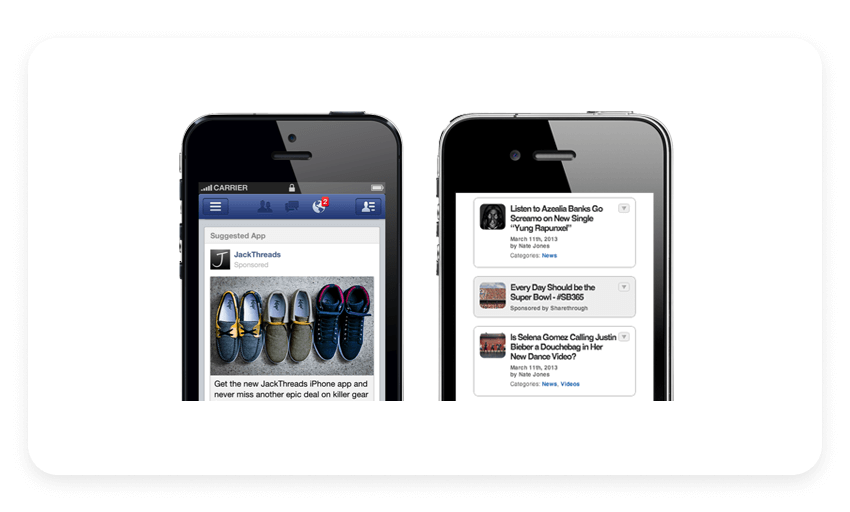 In-game video ads (interstitial ads)
Apart from playable and rewarded ads, popular in-game ads include simple videos (especially when it comes to interstitial ad commercials).
Unlike traditional static advertising formats, dynamic video mobile game ads have a full-fledged scenario according to which they unfold. Thus, interstitial ads can work according to the entire scenario.
This scenario combines visual, audio, and textual types of information, which interact with users at several perception levels at the same time. Interstitial ads are full-screen formats that must be shown either at the start of the game or after some logical intervals (e.g transition to the new game level).
Normally, interstitial ads are the third most popular option after rewarded and playable ads. Over 63% of publishers monetize their casual/hyper-casual games with interstitial ads.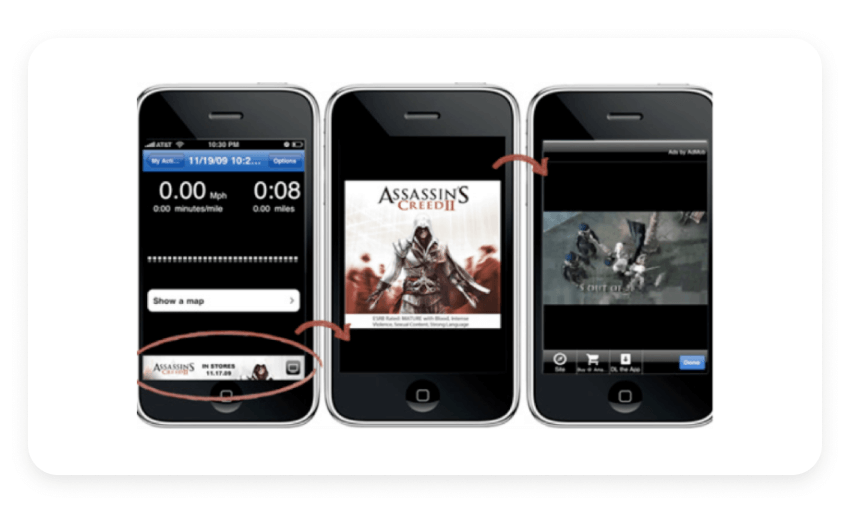 Advergaming
The concept of advergaming is relatively new but is innovative and thus, can elevate your in-game ad results. The idea behind it is to wrap around promoting the whole application experience.
Such mobile game ads are the most expensive because they are typically developed from scratch in order to show products and services in detail. So, the marketing manager should take the cost of this advertising into account.
Another, more affordable option of advergaming is when the company pays for placing the ad inside of the already well-known commercial game. Thus, for example, Chupa Chups advertises across a variety of mobile games, including Angry Birds and Amiga Zool. This could be a more affordable way to reach your target audience.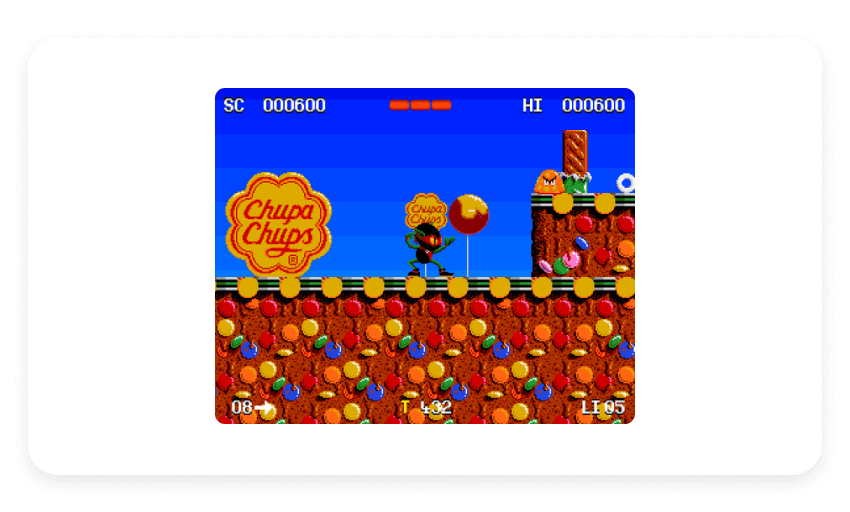 Offerwall
Offerwall is an in-game ad that resembles a rewarded video: the user is offered to install another application, participate in a survey or perform any action in exchange for an in-game bonus. Today, this format is less popular than rewarded and playable; offerwalls are also restricted by Apple, as those ad units are often considered manipulative.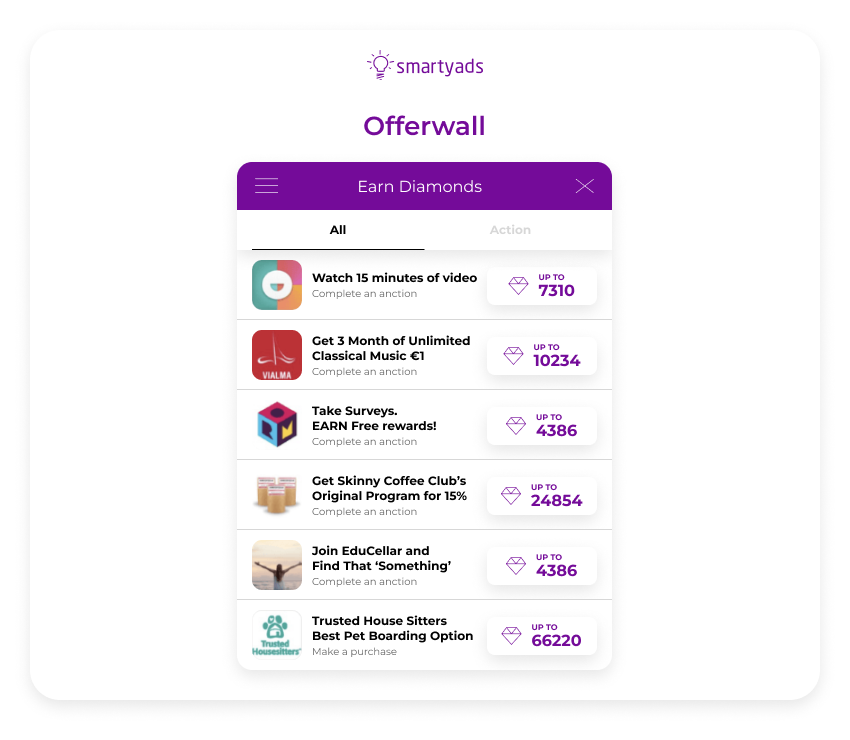 Where to place a mobile game ad?
So where should you place your ad in order to effectively reach the right users?
Action games
In such games as Brawlhalla, Mortal Kombat, and Walking Dead, the progress may largely depend on the player: reaction speed, being quick and agile. Thus, rewarded ads can be a really great choice for this category, as the user will certainly want to get new items in the game and increase their in-game rank.
Arcades
In this gaming niche (PacMan, Doodle Jump, Subway Surfers, and Monster Dashgenre), as a rule, there is no plot. The player has "lives" to complete tasks in levels, and the logic for accomplishing tasks is fairly straightforward. In this case, the full-screen banners can be your universal choice. As an advertiser, you can use rewarded ads to offer extra lives in arcade games, as well.
Battles
This niche is known by PUBG, Fortnite, Call of Duty Mobile, Brawl Stars, and other multiplayer survivals, and also shooters; rewarded and playable ads will be the best choice.
Casual games
This niche is represented by Bloons TD, Stack, Crossy Road, and similar ones. Here you can use full-screen banners. These games are usually pretty relaxed and don't require extensive time for skill learning.
Multiplayer Online Battle Arena
MOBA (Multiplayer Online Battle Arena) is represented by Vainglory, Mobile Legends, and Arena of Valor where teams of players compete in the arena. You can use the format of full-screen banners and rewarded ads.
Puzzles
In such game niche (Two Dots, Move the Block, and Sudoku), full-screen banners are used most frequently (during the transition between the levels). These games are common and easy to play but they require applying intellectual abilities. Games like Wordscapes, Four Letters, and Wheel of Fortune can also be attributed to this niche.
Sports games
These ones imitate sports from real life: football, basketball, and others. Examples of such games include FIFA and Golf Star. The rewarded and playable ad formats are the most common here.
Game ad: testing and deploying
One of the main downsides of the interactive mobile game ad is that it is labor-consuming. Some dynamic video ad formats may also appear more expensive as long as a media player on site occupies a large space.
In this regard, static formats will be more affordable. At the same time, the CPM of interactive formats is usually higher. Because of this, it will be better for the brand to test the static ad format along with interactive and compare their effectiveness and ability to achieve particular KPIs.
The best practice will be to test different creatives for different audience segments. The more personalized the creative is the more chances the users will react and convert.
Helping your in-game ads find the right users
It's also hard to underestimate the significance of ad personalization for remaining a good game experience. Ad personalization is a reason why advertisers and app developers chose a programmatic demand-side platform.
Such platforms connect publishers with global advertisers in real-time due to which publishers earn money from ad serving and advertisers address custom audiences in any corner of the world.
On SmartyAds DSP advertisers can choose from a variety of interactive ad formats, including banner, playable, rewarded, interstitial, and native ones.
Thanks to the precise targeting and automation of programmatic DSP, advertisers can aim precisely and reach only those audiences to whom their product or service will be relevant (the ad platform makes it possible to channel the ad according to the age range, geo, device type, and other targeting criteria).
With this, the bidding process will happen automatically and the system will select only the most suitable sources for ad placement with the most optimized price.
Apply the most innovative tools of in-app advertising on SmartyAds DSP. Register now!