With the Covid-19 pandemic, the travel industry went through one of the worst crises in the history of travel companies. However, as time passes, the pandemic is becoming more and more controlled, and more and more countries are opening their borders to tourists without Сovid restrictions. This means that the flow of tourists grows, and travel marketing reaches new heights.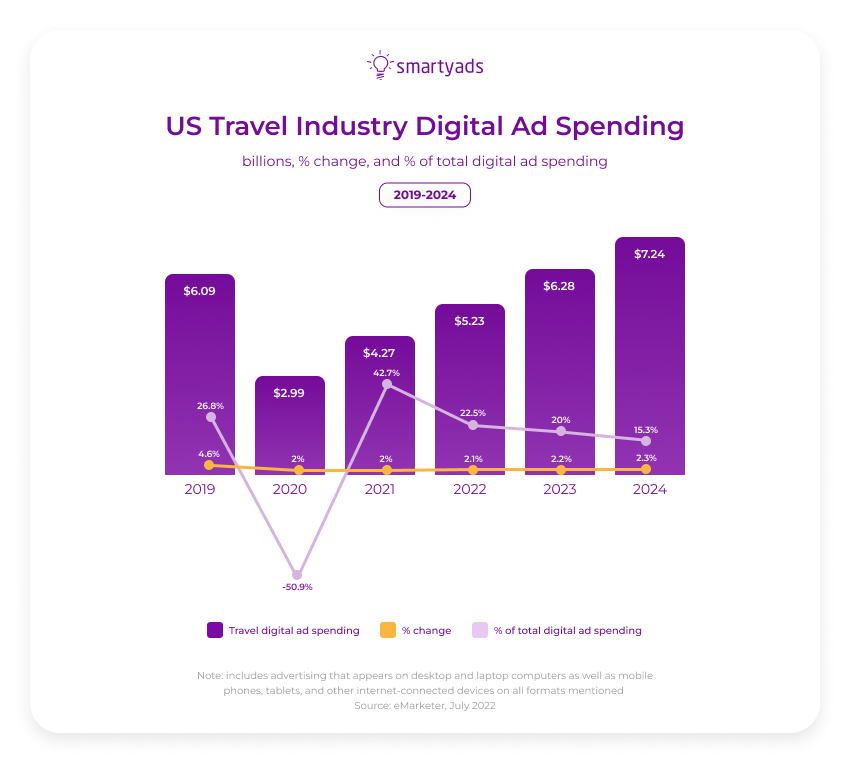 And since this is the case, travel marketers should think about optimizing the advertisement reach of travel marketing. Digital ads are best suited for this purpose, and in this article, we will explain why.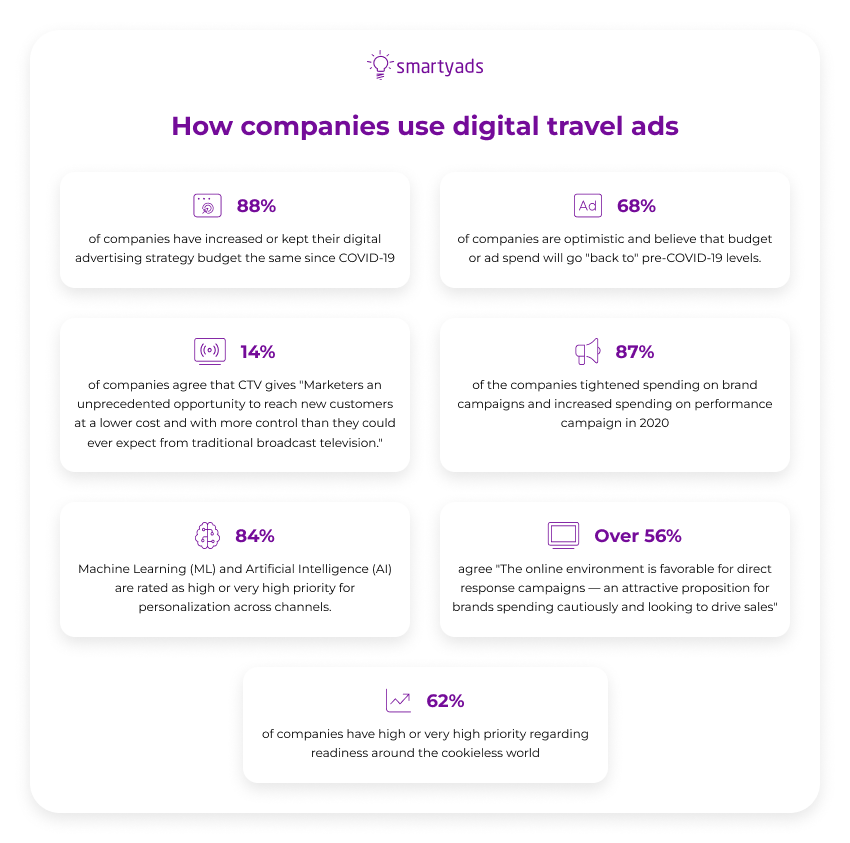 What is programmatic advertising?
Programmatic advertising is the automated purchase of personalized online ad impressions on Ad Exchanges through technological platforms. Such ads can be shown all over the world with no restrictions. In addition, programmatic advertising has a growing number of possibilities for accurate and extensive targeting, which allows travel advertisers to get a better-quality audience for their websites.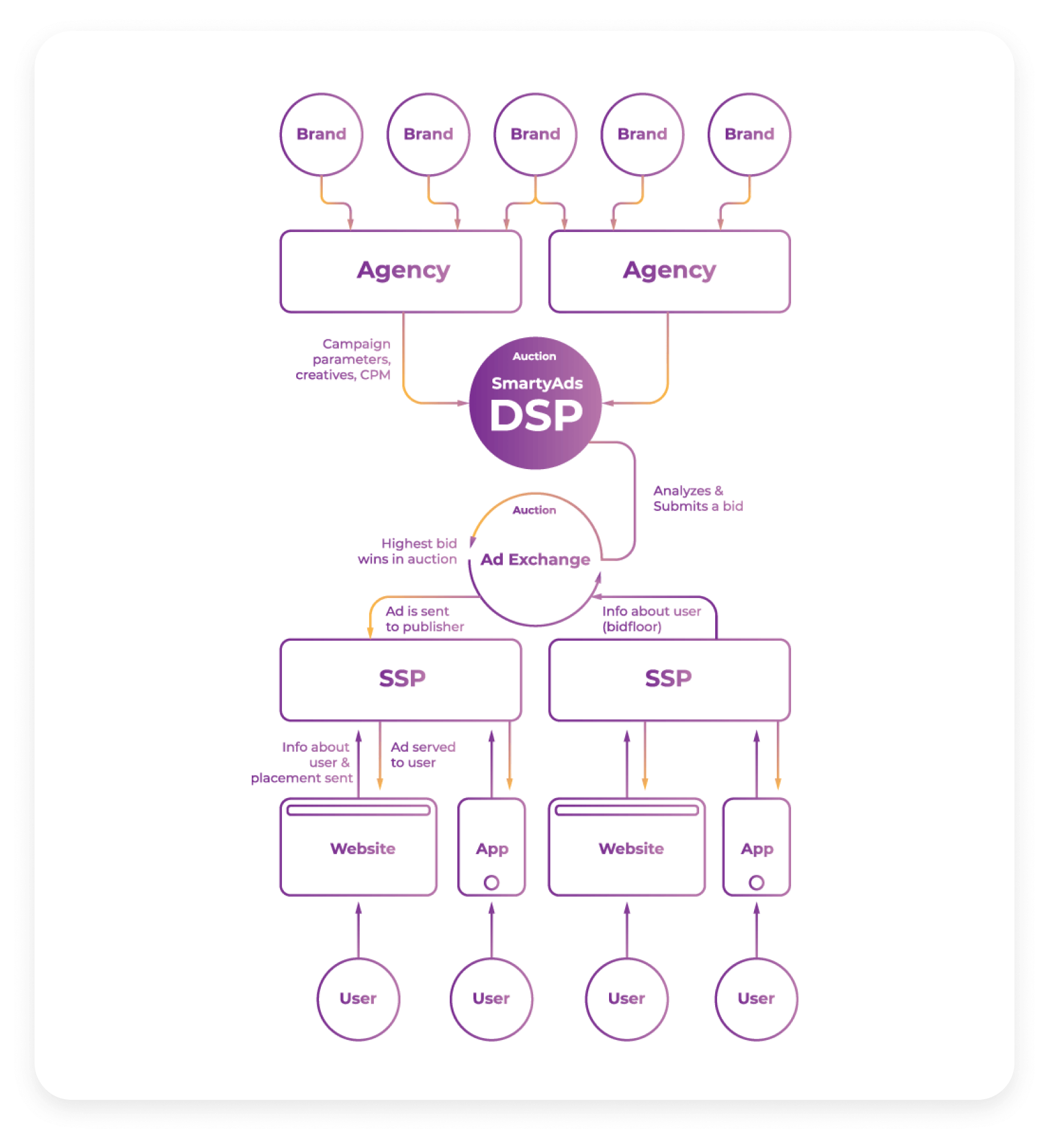 Why do travel marketers need programmatic?
To be blunt, most people can be the target audience for travel advertising. Everyone looks forward to their annual vacation: some to visit the next exotic country, and some to take advantage of the domestic travel market. One way or another, everyone has at least a little bit to do with travel.
Let's look at the benefits of programmatic:
Increased reach
Programmatic advertising allows you to have access to a wide variety of categories of people in an extensive selection of locations around the world (even very specific destinations) for your ad placements. However, geo-target is not the only programmatic advertising tool that can benefit travel advertisers.
You can customize ads based on a number of different parameters that may be important to your travel company: gender, age, social status, income level, etc. Programmatic advertising allows you to cover the whole world and target the right audience with high precision.
Relevant displays
A big problem with digital advertising since its inception has been its untimeliness and intrusiveness. Everyone who uses the Internet knows what an ad blocker is and how to use it.
Programmatic advertising allows you to set up travel campaigns in such a way that your creatives will only be shown to travelers who are already at least interested in what you have to offer them. This way, the user doesn't feel annoyed, and you get more conversions and purchases.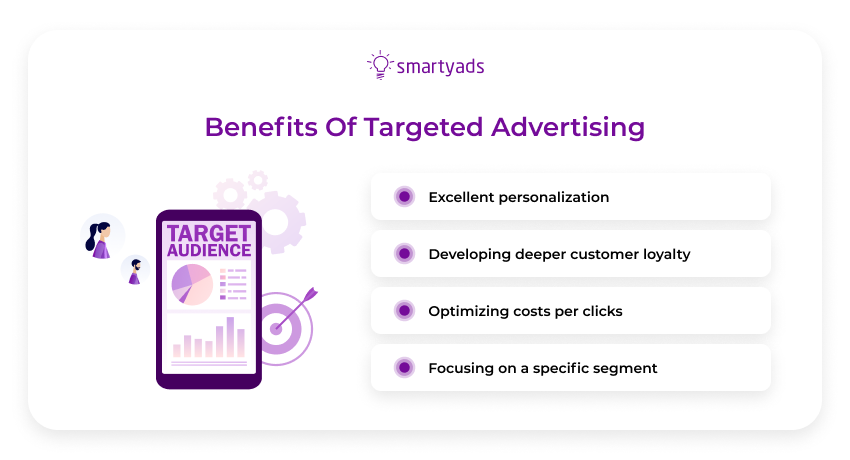 Optimization in real time
We're certainly talking about the Covid-19 pandemic no longer having such a huge impact on people's lives, but that doesn't mean it's over. There are very frequent changes in border crossing regulations in many countries, and you may need to reflect these changes in your advertising.
The programmatic campaign allows marketers to change and adjust settings whenever they feel necessary.
Even without the pandemic, this capability is essential to advertisers in our unstable world.
Advanced analytics and testing capabilities
Programmatic uses artificial intelligence and machine learning technologies to deliver the most accurate, real-time data about the progress of your advertising campaigns.
Testing:
Advertisers can conduct A/B testing when they need to see which variant of advertising creatives will work best for them and only then launch a large-scale campaign.
Analytics:
Performing this kind of testing will allow advertisers to get to know their consumers, potential travelers, their habits, and their behavioral patterns better. It's an extremely useful opportunity for advertisers to engage their customers.
Reduced ad spend
Programmatic advertising allows you to spend less on advertising campaigns for the same or better results. Precise targeting of relevant people makes ad spend a worthwhile investment, not a lottery that may or may not be a waste of money.
Of course, even the latest technology cannot provide 100% results, but with programmatic advertising, the likelihood of achieving significant success is much higher than with any other.
The last word
Travel advertising is a very specific marketing area, as it deals mainly with the sale of services. The entire travel business focuses on giving customers the best possible travel experience and maximum comfort.
SmartyAds DSP has the ability to purchase a wide variety of traffic across different demand verticals. The travel vertical is on that list.
Sign up for SmartyAds DSP and start your first travel advertising campaign now!