It's impossible to imagine human life without television. This industry has revolutionized how people consume content for different purposes and keeps breaking ground by introducing favorable conditions for viewers and advertisers.
With the rising development of advanced technologies, linear TV has evolved into connected television (CTV) but hasn't entirely substituted it. On the contrary, multiple innovations in content and ad delivery emerged, just as did the affordability of smart TV devices. Rough estimations project that $1 in $3 spent on TV advertising will go to CTV in 2025.
So, what lies at the heart of connected TV? Why do more and more advertisers allocate their budgets to this advertising channel? Before answering these questions and pinpointing the benefits of connected TV for advertisers, let's look at the state and possibilities of the CTV ecosystem.
What is connected TV?
The soaring growth of the connected TV ecosystem lies in the potential of this channel to capture viewer attention and amplify engagement. With CTV advertising revenue projected to reach nearly $26 billion by the end of 2023, CTV as one of the marketing channels will stay here long and is expected to go up to $42 billion in the next five years.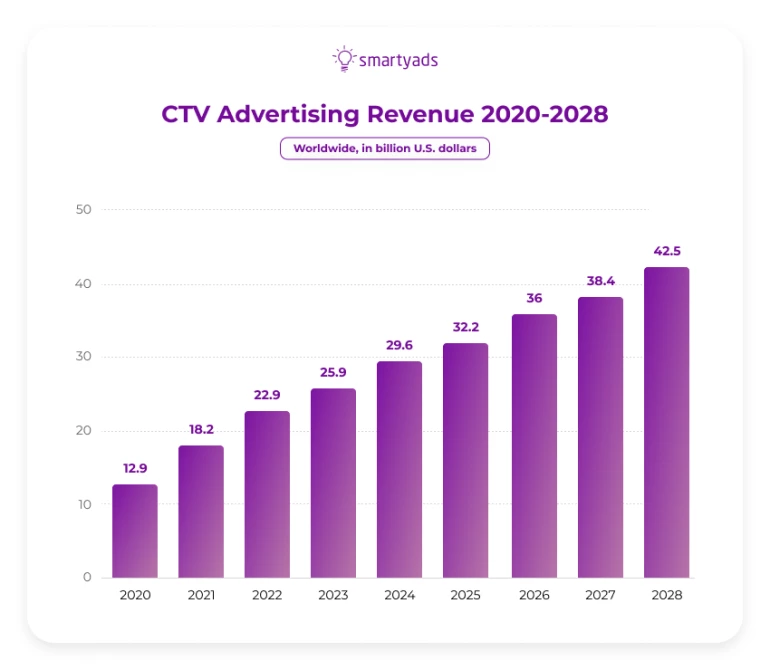 Linear advertising gives up positions to advertising on connected TV, which competes to surge ahead, offering a fresh and innovative approach to reaching target audiences. In the era of traditional TV advertising, people still spend more time watching TV. However, the difference between the time spent consuming digital content and traditional TV streaming is projected to surpass 5 seconds in 2024 — a full-fledged, unskippable ad.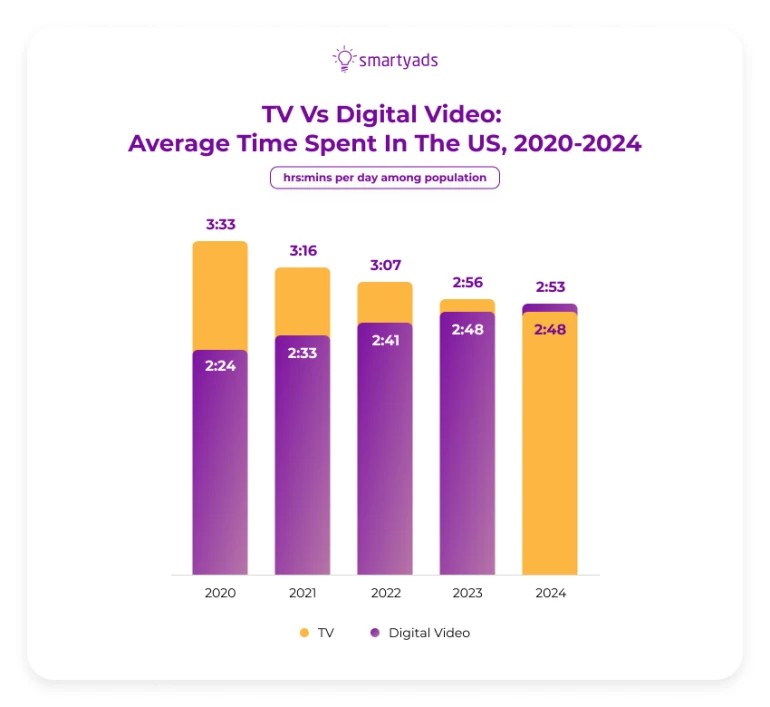 The adoption and significance of connected TV advertising
CTV adoption is skyrocketing, with 109.3 million households accessing CTV devices like smart TVs, Amazon Fire TV, Apple TV, Roku, Xbox One, etc. This shift from traditional linear TV to streaming services provides advertisers with a larger audience to target, creating a wealth of opportunities to leverage from CTV campaigns.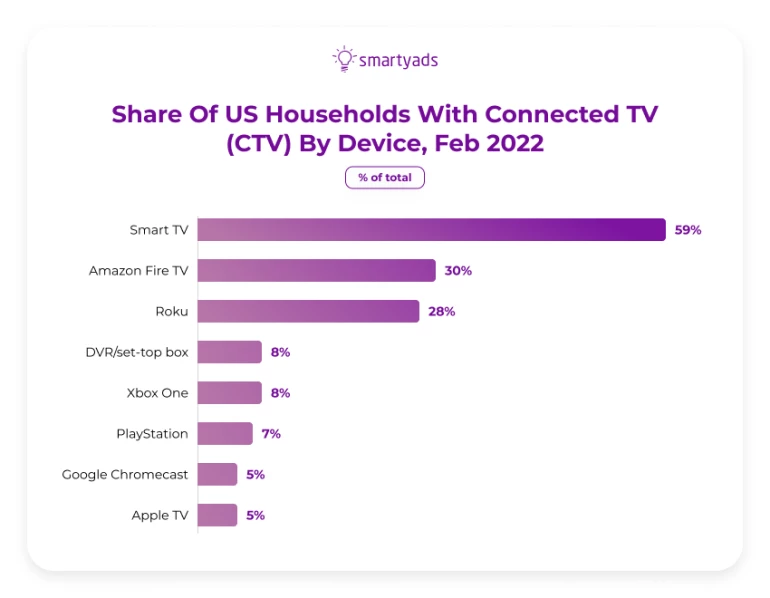 The accelerating pace of CTV adoption is a call to action for advertisers to yield the benefits of connected TV. CTV advertising is worth jumping into as the viewer landscape shifts towards streaming services and away from traditional linear TV.
11 benefits of connected TV advertising
65% of US marketers point out that CTV videos are essential to their media plan. The following advantages make CTV a profitable choice compared to other marketing channels.
Safe brand reputation in the digital ecosystem
Maintaining a brand's reputation is one of the many challenges for advertisers. The Interactive Advertising Bureau states that brand safety within CTV environments is provided at the app or content level.
So, before working with a particular app on CTV, advertisers can check information about the premium inventory and align it with their own requirements. Brands can verify the content where the ads will be displayed and choose specific programs and placements for their CTV ads to appear.
The opportunity to check and choose the proper landscape for running connected TV advertising is crucial for companies that care about their image since a great wealth of content aggregators and apps reside on the web, and advertisers risk losing their budget when displaying ads to the wrong audience.
Consistent brand experience
CTV advertising integrates flawlessly with omnichannel marketing strategies, offering a unified brand experience. By incorporating CTV advertising into marketing strategies, advertisers can create a compelling brand journey for consumers across multiple platforms and devices and optimize conversion rates.
Advertisers can successfully implement their omnichannel marketing strategy with a well-defined brand identity and messaging communicated across all platforms, a unified design system and up-to-date branding guidelines supported across various platforms and screens.
Emerging ad formats
Connected TV advertising supports innovative ad formats and provides creative opportunities that take viewer engagement to a new level. Advertisers can create memorable and impactful ad campaigns, applying overlays, interactive ads, sponsorship opportunities, and branded content apart from the familiar ad types.
Overlays and interactive ads seek to advance engagement with the intended audience and encourage TV viewers to interact with ad creatives so that advertisers can improve brand recall and generate conversions. These types of CTV ads apply advanced technology to deliver an interactive experience in every ad of the CTV campaigns. By leveraging these interactive ad formats, advertisers can create ads that capture audience attention, drive engagement, and improve campaign results.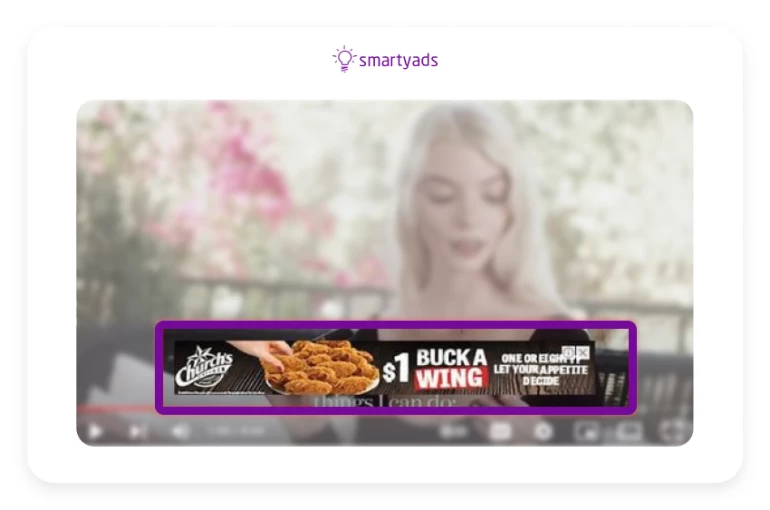 As for sponsored and branded content, CTV is a lucrative platform where advertisers showcase their brand more engagingly and authentically than linear TV advertising. Advertisers can reach their audience organically through branded content and sponsorships by avoiding bothering. This allows them to build consumer trust and loyalty and enhance brand awareness and affinity.
The digital video is one of the most popular formats so far. Still, the advent of innovative CTV ad formats has ushered in a new era of user engagement, transforming passive viewers into active participants. One groundbreaking avenue is the integration of voice-activated platforms like Alexa. With this technology, viewers can now directly interact with advertisements, creating a dynamic and immersive experience. Imagine a scenario where a user watching a cooking show can ask Alexa to provide the recipe featured in the commercial or inquire about nearby stores carrying the advertised product. This seamless interaction not only enhances user satisfaction but also provides advertisers with valuable insights into consumer preferences and behavior. See the example of it below.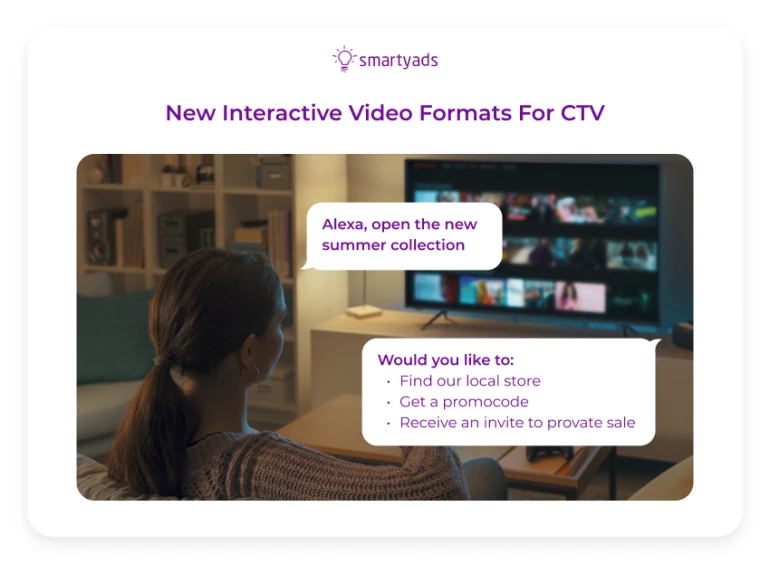 Sophisticated targeting opportunities
Advertisers can leverage advanced targeting options for their connected TV advertising campaigns by segmenting audiences based on age and gender criteria, activity across CTV platforms, interaction with a product or an ad, interests, and used devices. Implementing precise data makes CTV campaigns more cost-effective and convertible since the target audience can see relevant ads and engage with a product. This addressability of CTV allows advertisers to connect with elusive and particular audiences, thereby improving audience quality and tailoring ad relevance to consumer preferences.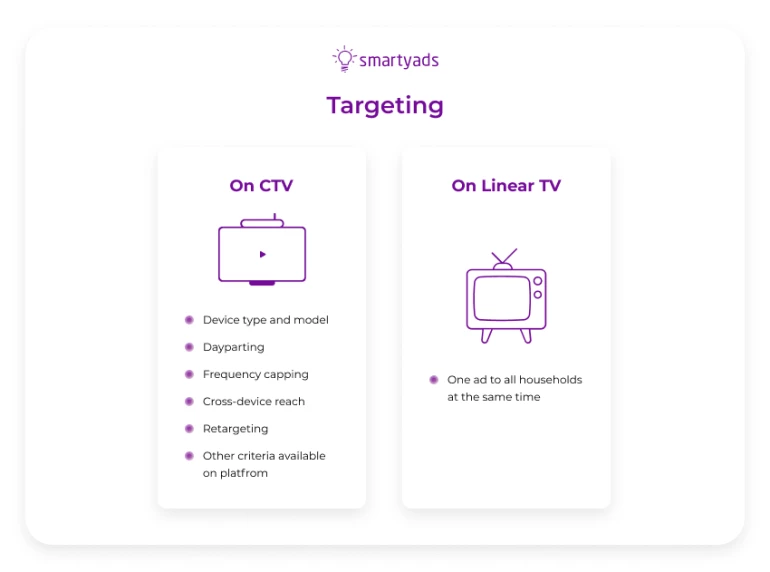 Contextual targeting
Contextual targeting on the CTV is a game-changer that brings targeting opportunities to the next level as the ads are served based on the streaming content without applying demographic, location, or other types of data.
Advertisers can show their CTV ads to viewers who watch movies, sports events, TV shows, etc., with a matching topic. It means that the audience interested in particular content sees promotions of products from the matching niche and is more inclined to buy them. Thus, brands can build advertising campaigns to cover specific genres, channels, and networks on CTV.
For example, being a sponsor of some sports event, the brand can display their ad while this event is broadcast. When seeing the company's logo on the screen and then the ad display of the same brand, viewers get warmed up and may want to buy some products from the given brand. Additionally, advertisers can integrate interactive elements (QR codes, etc) to take users to the purchase page and thus make this experience faster and more convenient.
Advertisers can also run their connected TV advertising while premium content is displayed for specific viewers. Although access to premium content is more expensive, this investment allows for receiving a higher ROI of the CTV campaigns by engaging with the right audience.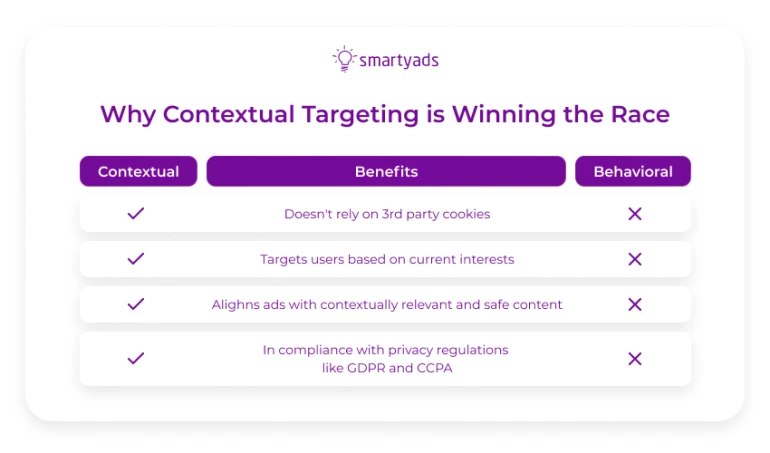 Cross-device targeting
Throughout the day, people are surrounded by multiple digital devices airing Smart TV content: mobile phones, tablets, game consoles, smart TVs, and various streaming sticks and boxes. For advertisers, it means that they can reach their audience holistically and serve an improved experience during the customer journey, whatever CTV device people use to watch the content.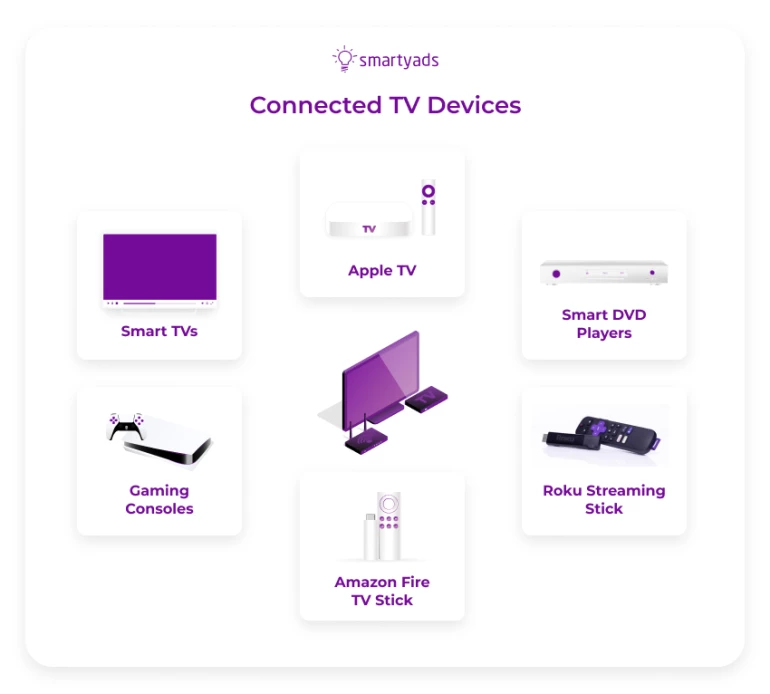 With a cross-device targeting approach, advertisers can deliver unified messages that lead users to the desired action or purchase. To do that, advertisers apply first-party data, such as login information, email addresses, device IDs, etc. When recognizing the same users switching across the screens, it's possible to serve relevant and even personalized ads to raise the effectiveness of advertising campaigns.
The overall cross-device targeting process can be conditionally divided into three stages. This path may vary as users switch across screens, yet reliable and trusted data grant accurate ad flow delivery.
First encounter with a customer on CTV.
Reminding about the product and amplifying its relevance to the customer needs by showcasing an ad on the mobile phone or during the gameplay.
Conversion after the customer sees the product while searching the web on the desktop.
Effective retargeting
Are consumers who visited a website or nearly made a purchase a lost opportunity for a brand? Not at all if the brand employs retargeting. This approach in digital advertising allows re-engaging with users interested in particular products to convert them into customers or encourage them to take a desired action. Effective retargeting is grounded on data about user behavior on different platforms. Its thorough collection and analysis, of course, within the law, helps advertisers identify users previously engaged with a brand and target them again with relevant ads while they are watching content on CTV.
The granular audience segmentation — a grouping of people who interacted with a product somehow —means they are already warmed up and more likely to convert. More engaging and personalized advertisements may fuel their interest. Therefore, regular ad exposure of the brand messages to desired audience segments can reinforce brand awareness and make viewers more likely to purchase that brand.
Real-time analytics and optimization of CTV campaigns
CTV advertising efforts are useless without relevant data. Either information about the target audience or ad campaign performance results are instrumental in CTV advertising since they help advertisers make data-driven decisions on the audience segment, campaign optimization, or adjusting activities to hit marketing goals.
Real-time data collection and analysis enable advertisers to better understand their audience (behavior and choices) and track up-to-date trends to opt for quality ad placement and target precisely.
By gaining a comprehensive view of their audience, advertisers can create connected TV advertising campaigns that are more effective in reaching their goals. Besides, informed decisions enable brands to adjust their ad placements and achieve higher performance and conversion rates. This helps advertisers pinpoint areas of inefficiency and modify their CTV advertising strategies accordingly, ensuring they get the most value out of their ad spend.
Control over display frequency
Exposing and not overexposing commercials to the target audience is the key to success. The CTV landscape allows advertisers and brands to regulate display frequency. Unlike traditional TV advertisements, advertisers can choose how often their ads appear to the target audience on connected TV. This approach to ad content management is called frequency capping. It comes in handy for setting the ideal number of times for users to see ads and respond to their actions. Otherwise, frequent ad displays may impact consumers' attitudes and brand perception, leading to ad blindness and tiredness.
Frequency capping aims to improve brand experience and boosts ROI. So advertisers can experiment with the frequency of their ad display by considering different users' activities, like buying a product or visiting a company's website.
Personalized CTV advertising campaigns
Creating personalized experiences is a recent trend in many industries, and CTV ads pick up and actively incorporate it into the flow. It's important to remember that personalized ads should not cross the line of viewer's privacy but serve ads that match their needs. Personalization in CTV means that advertisers can tailor ads for different groups of customers, not separate viewers, by counting on the informed insights about these users. Cutting-edge technology allows for analyzing customers' touchpoints with a brand, processing this data, and transforming it into ad creative.
Programmatic CTV advertising
CTV and programmatic are a potent mix of technologies where immersive digital video content can be delivered precisely to the right audience. The key benefit of incorporating programmatic CTV is to make informative decisions in real time. Programmatic enables advertisers to bid and purchase ad placement on the connected TV space to reach targeted users with the right messages. Programmatic CTV has steadily grown a share of the digital market by easily overtaking desktops and laptops.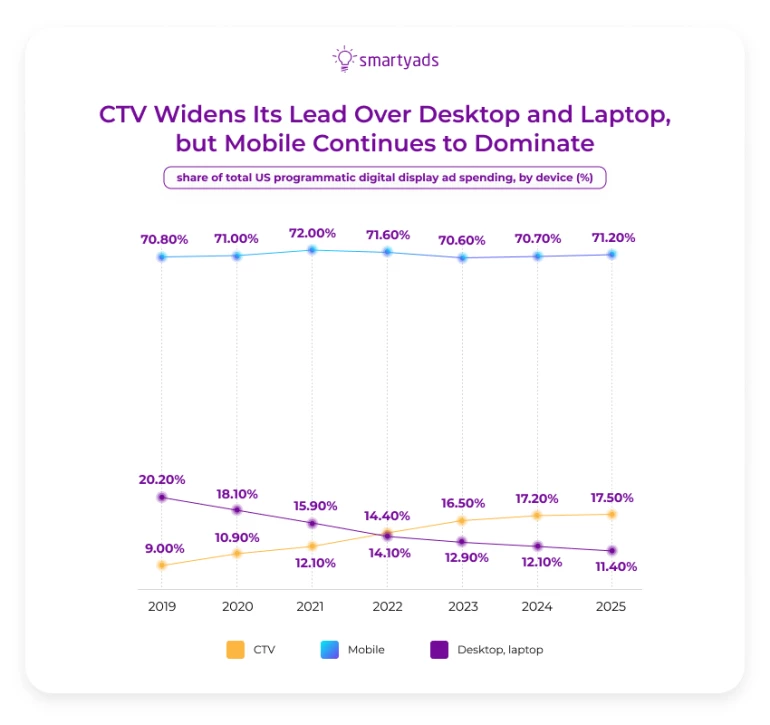 The programmatic CTV advertising keeps growing regarding solvent viewers who readily watch ads on CTV. While Gen X and Baby Boomer generations prefer linear TV, Millennials and Gen Z move to the CTV. Today, 56.8 million Millennials opt for CTV content consumption. This figure is estimated to hit 62.6 million by 2025. So brands can easily find feasible CTV viewers using programmatic advertising tools who can afford promoted products.
Conclusion
The future of digital advertising is here, and it looks even more promising in CTV. Advertising on CTV platforms has become a powerful force with numerous benefits that prove the list above. These factors help brands build effective advertising campaigns with precise targeting of the right audience. With the SmartyAds demand-side platform, advertisers and brands can reach their audience with quality ads and catching messages. It's time to maximize the potential of automation and targeting across different CTV devices.
Start advertising on CTV with SmartyAds DSP.
FAQ
Why add connected TV advertising to the marketing strategy?
CTV campaigns enable brands to reach a wider audience of cord-cutters and digital content consumers, targeting them precisely according to retrieved data about their activity. So advertisers can use CTV to bolster brand awareness and audience reach with more cost-effective targeting possibilities than linear TV ads.
How does CTV advertising enable better targeting of audiences?
Advertisers can target potential prospects in the CTV space by segmenting viewers based on their demographics, interests, and behaviors.
How to measure the performance of the CTV ads?
Advertisers can track and monitor cost per thousand impressions (CPM), cost per completed view (CPCV), view-through rate (VTR), and video completion rate (VCR) to measure reach, views, and impressions.