Nowadays, users spend more than 6.5 hours browsing the Internet, which means that reaching them online is a must for advertisers.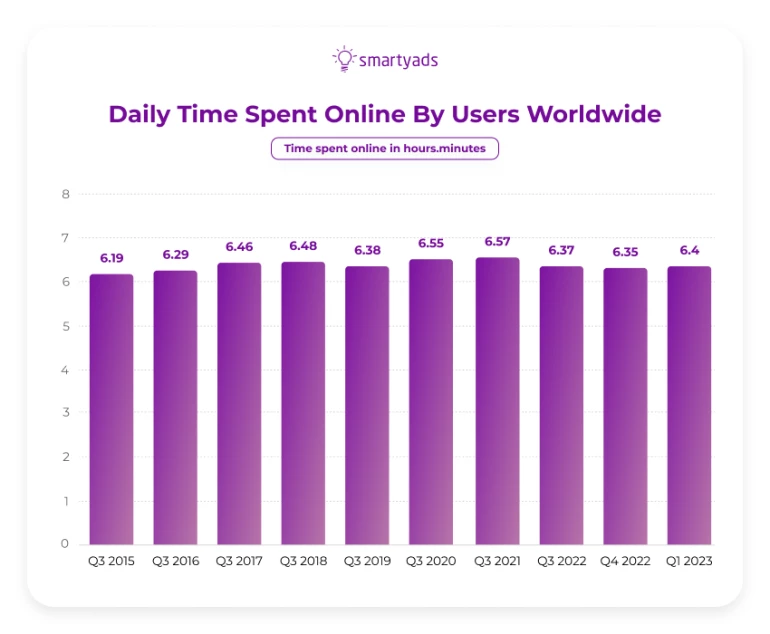 However, there are numerous digital advertising platforms to choose from, and making this choice can be challenging. You need to consider the specificity of your target audience, the features of every particular platform, etc.
To simplify this task for you, we prepared a list of top advertising platforms that will help you reach your audience and increase income.
Best advertising platforms to consider in 2023
For your convenience, we divided the list into several categories, including social media platforms, search ad platforms, and others.
Social media platforms
As of 2022, an average user devotes around 2.5 hours to social networks, which turns them into effective advertising platforms.
Among marketers, Facebook is the most popular option, followed by Instagram and other networks.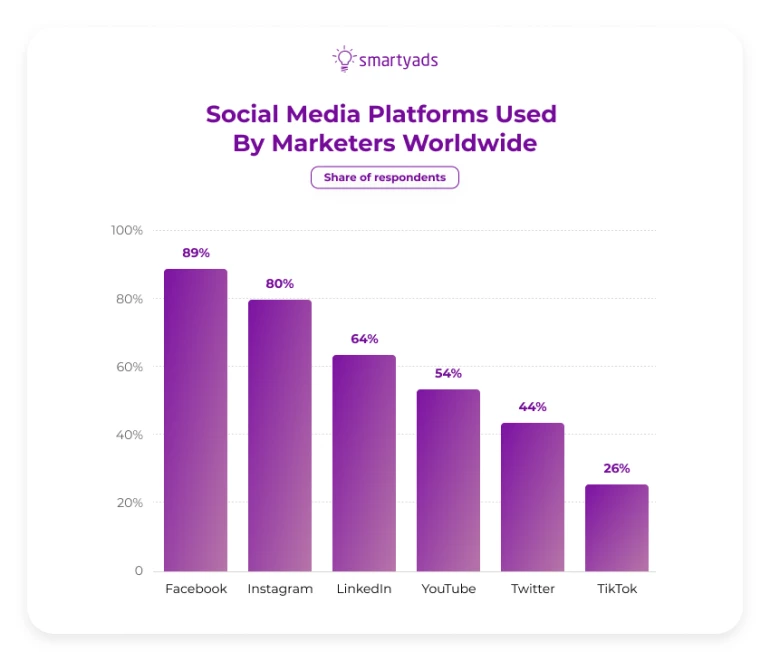 However, you need to keep in mind the specificity of your audience and the ad campaign itself. For instance, if you need to launch a job recruitment ad, LinkedIn is an obvious choice.
Note that to launch advertising campaigns on social media platforms, you need to create business accounts, not personal ones.
Facebook Ads

Currently, Facebook has around 3 billion monthly active users, which explains its popularity among advertisers. Key features are as follows:
Ad formats include videos, collection ads, carousel ads, and images;
Multiple targeting options, including age, gender, language, location, etc. Retargeting is possible as well;
Dynamic creatives for automatic personalization;
Metrics on the ad performance can be customized;
A/B testing for optimizing creatives, placements, and not only;
Automation tools for streamlined ad placement, targeting, etc.
Facebook's Ad Manager (now known as Meta Ad Manager) is intuitive to use, and with its help, you can launch effective ad campaigns not only on Facebook but also on Instagram, WhatsApp, and Messenger.
This way, Facebook is a rather universal online advertising platform that allows you to reach users across multiple channels.
Instagram Ads

By 2025, the number of monthly active Instagram users is expected to exceed 1.4 billion, and in 2021, this rate was over 1.2 billion. Therefore, using Instagram can be very effective.
Here are the platform's core features:
The available ad types are images, videos, carousel ads, stories ads, reels, and shopping ads (with product tags);
Targeting options include demographics, location, interests, etc. Automatic targeting is also possible;
Any post can be turned into an ad;
Analytics features for tracking the performance.
Note that you can create Instagram advertisements both in Facebook Ads Manager and Instagram itself.
LinkedIn Ads

Unlike Facebook or Instagram, LinkedIn focuses on professional audiences and B2B targeting, and its number of users is forecasted to exceed 828 million in 2027.
By choosing this digital advertising platform, you get access to the following features:
Several formats to choose from: native advertisements, LinkedIn messaging, text ads, and dynamic advertisements for improved personalization;
Targeting can be performed according to demographic data, industry, job title, etc.;
Insights on the topics your audience can be interested in;
Automatic ad campaign optimization;
Analytics feature.
To get started, you will have to create a Campaign Manager account.
YouTube Ads

The number of YouTube users is growing continuously — by 2028, it is expected to reach 1.1 billion.
Another beneficial statistical fact to consider is that in 2022, an average user spent around 23.1 hours on the YouTube mobile app per month.
Here are the features you can count on when using this social media platform for advertising:
Ad types include skippable and non-skippable in-stream ads, in-feed videos, bumper ads, outstream ads, and so-called masthead ads available on a reservation basis;
Apart from traditional targeting options like demographics, you can set up your campaigns according to specific topics, keywords, devices, etc.;
Video ad sequencing allows for driving awareness more effectively;
Video creation tools to help you create advertisements quickly and easily;
Analytics tools.
Note that you will need a Google Ads account to advertise on YouTube. Having a YouTube channel is required, too, and you will have to upload your advertising videos there before setting up the campaigns.
Twitter Ads

At the end of 2022, Twitter (now known as X) had almost 370 million monthly active users. However, by 2024, this rate is expected to decrease to around 335 million.
This does not mean that Twitter will become useless, but you should still keep this fact in mind.
At the moment, take a look at some of the key features:
The available formats are images, videos, carousel ads, text ads, and collection ads. Creating dynamic product ads is possible, too;
Targeting options include gender, geography, device, keywords, interests, events, etc.;
Features to boost your ads' performance. For instance, Trend Takeover allows you to place your advertisements alongside what is trending at the moment;
A/B testing;
Analytics tools to track the results in real time.
Keep in mind that to launch advertisements on Twitter, you first have to verify your account.
TikTok

And here comes the last social media platform on our list — TikTok, which had more than 650 million users in 2021.
While it is not really popular among marketers, you can still benefit from its features in case your target audience prefers this network.
The main functionalities are as follows:
An extensive list of available formats: videos and images, playable ads, Spark ads (a native ad format), dynamic showcase ads, etc.;
Targeting settings include gender, age, location, interest, OS, and so on. Behavior and purchase intent targeting are possible as well;
Interactive add-ons to improve the performance;
Bulk import and export to manage your advertisements from a CSV or Excel file;
Rule-based tasks allow checking and managing campaigns, ads, and ad groups automatically.
Note that not all the TikTok ad formats are supported worldwide. For instance, playable ads are now available only in Canada, Japan, Mexico, Brazil, and some other countries.
Search ad platforms
Customers devote their online time not only to social networks — they also tend to look for information and products via search engines. Therefore, launching search ads is virtually a must to remain competitive.
As of May 2023, Google was an unbeatable leader among desktop search engines, with 83.49% of the market share.
It is followed by Bing (9.19%) and Yahoo (2.72%). Baidu and a couple of other engines are at the end of the leaderboard, with very small percentages of market share.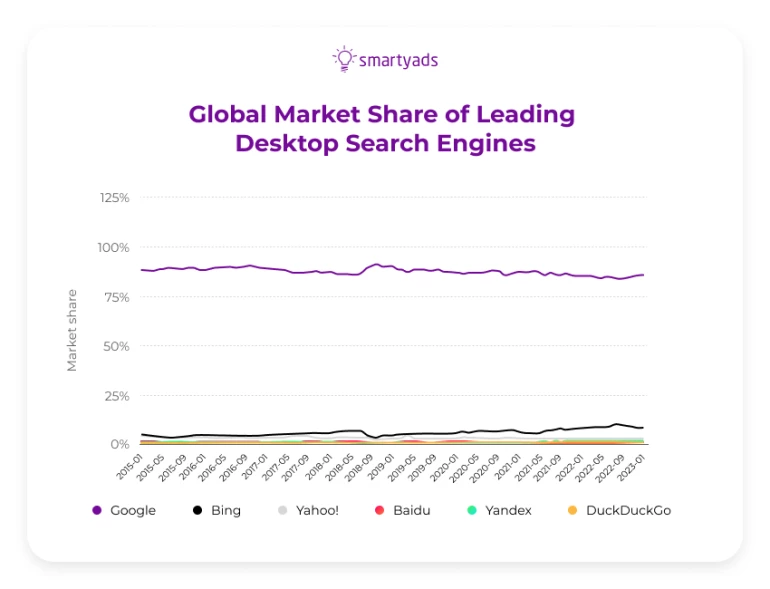 The list of search engines is not limited to these options. However, since we are covering the most effective platforms, we will focus on Google and Bing.
Google Ads

The number of searches occurring on Google is impressive — around 99,000 per second. With Google Ads, marketers can benefit from endless requests and deliver their content to the right audiences. Here are some of the key features:
Multiple formats available: search advertisements, display ads, shopping ads, videos, and app advertising;
Targeting can be performed on the basis of location, keywords, age, gender, household income, etc. You can also set up negative keywords and exclude ads from specific locations when needed;
Launching campaigns for mobile devices is possible;
Advertisements can appear not only in search results but also in the Shopping tab, on Google Play, Google Maps, and websites of Google search partners;
Multiple tools for effective and simplified advertising: ad customizers, ads editor, and others;
Advanced analytical and reporting features.
Note that to start launching campaigns with Google, you need to provide information about your business or link your already existing Google account for faster setup.
Bing Ads

Bing has a significantly smaller market share than Google, but you can still use this search engine to reach your target audience and drive website traffic.
Now known as Microsoft Advertising, Bing Ads offer the following features:
Numerous ad types to choose from: app install ads, expanded text, dynamic search ads, multimedia ads, product ads, responsive search ads, vertical ads, native ads, and so-called smart search ads;
Targeting options include gender, age, location, language, device, time of day, and day of the week. You can also add keywords;
The platform supports ads for smartphones and tablets;
Ads are displayed on Bing and some other partner sites;
URL tracking and analytics.
You can import Google Ads campaigns and set up automatic imports to keep them synchronized. Therefore, if you are going to use Google Ads, advertising with Bing Ads gets even more convenient.
Programmatic DSPs
Using the online platforms listed above can be very effective when performed in the right way. However, even with certain automation features, you will still have a lot of manual work to do.
Programmatic advertising is a solution to this challenge. By signing up for a DSP (a demand-side platform), you automate the process of buying digital inventory while your ads are delivered to those customers who are most likely to convert.
Let's explore how programmatic advertising works.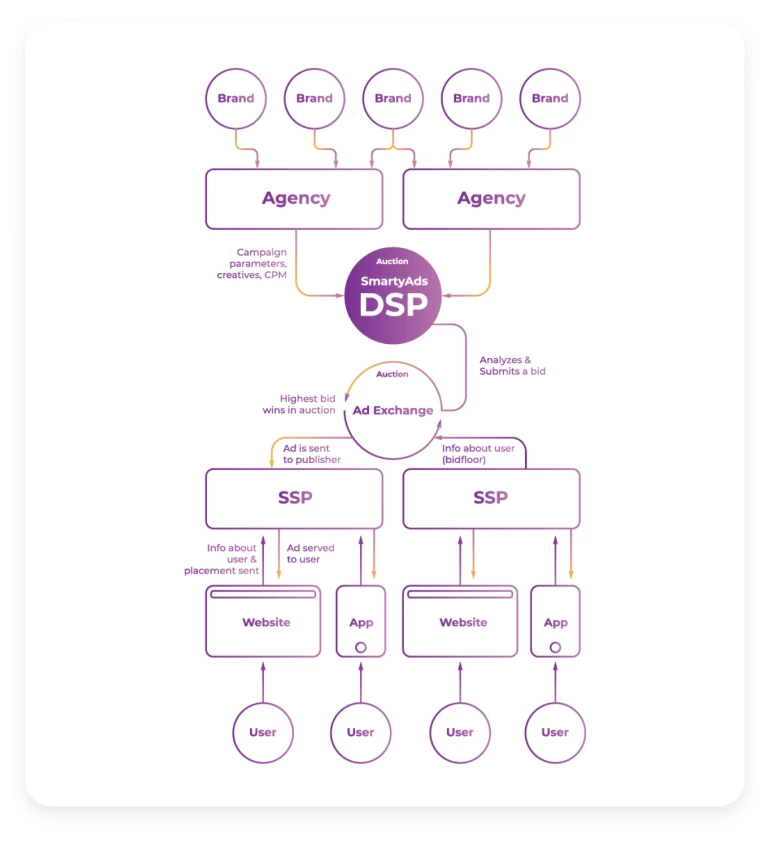 Key components of a system are a demand-side platform, a supply-side platform (SSP), and an ad exchange. DSP is an ecosystem for advertisers, while SSP — for publishers.
An ad exchange plays the role of an intermediary between them, and this is where real-time auctions take place.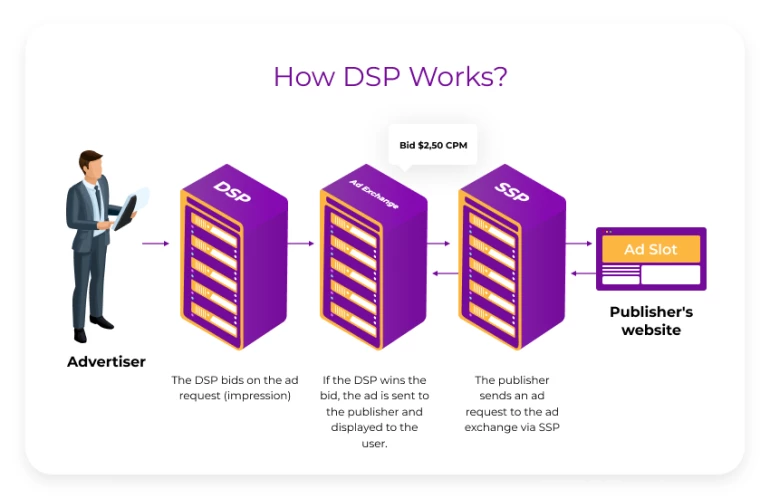 In short, it works like this: you set up your advertising campaign, and then the platform bids on the relevant ad request. If your ad wins, it is delivered to the publisher, and your target audience will see it.
This process happens automatically; you only need to specify your settings.
Here, we have already reviewed the top demand-side platforms, so feel free to use this guide to find a solution that will meet your needs in full.
At the moment, let's dive deeper into the benefits of programmatic advertising with the example of SmartyAds.
SmartyAds

SmartyAds is a full-stack programmatic ecosystem for advertisers and publishers, and its DSP is a self-serve platform for launching precisely targeted campaigns.
With its help, you can reach your customers across multiple channels and devices with ease.
Let's review the DSP features:
An extensive list of formats: banner and video ads, native ads, rich media, audio, and DOOH (digital-out-of-home). You can create desktop, mobile web, in-app, and CTV ads;
Multiple targeting options, including demographics, language, GPS, geolocation, browser, OS, IAB categories, and many more. Retargeting is possible as well;
A lot of filters for campaign optimization;
An opportunity to set up budget distribution;
A click booster feature for increasing your click-through rates and driving better outcomes;
An autoresize feature for adapting your creatives automatically;
Scanners ensuring traffic quality;
A single-view dashboard for fully transparent analytics.
SmartyAds DSP is a flexible and award-winning technology working on the CPM (cost per mille) model. Using it, you can drive traffic and conversions without investing loads of time in finding the right inventory.
The system will do this for you so you can focus on your primary tasks while your campaigns are delivered to your target audience.
Alternative PPC Platforms
The majority of popular online advertising platforms (like Facebook or Google) run on a PPC basis. However, there are more options to consider, so here are several platforms where you can launch PPC ads.
AdRoll

AdRoll is used by almost 70,000 websites and allows the creation and management of ad campaigns for multiple channels, including Facebook, Instagram, TikTok, and others.
This way, you can launch PPC ads across different channels but from a single dashboard. Take a look at some of the AdRoll's features:
Supports display ads, video ads, native ads, and email marketing campaigns;
Audience targeting and retargeting software. You can target users by URLs, number of pages viewed, an event, etc.;
Can be integrated with Shopify, Magento, and some other platforms;
Can be connected with other advertising accounts (on Facebook, Instagram, Pinterest, Google Ads, etc.);
Analytics for cross-channel performance and attribution.
Keep in mind that to get access to all the features, you will have to sign up for one of the paid plans.
Apple Search Ads

Apple Search Ads is a platform focusing specifically on advertising mobile apps on the App Store. According to some of their customers' success stories, using this solution can help you increase the conversion rate by 50%.
Let's review the platform's core features:
Ads are created automatically using the metadata and visuals you provide;
Ad placements include the Today tab, Search tab, search results, and product pages;
Audience settings are optimized automatically when you create an advanced campaign or ad group. Targeting options include demographics, location, customer type, etc.;
Personalized recommendations on how to improve your campaign performance;
Analytics dashboard and custom reports.
Apple Search Ads operates on a CPT basis, which stands for cost per tap. However, the main principle is the same as for PPC ads. You pay only when a user engages with your ad.
Amazon Ads

Amazon is among the key e-commerce players on the market, with continuously growing net sales revenue.
With Amazon Ads, you can launch PPC campaigns to promote your products and reach your target audience.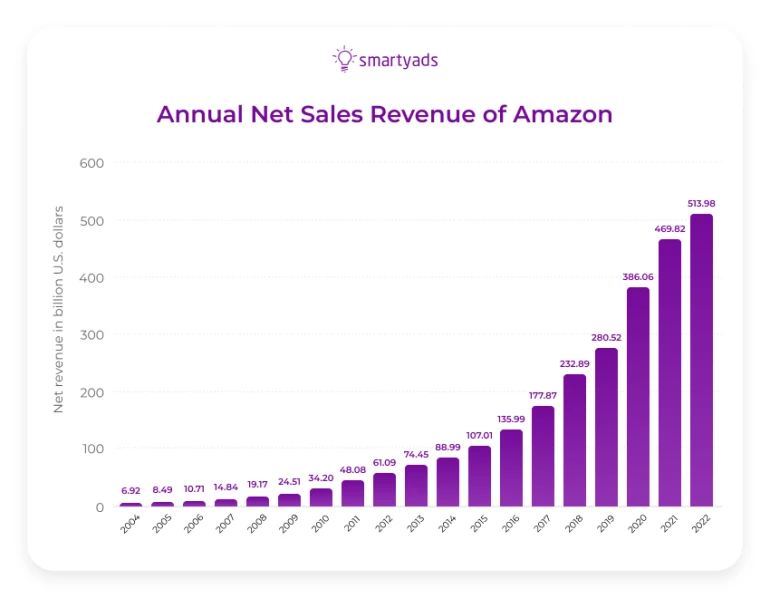 Here are some of the platform's features:
Available formats include video ads, audio ads, display ads, device ads, and custom ads (for online and physical stores);
Targeting can be set up according to keywords, categories, etc. Automatic targeting is possible, too;
Creative tools for image generation, creating videos, and so on;
Campaign reporting and attribution features.
Note that Amazon also offers a DSP (demand-side platform). More explanations on programmatic advertising are provided below.
When signing up for Amazon Ads, you can choose either Sponsored Ads or Amazon DSP plus Sponsored Ads option.
AdRecover
AdRecover may seem an outsider among top platforms like Google, Amazon, and others, as it is used by fewer than 900 websites.
However, it is on our list due to its unique adblock bypass feature. Ensuring a non-intrusive experience for users, AdRecover allows monetizing blocked PPC ads. The available inventory is on the whitelists of most ad blockers.
The additional features are as follows:
Ease of implementation — you do not need advanced coding skills to start using the AdRecover software;
Over 30 ad networks;
Ad layouts are generated automatically;
A/B testing and optimization;
Detailed reports on the recovered revenue and not only.
AdRecover can help you increase return on ad spend (ROAS), so consider using it.
Display ad platforms
Display advertising is supported by numerous platforms, including many of those we have already described above. Therefore, instead of listing the same solutions like Google Ads or AdRoll one more time, we have created a separate guide on display ad networks.
Use it to assess different networks and understand what features to pay attention to.
Mobile ad platforms
Basically, most advertising platforms allow launching campaigns for mobile devices: Instagram, Google, and many others, including programmatic solutions.
To provide you with insights on mobile advertising, we have already prepared a detailed guide that not only explains nuances but also lists the most effective platforms for mobile ad campaigns.
Feel free to use it to make the right choice.
Video ad platforms
Video is another popular format, and such ads can be launched virtually on any advertising platform listed above. However, there are more options to consider. We have created a list of top video ad networks for advertisers and publishers. With its help, it will be easier for you to choose the most effective platform.
Final words
Digital advertising is a must in the modern world, and there are numerous solutions to choose from. To make a choice, you need to prioritize your audience. For instance, if they prefer to spend their time on Instagram, launching ads on this platform can help you increase conversions.
It is also essential to consider your competitors and carefully review your potential platform's functionalities.
At the same time, it would be wise to select several platforms or a universal solution allowing targeting customers across multiple channels. This way, you will enhance your reach.
Keep in mind that leveraging a programmatic DSP is the way to automate the processes and target the right customers via different channels. The efficiency of your ads will increase, as well as traffic and revenue.
Boost your digital advertising campaigns with programmatic on SmartyAds DSP!
FAQ
How to choose advertising channels?
To choose the right online advertising channels, you need to consider the preferences of your audience — reach them exactly where they spend their time online. Combine multiple channels and measure the performance of your ads to refine your strategy. Note that using programmatic DSPs can help you reach your audience more effectively while the amount of manual work is reduced.
How to choose the right ad format?
When preparing your ad campaigns, feel free to experiment with different formats: video ads, banner ads, etc. Then, measure the performance of every campaign thoroughly to identify formats that resonate with your customers the most. This will help you improve your strategy and prioritize formats generating conversions.
How to optimize ad campaigns?
Learn as much about your target audience as possible, conduct A/B tests, create landing pages that will align with your campaigns' goals, try multiple platforms, and continuously analyze the effectiveness of your ads. This will help you optimize campaigns and improve your advertising strategy.