Display ad networks are very popular because typically they can serve almost any known display format — banners and any type of creatives that include media with interactive elements. At the same time, it's easy to get lost in the abundance of options when you have so many to choose from. Thus, it's important to determine what functionality matters for you and then review available options.
Previously, we reviewed the list of the best video ad networks; today, let's focus solely on the best opportunities that the market opens for display ad campaigns.
For starters, what is display advertising?
Display advertising refers to serving ad formats with a high visual appeal. In other words, display ads can include any type of media, including banners, video ads, overlay ads, image ads, pop ads, and text ads. Most frequently, when people talk about display advertising, they mean static banner ads or banners that incorporate other multimedia elements to them.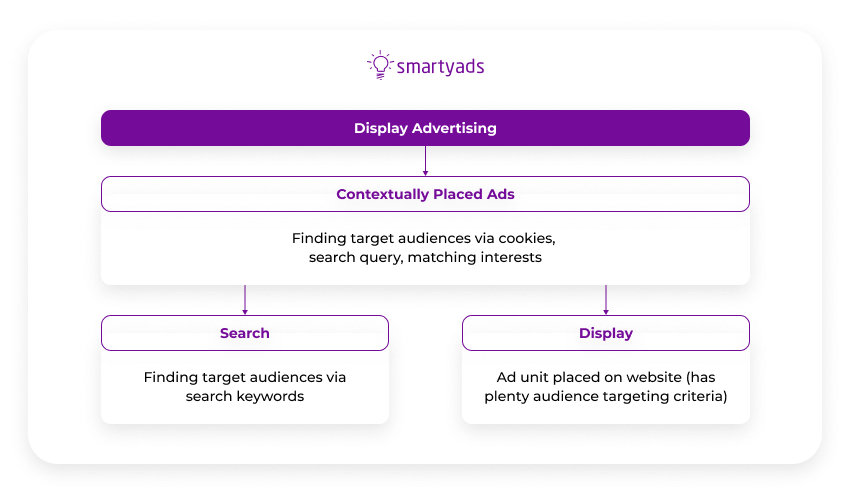 Display advertisements are pretty universal ad types and can be served almost by any ad network these days. That's why they are so popular. Below, you can see an example of a display ad placed on a website.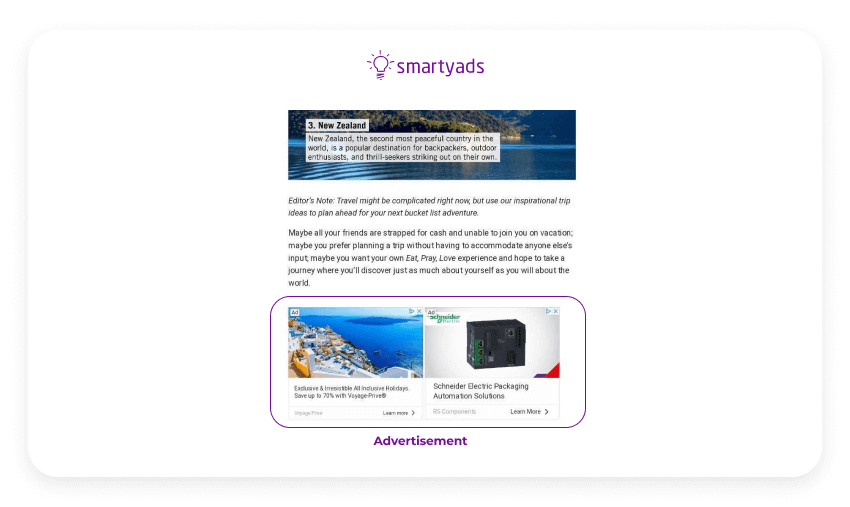 Read more about how to make display ads work.
What is an ad network and how is it different from an ad exchange?
The ad exchanges are also advertising platforms that are suitable for placing ads, they often incorporate real-time bidding algorithms.
Advertisement network is often focused on aggregating ad inventory from publishers, and advertisers tap into it to purchase available ad placements by using direct deals or RTB (if the ad network supports it).
Read our previous article to discover the difference between an ad network and an ad exchange.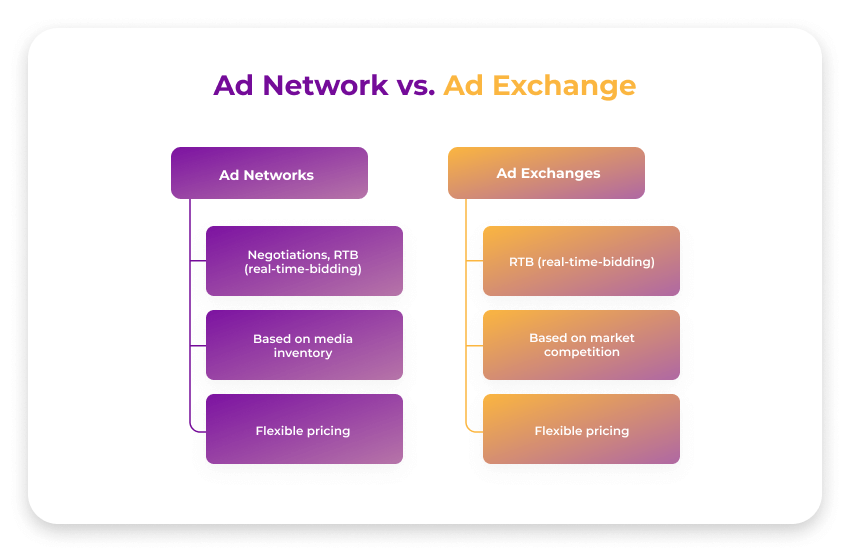 What makes the best ad network in 2023?
Publishers and advertisers can work with multiple ad networks at the same time because they diversify their opportunities with several vendors. However, it's still important to make sure that your new vendor can bring something exclusive to the table.
In 2023, when a typical advertising platform can incorporate a multitude of useful functions, it is important to focus on the most important ones to make the right choice.
Lots of options to target the audience
The key is to deliver the ads to the right audiences and avoid overspending. When the ads are channeled towards the right users, which becomes possible thanks to the correct targeting, the advertisers don't pay for the extra impressions to the audiences that will never convert. The ads are seen only by the right people.
For publishers, targeted impressions are also more valuable as they don't annoy the users and bring better effectiveness which will impact their yields in the end.
Omnichannel monetization strategy and omnichannel advertising reach
User habits and content consumption habits changed a lot, especially after the lockdown. Now people are more glued to their screens and spend more time at home.
The ad networks should be prepared for this as advertisers need to target their audiences on channels where they spend most of their time — mobiles, desktops, CTV, audio content, DOOH, and more.
Sharp reporting and analysis
The reporting should be generated in real-time and it should provide insights regarding the most important metrics of advertising performance.
Broad advertising reach
For modern ad networks, it is almost impossible to guarantee a broad global reach without RTB (real-time bidding) programmatic coverage. This algorithm automates media trading so that the system could single out the best deals for publishers and advertisers and transact immediately in milliseconds.
Smart optimization
The best advertising platform can't be imagined without optimization that in 2023 will be based on smart AI and ML algorithms that constantly analyze patterns of media trading and learn from past experiences to increase advertising performance in the future.
The list of best display ad networks
So, it's time to review the list of the best display ad networks for publishers and advertisers in 2023. As we describe each ad network on the list, we will also highlight what is peculiar about each advertising solution, in other words, what makes it the perfect ad network for a particular case.
SmartyAds

SmartyAds belongs to the list of the top alternative ad networks as it developed the entire full-stack infrastructure of independent ad tech platforms — a demand-side platform that belongs to the list of the best DSPs that define programmatic buying, a supply-side platform, the ad exchange, and the white label solutions for enterprises.
SmartyAds was founded in 2013 and by this time their programmatic advertising solutions turned into robust full-cycle marketing tools.
For example, the DSP has auto-optimization tools thanks to which campaigns and budgets are optimized on the go. Plus, they recently partnered up with Jamww creative agency, thanks to which advertisers can implement really engaging and complex creative strategies. Payment model supported — CPM.
Peculiarity: full-stack ecosystem, reach, auto-optimization
Key features:
Omnichannel RTB reach with different ad formats: advertising in mobile app ads, mobile web environment, on desktop, on CTV, DOOH (that is not sensitive to ad blockers), and audio ad campaigns are available. Formats available: native ads, banner ads, video ads, rewarded, playable, and more.
If you choose their ad platform, be sure to use a CMP optimizer called adaptive CPM, creative autoresize, click booster, and other proprietary features to optimize ads.
Strong targeting — address people on mobile devices, in apps, and on CTV. Choose the age range, geo of the viewer, their OS, the language of the browser, time of the day, and other options to advertise to the right audiences on DSP.
Publishers can monetize their ad inventory by serving display ad formats on SSP.
Smart analytics is available on both DSP and SSP platforms.
Google AdSense and other Google platforms

Google Adsense is an advertising platform that is designed to help publishers monetize their ad space with Google ads. Google Display Network (Ad Mob) belongs to the best ad networks available for publishers and advertisers. For the most part, Google AdSense will suit you if you have a small team of people responsible for managing ads and need an easy-to-implement and automated tool.
Google AdSense is a platform designed solely for publishers while Google Display Network (Ad Mob) serves both publishers and advertisers. Google AdSense accepts web ad inventory, while Google Ad Mob specializes in placements.
The advantage of large ad networks like these is that they offer unparalleled reach and good brand-safe website traffic — Google's ecosystem has strict rules but at the same time you can be sure that it is safe and secure. Business model types — CPC, CPM, CPA.
Peculiarity: Reach, brand safety, high-quality ads
Key features:
Text ads, search ads, banner ads, video ads, carousel ads, and true view ads for mobile apps — those ad formats are available on the Google ads platform for advertisers.
This advertising partner has strict rules for the inventory of publishers who join the ecosystem. At the same time, it guarantees that ad impressions are viewed by humans, not bots.
The AdSense ad network has no minimum traffic requirement for publishers. However, the rules state that publishers can't use other ad networks.
Integration with Google's other products, such as Google Analytics.
Read more about the difference between a programmatic ad network and the Google display network.
Media.Net

Media.Net is a CPM-based ad network that also serves contextual ads like Google. The contextual demand is sourced from Yahoo and Bing. In order to ensure that publishers obtain high advertising revenue from ad serving, Media.Net integrates with other ad tech platforms such as DSPs, DMPs (to ensure a targeted approach), and other partners.
This ad network also incorporates optimization tools for advertising that provide the best advertising outcomes.
To ensure that publishers always benefit from online advertising Media.Net added header-bidding capacities, server-side ad insertion, and anti-fraud capabilities. The platform has no minimum traffic requirements. Payment models are CPM, CPA, and CPC.
Peculiarity: Contextual ads and programmatic, cookie-free, access to Bing, Yahoo
Key features:
Media.Net is an ad network designed with publishers in mind — it has header bidding that enables unified auctions where advertisers participate in real-time bidding at the same time. This increases the competition and raises the value of ad space.
Access to Yahoo, Bing network, and broad reach across programmatic RTB so that publishers can easily find the right advertisers.
This is a cross-platform ad network which means the ads can be served on different mediums — mobile phones, desktop PCs, and more.
Advertising networks like Media.Net have some of the most renowned publishers including Forbes, Reuters, Elle, Cosmopolitan, and Esquire.
Cookie-free campaigns — Media.Net has a pool of specific non-cookie demand.
Yahoo ad tech (formerly Verizon media)

This top ad network is worth paying attention to because it is perfect for advertisers and publishers who need strong programmatic capacities — the ecosystem includes a DSP and SSP and also an ad network.
Some think that it is the best display ad network because it is really versatile when it comes to choosing convenient programmatic deal types — RTV, programmatic direct, and also guaranteed deals are available in this ad network.
Publishers can expect high ad revenue received from online advertising as fill rates are remaining very high thanks to the plethora of available demand partners of the highest quality.
Yahoo is also one of the omnichannel advertising platforms that offer many features for advertising optimization.
CPM, CPC, and CPA are supported as payment options. No minimum traffic requirements.
Peculiarity: full-stack, Programmatic and Contextual, optimization
Key features:
Yahoo ad network offers omnichannel reach meaning that campaigns can be served literally on any medium — mobile web, in-app, desktop, search, etc.
Ad networks like Yahoo are omnichannel and for this reason, they also support a lot of different display ad formats for web, CTV, OTT, and mobile.
This display ad network generates detailed reports across metrics thanks to which it is possible to analyze campaigns and measure their success.
Proprietary optimization tools in-built into the platform keep the optimal price for inventory and increase performance.
First-party data points from hundreds of millions of consumers monthly ensure detailed and precise targeting.
AdPushup

AdPushub is not positioned exactly as an ad network, although it has all the necessary functions for it — you can gain access to the digital marketing leverages as a publisher after registering with their platform.
To every publisher that serves ads on their inventory, AdPushup is here to offer the most advanced revenue optimization mechanisms that they developed on the platform.
Header bidding and other progressive technologies increase the competition for inventory and the publisher's yield as a result. The minimum traffic requirement is measured in income — once inventory generates $5,000/month in ad revenue it is eligible for this ad network.
The available payment model is CPM.
Peculiarity: Google AdSense and ADX access, header-bidding, optimization.
Key features:
AdPushub is one of those ad networks that offer unparalleled integrations and access to AdSense with ADX.
AdPushub lets publishers monetize their inventory effectively with lots of available ad formats — sticky ads, docked ads, in-image ads, and native ads.
This display ad network brings to the table valuable functionalities such as inventory layout optimization, constant revenue optimization, mediation, closed network access, and different flexible payout options for publishers.
Third-party ad tech integrations. This advertising partner ensures excellent advertising results thanks to the integrations with a broad network of other advertising platforms.
Ad-block protection. The ad network ensures protection from the problems caused by ad blockers (wasted revenue protection).
Bidvertiser

Bidvertiser is also considered to be among the best display ad networks for both publishers and advertisers as it currently has a base of 80,000 clients around the world. This ad network can be very convenient for publishers as it has no particular minimum traffic requirements. However, requirements regarding inventory quality may still be strict.
Bidvertiser is an advertising network that provides its clients with access to top-quality traffic (that advertisers need) and top-notch monetization tools (for publishers). Optimization is very important on this platform, so it offers a plethora of in-house tools for raising fill rates and boosting the performance of campaigns.
The payment and monetization models are based on CPA, CPM, and CPC.
Peculiarity: optimization, brand safety, different ad formats
Key features:
AI and ML-based optimization tools for boosting campaigns and for raising monetization effectiveness.
This display ad network has strict moderation for inventory and ads. Along with this, it has in-built tools for ensuring brand safety and fraud protection partners.
This ad network delivers precise targeting options and lots of ad unit formats to choose from — display banners, pop-unders, sliders, smartlinks, XML-based, and others.
Bidvertiser is an advertising network that provides coverage for desktop & mobile on a global scale.
The targeting is diverse too and includes geo, device, OS, browser, ISP, carrier, time-of-day, channel, contextual, and other options.
Vibrant media

Among advertisers, Vibrant Media often stands as the best ad network because of its contextual advertising capacities. The contextual ad format is now witnessing a revival since privacy regulations are tightening around the world. Vibrant Media has over 450 million month-to-month clients. It also offers some rarest interesting ad formats along with common ones.
Vibrant Media also has strong monetization controls that publishers can benefit from while adjusting how they want their advertising space to be filled — what formats and sizes to serve, where the ad appears, etc.
500,000 monthly page views are the minimum traffic for this popular ad network. CPM and CPC are both available here as payment models.
Peculiarity: Contextual ad placements, formats, performance reports
Key features:
Vibrant Media is perched among the best display ad networks for its contextual capabilities as this provider is pioneering the contextual niche. Thus, it also has the most innovative contextual advertising technology — natural language processing in particular. This ensures privacy-safe targeting.
Extensive reach for advertisers who can access up to 1+ million domains and billions of URLs.
Lots of formats for ad units available — All IAB Display, Rich Media, Video and Native, In-Banner Video within InArticle, InImage, and Adhesion units.
The targeting is standard and custom contextual, based on topic or Search Intent Audience Targeting.
In-deep performance reports for both advertisers and publishers.
Ad Maven

Ad Maven is among those ad networks that are popular for their universal approach and omnichannel delivery of ads. It connects advertisers with premium global publishers in RTB auctions where each one can find the best deal for what they search for. It specializes in mobile and web monetization.
The monetization here also become available thanks to the beneficial direct deals — 1 billion highly performing users where 90% come from direct deals.
Ad Maven has no minimum traffic threshold that publishers need to achieve in order to join. The available payment models are CPA, CPC, and CPM.
Peculiarity: optimization, direct deals, dedicated support
Key features:
Ad Maven has been on the market for 35 years and can be considered the best ad network for all of those who are searching for an omnichannel approach as they deliver ads across formats and platforms.
The ad formats available here include slider ads, mobile-specific ad units, and ad units for website traffic. Also, they have push notifications and impactful full-screen formats.
The direct deal type enables advertisers and publishers to negotiate the best conditions for mutually beneficial media trading. Plus, they receive access to the exclusive inventory that can be unavailable in the RTB auction.
Dedicated support on this platform is ready to assist publishers and advertisers with every question.
Ad Maven is one of those ad networks that have in-house optimization tools for improving the outcomes of CPA, CPC, and CPM campaigns.
PropellerAds

PropellerAds is one of the universal ad networks that have a particular specialization in content control as they make sure that all ad units and all inventory is pre-approved and thoroughly vetted on their platform.
The network has successfully run over 3,000 campaigns, and this includes display and video campaigns.
As you can discover on their website — they specialize virtually in every traffic type that helps this network position itself as omnichannel.
For all of the publishers who join their ecosystem, PropellerAds offers 53% higher yields on average which becomes possible thanks to multi-tag smart optimization techniques.
Peculiarity: omnichannel, many formats, targeting
Key features:
One billion monthly audience for campaigns across the most popular advertising verticals — mobile apps, e-Commerce, software, dating, lead generation, and finance.
This advertising platform has 12+ billion ad impressions daily and covers 195+ geos. The targeting is represented by the multitude of options, including interest targeting, goes, etc. The platform also has creative templates.
Ad networks like PropellerAds are very popular because they feature lots of available formats that include push, in-page push, popunder, interstitial, and direct click.
As a top ad network, PropellerAds has in-deep analytics capacities — traffic estimator, win rate, smart rotator, and more.
Brand-safe and protected advertising ecosystem.
ReklamStore

Another star of full-stack ad networks, ReklamStore is on the market since 2007. This advertising network will be a good option for publishers who are looking for viable options to monetize their small and medium-traffic websites.
This platform ensures an increased level of CPMs for publishers that becomes possible thanks to RTB global coverage. This option falls within the list of best ad networks because it is fairly easy to join while the rest of the platforms have pretty high standards regarding minimum traffic.
They also belong to the list of the best ad networks because their platform is fully capable to serve ad formats of the greatest variety — banners, pop-ups and pop-unders, direct links, scroll ads, natives, and sticky ads.
Peculiarity: mid and small websites, formats, reach
Key features:
ReklamStore is here to offer the most flexible conditions for publishers to join. They have no minimum traffic threshold and also accept small websites as well.
Global reach means that publishers can also trade with direct demand as the platform has connections to the biggest partners such as Pubmatic, BidSwitch, AppNexus, Rubicon, Adform, RTBHouse, Revcontent, and Criteo.
ReklamStore belongs to the best ad networks for publishers because it has many options for them, including RTB and programmatic direct.
The platform has optimization tools to progressively magnify campaign results and the outcomes from monetization.
To magnify the yield for publishers, ReklamStore employs unified auctions enabled by header bidding.
The last word
Every publisher should think about the strategy of inventory monetization before they start to choose the ad network. First, they need to think of the leverages that will enable them to gain more yields and then look for those leverages in available display ad networks.
Additionally, publishers should always try to combine the best advertising experience with high incomes from monetization.
For advertisers, choosing a display ad network is also a very important step as the effectiveness of your efforts will be influenced by many factors — traffic quality, reach, optimization and of course targeting capabilities.
SmartyAds has in store everything that advertisers need to effectively launch their advertising campaigns with RTB coverage, optimization, and great reach. Publishers can benefit from monetization that surpasses all their expectations as we connect to the premium demand partners globally and increase our partnership network day by day.
Run efficient campaigns on SmartyAds DSP or join SSP as a publisher and start monetizing with impact!