Right now, video advertising is booming. According to a study, ad spending in the US will boost to 78.5 billion dollars by 2023.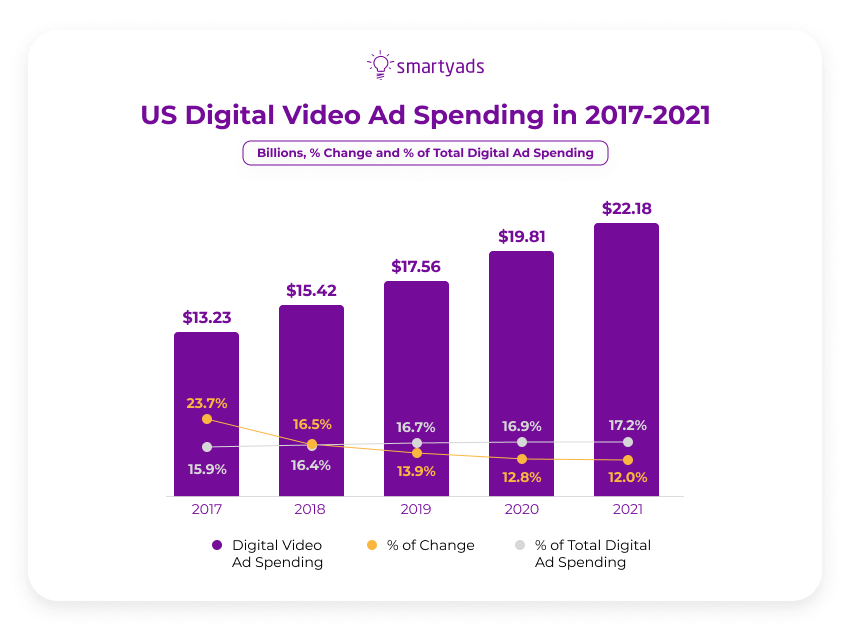 In-stream advertising can play a big role in your digital marketing strategy. Let's find out how to connect with your target audience through pre-roll advertising, mid-, and post-roll ads.
What are in-stream video ads?
In-stream video is a commercial about a specific service or product that could include text, animations, or imagery. Such an ad could be a short promotional video as well. In-stream units are divided into pre-roll, mid-roll ads, and post-roll commercials.
There are three types of in-stream ad formats:
Pre-roll ads are shown to the user before the video content;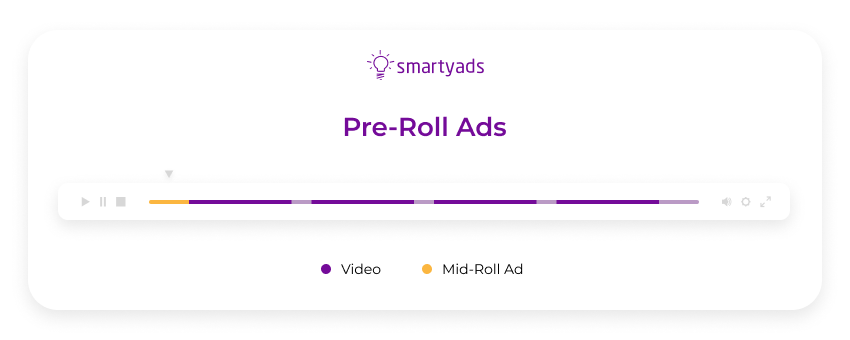 Mid-roll ads are inserted in the middle of the video content;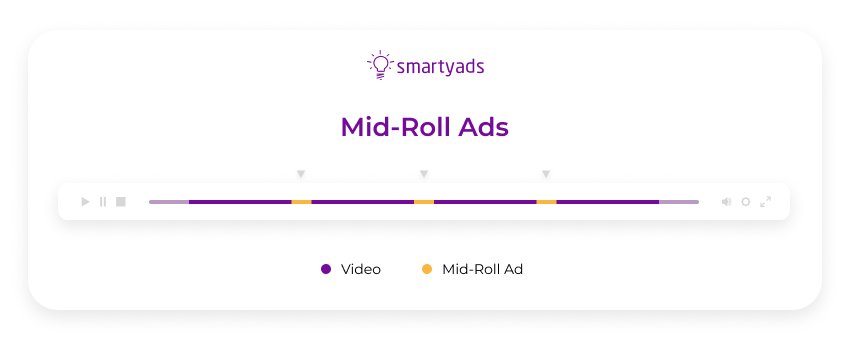 Post-roll ads are aired at the end of the video content.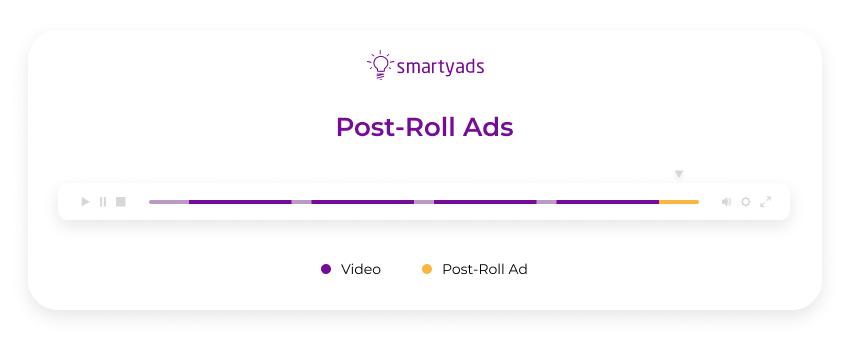 The placement of the video unit depends on the digital marketing campaign and the ad content. Ideal for mass-market launches, in-stream ads help marketers drive brand awareness, create purchase intent, and educate consumers about the product or service.
What is a pre-roll video ad?
A pre-roll is played before the video is initiated in the video player. However, pre-rolls are shorter than the average TV commercial.
Most commonly, you can find pre-roll advertisements on websites with featured videos. However, users also often watch videos on online gaming websites during the entertainment break.
Like any other form of digital advertising, pre-roll video ads can be bought directly or programmatically. In-stream ads are usually sold on a CPM basis.
3 types of pre-roll ads to look for
All pre-roll advertisements can be differentiated by duration; this is the most important distinguishing feature defining their work.
Skippable pre-roll ads. Viewers can skip skippable pre-roll advertisements after the first 5 seconds of watching. Thus, skippable ads leave the decision up to the watchers whether to skip or watch the ads till the end.
Non-skippable pre-rolls. This pre-roll ad unit leaves no option to skip ads. Thus, non-skippable ads are watched till the end before it is allowed to resume the content watching. The duration of such an ad is 15-20 seconds.
Bumper pre-rolls. This pre-roll ad can last for 6 seconds and is also unskippable. Bumper ads are managed through Google ads but can also be added to YoutTube's TrueView campaign.
YouTube pre-roll creatives
YouTube pre-roll ad is usually 15, 30, or 60 seconds long. It is a non-skippable video ad, so viewers must wait until the ad has played in full before watching the video they choose. Some YouTube ads, however, are skippable and play for around 5 seconds.
Such non-skippable pre-roll advertising videos ideally should last up to 6 seconds; even though the limit is 60, the user's attention span is much shorter.
What's also particular about YouTube pre-roll ads, advertisers only pay when a user clicks on an ad. YouTube pre-roll ads are paid according to the cost-per-click rather than a cost-per-view model.
YouTube pre-roll advertising also has a TrueView ad showing concept — commercial videos that advertisers pay for only when their ad is viewed or interacted with in some way.
Advertiser decides which type of YouTube video to apply and only pays when the ad is viewed for at least 30 seconds/upon completion/when a certain action is done.
What are the benefits of a pre-roll video ad?
There are many benefits of in-stream advertising and pre-roll units. Since they appear at the beginning of the video, they better raise awareness because of good ad recall.
According to a study, a pre-roll commercial was considered the most effective ad format on YouTube: 29% of marketers agreed on this. Let's see the full picture to understand why they are so effective.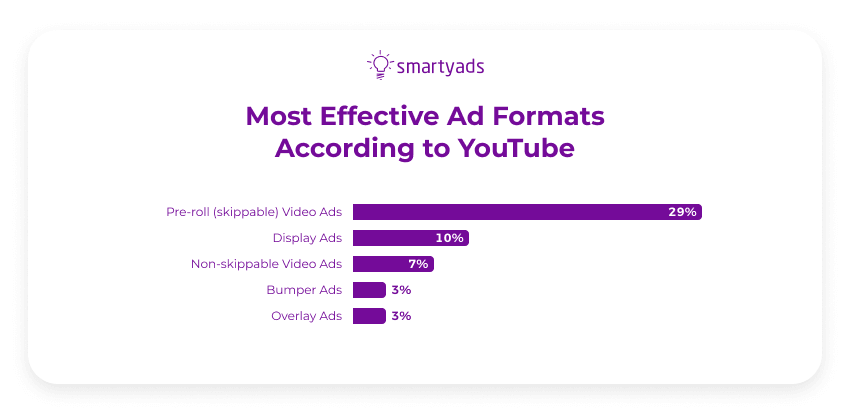 Guaranteed video views
Pre-roll ads are played before viewers can watch the desired content. Thus, they can be potentially seen by more people when compared to post-roll ads. Because potential viewers are interested in the video that follows the pre-roll ad, they have no choice but to watch it. For the maximum view-through rate, create shorter pre-roll creatives.
Relevancy
A pre-roll advertisement campaign usually includes a variety of targeting options. For instance, you can target by geolocation, demographics, online behavior, user interests, topics, and keywords. Due to the usage of real-time bidding algorithms for performance-based ad allocation, pre-roll targets the right group of people.
Interactive component
Users have a choice to click on the ad, follow the link, or share the ad via Facebook, Twitter, Google+, Pinterest, and more. Hulu's Ad Selector allows users to choose the ad they want to watch, presenting them with several categories and video options, which makes the ad highly interactive.
Immediate response
Pre-roll ads are very similar to the direct-response digital marketing model in which advertisers can estimate the immediate success of the campaign based on clicks, views, subscriptions, purchases, or downloads.
Easier comprehension
Pre-roll ads tend to be brief and easier to understand than TV commercials; for instance, they can be anywhere between 36 to 45 seconds long. In any case, it shouldn't exceed 60 seconds. Additionally, pre-roll ads are presented individually, whereas other commercials typically follow TV ads.
Lead attraction
These video ads can quickly elevate your brand awareness KPI since they are specifically created for campaigns that raise brand awareness and purchase intent. In video campaigns, those pre-roll ad units are the most memorable.
Thus, even if the potential customer doesn't make the purchase after ad-watching, your brand's image will resurface in their mind later — at the moment of making a decision.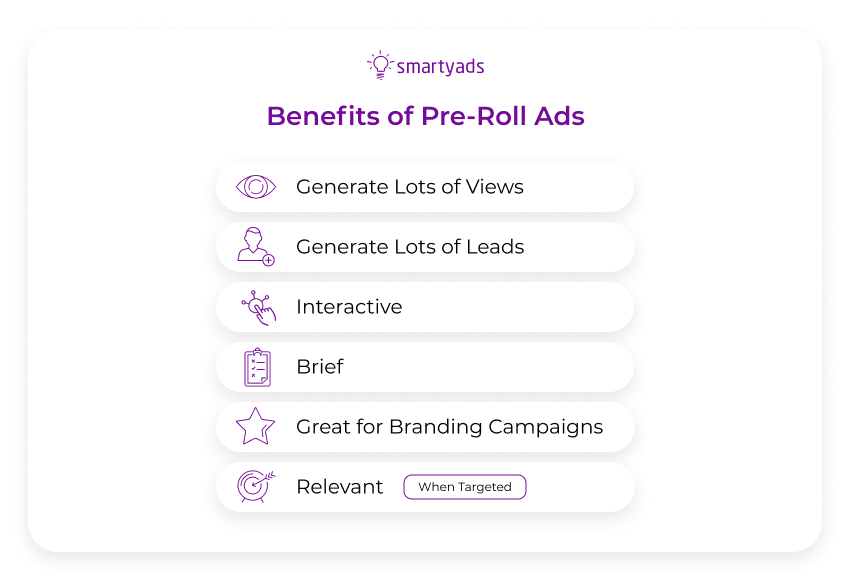 What is the perfect duration for pre-roll advertisements?
Pre-roll ad must be short — no more than 15-30 seconds. In case you strive for perfection, the duration of the pre-roll ad should not exceed five seconds.
In any case, such an ad unit should capture the viewer's attention within five seconds because afterward, they will most certainly skip it (when the option displays). The best pre-roll ads are clickable and provide customers with a URL and call-to-action that redirects them to the website when they click on the ad.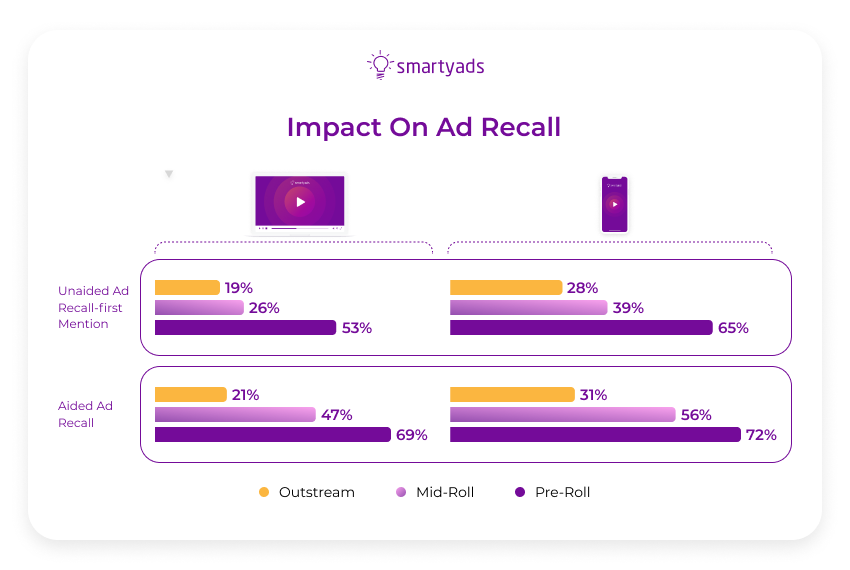 How to structure ad content in a pre-roll ad?
There are 3 magic formulas to enhance your video advertising with pre-roll ads to make a greater impact on watchers.
Formula #1
Suit the pre-roll video ads that last up to 30 seconds. Fit the most important message in the first couple of seconds of the commercial. Give a detailed explanation during the next 20 seconds. Repeat the main message during the last second or two in the video.
Below, you can review the Skechers example:
Formula #2
Put the attention hook in the first several seconds of the video. The next few seconds should provide the brand's name and feature the slogan.
Use the next 15 seconds of pre-roll video ads to tell how your product or service saves the problem for the viewer. Finish the video (last 5 seconds) by repeating the same idea or featuring the product on the screen once again.
Below, you can review the Oscar example:
Formula #3
Briefly feature your product or service and provide the option to skip the unit for those to whom the offer could be irrelevant.
Tell the customers about the pain points that your offer is able to address.
Mention the age of the target audience.
Showcase the results that can be achieved with your offer. Hook the people in with a call-to-action — tell them what they can get if they register/buy right away. Provide the link to the website/registration form.
Below, you can review the Opel Mokka example:
Giving the option to skip
When using pre-roll, marketers must make sure they apply this ad format correctly because online consumers are much more goal-oriented and may perceive pre-roll ads as an invasion of their online experience.
This could lead to negative attitudes that can eventually influence consumer behavior. For instance, a frustrated user could leave the landing page, close the video, or reload the page.
To watch or not to watch?
Understanding the frustration risks, advertisers have been attempting to give viewers more freedom and choice by offering a handful of options concerning which ad they want to watch.
For example, Hulu launched selectable pre-roll ads, which led to more positive attitudes toward the brand, increased average view rate, brand awareness, and purchase intent.
Think about how to make pre-roll ads more attractive to the consumer. One way to do this is to create emotionally appealing content and avoid non-skippable ads with excessive duration.
Provide skipping options
A skippable pre-roll ad gives viewers a choice if they want to watch the ad until the end or to skip the commercial after the first couple of seconds or less. By providing consumers with the option to manage their digital ad experience, companies can ensure a better video environment, ad recall, and lead generation.
Customers can watch pre-roll commercials until the end, but it has to be their choice, not a forced obligation. As a rule, a skippable ad is served for no longer than 15 seconds, and the publisher is responsible for setting up the duration limit.
What it takes to make a cool pre-roll ad unit:
Make it short and clear;
Hook the viewers during the first 5 seconds. Ideally, make the entire ad fit this timing;
Avoid non-skippable ads. Even when the viewer skips the ad, you'll still get brand engagement and ad recall;
Always provide CTA (give the link to the website);
Use targeting solutions to channel the message to the right audiences (people who can be potentially interested in your offer).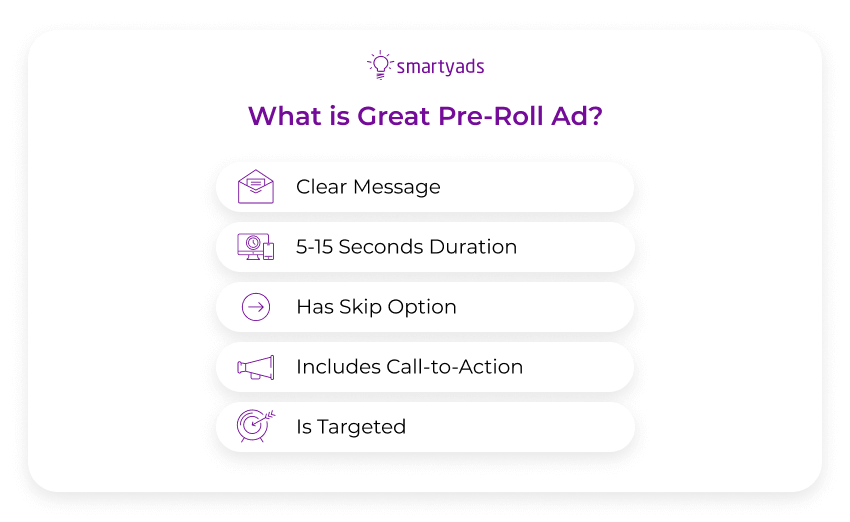 Retargeting with pre-roll ads
With such advanced programmatic platforms as DSP, marketers and advertisers should no longer worry about their marketing budget being spent in vain.
Functionalities like retargeting are specifically created to trigger the conversion of those audiences who have already visited your website but didn't make a purchase. Retargeting ads to mobile devices will trigger purchase consideration among users familiar with your brand.
The average cost per view for pre-roll ads
It's worth mentioning that there's no median cost for pre-roll serving because it will depend on many factors. On average, one can expect to pay approximately $0.02-$0.09 per view.
Non-YouTube online videos can appear more affordable. Third-party vendors can offer lower prices with the same high-quality ad-serving functionalities to stay competitive.
Why should you try pre-roll advertising?
Pre-roll ads account for a relatively small share of the available video inventory; however, it has become more popular among marketers because online publishers can guarantee the ad view before the desired content starts.
A pre-roll ad is widely used for video marketing strategies. It is nearly three times more effective than a banner ad.
With the benefits of programmatic advertising, including advanced targeting, campaign measurement, and conversion optimization, marketers can engage with their consumers and successfully distribute their message to the broader target audience.
When to apply pre-roll ads?
In video marketing strategies, pre-roll ads are used for top-of-the-funnel campaigns that aim to allure new customers, raise brand awareness, and generate leads.
They are also used to drive more traffic to the website, but that's their complementary function. This way, these creatives can also give specifically good shots for the brands that are new on the market and plan to position themselves and gain recognition.
Platforms for serving pre-roll ads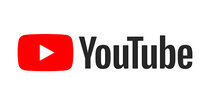 YouTube. YouTube is the most popular platform for serving video ads with 6 to 30-second-long videos. YouTube videos are presented in the same player where ad content is served. Since YouTube is a very popular content consumption channel, placing the ad here may cost a bit higher compared to alternative ad-serving solutions.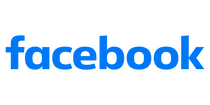 Facebook. Facebook features a lot of content that's actively liked and shared; that's why it also works as an advertising platform.
If you decide to focus your efforts on this channel, keep in mind that they allow only those pre-roll ads that last up to 6 seconds. More than a few seconds limit is considered harmful to user experience and, thus, restricted.
The Facebook platform for advertisers also features various targeting options according to which you can tune up ad delivery.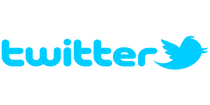 Twitter. Twitter pre-roll ads are skippable and last for 6-30 seconds. Such skippable ads appear in the premium publisher videos and autoplay in the user's timeline. If previously, Twitter ad placing was only available for US-based advertisers, today, this option is open for almost all countries.
Programmatic platforms. Just like the above-mentioned ad platforms, demand-side platforms can automate the ad-serving process on behalf of advertisers.
They utilize big data, ML, AI, first- and third-party data sources to personalize the messages for every audience segment depending on their characteristics: age, geo, traffic type, device type, dayparting (time of the day when the ad should be served), browser, language, and many other criteria that you can find on SmartyAds DSP.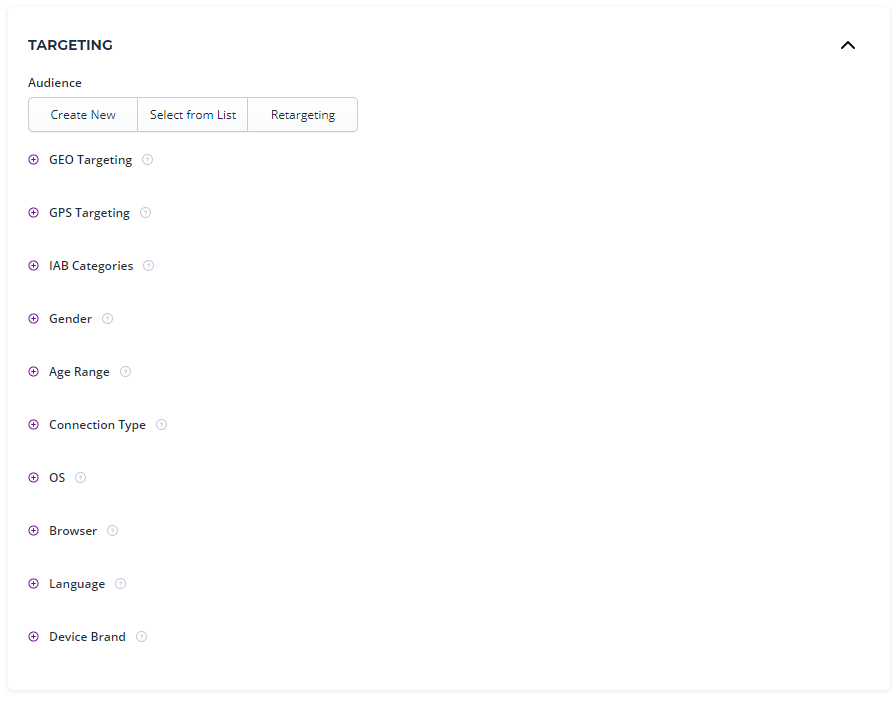 Targeting and retargeting options for videos on SmartyAds DSP help advertisers deliver their ads only to the right users, reducing the ad spend and amplifying the power of each ad message.
All video ad campaigns also support ad tracking tags and macros that enable advertisers to add additional tracking parameters to their videos to stay aware of their video unit performance.
To sum up
Working at the upper funnel, pre-roll video advertising can evoke a good brand recall that later on will transition to the purchase intent and strong loyalty to the brand. Consider building brand image and positioning your products with a pre-roll ad unit but don't forget about targeting, as this is an important factor that keeps your messaging relevant.
Get a better return from your marketing efforts. Grow pre-roll campaigns programmatically on SmartAds DSP!