In recent years, the super-fast development of technology, combined with the pandemic, has given an unpredictably high jump to online commerce. In the last 5 years alone, the number of digital consumers has increased by 40%.
Because the pandemic has shifted a huge portion of our everyday lives to the online environment, a lot has changed. For example, brands need to equalize the offline and online customer experience.
Retailers have already recognized the need for additional in-store advertising, but how capable can they be when providing personalized advertising at outlets beyond the digital space? Many marketers are asking these questions today and are actively looking for solutions to this problem.
Retail continues to grow aggressively, and spending on retail media is projected to increase to $61 billion by 2024. Hence, industry representatives are extremely interested in bringing the commercial success of online shopping to the offline environment.
Why would offline retailers care about digitizing?
Shoppers are back in stores
A recent report by Prosper Insights & Analytics found that 66% of Generation Z prefer to buy products in a conventional store rather than online (16%). Buyer expectations have evolved as a result of forced behavior change.
Consumers want a similar in-person shopping experience, and retailers realize the importance of providing a consistent and uplifting path to purchase.
But brands face challenges in managing their in-store presence, including executing ways to create personalized digital interactions using one-to-many in-store media solutions.
It is clear that in offline stores, it is harder to track and differentiate the flow of customers and create some kind of personalization of advertising or offers for them. Still, it is possible with the current level of development of programmatic technology.
Using on-site, off-site, and in-store analytics helps you determine whether targeted customers were new customers or repeat customers, added households, increased spending on a product category, or whether the campaign had a greater impact on the people you are targeting with personalization compared to those you don't know about yet.
Opportunities to increase profits
Having a greater presence in the digital space and bringing some elements of e-marketing and its accuracy into the offline environment can boost a company's revenue growth in a significant way.
For example, Amazon and Walmart recently reported their advertising business results for the first time, showing the extent to which retail media is subsidizing these companies' broader strategies. This is especially true for Amazon, where profits from retail media offset losses in the broader retail business.
However, large companies and brands with world fame are not the only ones who can profit from such a strategy. This is generally quite fertile ground for developing any company's marketing potential.
What can offline retailers do to provide the audience with the same experience users get online?
Stores must use technology to provide modern consumers with a "physical" (physical and digital) experience.
In the first half of 2023, networks are expected to consolidate by creating innovative and simplified turnkey solutions combining audio, digital display, and advertising solutions on a common digital platform.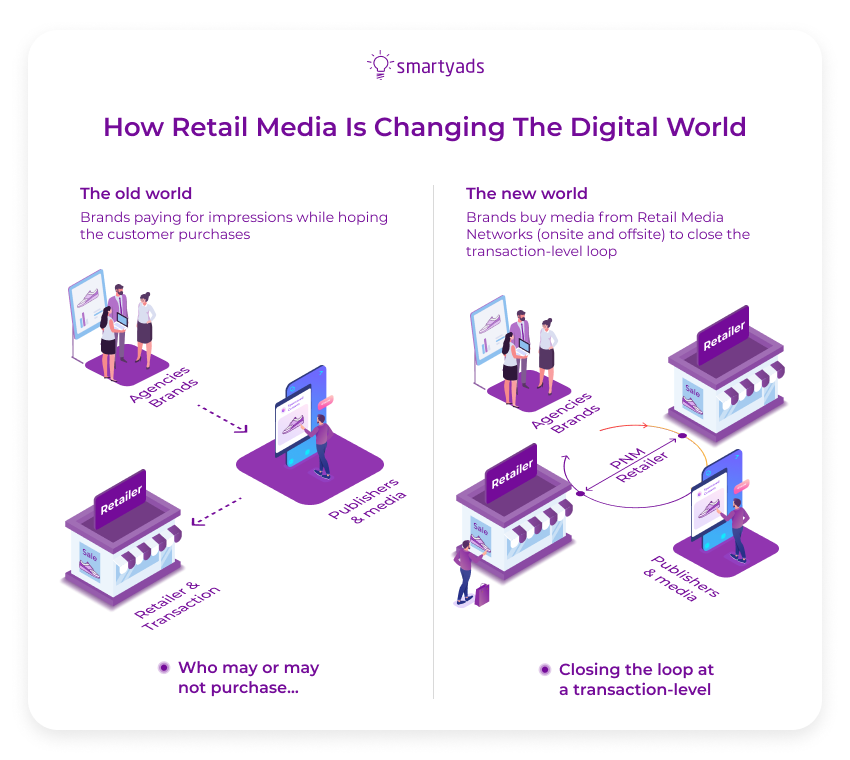 For traditional retailers to maintain a strong presence, they must leverage digital solutions designed to deliver the personalized shopping experience that today's consumers expect.
Retailers can start by implementing a universal platform that digitizes the in-store experience and supports an innovative approach to buying advertising. Right now, such platforms could be Retail Media Networks, for example.
What are Retail Media Networks?
Retail Media Networks (RMNs) are advertising platforms that allow brands to place targeted ads on websites, mobile apps, and in-store displays of retail partners such as Walmart, Target, and Amazon. These platforms allow brands to engage consumers at the point of purchase when they are actively considering purchasing a product or service.
RMNs use customer behavior and purchase history data to deliver personalized advertising to customers. This data can include browsing and search behavior, purchase history, demographic and geographic data, and more.
GroupM estimates that retailers worldwide generated $88 billion in ad revenue last year and will reach $101 billion in the future.
RMNs have become increasingly popular in recent years as retailers seek new ways to monetize their digital assets, and brands look for more effective ways to engage consumers in a crowded and fragmented media landscape. In addition to display ads, RMNs can offer other advertising formats, such as sponsored product ads, in-store promotions, and targeted email campaigns.
Advertisers are helping to drive growth. In 2022, it was reported that 74% of brands have a separate retail media budget, three times as many as in 2021. McKinsey expects 80% of ad spending at RMN to be driven by incremental increases in ad budgets. eMarketer predicts RMNs will be the third big wave of digital advertising after search and social.
The benefits of RMN
In the past, only major conglomerates were considered to use retail media, but today retailers of all sizes have recognized the value of RMN if it is used successfully. You can't take advantage of all the media opportunities without focusing your monetization strategy on your customers' personalities. Conventional stores looking for an RMN partner should find out if the partner offers:
A versatile platform that's easy to manage and use;
Individuality and flexibility;
Omnichannel closed-loop attribution;
Third-party integration for efficiency and automation;
Ability to collect, analyze and leverage proprietary retail and external data to deliver personalized experiences at any scale.
Overall, retail media networks offer brands an effective way to engage consumers at the point of purchase and drive sales, a new revenue stream, and improved customer experience.
Some brands, however, don't want to use third-party platforms and are building their own platforms, including white label platforms.
What are white label platforms?
White label platforms are software solutions or services developed by one company and then rebranded and sold or licensed to another company for use under their own brand name. The term "white label" comes from the practice of placing a white label on a product or service, allowing it to be branded and advertised as if it were the original product of the company using it.
In programmatic advertising, white label platforms refer to platforms that allow agencies or advertisers to create and manage their own proprietary programmatic advertising technology stack. This technology stack includes a demand management platform (DSP), a data management platform (DMP), and other tools and services necessary for programmatic ad buying.
White label platforms in programmatic advertising allow agencies and advertisers to offer programmatic advertising services to their clients under their own brand name rather than that of a third-party vendor. This allows agencies and advertisers to maintain their brand identity and control client relations.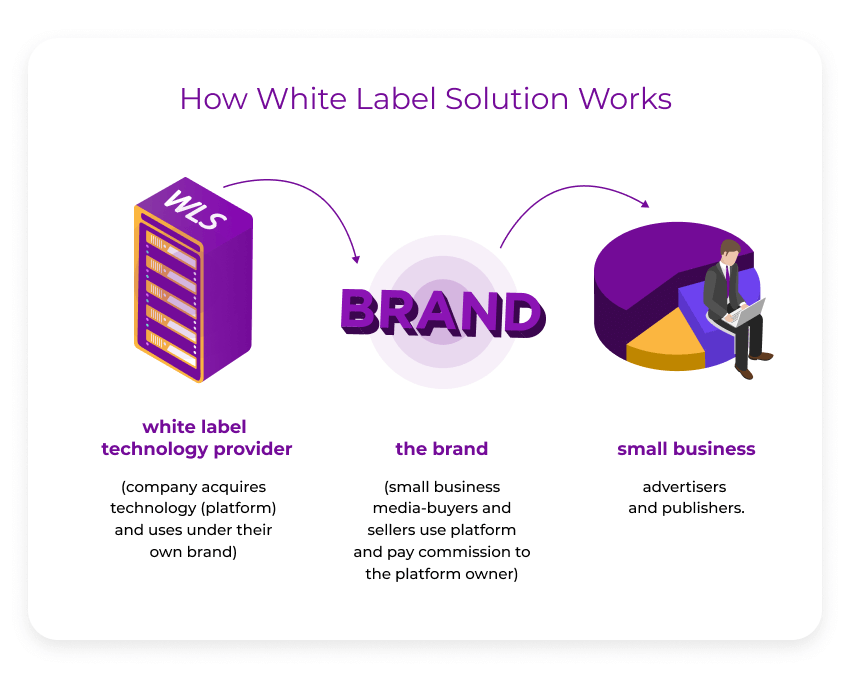 White label is a great opportunity for retailers to improve their ability to monetize their offerings locally. White label platforms are highly flexible structures that can be redesigned and customized to fit almost any brand. But beyond that, such systems can be paired with equipment designed to bring digital into offline sales.
Digital in-store media facilitates communication between brands and valued customers through connected digital displays in the store aisles and at the point of purchase. Digital in-store commerce requires hardware and customization, just like digital display itself, so companies that create combined interoperable e-commerce and in-store platforms designed to support this ecosystem will position themselves as industry leaders.
Benefits of white label
White label software platforms typically provide a number of features and capabilities, including:
DSP capabilities. White label DSPs allow agencies and advertisers to access various advertising exchanges and offer platforms (SSPs) to purchase advertising inventory.
DMP capabilities. White label DMPs enable agencies and advertisers to collect and manage their own first-party data and use third-party data to inform their programmatic advertising campaigns.
Custom branding and reporting. White label platforms allow agencies and advertisers to customize the platform's user interface and reporting capabilities to their own brand.
Access to technical support. White label platforms often provide technical support and training to help agencies and advertisers get the most out of their programmatic advertising campaigns.
Of course, beyond the white label, there are other ways to create ad tech platforms for retailers. For example, you can develop such a platform from scratch. However, we are talking about white label because it is a technology we are very familiar with, and we know how effective it can work.
However, if you don't want to spend money on your own platform or are still pondering on how profitable an investment would be, you can always take advantage of the DOOH advertising opportunities that are available on most major programmatic platforms (SmartyAds is one of them, of course). This could be a "test drive" for you, a first step to marrying the world of traditional and digital retail.
What is DOOH?
To put it simply, a DOOH media is any device with a screen placed in a public place (indoors or outdoors) on which advertising is broadcasted: an interactive information kiosk, a digital billboard, a screen in city transport, etc.
With the introduction of the latest technology, such as smart cameras with facial recognition, the capabilities of DOOH have reached a new level. These devices can now identify key characteristics of visitors or passersby and show them personalized messages, and brands can launch targeted marketing campaigns in new territories.
Thus, a retail chain equipped with such devices can use DOOH not only to show the usual promotional content with greater efficiency but also to monetize the traffic in their sales areas.
This is especially true for local stores, which during the Covid-19 pandemic showed an increase in visitors compared to hypermarkets because of the proximity to home and the desire of people to avoid social contact. This year, the trend will strengthen, and it will inevitably spark the interest of advertisers.
Of course, with this approach, it is difficult to get a clear analysis of how the user behaves in the sales area and how much your advertising influenced it, but this does not mean that it is impossible to measure the effectiveness of DOOH. Moreover, the pace of development of programmatic technology has not decreased in recent years, and analytic systems are getting better and better.
So, will that "adoption" be successful?
Of course, yes! we can say that it's not a matter of luck or failure in transferring certain technologies to a new environment. It is an inevitability. The world is becoming increasingly digital, which means that all areas of life come into contact with the virtual world in one way or another.
Such changes are inevitable for retailers, so failure is not an option. Sooner or later, all retail brands will have to tie a part of their business to the ad tech in one way or another. Therefore, it is better to do it at the dawn of this trend, as such an opportunity is a significant competitive advantage.
Don't delay your progress; enjoy the benefits of ad tech now with SmartyAds WL solutions!