Blockchain advertising is currently a subject of controversy - some industry experts believe that demand-side platforms and supply chains can benefit from it while others deem the solutions to be too crude for implementation.
Today programmatic advertising is plagued with serious problems such as ad fraud. Nearly $7.2 billions of all ad spend accounts for fraud. In the next couple of years, this number is expected to triple. As well, advertisers express their concerns over fees and commissions the digital advertising system fails to explain.
The upcoming "Blockchain Revolution in Advertising" conference that will take place in New York, September 28, 2018, will gather entrepreneurs, advertising executives, educators, and thought leaders to discuss these issues. Ivan Guzenko, CEO of SmartyAds will be among the industry leaders and expert speakers at the meeting who will explain how decentralized ledger is going to change the system inside out.
Blockchain in ad tech: The basics of safety
Many experts predicted blockchain to be the next biggest breakthrough in programmatic since ad fraud and blockchain are incompatible notions. Blockchain for advertising represents an opportunity to register every step and action performed inside the programmatic platform. The public ledgers of blockchain technology can store the data about financial operations, contracts, credits or sales.
Since the distributed ledger is stored on the computers of all participants simultaneously, the chain is almost impossible to hack. Unlike other databases, blockchain consists of interrelated blocks built upon each other. The minute the publisher or advertiser makes an action the block is added to the chain that stores the information about all previous operations.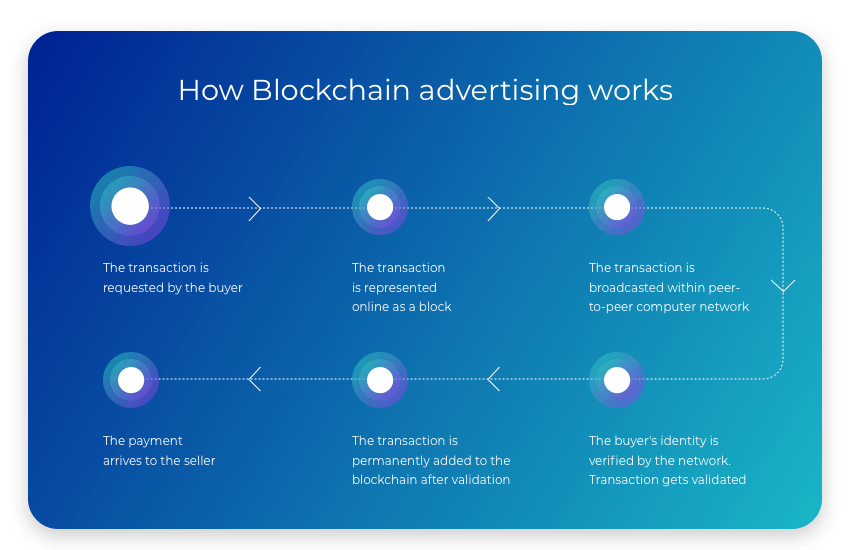 Blockchain media advertising also promises salvation for everyone who is concerned about hidden fees and inflated prices charged by the ad tech providers. This problem in programmatic advertising exists because the chain includes DSP, SSP, DMP, Ad Network, and other programmatic players. Each party individually defines a commission the tracking of which today is borderline impossible.
In blockchain peer to peer network, the data is publicly available for every participant but securely protected from editing or deletion. In blockchain ad tech network everyone has a unique identifier and a digital signature, at the same time, personal data can remain confidential.
This way, blockchain advertising industry can benefit from total transparency and safety. The publisher and advertiser can see all information about transactions, audit the origins of clicks, and find out details on served impressions.
Blockchain ad tech market: who uses it and why
Blockchain programmatic advertising is not only good for the transparency of media buying, but it has also found several other implementations as brands realized the additional benefits. The advertising and media companies are using the perks of the distributed ledger for the sake of contract execution automatization, creating the lists of inventory, and avoiding intermediaries for traffic acquisition like Google and Facebook.
Blockchain digital advertising brings a lot of benefits but the legal framework of it is still under construction. Thus, experimenting with blockchain digital advertising is a thing small brands are afraid to meddle with until solutions are widely adopted.
The advantages of blockchain advertising so far are more understandable to large advertisers like Procter & Gamble, Unilever or Nestle, that invest a lot of money in innovative solutions. The Comcast - the data service provider, has created an alliance of broadcasters, including Altice USA, Cox, NBC Universal, and Disney which will also utilize smart contracts.
Smart contracts in blockchain advertising ensure trusted relationships between parties. For instance, if the advertiser wants to blacklist certain traffic sources, this is getting registered in the smart contract of all participants simultaneously, which regulates the process and brings it to standard.
The big hopes for blockchain in advertising
Blockchain benefits in advertising are evident. Even though it's hard to predict the further trends, one thing is clear, the ad tech players are paying the interest, and the first market-ready solutions are already built and successfully used by companies.
World's leading research entity Gartner has surveyed over 293 heads of IT departments in various companies. The survey has revealed that 8% of businesses so far tried blockchain and intended to give it a go next year. 18% of those you who reported having started working on it admitted that it is difficult to find specialists in this field but the way it optimizes processes totally justifies the implementation efforts.
The majority of market players still vaguely understand the principles of blockchain technology, but nevertheless, show awareness of the practical opportunities that it gives.
The purpose number one in blockchain online advertising today is to set the standards, only after that, the companies will be able to assess the value of the blockchain for their business.
Seeing great perspectives of blockchain technology for digital advertising, IAB created a blockchain working group in 2017, which will contribute to the standards developing and clearing up the legal aspects of implementation.
To sum up
The blockchain technology promises a brighter future for the advertising industry. The advertisers, publishers, developers, and media companies expect from blockchain-based advertising technology greater transparency and visibility. If things go as expected, very soon blockchain advertising will change ad buying for the better, delivering all operational insights and guaranteeing brand safety.