Digital evolution is an everlasting contest. If yesterday market embraced mobile, today it requires overarching omnichannel approach, analytics, creative management, and real-time attribution altogether.
Specific channel-focused solutions partly solve the problem but they trigger another challenge related to tech fragmentation. According to the stats, the last couple of years have brought to life a great variety of martech and adtech solutions, and now in 2019, we're up to 7,150 of them.
Such a fragmented landscape pushes advertisers and publishers to look for ad tech stacks as they can serve multitude purposes of programmatic advertising. Let's find out what is the role of ad stacks in the programmatic ecosystem and how they solve problems that market fragmentation raised.
Ad stacks in the advertising ecosystem
The programmatic advertising ecosystem is complex. As a rule, it includes ad exchanges, ad networks, demand-side platforms, supply-side platforms, and data management platforms. Each of these elements plays an integral part in the media-trading process.
Demand-side platforms. A Demand-side platform is created to serve the needs of advertisers, marketers, agencies, and media buyers who want to purchase digital inventory online. DSP automates the process of inventory purchasing via algorithmic buying and targets the users in case their data corresponds to the chosen targeting settings.
Supply-side platforms. A supply-side platform is an equivalent of the demand-side platform created for publishers, media-sellers, and app developers who want to monetize their inventory with targeted ads. Programmatic automates real-time auctions so that inventory could be sold automatically and without remnants.
Ad networks. Ad networks accumulate inventory from publishers and aggregate it on a single platform in order to resell it to advertisers for certain commission. Ad networks share the same goal with ad exchanges, however, they have certain differences in inventory management and basic principles of work.
Ad exchanges. An ad exchange is an open marketplace designed to let advertisers and publishers trade directly utilizing RTB protocol. Ad Exchanges can also provide access to a greater pool of inventory because they feature more connections. Additionally, some ad exchanges can aggregate inventory across particular traffic type, vertical, or quality.
Data management platforms. Data management platforms aggregate customers information. They can be used for multiple marketing purposes but practically most often used with DSP's in order to make targeting more precise and sophisticated.
Obviously, the programmatic ecosystem encapsulates a multitude of solutions that can serve as a foundation for successful media trading. Ad stacks are ad tech complexes that already involve media-buying, media-selling, and data activation solutions under one roof.
In other words, they encapsulate essential components for media-buying and selling that otherwise are scattered across the vast programmatic ecosystem. As a rule, ad stacks belong to the ad tech providers that grow and develop their programmatic business over time, add the new solutions, and integrate new partners.
How ad stacks prevent fragmentation?
In the majority of cases, platforms in ad tech stack are interconnected in order to intensify the chance for successful deal closing. The more supply or/and demand sources the platform is connected to, the more opportunities publishers and advertisers have to find what they need. By contrast, a standalone DSP or SSP is limited by the number of currently connected partners and core platform functionality.
Additionally, such an organization provides a far better view on inventory and the ability to audit all partnership commitments which is impossible when platforms belong to different ad tech providers. This enables publishers and advertisers to run more transparent and holistic advertising campaigns and avoid problems caused by fragmentation.
How full-stack ad tech is differentiated?
Full-stack ad tech platform by notion should provide the essential infrastructure that supports ad operations at every stage of their implementation. At the same time, ad tech stack advertising isn't standard. Every ad tech provider creates infrastructure according to own capacities. From the tech point of view, all stacks can be divided into two sub-segments.
For instance, there are stacks that build every component themselves and those that integrate components (often based on third-party technologies). The drawback related to the solutions based on third-party technologies is associated with higher risks of data leakage, quality of data processing, and possible GDPR violation.
Proprietary ad tech stack eliminates reporting discrepancies. Still, the most important advantage remains to be data processing. For instance, when matching the cookies, most DMPs lose data while cookies are being transmitted from the 3rd party system. This happens because two systems may recognize cookies differently. This impacts the cookie matching process and the effectiveness of targeting as a result.
When these two systems exist within a single ecosystem like in SmartyAds, such data losses are minimized. SmartyAds full-stack ad tech solutions are constantly evolving and developing new services that add value to the publishers and advertisers.
SmartyAds full-stack Ad Stack System is an all-encompassing aggregation of proprietary-developed platforms designed to provide media-buyers and media-sellers with tools essential for every aspect of advertising-related operations.
It helps to obtain access to the functionality of other platforms through the single platform interface and to directly address customers utilizing one dashboard functionality. Over the years SmartyAds ad stack has grown to the point when it became possible to make all programmatic platforms white labeled. It means that demand and supply partners can acquire entire platforms, brand them, and grow their proprietary enterprise-level solutions how they want.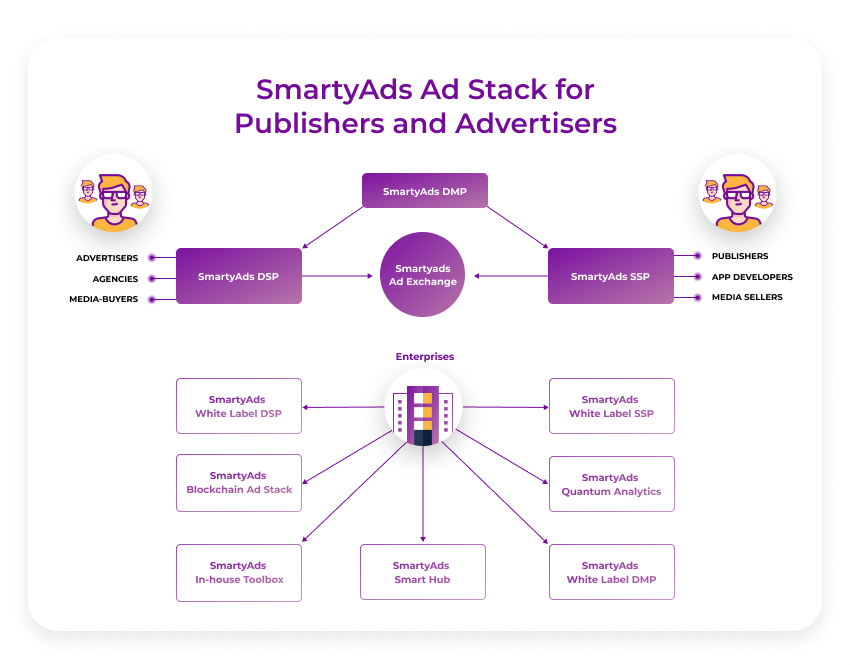 The takeaway thought
Now programmatic is going beyond the limits of a standalone platform and gains the new power to redefine communication strategies and interaction mechanics. Today advertisers and publishers strive to transit to holistic solutions since they can satisfy their media-trading needs and ensure much better data protection.
As advertising develops, new challenges will arise, and demand and supply partners will have a chance to learn how to manage the power of multiple solutions and services to achieve greater success using digital ad stacks.
The peak point that programmatic has managed to achieve by 2019 is the transition of all programmatic purchasings to white label and in-house. With this, major advertising problems associated with insufficient transparency will come to past. Media partners will be able to audit almost everything: the real price per impression without commissions, a list of websites where impressions are served, performance across all marketing channels combined.
Finally, programmatic technology has grown to develop new ecosystem elements like Quantum Analytics which is a cross-channel analytics platform that serves as a single point for performance measurement across all martech and ad tech platforms.
Register at SmartyAds demand-side platform as an advertiser or join our supply-side platform as a publisher to access robust programmatic infrastructure that grows, evolves, and scales up alongside with your marketing objectives.
No more fragmented environment. Embrace programmatic ad stack from SmartyAds. Contact us!