What is DMP in marketing?
Is it just a supportive tool for advertising individualization or a robust marketing data management platform that consolidates user data on all digital media and also performs segmentation? In a technological ecosystem the evolution is quick, so let's find out how DMP works today.
Just 50 years ago, the marketers complained about the lack of detailed, in-depth customer data, in 2018 they complain about the opposite: There is a staggering amount of online behavioral data, and brands have no idea how to deal with it.
The #1 problem is that there is a shortage of efficiently trained quantitative analysts, data scientists who can develop a marketing strategy. Secondly, there are few courses or university programs in data science that train young talents in this area. Finally, a lack of communication within a company's departments, fragmented infrastructure, and information silos lead to trapped audience data.
While others wait for a fresh batch of data science graduates to flood, the job market tech minds actively develop the algorithms that substitute the tough part of the work with big data.
The technologies that capture the customer data, process, consolidate, and make sense of it, are already here and they're called data management platforms.
What Is a Data Management Platform?
A (DMP) data management platform definition includes a centralized customer data warehouse that brings together information from all advertising channels, platforms, and touchpoints. The idea behind DMPs is to help marketers aggregate diverse kinds of audience data coming from a variety of sources under one roof and gain a 360-degree view of their consumers.
With the help of DMPs, advertisers store essential data about existing customers, tap into new audience segments, and extract knowledge to target prospective audiences, optimize media buying processes, and create ads that resonate with the public.
DMPs are seamlessly integrated with demand-side platforms (DSPs), supply-side platforms (SSPs), and ad exchanges to give publishers and media buyers complete control over ad distribution and audience definition. This means that if you have a data management platform, it's better to use it integrated with other DMP ad tech solutions so your data is activated the right away (read additional information about the dots of the programmatic ecosystem).
How Does a Data Management Platform Work?
1) Data Aggregation
Data management platforms collect essential customer data, such as demographic and geographic attributes, cookie IDs, mobile app identifiers, history of online behavior, user interests, and more. Audience data is gathered from multiple online and offline first-party sources: websites, mobile apps, social media platforms, CRM, web analytics tools, and even TV. Additionally, DMP ad tech platforms import third-party data that can extend and enrich the outlook.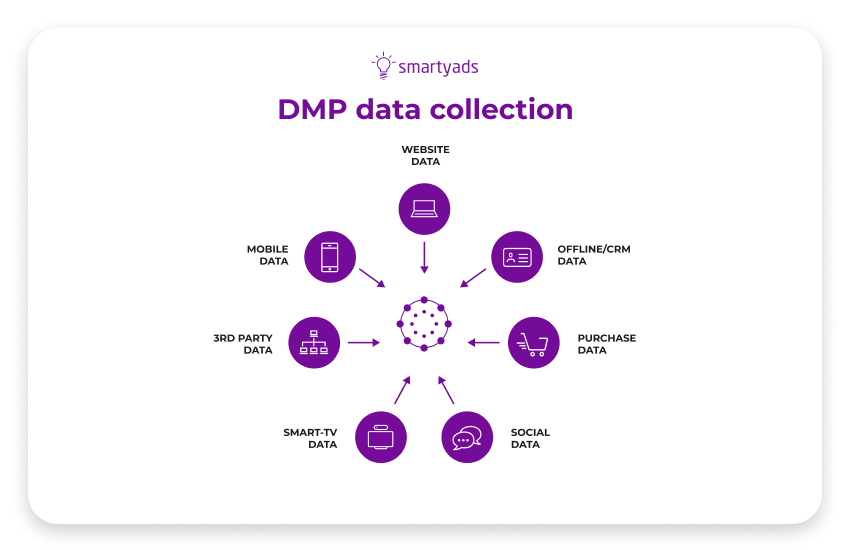 2) Data Arrangement
When the first and the third-party data is assembled, DPMs start to process it. The data is then sorted into segments and prioritized. DMPs structure data hierarchically, classifying it according to predefined parameters and form explicit audience segments catalog.
3) Data Analysis
Once the raw data is cleared of errors and inaccuracies and carefully segmented into taxonomies, it can be interpreted. DMPs analyze data about user's past clicks, downloads, preferences, and engagement. A DMP records how users interact with an ad creative and evaluate which offers get the most positive response. This information is highly important for strategic optimization of your ad campaigns.
4) Data Allocation
When DMPs find correlation and causation between variables, they output meaningful patterns that are ready to be used. DMP data is then transferred directly to DSPs, SSPs, ad networks, portals, trading desks, and ad exchanges. After data is used in real life, DMPs collect response data and check the performance again. This is a constant loop of filtering, distilling and refining big data arrays to determine the best customer for your brand.
Who Uses Data Management Platforms?
Marketers and ad agencies use DMPs to manage audience data. Data management platforms help advertisers understand existing consumers better and point out audience segments that generate potential clients and develop DMP marketing strategy (read here - Which Advertising Strategy Should a Business Choose). This is especially important with the rise of real-time bidding technology, which is all about buying audiences rather than ad placements.
DMPs process information over and over again, helping brands optimize their ad campaigns and deliver relevant brand messages. This leads to positive emotional experiences, increased lifetime value of existing customers, product satisfaction, and a higher return on marketing investment.
Publishers use DMPs to figure out what their audiences opt for, which content they want to see and what types of ads perform better. DMPs enable publishers to deliver better on-site personalization and optimize content according to audience preferences. This drives higher engagement and increases conversions, attracting even more media buyers. This way, publishers monetize their direct and programmatic inventory to the fullest.
Is DMP digital marketing only for big brands?
Technologies processing big data are everywhere, they are available not only to market giants but also to medium-to-small scale businesses hailing from different industries.
Initially, DMP in marketing was applied by large electronic and car brands who strived to direct their advertising towards customers with a certain level of income. These days even small shoemaking, cosmetical, food, and other retail brands use DMP advertising for daily functioning and monitoring the effectiveness of marketing campaigns.
By enriching marketing capacities, DMP helps to ensure something demand-side platforms can't be so effective without the narrowest possible targeting. If targeting options are already possible on demand management platform alone, with first-party data (IP, geolocation, device type), the DMP platform adds up to it valuable third-party data insights like the level of income, age or individual preferences. Read here about  Data-driven Marketing Challenges and Solutions 
How to use DMP technology if you are a publisher:
Store your first-party data

Individualize a content delivery for every user

Monetize the user data
How to use DMP platform if you are an advertiser:
Conduct an analysis of the audience

Serve various ads to various audience segments

Store first and second-party data

Perform lookalike modeling to find new customers with similar interests

Make own media buys based on gathered user data
How does a DMP work for media-agencies?
The media agencies can benefit from DMP media buying, either way, creating a consolidated place for storing all kinds of user data, making lookalike modeling, and using the stats for in-depth analysis. Furthermore, with such data collected, media agencies are able to generate custom reports for their clients, proving that their operation is fully transparent.
Advertising DMP: the illustrative example
Data management platform can be used in a variety of ways. Transitioning from theory to practice let's regard data management platform examples which prove that combination of the right technology and the right application of it can increase sales several times.
For instance, one shoe retailer company adopted DMP digital platform and gathered the user data. Based on this data, they defined - they have five core audience segments. After that, the marketers identified the main promotional channels.
The DMP ad tech was integrated with DSP in order to direct the creatives to each group via a certain consumption channel and individualize the advertising developed for every user segment individually. DMP management campaign delivered a clear picture of each creative performance. It turned out that some creatives failed to deliver expected results same way as channels. Also, the brand determined highly engaged audience groups, moderately interested, and not interested at all.  
Based on DMP management platform information, the sale strategy has been modified, the company no longer invested funds in advertising at underperforming channels. The least engaged audience group was removed from targeting at all. The company significantly saved the budget reducing expenditures and achieved multiplied results making the individualized offers to their best performing target demographics via highest performing channels.
What Does the Future Hold for DMPs?
The abundance of audience data puts constant pressure on advertisers to create a better online experience, which must boost brand awareness and customer loyalty.
It's important to understand that modern consumers are looking for more tailored content, hyper-personalized messages, optimized shopping experiences, and customized recommendations that are less intrusive and more consistent.
Consider data processing your prime DMP strategy because big data and analytics are the future of data management marketing. A data management platform is evidently an important piece of technology for your advertising stack, and no less important is to learn how to maneuver it.
Integrate all types of data you have into a single system, take care of your DMP database, and invest in technology and machine learning software. That's what will make your ad campaigns tick like clocks in the future.
Big data is a bonus. Knowing how to use this data is a competitive advantage. Join SmartyAds DMP now!