Nowadays, it is not enough to place an ad on the website to attract the audience's attention. Publishers and advertisers must choose the right platforms for the ad selling and buying and select the appropriate type of advertising. Sophisticated software can help to understand the ROI received from advertising and how much users cost (acquisition). You also need to know how to increase your income from ad serving with ad monetization.
This article will define what types of ads monetization are the best for your inventory. It will introduce ad formats and outline the benefits of eCPM, IAP, IAA, and other monetization methods. Let's start with mobile monetization trends.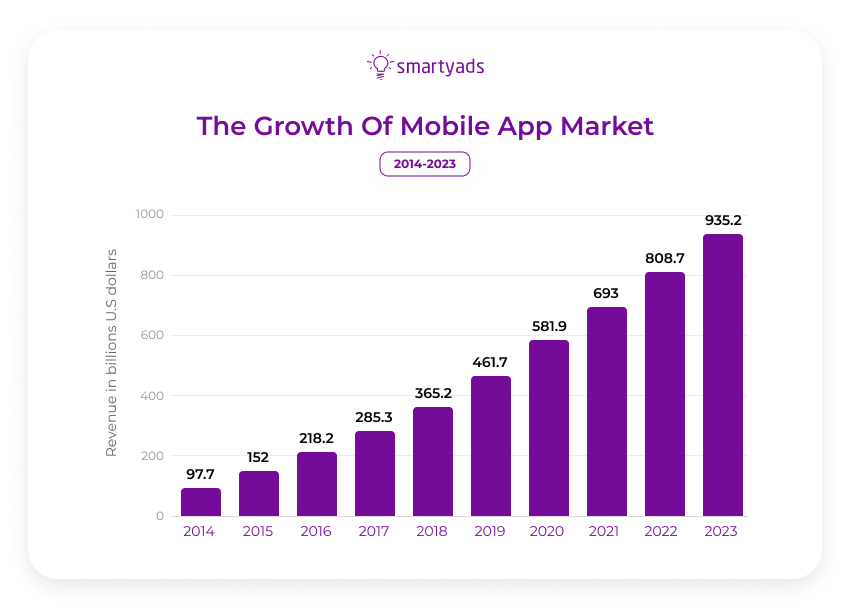 The Growth of Mobile App Market in 2021
By the end of 2021, we will have more than 5.5 million mobile apps. This number is proliferating. In 2008, only a few thousand mobile apps, tablets, and other users' hardware were developed. As a result, in 2021, people spend on average 3.5 hours per day on Facebook, Instagram, WhatsUp, and other messengers and social media platforms. Simultaneously, the time people spend on mobile ads increased by 200%.
These numbers explain the app development demand in the last years and the importance that monetization ads bear. By the end of 2021, mobile apps sales and in-app advertising will increase to $693 million. Additionally, data security, AI, machine learning will be the most significant trend for the mobile apps industry. Thus, publishers and developers need to focus on growing in-app ad revenue, creating rewarded videos, and working with genre-specific and hybrid content strategies. In addition, it introduces a broad environment for running new ways of mobile app monetization.
Ads Monetization: IAP, IAA, and performance campaigns
In the last few years, monetization has become a sustainable business model that helps publishers increase ad placement earnings. There are some standard models and advanced features for monetization. Next, we will inspect the well-known strategies for improving your income from selling the ad space in your app.
The most common strategies for ad monetization are:
In-app purchase (IAP)
in-app advertisement (IAA)
branding or performance campaigns
In-app purchase (IAP) is one of the most commonly used strategies in monetization. The idea of this earning strategy is to make users upload a free app and then allow them to use some premium features with additional payment. Companies that use this model include Spotify (when you pay for some listening options). This model of monetization is classical for the game industry. Users can download a free game but will pay for additional resources in the premium version.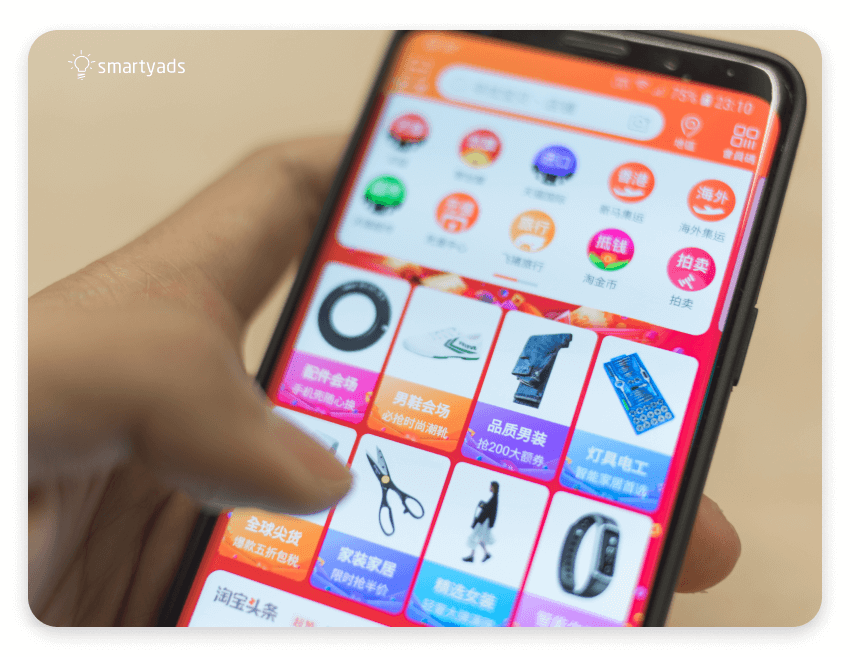 An in-app advertisement (IAA) is an ad of a third party in your app. In this model, advertisers and publishers are linked by the ad network. The most common example is the Duolingo app, where you can find a third-party ad after finishing the level.
Branding and performance campaigns also can be an efficient strategy for app monetization. Branding campaigns are usually focused on building a relationship with customers and promoting a positive image of the advertiser. At the same time, the performance campaign goal is to make users tap on the ad. The tap on the ad can trigger the install of the application on the user's device. Thus, you can use performance campaigns to drive more app installs.
What Are the Basic Types of Advertisement?
After defining the monetization strategy, you need to choose the ad type you want to serve in your app/on your website. There are four prevalent ad formats:
rewarded video;
interstitials;
offer walls;
native advertising.
Rewarded video
With these ads, the user can choose to watch the video advertising and then, upon video completion obtain free content or bonuses in exchange. With new technologies, users can also interact with the video ad (for example, answer questions) for additional premium content or bonuses. According to forecasts, 62% of gamers regularly view rewarded videos for some particular game experience. The data shows that this type of ad is the most preferable in the mobile gaming niche. At the same time, mobile game apps are not the only type of apps that use this type of advertisement. This model is familiar to Spotify, Duolingo and others.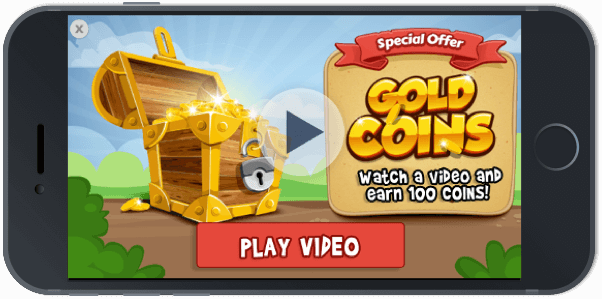 Also, there are some features in using rewarded video ads you need to pay attention to:
Learn user experience before placing the video.
Test the video before launching the ad.
Segment users.
Give your users valuable rewards.
Interstitials
Those ads are typically shown to the users while watching the app video. Those can be banners or videos (for example, they appear when users pass the level in a language learning app or during transitions between the game levels). Users can close the ad in some cases, but usually, the first few seconds will be displayed. After that, the full-screen ad with text, image, video, or rich media will appear. Interstitials ads are usually optimized for smartphones and require users to take action and interact with ads.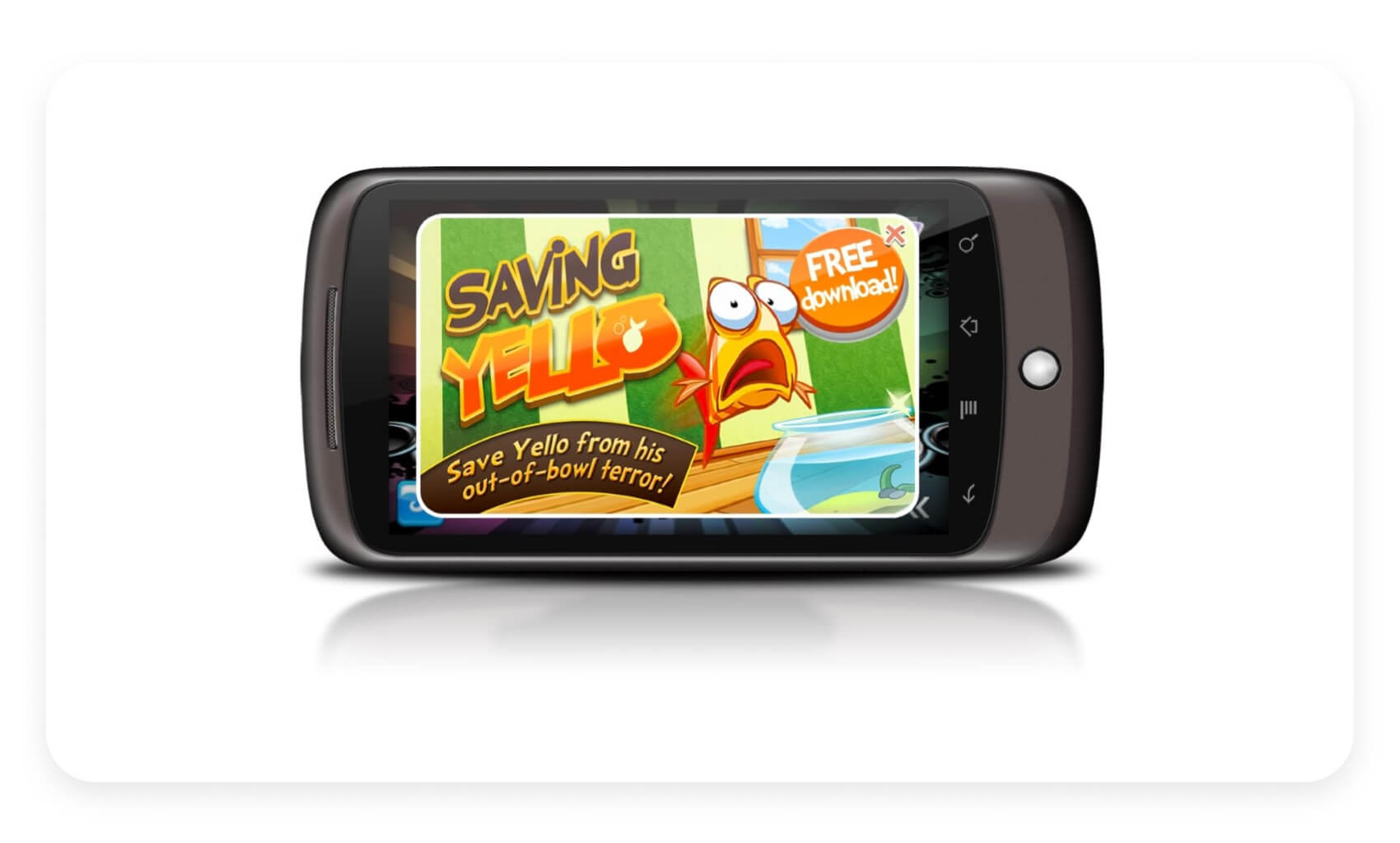 Offerwalls
This is the type of ad designed for offering special proposals in exchange for some specific user actions. For example, it can offer a subscription for the newsletter or app installation in exchange for reaching the highest level in the game. This ad allows you to increase eCPM and engage with users who already want to interact with your ad. Also, offer walls have better user detention and provide a positive user experience.
Native ads
This type of ad usually fits the app's functions and forms and looks consistent and native. It can be a banner that looks like part of the social feed and does not affect the navigation or functionality of the app.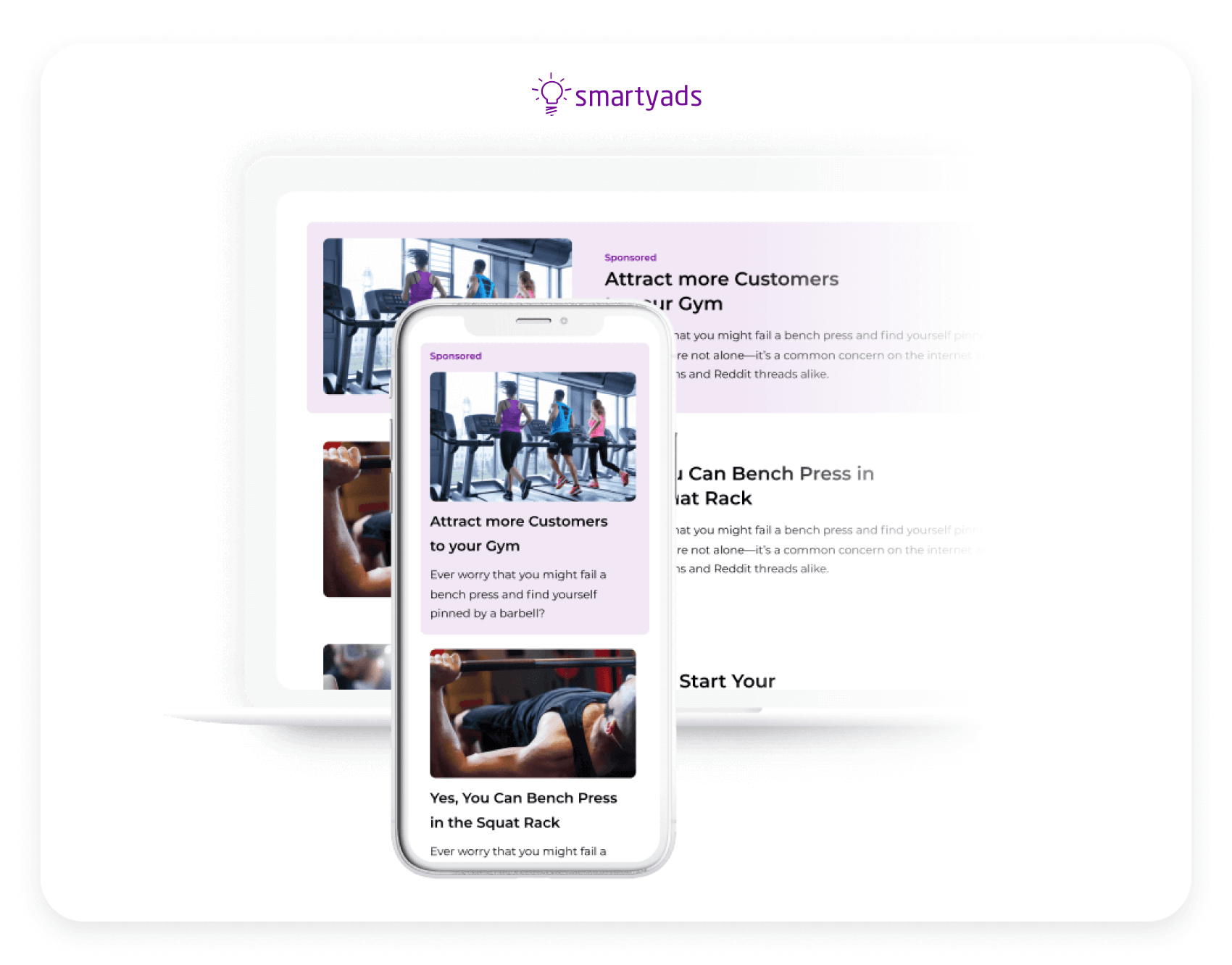 There is also much discussion on what's better push ads vs. native ads. Push ads are usually better performing for existing customers, while native advertising helps to engage with people who do not use the product/app yet. Moreover, the best way of monetization is based on the native integration of the ad with a product.
CPM and CPA Pricing for Publishers
Two of the most commonly used ad monetization bidding models are cost per mile (CPM) and cost per action (CPA). Next, we will discuss the benefits of each bidding model for publishers.
CPM. With this type of bidding, publishers will pay for every thousand views of your ad, even if the user did not interact with it. This type of bidding usually works for branding campaigns. It helps to increase the level of brand awareness. If your platform has high traffic, it will be easier to monetize the ad.
CPA. With this model, publishers are only paid when users click the ad or install the application from the advertisement. This model is often used for performance campaigns. With this model, the general ad strategy is essential for revenue. Publishers get money for clicking or filling the forms by users, but not for selling a product. It means that with an accurate target, you can have more user's actions and, as a result, more income.
What is a Good eCPM?
The effective cost per mile is a standard measurement system that publishers can use to measure the effectiveness of advertising. The most common question is how to calculate the eCPM? To calculate the eCPM while running a CPA ad, you need to divide all paid CPAs by 1000. For example, if you paid $10 for every game installation, you need to divide 10/1000. You will get a $0.01 cost for every impression. With this number, you can calculate the general revenue from the running ad.
While running the app, some publishers want to know why their eCPM is low. The reasons can be different, but the most common are:
there are not enough advertisers for the traffic
slow website
some pages do not run correctly
To fix these mistakes, you can choose an advanced SSP that will optimize and check your ad.
How to boost ad monetization with a Supply-Side Platform (SSP)?
First, you need to understand what is a supply-side platform. SSP is software that helps publishers sell the ad space, provide ad optimization, and analyze ad campaigns. The dashboard of SSP helps to manage and configure the ad serving process. Also, it allows publishers to analyze the data and choose the best type of ad for different monetization strategies. Nowadays, SPP is a must-have for publishers that want to obtain the most valuable results from running the ad.
How SSP Works
The supply-side platform is directly connected to an ad exchange, ad network, data management platform, and publisher's website. It helps to sell ad inventory on behalf of publishers.
The number of visitors attracted to a website also influences the cost of the ad. SSP gets the information about the audience, advertisers bid from the DSP, and after the auction is held at ad exchange, it announces the winner and sends the ad to the user. Moreover, SSP helps publishers to manage and optimize programmatic ad-selling processes.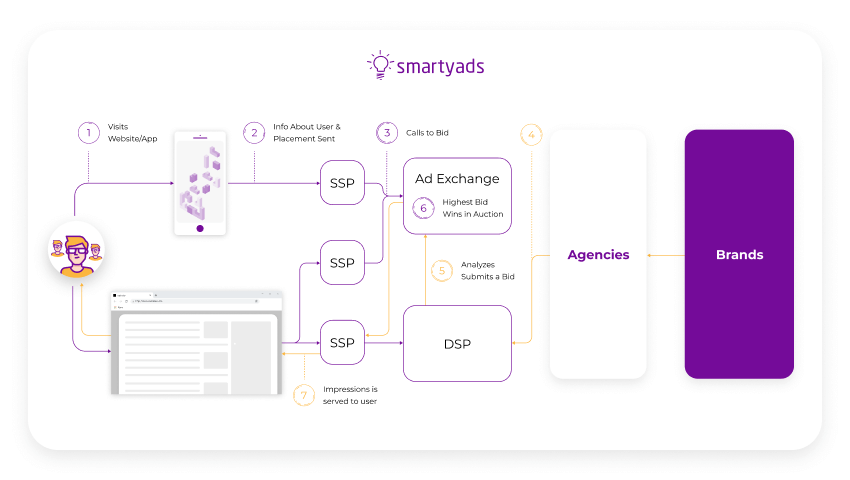 There are four the most frequently used programmatic advertising models:
Automated/Direct guaranteed (non-auction with a fixed price and no bids).
Preferred deals
Private auctions
Real-time bidding
SPP Benefits For the Publishers
Publishers want to sell as much space as is available on their platform. SSP helps to optimize the campaigns and get the highest earnings from publishing the ads.
Next, we will point out the main benefits for publishers in using SSP.
Selling automatization. SSP makes the selling process fully automated and excludes manual publishers' work. Thus, SSP makes ad management easier.
Analytics. SSP ensures publishers get the detailed analysis of the campaign and manage them in real-time. You have information on impressions served and their effectiveness. It helps to navigate the whole process.
Setting floor price. This SSP option protects the publishers from selling the inventory for a meager price. It also helps to optimize the ad cost while making proposals for buyers.
Working with multiple networks. SSP increases the value of impressions by connecting to numerous networks. This way more buyers can take part in the bidding.
Helping sellers to control campaigns. With SSP, publishers can define precise forms, sizes, and types of ads that they want to be displayed in their ad space.
Safety. SSP will block all inappropriate ads. It is easy to create a block list for some IAB categories and protect publishers from unwanted ad content.
Benefits From Using SmartyAds SSP
First of all, SmartyAds SSP provides one of the best CPM in the market. We ensure the broad network for the best demand sources with beneficial conditions of a programmatic selling model. Web users will see personalized ads that are effective and yet go along well with website/app content.
With SmartyAds, publishers can serve the best ad formats and control the price per view to increase the final income. We have one of the most progressive SSP solutions in the market that allows publishers to get the highest payments and space optimization.
Conclusion
This article described the most popular ads monetization strategies, different ad formats, and standard bidding methods. Also, we pointed out the most efficient ad monetization solutions. SmartyAds supply-side platform will help you to implement the most sophisticated monetization strategies as our company has rich expertise in programmatic. If you need detailed consultation on using SmartAds SSP, you can contact our experts.
Register on SmartyAds SSP and give a start to effective monetization!