In 1994, the first online advertising message was published. It was a 468×60 pix banner ad by AT&T with its exceptional 44% CTR. Since then, digital advertising has been enriched with loads of novelties and a wide range of creatives types. Various new ad formats were boosted by cutting-edge technology capabilities that allowed tech vendors to elaborate the formats. Also, the evolution was caused by progressing banner blindness and by specifics of every single business vertical. Today, we're talking about push ads vs native ads and how affiliate marketers can benefit from each of them. The urgency of the topic is conditioned by growing native advertising trends and increasing volume of push traffic.
Is there a push native advertising dilemma?
Some may think that native format is better than push notifications. But marketers should keep in mind that both push notifications and native ones have upper hands dependent on the audience. While push notification ads work perfectly for already existing customers, native ad formats are great sources to nurture the new. Let's dive deeper and figure out what are the essential distinctions between these formats, and when affiliate marketing is invoking them to meet ad campaigns' KPIs. But first, a very brief recap about affiliates.
How digital marketing helps affiliates?
Affiliates are selling a wide range of products through digital marketing, and the kinds of these affiliate campaigns differ considerably.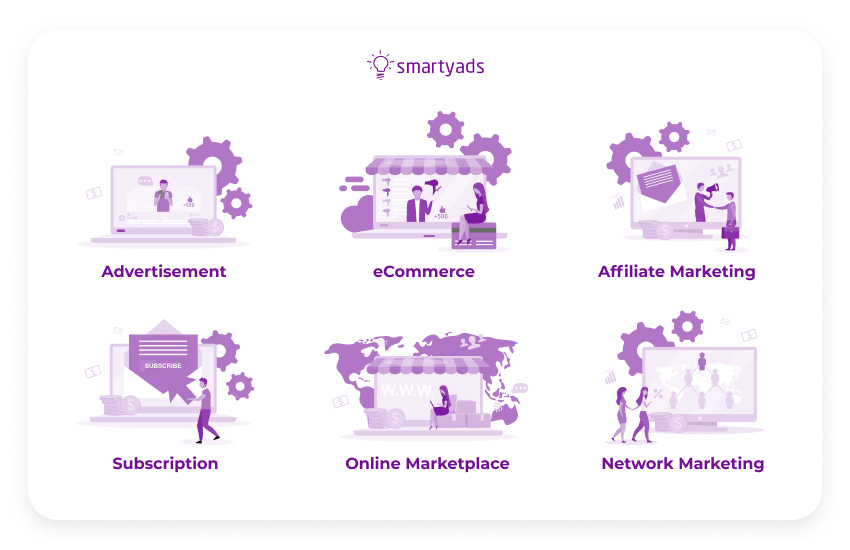 Since today we are only talking about advertising, in this respect, there are four common affiliate remuneration models:
Pay Per Click: a fixed charge that is rewarded to an affiliate for every single click that is transited to a merchant's website.
Pay Per Sale (Fixed Fee): within this digital marketing model, an affiliate gets a fixed fee for every order made on the merchant's website.
Pay Per Sale (Percentage): works the same as the previous one but on a percentage basis which is calculated from the price of the sale. In some cases, the commission can be paid for bringing a lead (e.g. if a user agrees to name email or other contact details).
Pay Per Lead or Enquiry: an affiliate gets a fixed commission for bringing a high-quality lead to a partner website. For instance, a user has to provide its email address or leave a reply on the website.
Key statistics about affiliate marketing
Cutting to the chase, the figures:
The affiliate marketing industry is expected to swell by 10% within the upcoming several years.
The capitalization of the industry is evaluated at $12 billion and is predicted to grow.
Affiliate marketing share constitutes approximately 15% of the entire digital marketing yield.
When affiliate marketing campaigns are set properly, the income rate can reach 30%.
15-30% of overall sales are driven by AM.
Using email address databases, AM generates around 16% of total eCommerce sales in the USA and Canada.
Affiliate marketing accounts for 15% of all digital media revenue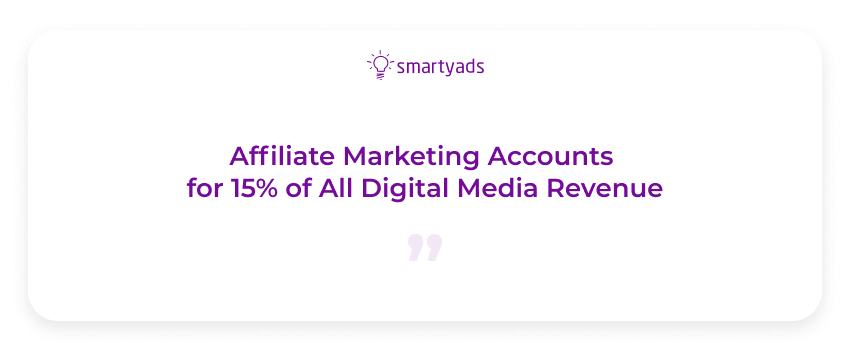 Push ads vs native Ads: who is who?
Now, when the digital marketing remuneration models are in the spot, let's see how native ads and push notifications give a leg up to drive revenue regardless of the model!
Native ads and push notifications concept
Digital marketing embraces push notifications and native ads as standalone tools for affiliate marketers. They both are capable of driving outperforming conversion results but via different routes. And it's crucial to understand clearly, where, when and which one to use to get the most bang for the affiliates' buck.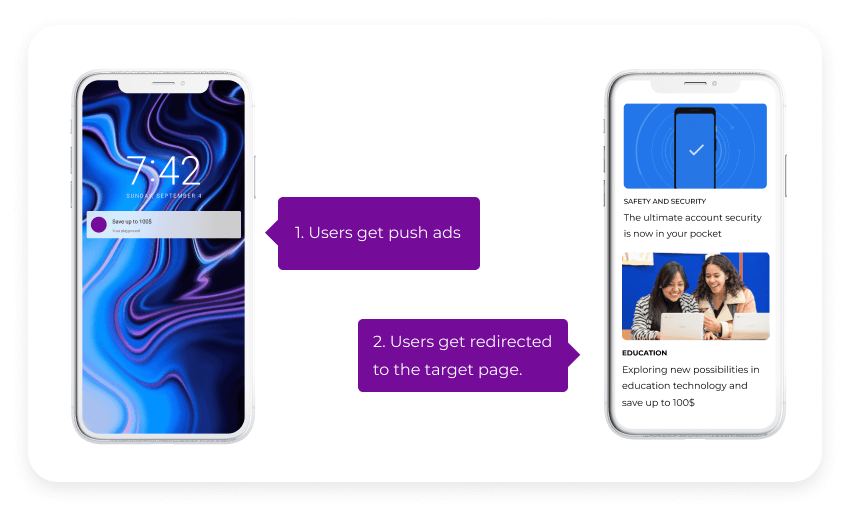 Push notifications: affiliates' digital lasso
First things first, push notifications are sent by browsers or apps as independent alerts. It can be done via mobile, or desktop, or any internet-connected device. So it's a cross-platform story here. This type of message represents a kind of a static chyron that can be read without even unblocking a gadget. Just like in email campaigns, the number one thing here is to capture a user's attention via a captivating subject line.
Push notifications campaigns are easy to implement via a comprehensive push ads platform. This is the source where many businesses can actually spring and outperform.
The ABC of push notifications
What is push traffic and how to work with push campaigns? You've come to the right place if you're looking for the answers. So, push ad traffic is a superb tool of communication with an audience. More and more affiliates are using it in their activity. It works perfectly to retain the clients and to monetize websites by distributing messages about hot sales, news, updates, or any other important information to make sure a receiver has taken the required action.
Push notification is a text-graphic message and supports banner ads. The messages are only sent to opted-in users, thus, it provides an exceptional engagement rate which is four times higher than among opted-out users.
Push notification can be delivered to subscribed users on both mobile and desktop devices:
Mobile push: is a banner ad (optionally) or a short text message that pops up at the locked display, or, if the device is in use, the message can be instantly read via the notification bar.
Browser push: when a web surfer visits some site, he is offered to subscribe for push notifications from the source. One of the niches thriving here is news sites as people usually prefer to consume news from the sources they trust and are loyal to.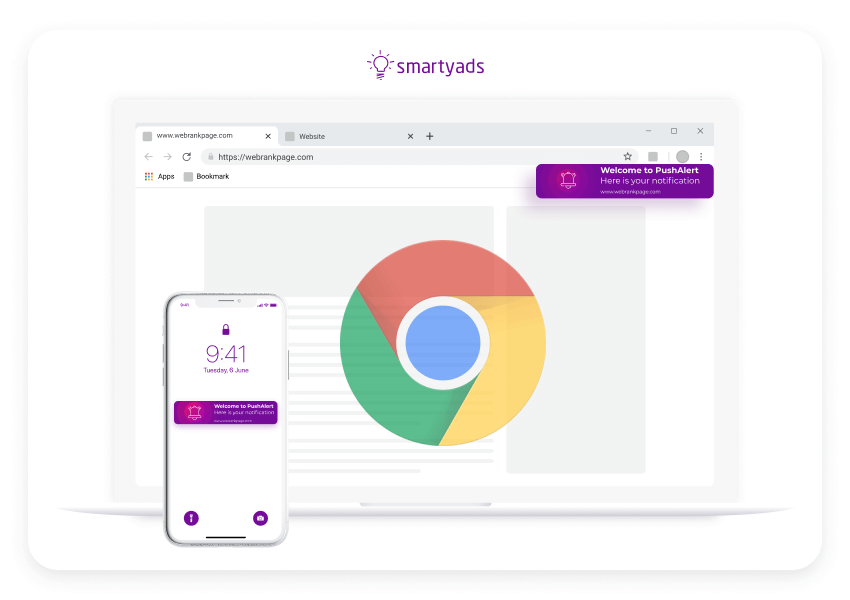 Speaking of how affiliates can work with push notifications, it's simple. Considering that an immense number of advertisers allow sending messages on their behalf, affiliates' homework is to calibrate push notifications campaigns accurately. Fortunately, this marketing channel possesses sufficient capabilities for this purpose:
Comprehensive targeting. It's possible to "picture a portrait" of a receiver by configuring gender, age span, geolocation, language, operating system, and type of a device (to define the number of characters available to display) and of a browser. The ability to schedule ad campaigns precisely is another important thing supported by push notifications. Thus, there's an option to set not only the calendar period of a campaign but to define the exact time of a day when a message has to be sent.
Some more perks
Cost-affordable. Push notifications traffic is highly affordable, plus in certain niches, you can find it in abundance. At this point, affiliates can purchase a necessary amount of quality traffic at a very attractive price.
Cross-industry span. Push notifications are applicable across many industries and business verticals. The number one player here is eCommerce that intensively uses this channel to target their customers. One can utilize push ads to advise about flash sales, announcements, and send reminders, thus, running outstanding retargeting campaigns. Similar options are used by media, publishing, blogging, BFSI (Banking, Financial Services, and Insurance), arts, entertainment, and much more.
Push notifications in figures. The growing popularity of push notifications is related to outstanding statistics. Since affiliate marketing is a performance-based business, figures matter:
The opening rate of push notifications constitutes 90%
The opening rate of push notifications is 50% higher than email campaigns
It has 7 times higher CTR vs email campaigns CTR
Approximately 60% of applications users give their consent to receive such notifications
53% of applications users reveal their geolocation
52% of applications users are scanning for relevant information via notification bar
40% of applications users ate tapping on a notification within 1 hour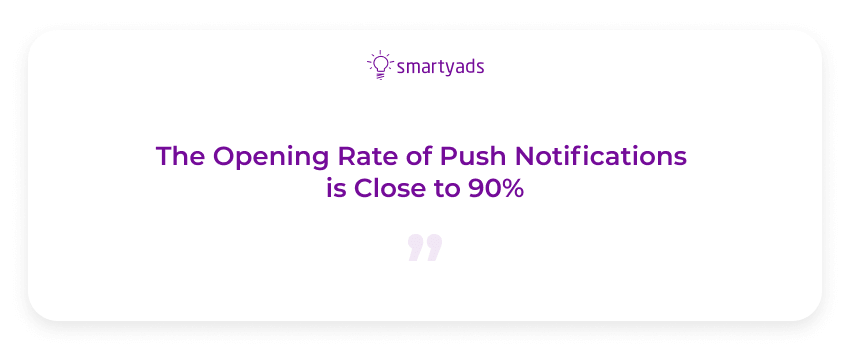 Native ads: the master of a camouflage
Now it's time to talk about what is native advertising. Let's start with a fact that user irritation is one of the biggest challenges that the ad industry faces. No one likes to be interrupted by spontaneous messages. And this is where native ad can shine the best. If you are looking for non-intrusive ads native ones can be your option. Native ads look and feel like the rest of the content on the website. As a rule, native ads represent display ads on thematic resources available via mobile, desktop, and other internet-connected gadgets.
A blog is a good example when a user is interested in a certain topic and reads proper native content (which is sponsored by a brand).
Marketers who have a relevant service or product to offer, incept native ads to that page. To put it simply, if someone is reading a healthcare blog, pharmaceutical companies are likely to show their native ads. Such native advertising is in great demand among other webmasters who want to lure new subscribers.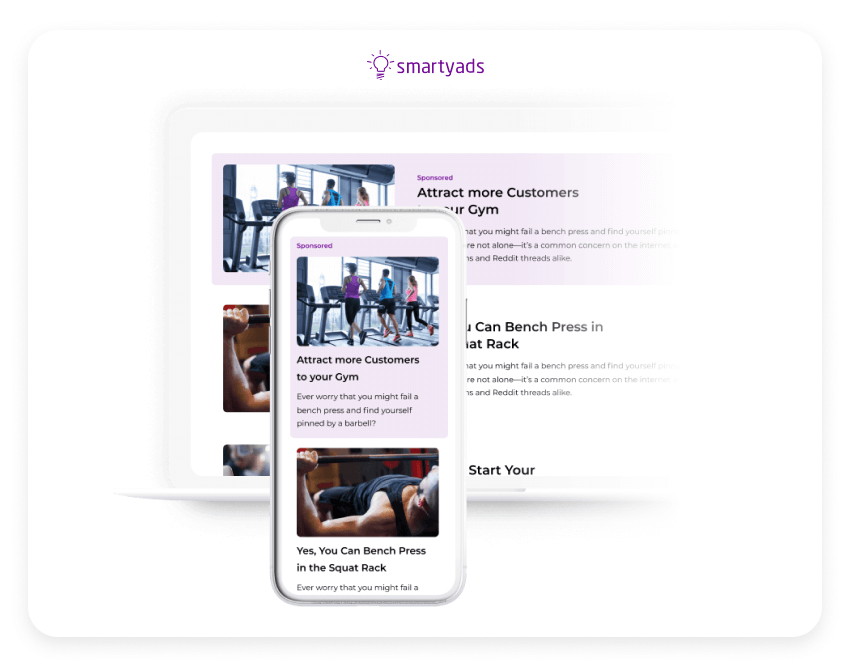 Native Ads for many businesses...
Native ads provide astonishing performance results for such industries as e-learning, healthcare, BFSI, wine and hospitality, tech and science, and the list can go on.
...and for many channels.
brands can seamlessly integrate their messages via desktop browsers as well as a benefit with mobile native ads exercising display ads, video native ads, listings, recommended articles and stories, "In-Feed" ads (appears in social networks' timelines), and even promoted music and playlists!
The core power of native ads is that they drive high-quality traffic. The native ad fits perfectly to nurture the loyal audience, which translates into a high customer lifetime value rate. Other values that native ads deliver to marketers and affiliates who work on their behalf:
Organically attracted traffic
Resistance to banner blindness
Suits excellent for branded content
The CTR of a native ad is 40 times higher than a traditional banner ad
70% of prospects prefer to receive information about a product via content alternatively to a classic banner ad.
According to mobile native ads trends, media buyers spend around 19% on mobile native ads and 81% on in-app.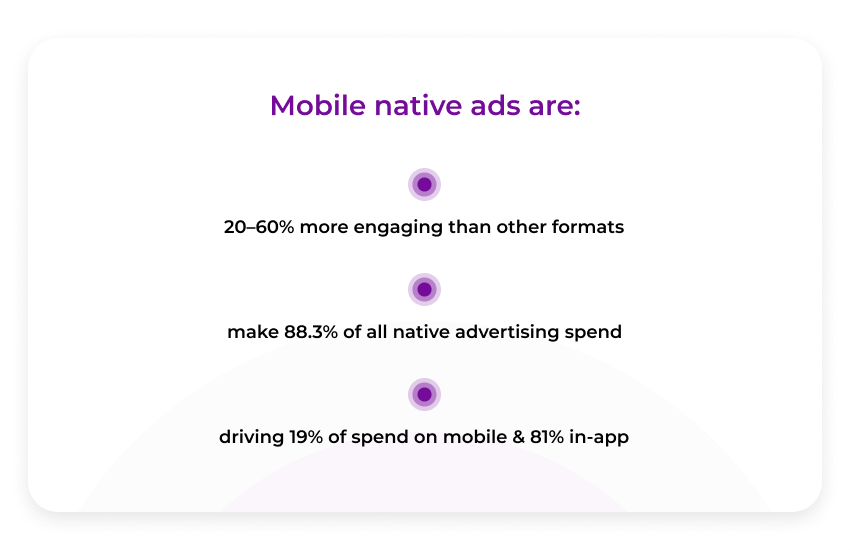 Push native dilemma? What should you choose?
Push ads vs native ads — having these two channels on the agenda, let's compare which one can provide its advantages and when. That said, let's keep in mind that there is no fits-all-needs ad solution for every case. We talk not only about native ads and push notifications but also about the whole range of ad formats and channels available in the market. The point is to find those who will drive the best output for every certain campaign.
Push ads vs Native ads comparison
| | | |
| --- | --- | --- |
| Parameter | Push notification | Native advertising |
| First reach | Instant (if the device is on) | Fast (if user is on the website) |
| Cost | Low | Medium |
| Engagement | High | High |
| Amount of information | Limited | Substantial |
| Visual elements | Limited | Substantial |
| Opt-in | Required | Not required |
| Opt-out possibility | Low | No opt-outs (since opt-ins are not required) |
Push notification advantages
Visibility. Unlike emails that have a nature to vanish in the spam or just to mingle with other inbox correspondence, push notifications trigger a prospect almost inevitably.
Personalization option. Besides, you can send push notifications to a broad audience; a message can also be personalized. If affiliates promote luxury and expensive products, this is a must-have option.
Subscription in a one-click distance. The only thing a user has to do to opt-in with notifications is to click the "Allow" button within his first visit to a website or application. There are no rudiment forms to fill.
Native advertising advantages
Voluntary content consumption. This type of advertising is placed organically on sources that users visit by their own desire. This ensures an outstanding engagement, high CTR, and substantial conversions.
Snowballing shares. As the audience of native ads is highly engaged, it's likely that readers will share the content on their social networks. Hence, one lead can magnetize some additional ones.
Budget-friendly. If you compare native ads with a conventional banner or display ads, it's less expensive. Such a lower financial threshold allows more affiliates to take advantage of it.
Checklist for affiliates
Having a general picture of both native ads and push notifications, it's time to define which one will suit best to drive the highest conversions. Here is a checklist with the key points for affiliates to succeed:
Define the purpose. Despite the ultimate goal of any affiliate campaign is to gain revenue, it's crucial to identify details. For instance, in some cases, the goal can be to reach an X-rate of ROI. While in other cases to drive X number of conversions. Or the target is to increase brand awareness. It's only when you know what is a destination point is that you can suggest the optimal way of achieving it. Thus, picking between push ads and native ads is critical.
Choose the offer accurately. In today's reality, there are a huge amount of offers to choose from. This can be challenging. But working in the niche you're familiar with should bring better dividends. Take your time to research the market, consider several ad networks, and read reviews on forums. If you have some friends who are more experienced in the business, ask for their advice! Diving into the right industry is a recipe for success.
Examine the verticals. Following up on the previous point, also consider if a vertical you have chosen is well-matched with native ads and push notifications. Some of the examples of friendly industries for each of the channels we've already described in the article. But dive deeper as the list is way bigger. And even if vertical is incompatible with push native ones might still be enough.
Configure creatives. Native ads and push notifications have significant tech distinctions. Make sure your creatives correspond to requirements and don't be lazy to think about catchy creative that is suited for each channel in particular.
Partner with leading tech vendors. The success measurement of every ad campaign depends on tracking capabilities, reports, and metrics. When choosing a DSP platform to work with, pay close attention if it meets your requests regarding campaign controls and analytics. Check if there are all essential metrics onboard. Otherwise, the chances that you'll drain your budget in vain are high. And make sure that a platform supports various ad formats, including native ads and push notifications.
Run a test drive and tune. Finally, once you've collected enough historical data about your native ads and push ads campaigns, you have what to compare. Keep in mind the more data is in the pot, the more clear picture you'll get. Making a performance review works well for optimization purposes. Thus, A/B testing of push ads vs native ads is a great way to deal with the challenge. Inspect every single campaign, compare the data, and make a proper tune-up.
The Bottom Line
As we can see, there is no winner or loser in today's battle of push notifications and native ads. Thus, there is no push native dilemma and no push ads vs native ads battle. Just like there is no all-in-one ad solution at all. Every ad format has its pros and cons, covering partial parameters that the ad tech vendors are able to provide. As in any aspect of life, it's necessary to keep the balance and leverage capacities smart. If you choose the right option for a specific ad campaign and calibrate it wisely, revenue will follow.
Run and measure your affiliate campaigns effectively with a plethora of different ad formats on SmartyAds DSP.