The balance in usage of display and mobile advertising has seen a significant shift ever since the introduction of mobile phones and the further development of mobile advertising. Over the last couple of years, traffic coming from mobile surpassed display ads by 0.3% in 2017 to 3.3% in 2020. This is not a surprise, since every year mobile ad spend is growing at faster rates compared to desktop online advertising. There's a good chance that even you, similarly to most consumers, are currently spending more time on mobile than on desktop. Therefore, the opportunity to leverage both mobile advertising vs online advertising is getting more and more alluring with each passing year.
The true difference between desktop vs mobile advertising
Although the principal mechanism is similar, there still is a significant difference between desktop and mobile marketing in terms of formats, strategies, and other specific features. We will explore these further on, but first, let us start with advertising environments typical for display and mobile advertising.
There are three main ecosystems within the digital marketing industry. Desktop computer advertising is based on web ads – a type of ads that are shown within the browser while desktop users are surfing on the internet. For mobile advertising, the system is a bit more complicated – there are two main environments which are called mobile web and in-app.
When it comes to the mobile-friendly web, there is not such a huge difference between mobile ads vs web ads. Mobile web advertising works similarly to the desktop web, meaning that the ads are also shown within the browser. In-app marketing, as one can see from the name, is displayed within apps and serves as the main alternative to mobile web for smartphone users. Both ecosystems have their upsides and downsides, each performing better for different business goals. Let us now dive into the unique benefits provided by both mobile vs online advertising environments and explore how one can add these to their marketing strategies.
Benefits of display advertising
A wide range of digital ad formats – being the very first online advertising environment, desktop advertising is still matchless in terms of the variability of formats available for advertisers. Banner, video, native, rich media, and many others - all of these leave a lot of space for marketers' creativity.
Bigger creatives – coming up from lots of space for creativity not only in terms of possible formats but also mobile ad sizes – desktop device advertising is available for a wide range of screen sizes. Thus, you can perfectly convey your message visually and contextually.
Versatility – being the first and one of the most popular channels for online advertising, display ads became a universal solution for marketers from any industry. Almost any demand-side platform works with display advertising making it a simple solution for any business goal and strategy.
Superior user experience – since most websites are designed to fit computers and laptop screen sizes, launching a display advertising campaign is a certain way to ensure your ads would be displayed properly and without glitches.
Benefits of mobile advertising
Instant communication with the user- most smartphone users tend to keep their mobile device somewhere around most of the time, which gives marketers a perfect opportunity to deliver their message at a specific time and place. Typically mobile users are using search engines to look for a specific product or service as a result of immediate need or craving. The numbers confirm that – 70% of mobile searches result in immediate action, according to Marketing Pilgrim, while desktop browsing usually corresponds to the upper stages of the sales funnel.
Targeting solutions – the instant availability of mobile apps and devices leads us to another benefit – a wider range of targeting solutions. A well-designed mobile ad strategy allows advertisers to target users not only by their interests or demographics but also based on their current location or even favorite places. Geo-targeting and geofencing advertising are only some of the alluring opportunities provided by mobile web and app advertising.
More engagement – another effect of increasing mobile apps availability is higher engagement rates. Users tend to spend more and more time on their devices and are twice more likely to like and share content from their phones compared to desktop usage, according to a recent study. Moreover, smaller screen ads get more attention and therefore, provide better engagement and ad viewability.
Fewer ad blockers – Over a quarter of US internet users report using ad blocking software in 2019.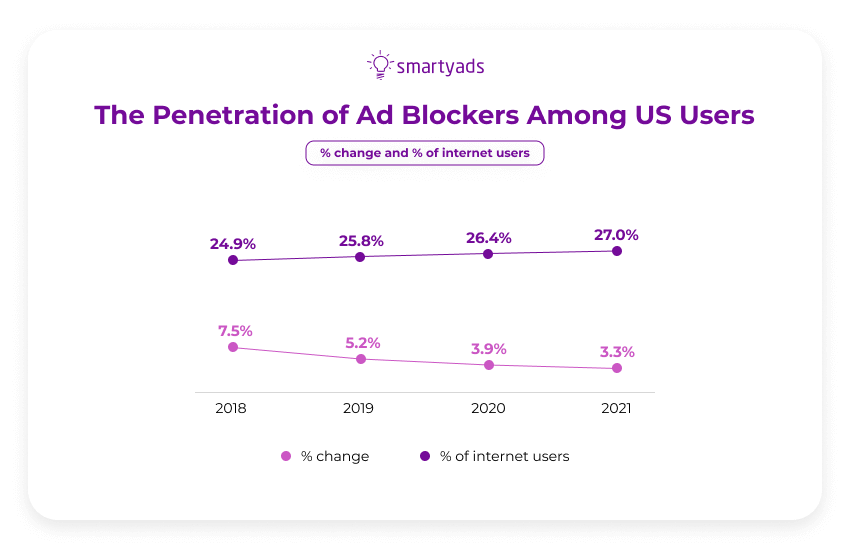 For the next couple of years, this trend is only expected to grow, reaching a 27% penetration rate of ad blockers in the US in 2021. Luckily, the trend mostly concerns desktop web advertising making in-app advertising practically invincible to this kind of software. With mobile ad space marketing, this issue won't disturb your campaigns anymore.
Mobile ads vs web ads formats
As we can see, both mobile vs online advertising have their unique and useful benefits that the advertisers can leverage in accordance with their strategies. But perhaps the true difference between desktop and mobile market features lies in formats and their practical application.
Banner ads. These are the most traditional ads, typical for both mobile ads vs web ads environments. On the mobile web, banners take up more screen and therefore, more user attention. At the same time, these ads often require additional optimization for mobile that often becomes an issue. Therefore, it is important to pay attention to how well your banners would perform on a certain webpage and optimize these accordingly. Remember that strong visuals and clear messaging are always the key to both display and mobile market strategies.
Video ads. The rise of video advertising is currently one of the most prominent trends within the digital marketing industry. The total US video ad spend jumped from $9.9 billion in 2016 to $22.08 billion in 2020. While mobile users tend to show a better message recall and brand recognition, display video ads still hold a winning position in terms of viewer's response. It is essential to remember that mobile video ads should be optimized for smaller screens and are often played without sounds, so strong branded visuals are a must for mobile video advertising campaigns. Also, keep in mind that ads shorter than 30 seconds usually have better ad recognition and likability, but weaker breakthrough compared to the longer ads.
Native ads. These are the ads perfectly blending with both mobile advertising vs online advertising environments, such as social media networks or news websites. When comparing mobile vs desktop use of native ads, the format works especially well for display ads campaigns in addition to contextual and behavioral targeting. At the same time, the universality of formats also gives a lot of creativity for in-app and mobile web native ads campaigns.
Mobile or online advertising - which one to choose?
As one can see, the difference between desktop and mobile marketing is quite obvious. Both mobile web and display web advertising work on the same principles, in-app technically has a different environment so the ad formats can be different for it. All of these environments have their own advantages. However, the deeper look at the subject confirms that there's no such battle as mobile ads vs web ads because each one represents yet another opportunity to engage with your audience.
Therefore, it is important to pay attention and try to get the most out of them while launching campaigns in accordance with your specific business objectives.
Open up the full potential of desktop and mobile advertising with SmartyAds DSP!