TV advertising has undergone significant changes in the past few years. The share of spending on CTV and OTT advertising is increasing every year. According to a Statista report in 2022, a whopping 92% of U.S. households were exposed to CTV programmatic advertising, and the number of CTV users was over 110 million among Generation Z and Millennials.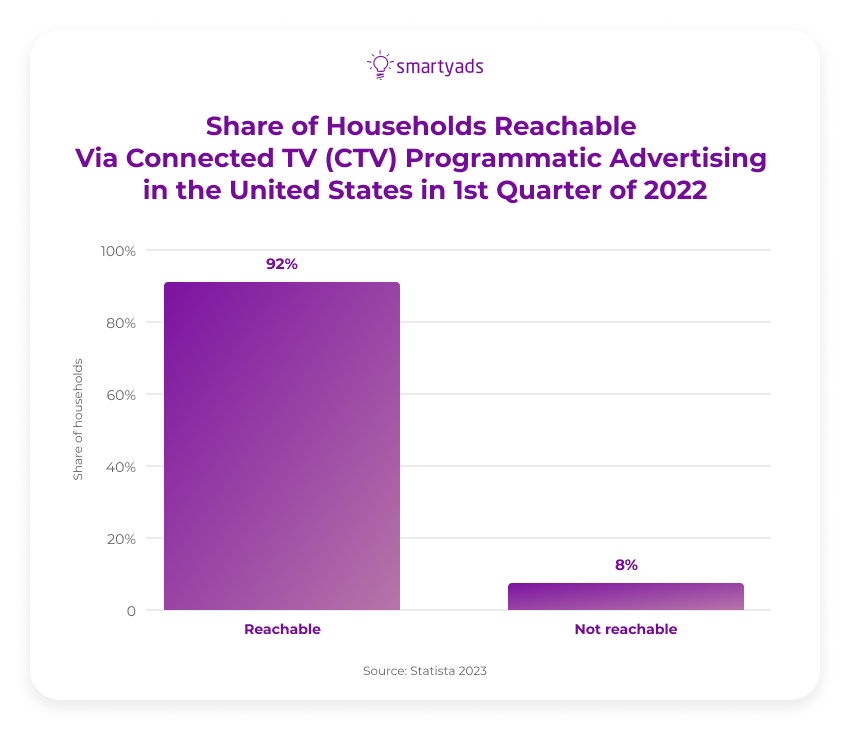 What does Netflix have to do with it?
Netflix created an ad-supported tier to give price-sensitive users an alternative. Despite having over 231 million paid subscribers by the end of last year, Netflix is considered too expensive for many users.
The company doubled the cost of its basic plan in the U.S. in the past decade. Thus, a more affordable AVOD plan was necessary to make the platform accessible to a broader audience. Analysts were apprehensive that the new subscription tier would decrease the platform's rating by existing customers.
Nonetheless, Netflix representatives believed this would not occur, and even if it did, they would receive equal or greater revenue from customers on the ad-supported plan.
Netflix's prediction was correct. The majority of those who subscribe to the ad tier are either new or former customers rather than those who switched plans immediately. The ad-supported subscription now accounts for approximately 20% of new U.S. sign-ups per month.
AVOD success for Netflix
Based on internal data cited by Bloomberg, the ad-supported service of the company has attained approximately 1 million monthly active users in the U.S. within two months of its launch. The user base experienced more than a 500% surge in the first month, followed by an additional 50% increase in the second month. Insiders familiar with the agreements have confirmed that Netflix delivered on its promised ad impressions to advertisers.
Experts believe this will bring the streaming service up to $4 billion in yearly profits.
However, this does not suggest that the ad-supported service has significantly impacted Netflix's growth, at least not yet. Other ad-supported offerings such as Hulu and Peacock have considerably more users, and free services like Tubi and Pluto also enjoy a more significant viewership. Currently, more people watch ads on YouTube than on Netflix.
Nevertheless, Netflix continues to be one of the most popular streaming platforms worldwide.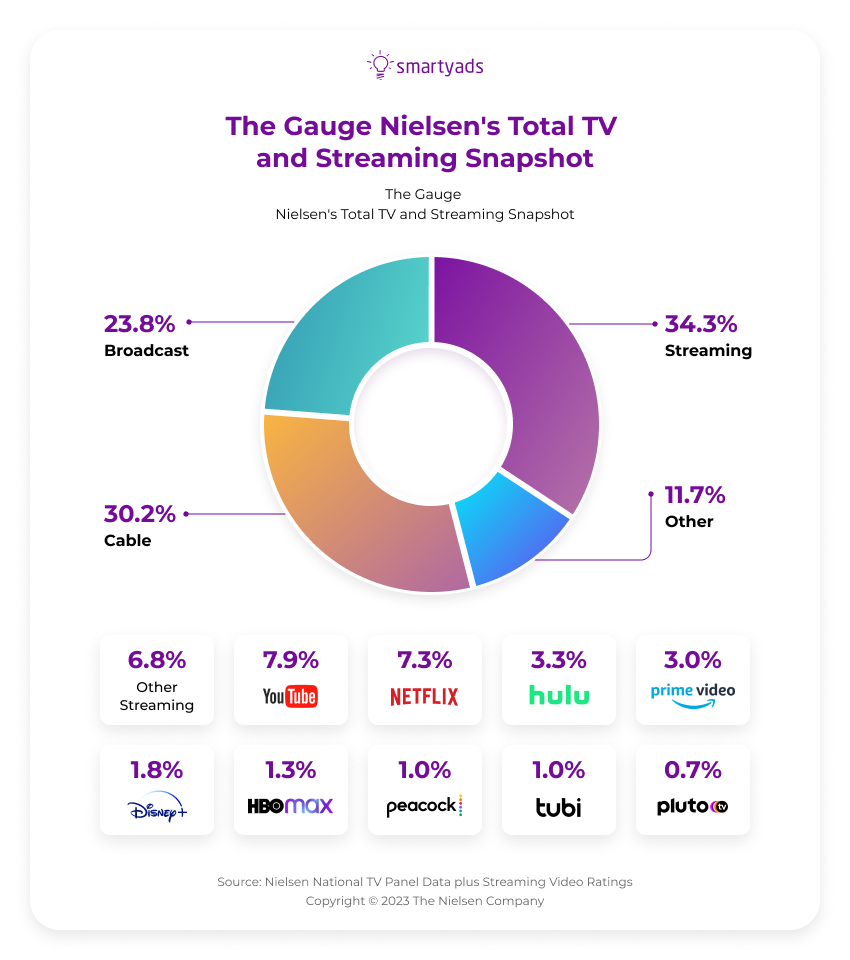 But the success of the ad-supported plan shows that Netflix's decision was timely and necessary, as the company is still unable to reach its previous level of growth. If Netflix has another "slow" year, experts predict job cuts. However, the new ad-supported plan can quite fix Netflix's situation.
It's also worth noting that this phenomenon could significantly impact OTT and CTV advertising in general. For example, we already know about creating a similar subscription plan from Disney+. However, Disney decided to turn to a different scenario. At launch, the platform set a relatively low price for a subscription, thanks to which it gained many users in a very short period.
How will it change the CTV ecosystem?
Netflix's introduction of a pricing tier supported by AVOD is poised to deeply influence the CTV advertising ecosystem. There are three significant ways in which Netflix's AVOD-driven pricing tier will transform the CTV advertising landscape:
There will be a rise in CPMs.
There will be more available ad inventory.
Extended targeting options will become available.
The rise of CPMs is caused by the fact that now Netflix will sell ad inventory directly to brands, and the rates will most likely start at $65.
Advertisers must comprehend the influence and additional worth of introducing a new channel to their existing campaigns. They need to examine the most effective techniques for OTT and CTV and harmonize their campaigns with the right strategy.
It's also essential to use the targeting options available and tailor the ad messages in accordance with needs of AVOD audiences. The AVOD subscription tier caters to budget-minded viewers, so selecting the appropriate ad messaging will be paramount. Given the rising popularity of sports documentaries on Netflix and other streaming platforms, sports advertising may also witness a huge boom any time soon. 
Meanwhile, programmatic technologies will facilitate the precise targeting of particular consumer segments for CTV and OTT advertisers. This development will enable advertisers to enhance their impact and return on investment (ROI), and will allow AVOD services to match advertisers with their programming content more effectively.
What is advertising on CTV?
Connected TV (CTV) is a video content streaming device connected to or built into your TV. CTV devices include Xbox, PlayStation, Roku, Amazon Fire TV, and Apple TV.
Through CTV devices, you can watch content provided by OTT services.
OTT is TV or video that is streamed directly through the Internet. Examples of OTT services are Netflix, Hulu, Amazon Prime, etc.
There are several basic models for monetizing OTT services: subscription video on demand (SVOD), transactional video on demand (TVOD), and advertising-based video on demand (AVOD). Using Netflix as an example, we can see that the subscription model has actually already reached its maximum potential, so monetization of services through advertising is expected to grow at an even higher rate in the coming years.
Advertising on Connected TV platforms gives access to a quality audience, similar in loyalty to television but predominantly younger. The benefits that attract advertisers on CTV:
low advertising noise;
100% visibility;
a very high click-through rate (spots under 10 seconds have nearly 100% click-through);
targeting;
opportunity for in-depth analytics;
flexible adjustment of budgets and campaign periods.
Is CTV advertising safe for brands?
It all depends on the platform that provides you with the services to run these ads.
There are different ad fraud risks on CTV, such as bot traffic, shady apps or rogue third-party services in decent apps, and inventory spoofing.
However, if you work with trusted and reliable partners, these problems will not affect you or will be minimal. It's impossible to get rid of fraudulent traffic altogether yet, and we won't sugarcoat it by telling you that all traffic from CTV ads is fraud-free.
Fraudulent traffic represents less than one percent of quality platforms that regularly update their security protocols and use the latest scanners to filter out bad traffic. Here, for example, is how we secure CTV traffic on SmartyAds.
What's the bottom line?
The conclusion is obvious: CTV and OTT advertising is gradually becoming among the most influential marketing tools. The combination of TV coverage and precise targeting can create incredible opportunities for marketing campaigns.
As we can see, streaming services are, little by little, looking to add ad-supported rates to make subscriptions more attractive and get more customers. This trend benefits everyone: advertisers will access an audience, streaming platforms will get revenue, and users will get cheap subscriptions and recommendations of products and services that may interest them. If you are seeking the opportunity to launch measurable and targeted CTV campaigns with programmatic, you can choose from a variety of interactive CTV formats that effectively drive brand awareness and performance. Tap into programmatic with SmartyAds DSP. 
And for a quick launch of CTV ads, you can use our SmartAds DSP.