Anniversaries are a big deal! September 2011 - a time when SmartyAds first sprung to life as a small ad tech project in London. The world changed a great deal over the past 10 years and so we did. Now SmartyAds is a big company packed with talented ad tech professionals, we have 150+ people on the team in offices scattered all across the world. It feels crazy to announce this today but yeah, this September we are celebrating our 10th anniversary.
Who we were at the beginning
Once upon a time - no it's not the beginning of the fairy tale - it's gonna be a short story of our team, ad tech landscape, and how these two things evolved and impacted each other over time. No worries, the tale is more fun to read than it just sounded - we had our ups and downs, challenges and triumphs so buckle up we are starting, the way is gonna be bumpy.
So, we were young and full of enthusiasm in 2011. In fact, we are still like this but back then it was more challenging - the share of the programmatic market in many countries barely reached higher than 5%. This is a stark contrast to what we have now - programmatic ad spend these days accounts for 70% of total ad spend worldwide.
We weren't just believers, we were doers. While the world has been slowly turning towards programmatic advertising we were among the first companies who implemented algorithmic ad buying. After a while the advertising landscape changed drastically and demand for programmatic jumped high. By this moment our company created a robust full-stack programmatic infrastructure that consisted of the demand-side platform, supply-side platform, ad exchange, and solutions for budding independent ad tech (white-label DSP, white-label SSP).
Where are we now
Obviously, we are not standing at the starting point anymore. Now we have a robust full-stack ad tech infrastructure that we've been building and nourishing during these 10 years. We have great clients, employees, valuable business connections, and awards to brag about - by the way, today is the right day to do it with style. We've got a little infographic to make a brief recap of what we've achieved during the past decade. We've gathered the most important moments in our history over the last 10 years and seasoned everything with a bunch of awards.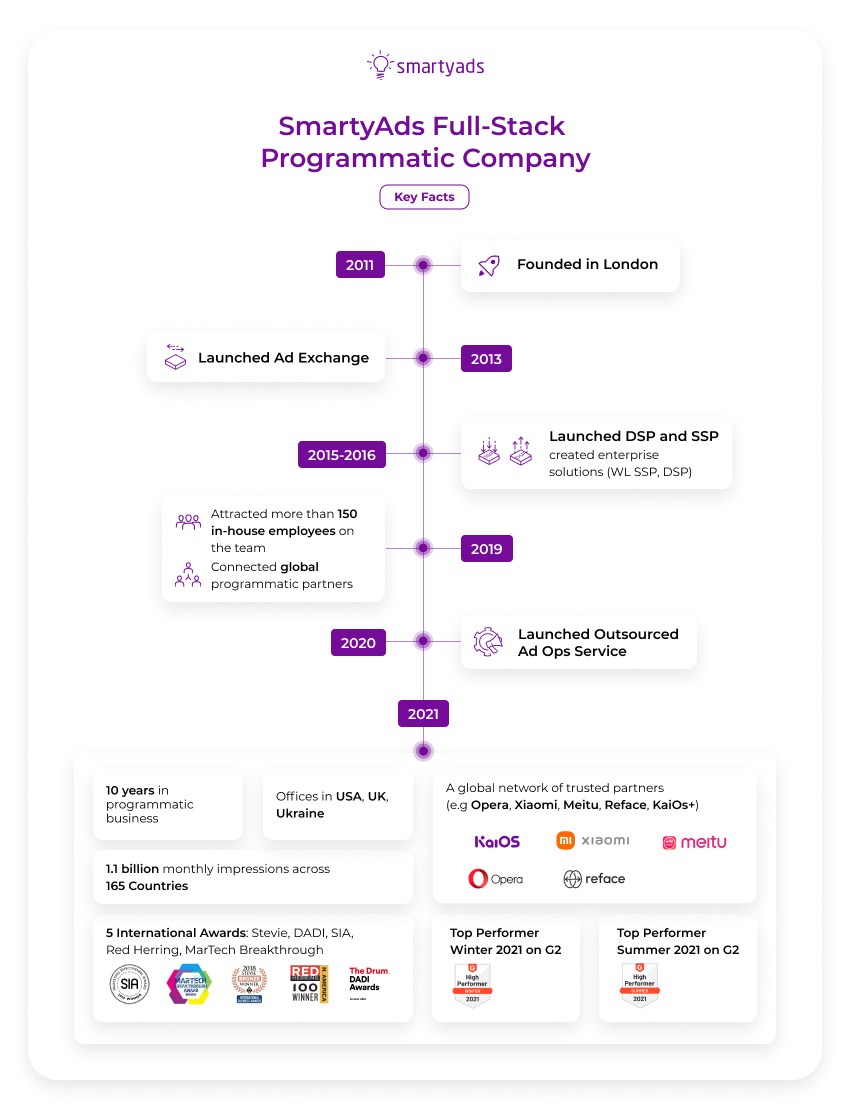 10 Bits of wisdom on 10th anniversary
We've come a long way as a company growing and developing every single day. However, the success of SmartyAds wouldn't be possible without people - our clients, partners, and employees with whom we embarked on this tenth anniversary.
To celebrate this important development milestone we decided to share 10 valuable lessons that we've learned as a team through these amazing 10 years of collaboration.
1. Believe in your team
On a mission to become a cool company, we realized that we needed two key ingredients and the most important of them are people who work side-by-side, support, and inspire each other for daily achievements. When we all share the same values the work becomes fun and when you have fun you do everything better.
2. Believe in what you do
When we started the market was small but we believed in our mission and we achieved success. At the beginning, we had a single skilled account manager, who trained newcomers but gradually the team expanded to four, ten, twenty people, and so on. Our people believe in what they do, they support each other and this helps our business grow and expand.
3. Keep a people-oriented mindset
Sharing the love and attentiveness for the needs of our clients is the key to success and the core of our mission. Our vision for the next couple of years is to create even tighter relationships with our clients that last through the years and bring our businesses forward.
4. Share the knowledge and expertise
We grew our own internal programmatic expertise for 10 years which enabled our employees to grasp in-depth specifics of the business. Now, we share these valuable insights with our clients by offering white-labeled technology and outstanding services to other businesses.
5. Learn now learn tomorrow and then some more
We constantly grow and expand expertise in programmatic, and exactly by keeping a finger on the pulse of the latest updates, we created an unmatching and highly competitive team of employees. New ideas and initiatives of the team members always help our company develop.
6. Celebrate diversion and inclusion
On our way to excellence, we never forget how important such values as diversity and inclusion are. Every employee is unique and has their own set of talents and strengths. Our differences are our strengths and every individual employee with their talents and personality makes the team stronger.
7. Inspire others
Keeping connected to your team becomes increasingly important, especially during pandemics. Being focused on one purpose and ensuring we are on the same page are the practices that we applied through the years of hard work. Talk to your colleagues via video calls, share your ideas, inspire them and then pandemics will never take a toll on what you do.
8. Explore the new ways
Trying something new is sometimes the only way to prove if something works or not. We are an innovation-oriented company and this means we never miss an opportunity to do the old things in a new way. We risk and act upon our fresh ideas today because that's the only way to become successful tomorrow.
9. Cherish relationships
At SmartyAds we can say for sure - we are proud of the corporate culture that we have here. We are proud to have developed ethical mindsets that let us nourish the right kind of relationships with partners and clients.
10. Laugh and enjoy life
We don't want to sound cliche but oopsies, here we are - laughter is the best medicine and something that helps us to keep our spirits high every day. From time to time we forget about work and throw really loud parties - this way we relieve stress, bolster creativity, and gather very memorable moments together. Today is one of those special days so we are about to dress up and enjoy ourselves.
Happy Birthday, SmartyAds! P.s check out our social media for corporate party pictures!
Always yours, SmartyAds team.