As the world is watching the dynamics of the novel coronavirus (COVID-19) outbreak, marketing and advertising specialists from every corner of our planet are trying to predict the scale of COVID-19 impact on advertising. Should you shift your focus to new channels, review your ad spend or cancel your planned campaigns at all?
With all the disruptions and preventive measures caused by COVID-19, the advertising landscape will certainly change in many ways — but how can you minimize risks for your business? Is it possible that your industry will even benefit from the new circumstances? Let's try to discover.
The current state of things during the COVID-19 outbreak
Before we start drawing conclusions about the near and distant future, let's have a quick recap on what is currently going on around the ad tech as a result of the coronavirus pandemic. The social distancing and the fact that people now work from home are two things that have caused the biggest changes.
Several major global events have already been canceled or postponed, the others are also pending. Some of the biggest cancellations include Mobile World Congress in Barcelona and the F8 Facebook developer conference in San Jose. Other tech giants have also canceled their events, such as Google's I/O, News Initiative Summit and Cloud Next conference, as well as Disney+ European Launch event in London.
Other industries have also seen a similar pattern with huge international events such as the 2020 Summer Olympics in Tokyo, NBA season and Cannes Film Festival being postponed. This, of course, also affected the global advertising industry.
Social impacts and consequences of COVID-19:
When it comes to social impacts, it is already becoming clear that many aspects of our lives just cannot remain the same — but can we predict some of these changes? The following list of fact illustrates how COVID-19 already impacted our lives:
As health officials in many countries urge citizens to stay home, companies around the world have already introduced remote work as their main practice. This can lead to a significant decrease in demand for office space.
The retail industry is likely to suffer huge losses following the massive shift to eCommerce. Only the high-end and experiential companies have better chances to survive and thrive after a crisis.
As for the finance industry, it is expected that banks would reprice the undrawn credit lines.
We can assume that the US social net will see significant changes for the better, (with a higher cost for employees and employers).
People will get more accurate job security pricing and those who can work from home would receive premium substrates too.
Following a similar approach, retirement security pricing is also expected to become much more accurate since the existing pattern has proven wrong. Again.
American federal arrangement can be shaken since some states might question the validity of such a structure.
The concept of social apps would come under stress — as a result, dating and meetup apps can experience severe losses.
COVID-19 Impact on Ad Tech
Now that we know social implications of the pandemic, it is time to analyze what we can do to prosper in the new reality and which practices are better to avoid right now. While many companies have stopped advertising altogether, others remain in doubt. Although the current crisis is unpredictable in terms of possible consequences our recommendation is to stay positive and continue with your media buy after adjusting the process accordingly. Here are some insights:
Impact on global ad spending
According to a recent update from Emarketer, the global ad spend is going to reach $691.7 billion which is a 7% increase from 2019. This is, however, slightly lower compared to their previous forecast for China. The Chinese ad spending growth rate is expected to surpass 8% with the total media ad spend of $113.7 billion. It is important to take into consideration China's GDP deceleration over the previous year. So, COVID-19 is only a partial reason for the market to slow down and this tendency shouldn't be projected on other countries with different states of the economy.
When it comes to the US ad spending changes, we can now see a huge decrease since March across all channels with the biggest drop for out-of-home advertising. Most of the US marketers report they refrained from launching some campaigns till later, while almost a quarter launched new unplanned campaigns instead.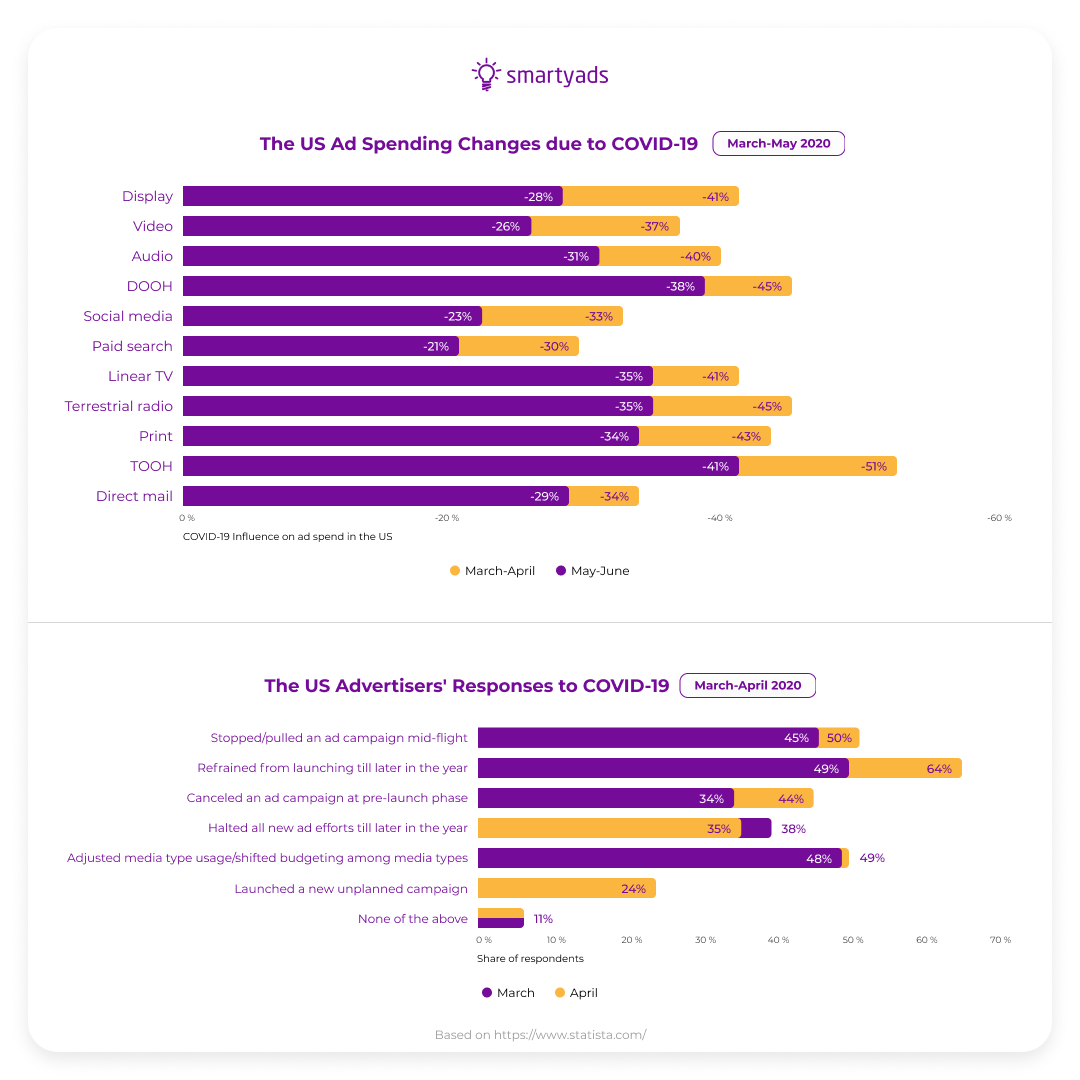 The rise of e-commerce
While it is still early to state something confidently, the data from the most affected regions is a good ground for further estimations. If we take as an example the two most affected regions — China and Italy, we can already see that the e-commerce market would certainly benefit from the situation. May's data shows that the same changes observed in China and Italy at the beginnings of the pandemics now occur in Europe and the US. Surveys from the US, UK and Germany report a massive shift to online shopping, specifically for food, household, clothing and healthcare. Such data illustrates that until the economies re-open, this situation is unlikely to change.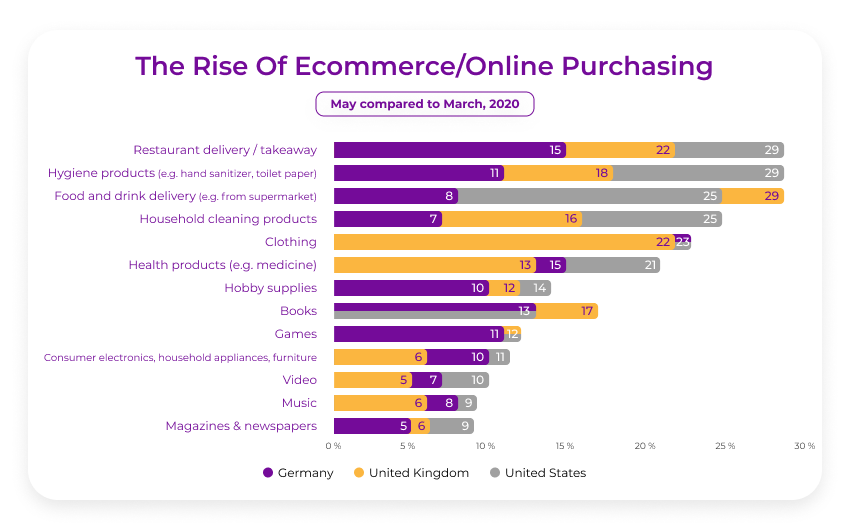 COVID-19 impact on ad tech — by industry
As our lifestyles change (at least for some time), our buying habits are adjusting and some industries benefit from this much more than the others. Numbers show that retail and travel have been hit the hardest, while technology, hobbies, sports, and beauty are getting increased attention. A notable growth is also observed in videos, gaming, and careers.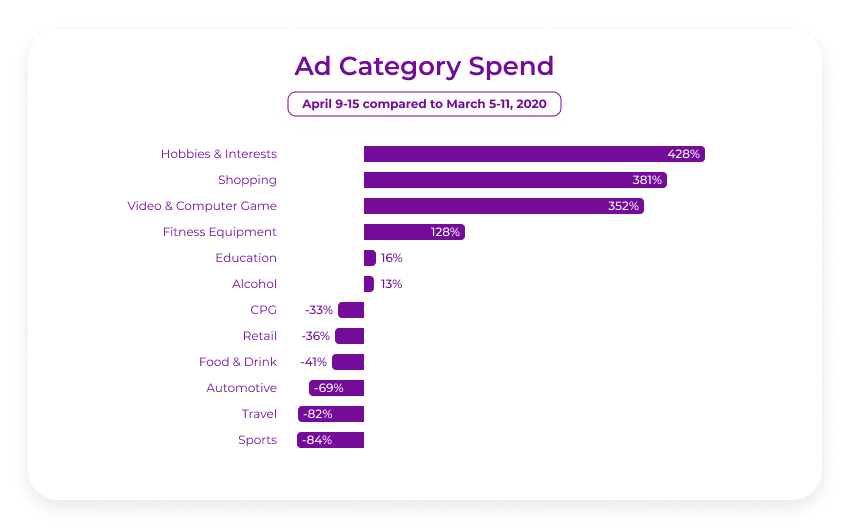 Grocery, especially shelf-stable items, is currently beating all records, as stockpiling behaviors are on the rise across many countries. Particularly, US consumers are mostly choosing rice, flour, canned vegetables and beans, dry milk, etc. The same works for grocery apps that show record numbers of downloads throughout the past months.A new May's report from Food Marketing Institute shows that 28% US consumers started to shop online more often as a result of the COVID-19 with 21% noting their first time online shopping within the last month.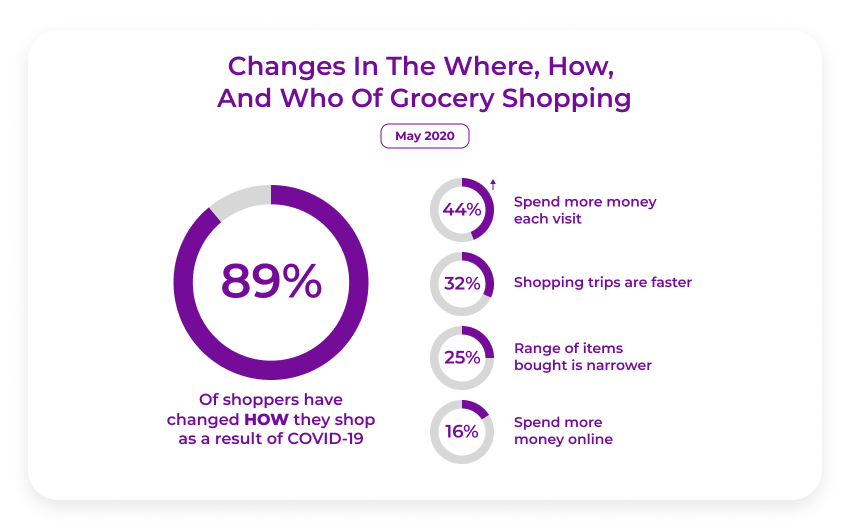 Video streaming is also getting an enormous increase in traffic and spend, especially when it comes to CTV and OTT advertising. Connected TV hourly viewership is booming, peaking at 17% increase week over week. The growth of international subscriptions for Netflix is going to surpass 30% and a similar trend is expected for other streaming platforms. The data from April confirms the trend again, as CTV viewership is on a steady increase across all dayparts throughout the last months.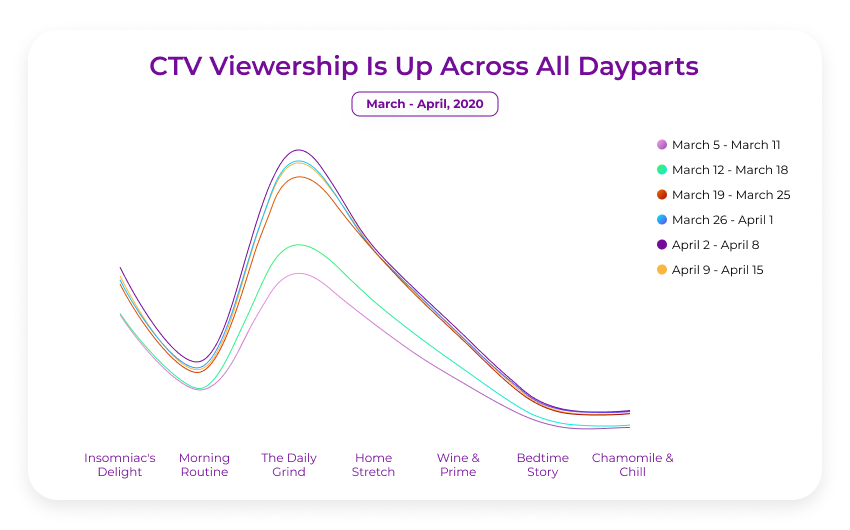 The overall amount of media watched is predicted to rise up to 60% and similar tendencies are expected for web traffic and social media. It is also reported that virtual private networking usage has increased by 34% which is often a necessary tool for remote workers. The same report reveals a 75% spike in online and mobile gaming. Notably, Steam gaming platform reports setting a record of online users in the last 16 years — on March 15th they attracted more than 20 million users and this number is steadily rising. Charts since the outbreak reveal that the number of users has reached almost 25 million users at the beginning of April. After a short decline it is now stabilised around its peaking values of more than 20 million users.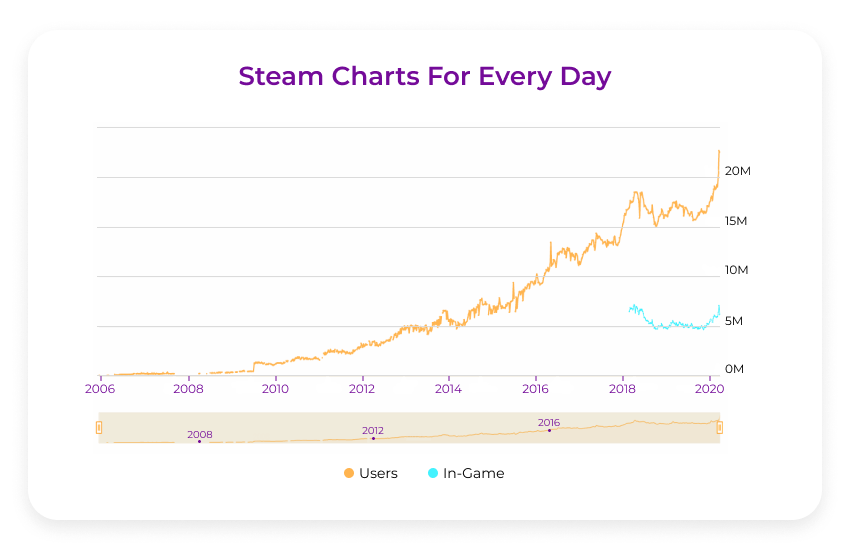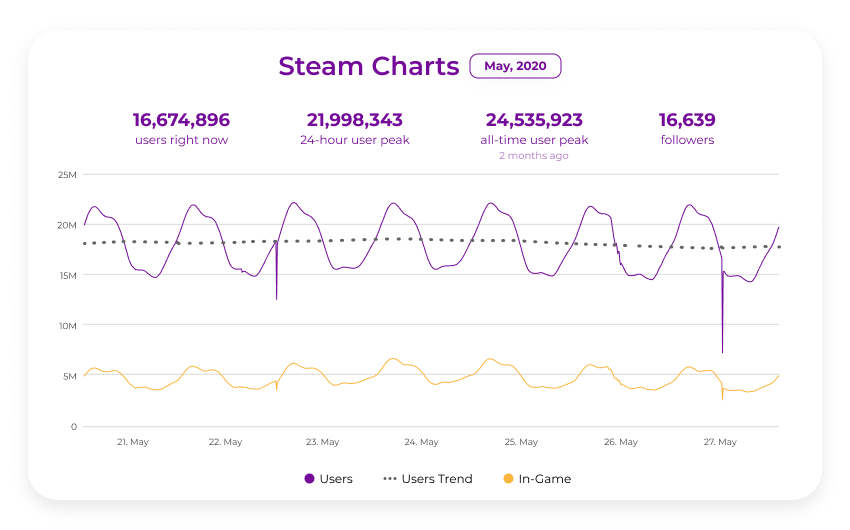 As we can see, most of the trends started by the pandemics are either strengthening or stabilizing, and are unlikely to change until the end of quarantine. At the moment, attitudes regarding how soon the economies should reopen vary from country to country, but the majority believe that economies will recover by the end of the year. In any case, a good practise for any brand now would be to continue monitoring local consumers' concerns and to respond to them with as much care and support as possible.
To conclude
Although it is somewhat early to make solid conclusions, SmartyAds team is constantly monitoring the situation to provide you with the latest insights. For now, it is best to adjust your digital advertising strategy according to the latest changes. Focus your attention on the growing channels, such as video advertising, connected TV and gaming; and avoid potentially unprofitable verticals for some time. Our team wishes you to stay in good health and a positive state of mind — together we can keep our endeavors successful.
And if you haven't yet signed up at our SmartyAds DSP — it is now time to open up to new opportunities and step into a growing industry of digital advertising!