To understand what this new trend is about, let us first explore what is header bidding and how it works. Header bidding is an advanced unified auction algorithm that provides publishers with an opportunity to increase revenues and make the inventory-selling process more efficient and simple. The idea behind this is to offer the same inventory to multiple bidders simultaneously before getting to ad servers, thus avoiding waterfall sequences, which usually give far less revenue to the publisher.
Because of its efficiency, header bidding is rapidly gaining popularity within the programmatic advertising industry - 79.2% among 1000 most popular websites used header bidding in 2019, according to Emarketer. Not only is it convenient for display advertising, but one can also successfully use header bidding technology for mobile apps, tablets, and now - CTV.
What the new trend is about
Header bidding, which started gaining popularity in 2015, is now getting its way to the connected TV. Emarketer reports that US connected TV ad spending is likely to grow 28% this year and is going to reach $10.81 billion by 2021. This opportunity couldn't go unnoticed, so a logical step for the header bidding technology and CTV is to finally meet - the potential benefits are very promising for many players in the ad tech.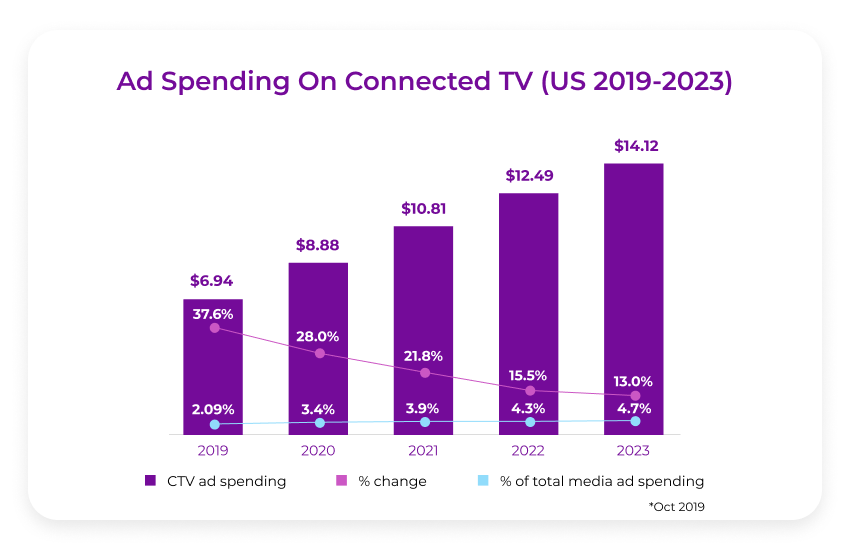 Industry giants, such as Amazon, FreeWheel, and The Trade Desk, noticed the potential of this technology and started to adopt it across CTV advertising. Companies like Disney, Comcast, and Roku started to bring their own solutions, while others like Discovery are currently experimenting, too. So, it is getting clear that header bidding is at the vanguard of industry development, and ad tech companies should be prepared to capture its benefits.
What this means for the industry
Most importantly, this trend opens up new opportunities for both advertisers and publishers to achieve huge benefits from programmatic. This ensures that the industry isn't going to slow down due to new regulations or other factors, which is a good sign. With header beading, every advertiser will be able to bid on any inventory at the same time, while publishers will have the opportunity to get higher revenue. Thus, they will no longer waste their inventory due to chaos that occurs during the bidding process.
"For all this time header bidding has been increasing the profitability of media trading across mobile and desktop channels, finally industry witnesses the moment when it enters the environment of connected devices. Furthermore, thanks to ads.txt launched by IAB in 2019, a great share of OTT and mobile digital sellers is now authorized - hopefully, very soon it will be applicable to the entire industry. This way brands will get a chance to explore the new ultimately profitable and safe ecosystem that drives better outcomes for both advertisers and publishers", says Ivan Guzenko, SmartyAds CEO.

The future
The good news is, that the future looks promising for programmatic media buyers and CTV publishers. There are some minor concerns left regarding inconsistency, as each company looks at this trend differently, and important details may vary depending on the enterprise. For example, some publishers may implement header bidding fully and let everyone bid, while for others, it serves as an additional layer between direct deals and PMPs. Another problem might stem from prices. For premium publishers, a new level of CTV media-buying automation powered by header bidding may cause an inventory price decline.
On the flip side, up until now, most inventory from OTT platforms has been available for direct sales only. Now, header beading can serve as an alternative that would open streaming platforms to a wider audience so that every media buyer could take part in the bidding process on a connected TV.
SmartyAds SSP provides various opportunities to implement header bidding to your inventory-selling strategy. Within our platform, you can choose this option for both mobile, in-app, and desktop inventories. As the trend is currently gaining momentum, we strongly recommend you to dive into header-bidding implementation now!
Want to check out more of the new opportunities for publishers? Contact our SSP team at support@smartyads.com
If you are an advertiser, you can already enjoy the benefits of CTV advertising on SmartyAds DSP. All you need to do is to sign up at SmartyAds demand-side platform, create your campaign, and start bidding.
Try SmartyAds DSP and be the first to get the most out of new trends!