Why is Mobile user acquisition more important than ever? Just look at the Google Play, App Store, Windows, and Amazon app stores altogether: there are more than 3.56 million different mobile apps and dozens appear every day. According to analysts, the number of downloads recorded in 2021 reached a high of 230 billion surpassing initial projections of 204 billion — this illustrates an unprecedented growth rate of the mobile application market.
The mobile environment is super competitive and app marketers have to jot down the working plan of how to set up user acquisition campaigns beforehand. If previously it was enough to build your own app, today barely 0,01% of applications manage to capitalize. This is why you should carefully think through user acquisition as a part of your mobile marketing strategy even prior to actual app development. What is user acquisition mobile strategy and how to make your app popular in App Store search and Google store search? Let's review the most popular mobile ad acquisition strategies.
User acquisition on mobile: factors that influence it
Before we get started, why is user acquisition important?
Mobile user acquisition measures how many new users you can attract to your application in order to convert them: make them download your app, make in-app purchases, fill out the form, subscribe to the news, or purchase the product or service. What makes user acquisition tricky: there are plenty of media channels to drive the traffic from but all of them should be suited particularly to the mobile ecosystem. With adequate resources company can diversify its acquisition strategy for better outcomes.
According to studies, up to 80% of new users who have downloaded and installed the application will uninstall it within the first three months after installation, and this is considered to be the norm. In this regard, before you think about user acquisition, you should raise a number of questions regarding how you will retain new users in the app.
Seamless user experience. The main task of the app owner is to constantly make sure that the application is optimized. For example, it loads quickly, doesn't consume too much battery, does not drag all mobile traffic. According to many surveys on user acquisition, downloading problems are most annoying for customers, especially new users. So we recommend that you pay maximum attention to this. An easy way to optimize the application is to listen to your target audience and regularly revise comments on the app page in the store.
The value you give to the users. The ultimate goal of any app developer is to increase app installs and make a profit. But monetization of the application will be possible only if you offer your audience a truly useful service. Therefore, at the app design stage, it is recommended to answer the main question: how will the application facilitate or improve the user's life?
Competitiveness. While developing a user acquisition strategy for mobile apps, think about the benefits you offer your customers, choose the key one, and bring it to the audience. Do they save time? Or do they reach a service they can't get with any other equal application? If the value is not obvious, the app won't be able to stand the competition and earn money. In this case, you can create a value proposition with advertising. E.g, if the developer allows app users to receive a ten-percent discount on each order, then most people who download the application will continue to use it — this is an obvious and understandable benefit for everyone.
You need to create a perfect balance in the app: on the one hand, do not let customers forget about your product and on the other hand, think about the user experience that doesn't pressure them into purchasing straight away. This short mobile user acquisition guide with examples will help you to get the knack for the most popular techniques and user acquisition channels used in 2022.
Mobile app user acquisition with ASO (or app store optimization)
Mobile app user acquisition strategy enabled by ASO is not going anywhere. This user acquisition strategy is still one of the greatest ways to attract attention to your application. App Store Optimization ASO is the process of optimizing the app store page of a mobile application in order to maximize its visibility and convert more visits into downloads. In many ways, optimizing the app store page resembles Search Engine Optimization — you need to select the right metadata and assets (icon, screenshots, title keywords) in order to rank higher than other similar apps to persuade new users that your app is popular and worth installing.
Essential elements of (ASO):
Application name (with keywords included in it).
Keywords (available only in the App Store, but for Google Play it's also good to have a semantic core that describes the functionality of your application and description of functions).
Subtitles (only available on the App Store).
Application description (indexed for direct search only on Google Play, but, of course, affects users of any store).
Icon
Video
Feedback and testimonials
Localization
Weblinks, etc.
If you prepare a user acquisition strategy for mobile apps, just focus on the most important steps:
Key page elements. Optimize the app store page for your target users: make research on top keywords and incorporate them into the title and subtitles, make an attractive and easily recognizable icon, craft a description keeping in mind that it should be interesting enough, yet focused on features. Certain apps also support videos, links, "what's new" sections, don't neglect these opportunities to draw more attention to your app. Here's an example: the weather forecast app owner added several weather-characteristic keywords to the name like "Weather Radar", "Hyperlocal Forecasts", and "Storm Alerts". Results? The app now ranks #1 in the Weather category and gets a great number of installs.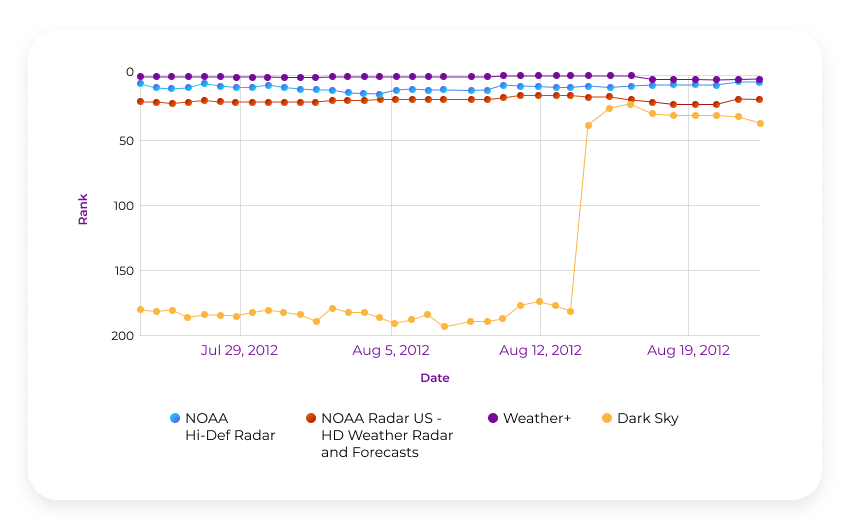 Localize the app. If you don't localize your app, you lose a significant part of the audience. Even if your application works only in one region and with one language (for example, English), you can make copies of the app page in different languages and thereby acquire users who speak other languages. Find out the keywords for each region and include them in localized pages.
Make changes regularly. In case you regularly improve pages in your app stores, you can understand which of them can influence the growth of your app. Make one change at a time in the app store and evaluate it (on Google Play, e.g, you can run built-in experiments with your app page). Experiment with one variability at a time to find out what factors influence your page position most.
Organic mobile marketing user acquisition
Organic mobile marketing user acquisition works especially well for B2C segment stores that know their target audience well enough. Organic traffic can come from various sources and channels: social media networks, website, etc., so don't hesitate to apply the following principles to maximize the effect:
Work with your website
Ideally, you should also optimize your landing pages and website for certain SEO keywords. When you launch a mobile ad campaign for improving user acquisition create a landing that will receive traffic and make sure that information on the creative corresponds to the information stated at your landing/website (e.g prices, coupons, dates, etc.). Doing this would ensure an efficient ad spend.
Don't focus solely on SEO. While optimizing your blog for search, remember that you shouldn't sacrifice the quality for quantity and the readability of content for keyword stuffing. First, you need to make sure that content is correctly rendered on mobile devices. After this, create a content marketing plan for the blog. Each piece of content should be written for a particular audience persona and should be of high quality. If you promote an app, you can create a blog that educates your user on how to use it just like Evernote once did (picture below).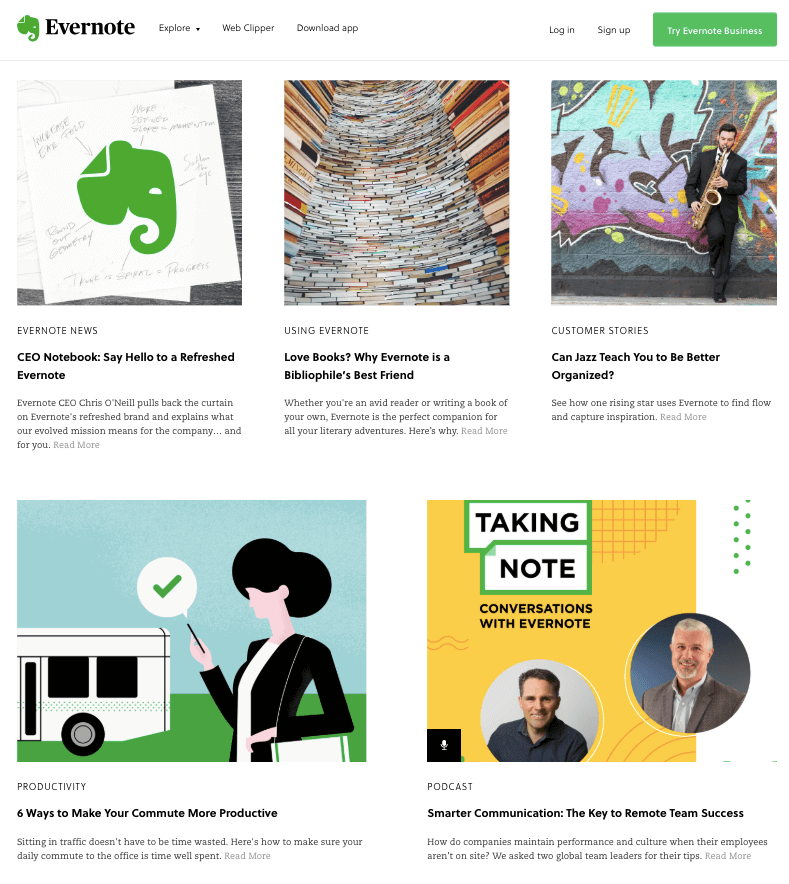 Optimize content with the right ad formats
Publishers who have great traffic volumes usually don't miss additional content monetization opportunities. Per each ad view accrued at their source, they earn from the advertiser's ad spend on a per-impression basis. Programmatic advertising technology is linking such publishers with advertisers. Using big data, programmatic algorithms personalize ad messages for every recipient so that it could be a win-win strategy for advertisers, publishers, and users (71% of consumers prefer personalized ads). Ensure that your programmatic partner is protected against ad fraud.
Remember that mobile ad formats aren't the same as digital ad formats designed for desktop, instead of browsers they appear inside of apps when the application is active. Developing in-app or mobile creative, don't forget to craft them in the right height, width, and resolutions. Include CTA and links in the banners to lead your audiences straight to the landings. Adhering to proven formats will help maximize ad spend and user acquisition. However, having lots of resources company can invest more money into campaigns and diversify costs across various formats and channels.
Mobile user acquisition with a platform for paid ads
If you search for a mobile-app user acquisition platform, you need to know what a DSP platform is. Through DSP, you can promote the app, product, or service on various mobile platforms and in various apps (according to the CPM revenue model). Advertisers can register at the platform and set up campaign controls. Then, through RTB protocol, the system will automatically bid on suitable inventory and show mobile ads to the selected group of users, at the right device and time. Likewise, advertisers can opt for programmatic direct deals to avoid auction and trade with publishers directly. The most important thing is to get the best outcomes for the least amount of ad spend.
Use targeting
Targeted advertising allows you to segment your audience by a large number of parameters, showing each group the ads that they can be interested in. For instance, ads featuring mobile gadgets can be shown to the audience that likes mobile games and so on. Targeting options will depend on the chosen DSP, for instance, SmartyAds mobile DSP is a true mobile app user acquisition platform, it allows you to target according to geo, GPS, IAB categories, gender, age, connection type, OS, browser, language, and device brand. Targeting also helps you maximize your ad spend.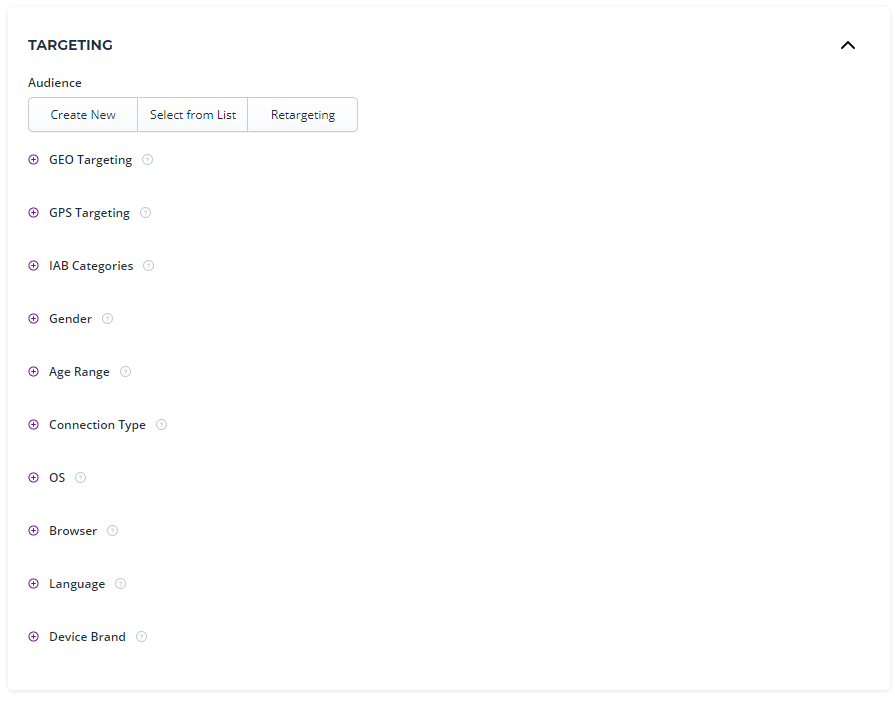 Diversify media mix with engaging formats
If your app is free, there's no better way to monetize it than with banner formats as they are most affordable, convenient, and can be supported by virtually any user acquisition platform for mobile apps. Another option is video ads. For a more detail-oriented approach, it is recommended to use a 30-second long video ad format since they drive 88,3% completion rates, longer ones will not be as effective. Video ads are generally a more preferred mobile ad formats. In a delivered survey on user acquisition, over 72% of customers said they prefer video ads to text ads.
Native ad formats are suitable for seamless, non-intrusive experiences. If your primary goal is engagement, go for rewarded video ads and playable interactive formats suited specifically to drive in-app engagement. Rewarded ads are popular and productive in mobile game video ad formats. For instance, a mobile game developer can serve rewarded ads to players who view these ads in exchange for more chances or in-game purchase units. Developers also utilize playable interactive video ads to give players a taste of a mobile game before downloading it. That's why video ads are used so often.
Use geo targeting
A good example of geo-targeting is Red Roof Inn hotels that launched targeted mobile ad campaigns near the airport to address arriving passengers as their prospective customers. As a result, the hotel increased sales and acquired new users by more than 60%.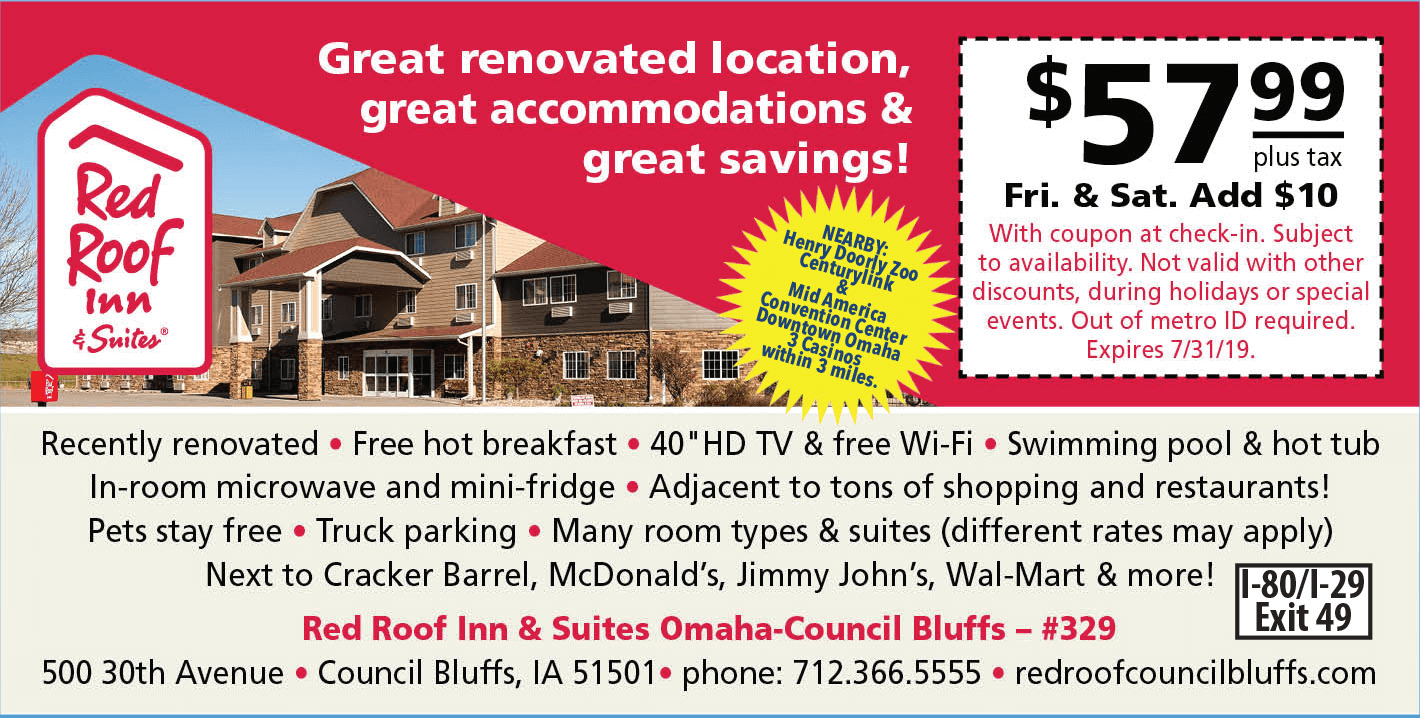 Use retargeting
DSP gives you a chance to apply mobile retargeting. It means that you can return and convert into customers those users that once visited your website but didn't buy anything and with a lower ad spend. Retargeting campaigns are also available at SmartyAds DSP. The best option is to start a campaign for example on desktop, and then, after some time, use the retargeting feature to remind old and new users about your product on the mobile device.
Retargeting also helps you maximize your ad spend while reducing the possibility of ad fraud. Because retargeting campaigns target confirmed visitors who have already visited your website or app, utilizing bots to commit click fraud becomes more difficult.
While engaging a DSP, you should be wary of ad fraud. Ad fraud wastes advertisers' money because impressions to bots are useless and never convert. Work with popular DSPs and adtech firms.
Mobile user acquisition strategy with influencer marketing
Mobile-app user acquisition strategy can be strengthened with influencer marketing as well. It implies that products and services are getting advertised through media personalities — opinion leaders — well-known blog owners, celebrities, vloggers, microbloggers, on social media.
Not only one person can advertise a brand on social media, but also an entire organization or the community that inspires people. The peculiarity of influencer marketing is that it does not look like direct advertising, the promotion is delivered in native format as a recommendation.
The goals that brands can pursue when working with opinion leaders:
increase brand awareness.
educate audiences (especially in the segment of IT and high-tech products).
improve search engine performance (when reputable sites link to your resource, this improves performance in search engines).
demonstrate complicated products in detail.
increase in the number of subscribers and involvement in the brand's social accounts.
increase sales.
eliminate or reduce the occurrence ad fraud
increase loyalty to the brand, etc.
Define the target audience. Again, the effectiveness of this mobile app user acquisition strategy boils down to a targeted audience. The most important thing here is to select the influencer whose target audience matches yours. If you run a family-run country hotel with a variety of activities for children, it's pointless to advertise at e.g video game channels full of youngsters.
Choose the platform. Twitter, Instagram, YouTube, Facebook, Tiktok, and privately run blogs — there are plenty of platforms where you can find a suitable influencer. The good practice is to map out beforehand where your audience spends time and aim only for those channels. A good example of this is Headspace, it grew user acquisition after teaming up with fitness experts Knox Robinson and Paul Karmiryan on Instagram.
Know how to measure effectiveness. One cannot single out some universal indicator in influencer marketing. Determine the goals of your marketing campaign according to which you will define KPIs: reach, the number of installs acquired, leads, sales made, and so on.
Acquiring new users with email marketing
An attempt to define Mobile-app user acquisition would be incomplete without good old email marketing. In fact, advertising emails can work 40 times better than Facebook and Twitter combined. Apart from this, emails can generate a higher percentage of link clicks when they are getting opened on mobile devices. While planning a mobile email campaign remember that emails are displayed differently on different device screens and in different applications. Therefore, testing your newsletter on iOS, Android, as well as other smartphones and tablets, is still a must.
Less is more. Try to make your message as short and clear as possible. The subject should not exceed 50 characters. CTA placement and pictures should also be optimized for mobile. For instance, Uber has increased its app user acquisition by 443% over just three years applying simple, clear, and concise email letter design.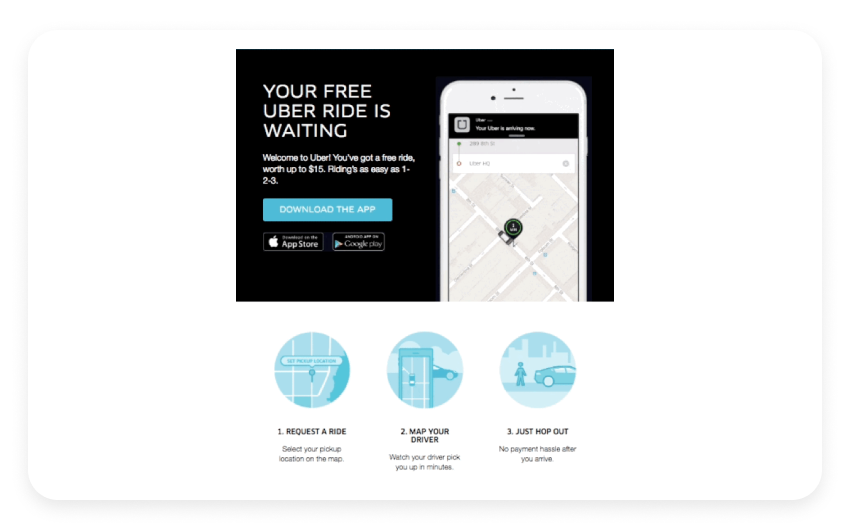 Personalization. Create separate lists for different segments of the audience. Given that most mobile applications have a global audience, you should definitely split and segment email lists for distribution by region. This will allow you to send letters to users timely. As well, you can segment by interests of your users and behavior data.
Incorporate deep links. If your users have not installed the app on their devices yet, a deep link will direct them to the appropriate app for instant installation. It's not only good in terms of user experience. The most important thing is that you will be able to track all your email retargeting campaigns using data that is tracked specifically via deep links.
Using invitations and referrals
According to a study on user acquisition, referred customers have a 37 percent higher retention rate, and 81 percent of consumers are more likely to engage with firms that offer rewards programs.
One of the fastest ways to drive user acquisition is by encouraging invitations and referrals. You can initiate referral programs where your existing number of users would be a part of in exchange for benefits and bonuses. Referral programs are very effective in driving user acquisition yet promote lower cost per acquisition. In a Nielsen survey on user acquisition, 92% of respondents revealed that they trust referrals and recommendations from friends. So imagine if you have 5 users who can bring in 2 other users and this new set brings in another two.
Reward programs should be beneficial: some developers initiate a referral program with no substantial value, or users would be expected to work extremely hard to get valuable rewards. This could be discouraging and drive low participation. Beneficial reward programs help to enhance the lifetime value of users.
It mustn't always be cash: go beyond offering cashback, you may offer discounts or limited access to premium services and high-quality content.
Referral programs should be friendly and accessible: Many existing users have a big audience on social media networks, so it should be easy for them to engage in referral programs. Users should be able to share their messages directly from in-app to other major messaging and social media channels.
Acquiring new users through referrals and invitations is one of the best strategies to grow brand trust.
Acquiring new users through demos, free trials, and freemiums
People always want to get a premium service for free, even if it's only for a limited time. Frequently, a user acquisition occurs right after a free trial period has ended. If you have a paid app or an in-app premium service, give new users a demo or a free trial.
Make sure that critical functions are available throughout the trial period, but the app users should be aware that it is for a limited time. Demos are extremely effective for user acquisition because they simulate the entire app's functionality.
Is user acquisition important?
So, is user acquisition important? The mobile app market is competitive. But notwithstanding the number of apps, the mobile user base is growing. In 2021, the average amount of time spent using mobile apps was 4 hours and 48 minutes, a 30% increase from 2019. Also, last year recorded over 220 billion app downloads, with the Google app store reaching over 110 billion downloads alone.
You have to be strategic and intentional about acquiring new users because here over 3 million other apps seek to get the attention of a growing user base. So user acquisition is important because:
It enhances conversion rates
It provides unrivaled insight into campaign performance.
Drives healthy competition
Promotes innovation
To sum up
There is no universal algorithm for mobile-app user acquisition but there are great recommendations, following which it is easier to develop an effective marketing strategy that takes into account the characteristics of the mobile ecosystem. Use this mobile app user acquisition guide to attract new users and create a positive impression of a brand. Also, remember that you can advertise in different mobile applications and different mobile platforms of your choice using a demand-side platform. Given the low cost per new user with the CPM model, it gets easy to maximize the value of each impression and convert visitors into customers. Apply DSP to maximize your user acquisition strategy!
Use SmartyAds demand-side-platform to attract brand-loyal mobile customers!