Digital and data-driven marketing can be tricky. Shoppers are getting smarter and less predictable - they use multiple channels throughout their shopping journey; they get information about the product from different sources (social media, website, email). You may never even see your real customers face-to-face. Therefore, getting that "consumer data" becomes very challenging, especially for marketing teams in small and medium-sized companies that don't have all the necessary resources for building effective marketing strategies based on big data.
Your customers expect you to know who they are, what keeps them up at night, what time they have breakfast at, and which brand of soda they prefer. Ok, that's an exaggeration, but it's true that consumers expect timely and relevant messages from marketers, otherwise they tag that ad, email, or newsletter as "spam" and get rid of it. Without a 360-degree view of your audience and precise analytics based on insights gathered both online and offline, there are no working data-driven marketing campaigns. The good news is, it only sounds so expensive and complicated, let's learn how to create data-driven marketing strategies based on simple procedures and affordable tools.
What is data-driven digital marketing?
Data-driven digital marketing involves using customer data for personalization and optimization of customer experience. In simple words, the data component is crucial for crafting effective creatives suited for every audience segment, targeting users on different channels, and making them more perceptive to your ad messages. According to the industry-wide survey held in 2019, optimizing the content experience and creating content for digital experiences were among the two most important opportunities marketers found in data-driven marketing.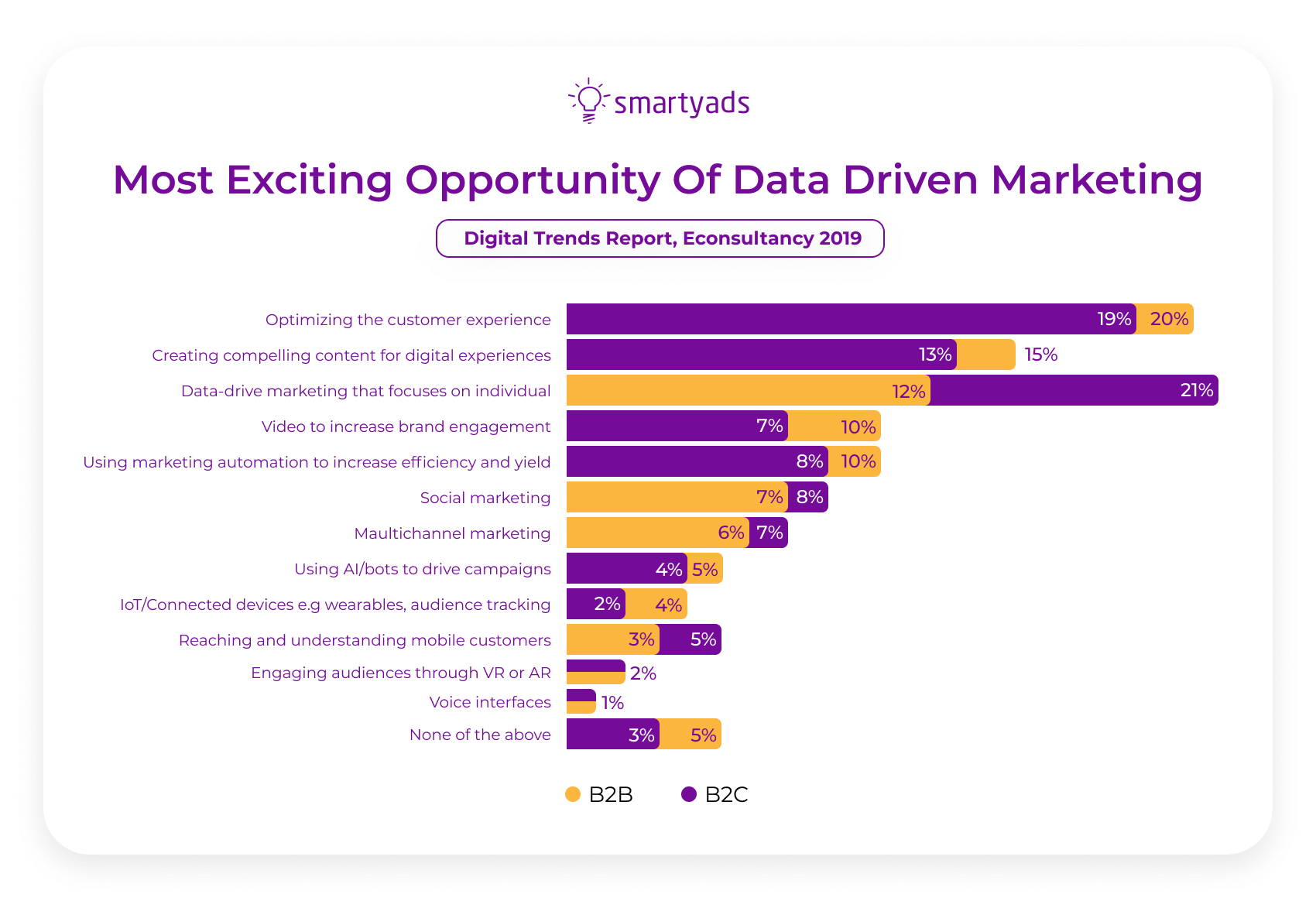 Benefits of data-driven marketing campaigns
Targeting (higher likelihood of purchase). User data is a fuel that empowers targeting solutions that single out only the right audiences and send them advertising messages (based on geo, language, age, and behavioral targeting characteristics).
Cutting ad spend. Data helps to show ads only to the targeted audience, thus, advertisers don't spend money on impressions to users that are unlikely to convert.
Relevance. Customer data makes advertising campaigns more relevant and memorable, which translates into better recall, engagement, customer retention, and conversion rate.
Challenges of building data-driven marketing strategies
Most marketers have a love-hate relationship with data. It may be possible that a customer hits 10 or more touchpoints before converting. Marketing teams may have all the views and click data at their disposal; it may still be unclear which advertising platform brings the most profit to the business.
Plus, organizations still suffer from the "information silos" when a database of one department is not integrated or incompatible with data of the other department across the organization. This leads to a lack of a unified view of the information, which prevents a company from making accurate decisions. In order to prevent ongoing confusion about how to analyze and put the data into action, marketing teams of small and medium-sized companies should apply data-driven marketing tools and strategies that enable independent and timely campaign execution.
5 data-driven digital marketing strategies for SMBs
Digital marketing data-driven strategies for SMBs don't have to require big budgets. Approaches and tools that involve the company's first, second-party, and third-party data can play a big role in developing robust and effective marketing campaigns.
1) Focus on a suitable marketing channel
Social media, email campaigns, corporate blogs, ads, CTV, or online ads? To determine which channel will work best for your business, you'll have to do a lot of experimenting at the beginning. Why? Because if you don't know which channels your target audience prefers, you risk dispersing your efforts across channels in vain. If you haven't accumulated enough data in your CRM yet, look up for industry trends and discover which channels are most preferred by users in the age/income group of your target audience.
For instance, younger generations: millennials and Gen Z give preference to social media like Instagram and Twitter, while boomers are more likely to respond better to TV commercials or Facebook ads. With this, you should also keep in mind the specifics of each channel. Instagram, for instance, will help you to demonstrate visual non-text-heavy content. If your product is complicated opt for detailed videos. In case you want to achieve seamless, non-intrusive promotion, you can opt for native advertising website recommendation widgets or sponsored posts.
2) Apply automation to afford omnichannel campaigns
Programmatic advertising can become a gold mine for brands that don't have big ad budgets and want to advertise on their own terms, without involving agencies. Algorithmic purchasing - the core of the DSP platform enables advertisers to upload the ad unit, define the advertising budget, set up appropriate advertising frequency, select targeting options, and automatically serve ads only to the users whose characteristics match the campaign criteria. Based on the gathered amount of data (cookies) ML and AI algorithms interpret whether the ad can be interesting for a particular user.
Worth to mention that brands can run and navigate several ad campaigns at once. What's even more important, one ad campaign can be focused on several channels at once: desktop, mobile, in-app, or Connected TV. With omnichannel reach, advertisers can hit their audiences across mediums, plus there's always the chance to remind customers about your product or service on different mediums using retargeting campaigns.
3) Fine-tune data management in CRM and DMP
Data-driven marketing campaigns won't go too far if you don't use unified storage for all kinds of customer data you collect. First-party data is still considered to be the most valuable asset of the company. First-party data includes information like social data, subscription data, data from actions demonstrated across your website, and so on. Usually, this type of data is stored in your CRM, but if you want to obtain a 360-degree view on your customers, you'd better combine third-party data, second-party, and first-party data in CDP or DMP.
The second-party data is provided by vendors and partners, whereas third-party data can be purchased and sold. These types of data are generated on other platforms and aggregated from other websites, exactly third-party data fuels targeting on demand-side platforms. When all types of data are combined in CDP or DMP, the brand gains a really strong competitive advantage. With more holistic consumer profiling and unique first-party data, a digital marketer can build targeting strategies unavailable for the rest of the competitors in the niche.
4) Personalize messages based on data
Personalization is not only important in content marketing, digital and programmatic advertising messages should also have a personal touch in order to be relevant. For instance, the ad unit that addresses the customer on their awareness stage should be different from creative that is shown to the user on the consideration stage of the customer's journey.
Sure, targeting on demand-side platforms is something that already makes ads relevant to the users as they see ads at the right time, on the channel, and gadget they prefer (all options can be selected in the dashboard). However, if they also see different messaging this encourages them to take action even more.
Data in your CRM, DSP, or DMP can help you to determine the perfect ad content for each audience segment. Crafting the ad unit don't forget to take into account the stage of the customer journey, the channels where the ads will be served, and the goals you want to achieve within advertising or marketing campaigns.
5) Track everything
Data-driven marketing challenges in small companies don't only arise from insufficient or excessive unstructured data, they come as a result of poor analysis. In order to implement a really robust digital marketing strategy, you need to constantly collect data about the performance of your campaigns: the viewability of ads, the number of clicks they generate, how the audience reacts to the creative, and so on.
Still, small brands don't have to spend big money on campaign analysis in case they use data-driven marketing campaigns automation. Technologies like programmatic demand-side platforms do these tasks for advertisers automatically. In the dashboard, you can generate reports on request and in real-time which guarantees that obtained results will be fresh and relevant at the moment when you need to apply campaign optimizations.
To sum up
Digital and data-driven marketing and advertising can become a reality for a small company that lacks essential resources for building entire data infrastructure. Even though SMBs can have absolutely different needs and niche specifics, today their marketing strategies can be easily put into action with technologies that revolve around data. With properly collected data sets and big data analytics systems you can get a better understanding of your customers, provide a better service for them, and improve customer retention. Finally, with digital marketing data-driven tools like SmartyAds DSP, your company can afford to launch independent self-operated advertising campaigns that optimize your spending and lead to superior advertising outcomes.
Register at SmartyAds DSP to reinforce data-driven advertising strategies!