A hypercompetitive advertising market gives little chance for small businesses to stand out: either you have to raise a price per click to compete or fall behind the status of a brand with strong advertising potential. What if your business also needs to enter new markets? As practice shows, advertisers typically think of high budgets as their one way to compete: more money - more clicks, views, and conversions.
Indeed, what's perceived as natural can be a blind approach that doesn't deliver expected results because it doesn't take into account important campaign details. Configurable campaign features on demand-side platform enable advertisers to adjust every campaign detail, each of which can be crucial for overall performance. By minimizing unsuccessful factors and maximizing success, campaign optimization helps to reduce advertising costs and increase advertising ROI in an alternative way. Let's discover how.
Choose a Creative Type
It couldn't be fair to claim that creative size directly impacts efficiency since each size may be best fitted for specific goals and platforms. While larger units may be seen as more memorable, smaller ones can have a broader reach since the majority of websites have slots exactly for smaller ad sizes. This means they will be seen by more people on desktop, mobile, and in-app. Plus, it is easier to integrate such creatives into the web pages.
The cost of advertising placement will depend not on the size itself but rather on the traffic geo and selected targeting options. The more detailed the targeting, the higher the price will be. However, it's worth pointing out that 'price-size' dependency can still be noticed when you work with video creatives. Thus, small-sized videos will most likely cost less than medium and larger ones.
You can choose advertising formats and sizes according to advertising campaign goals. This way, if you need to reach a broader audience and attract attention to the product or service - select standard static digital ad formats or rich media. Full-screen banners, video, and native ad formats will also work well for raising brand awareness.
If the goal of the campaign is to increase audience engagement, it will be a good idea to apply interactive rewarded ads or playable ads on mobile. However, the most converting format for a specific campaign may be determined via the A/B (split) test.
Never Stop Testing
When you start a new programmatic advertising campaign, it is fairly easy to manage and configure it. Still, the initial settings are pretty broad - from target audience segments to daily budget spend, frequency capping, and creative type.
Split or A/B testing is a marketing tool that helps you to compare an option with a variety of others and determine the best one. No matter what it is: a budget, creative, or CTR everything can be tested.
Main rules for testing creatives:
Test multiple ads per user segment
Each segment should not exceed 20,000 people
The test should be run at the recommended bid. Depending on it, your ad will be shown to a more or less good-quality audience.
Always set the frequency cap per user, which varies from 1-3 impressions per person viewing a large display banner sizes to 100 impressions per person for small resolution creatives in sidebars.
How to evaluate the effectiveness of tests? The first will be an indicator of clickability or CTR (click-through rate). The second is a conversion: clicks, downloads, sales, or other target actions. Single out creatives that performed best for each segment during A/B tests, and you're ready to upload them on the demand-side platform.
Select a Suitable Bidding Strategy
There are numerous pricing models, each of which has its own strengths and weaknesses. The most popular of them are cost per thousand impressions (CPM), cost per click (CPC) or cost per install (CPI). How to cut advertising costs by choosing one of these models? The task is to choose the one that suits you well.
The CPM model is considered to be the most affordable since you pay per 1000 served impressions instead of the clicks or installs performed by users. At the same time, to be effective, impressions need to generate clicks after they are served. This means the CPM model may work perfectly and save costs if your creatives are impactful and eye-catching enough to encourage user clicks.
The advantage of the cost-per-click model is high-quality traffic, as people who click on ads are already interested. Cost per install works best for mobile campaigns. The greater the number of users your app can accumulate, the greater the chances for it to attract the users willing to make in-app purchases and or pay for the full game version.
No matter what model you choose, the best results will be achieved with programmatic ad purchasing optimization. Programmatic media buying platforms automate the ad buying process and manage your purchasing activities and bid amounts with AI and ML algorithms. In platforms like SmartyAds DSP, 'Bidding Autopilot' automatically optimizes the bid amount to fit the optimal price and achieve the goal you initially set for an ad campaign (CPM, CTR, or CPI). Here's how it works.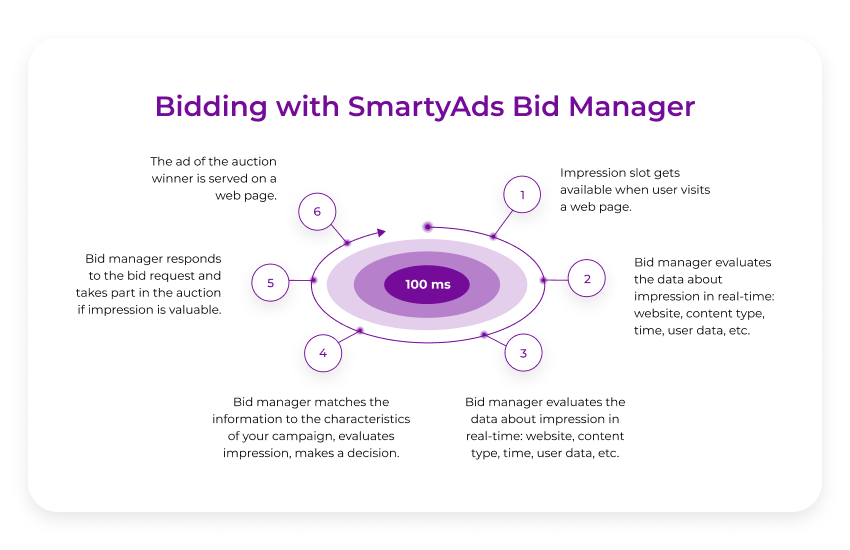 Cut Ad Costs by Extending Targeting
One way of building a custom audience is sorting the customers into segments manually according to the age group, country, language, device, OS type, etc. The other way to do it is to integrate a data management platform with your DSP. DMP is a centralized database that accumulates cross-channel audience data from a variety of sources and centralizes them in one place.
What does it add to the basic targeting options? Yes, a DSP already finds the right audiences by filtering according to the basic available targeting options on a DSP. However, DMP accumulates all kinds of data - 1st party data (brand's own data), 2nd, and 3rd party data (purchased user data from vendors). Access to these kinds of information allows the brand to significantly increase the accuracy of targeting and extend the targeting options: level of income, preferences, behavioral characteristics, and more.
Linking different channels of communication between the brand and the user, SmartyAds DMP also creates a perfect background for omnichannel advertising campaigns on DSP. Omnichannel campaigns, in their turn, allow you to showcase the brand differently but with the same overarching touch. A greater variety of options provides additional flexibility in communication with consumers - mobile, desktop, and in-app.
As well, with SmartyAds DMP, you can get additional traffic with look-alike modeling. The system searches for user segments with similar characteristics to existing ones and shows ads to them. This significantly reduces the cost per customer acquisition.
Note! The combination of various targeting options may work out well until it doesn't narrow down your potential audience too much. When you broaden your audience a little bit, you may find out that you can acquire twice or thrice as many users as you did before. In general, it is recommended to set up advertising campaigns like this: a few targeting options per campaign. Such campaigns are proven to work better. The bonus of this is that it will be easier for you to understand which kind of targeting option brought the best conversions.
Configure Additional Options
Dayparting. Dayparting basically schedules your ads and lets them appear on the screens when users are the most responsive to interaction with your brand. Applying a dayparting option on the programmatic platform, aim for several blocks of time instead of limiting the timeframe to a particular hour.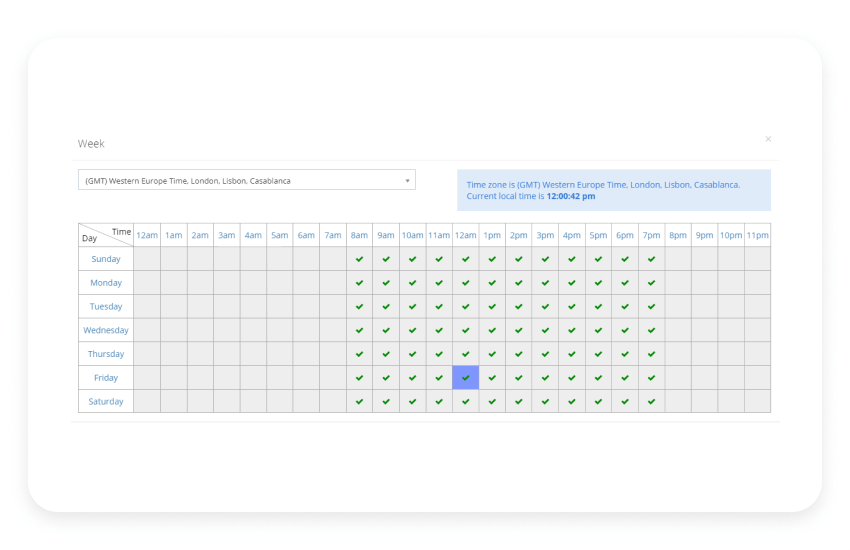 Set up a daily campaign budget. Configure a bar of daily budget spending lower than the funds featured in your account in order to prevent spending all advertising money in one day. A minimum campaign spend is approximately $100 per day. In the same way, you can set up maximum impressions shown before the bid stops (should at least reach 130000 impressions).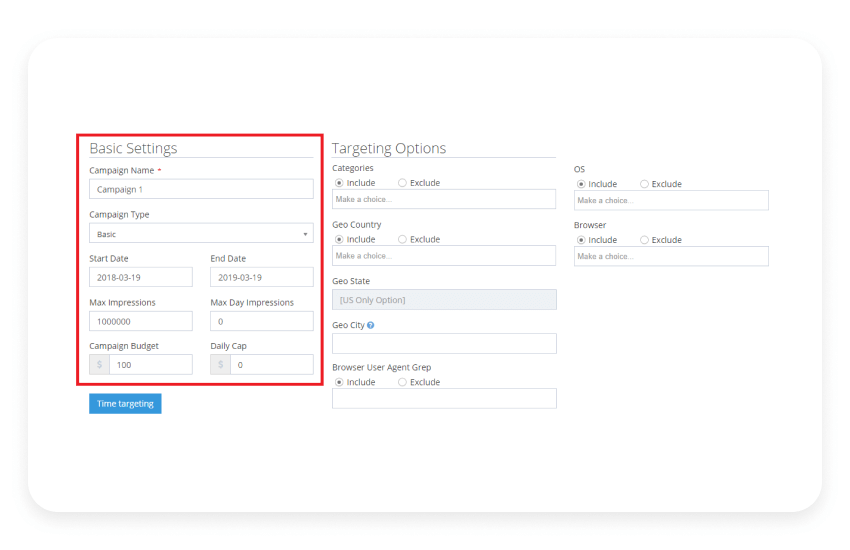 Frequency. The frequency with which ad impressions are served per unique user. Limiting this amount to, for instance, to '3', means one user will only see your ad three times a day. This function not only prevents overspending but also saves your audience from advertising fatigue and irritation.
Whitelist and blacklist filtering. In the previous post, we mentioned how to cut advertising costs by applying the Pareto 80/20 principle. Just when you reveal the domains that drive the largest part of your income, you can apply the whitelist and aim specifically for them. On the contrary, applying the custom blacklist will prevent your campaigns from ineffective ad placements by filtering the least effective domains.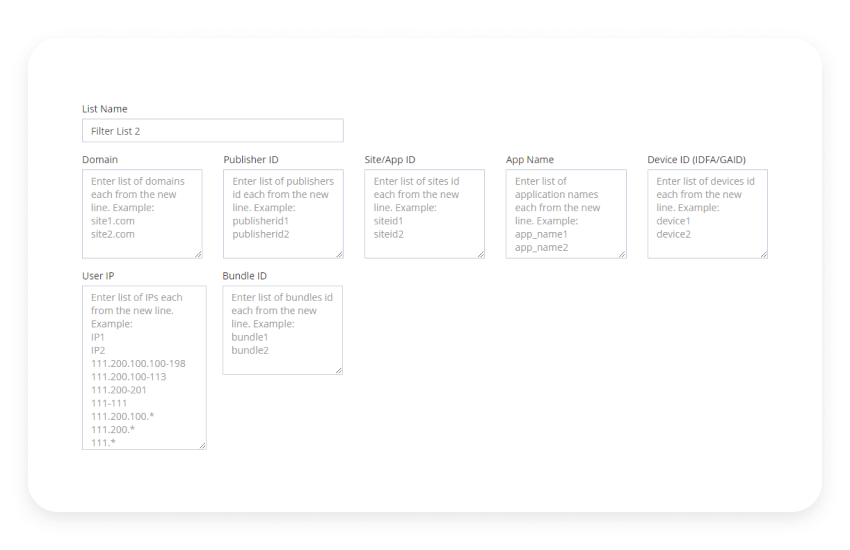 To wrap it up. In the space of ever-increasing digital competition, wise optimization of advertising budget becomes an advertiser's competitive advantage. Why? Because such optimization helps to make sure every dollar is distributed evenly and spent effectively. It doesn't only cut advertising costs but also elevates the engagement and memorability of the campaign.
The key factor of optimization success will depend on the capacity and functions of DSP technology. Even though it is hard to predict campaign success beforehand, it is possible to prevent it from overspending, placing impressions on irrelevant websites, and ad serving beyond appropriate limits on DSP. Exactly these things will guarantee your campaign's success in the long run. SmartyAds DSP equips advertisers, agencies, and media buyers with advanced tools for managing ad campaigns in real time. Once you decide to reduce your advertising budget or scale up your digital business, our DSP will provide you with optimal cost ad formats, flexible campaign controls, targeting options, and intelligent bid optimization to fuel your campaign growth.
Create your DSP account to access the best programmatic tools for real-time campaign optimization.