Xiaomi, whose market spans 200+ countries and regions with 280 million+ quality active users, has recently partnered with SmartyAds. The cooperation brings a new opportunity to our advertisers to reach unparalleled advertising outcomes. What is this partnership all about? From now on, Xiaomi is the direct publisher and the provider of the top-notch native traffic for our DSP. Advertisers will be able to purchase native inventory across apps and services that Xiaomi offers. Such inventory from one of the biggest tech providers promises more effective and efficient mobile ad campaigns. Let's dive deeper to see what this collaboration will bring to our advertisers.
So, why Xiaomi?
Xiaomi is a top 5 global smartphone player, whose market spans over 40 countries around the world. It is the largest smartphone brand in Western Europe with a 90.9% YOY shipment growth (2019 Q3). In emerging markets such as Indonesia, Brazil, and India, Xiaomi is also growing stronger. Apart from the world-class compatibility in hardware, Xiaomi is also a leading software and internet service provider. Its marketing platform provides advertisers with an opportunity to reach Xiaomi's users directly.
Xiaomi has forged a win-win monetization mode that benefits both advertisers and customers by integrating ads into its software ecosystem, that said, advertisers have more opportunities and approaches to reach customers and customers can enjoy a more interesting ad service that will satisfy their growing need at the same time.
What makes Xiaomi's inventory so attractive?
For the advertisers of SmartyAds DSP, Xiaomi's inventory represents a unique chance to access users across more than 200 countries and regions. On top of the great reach opportunity, they have a closed-loop of proprietary applications on Android as well as built-in services like MIUI, which provides a varied set of apps for advertising, starting from media players and ending with file management and games.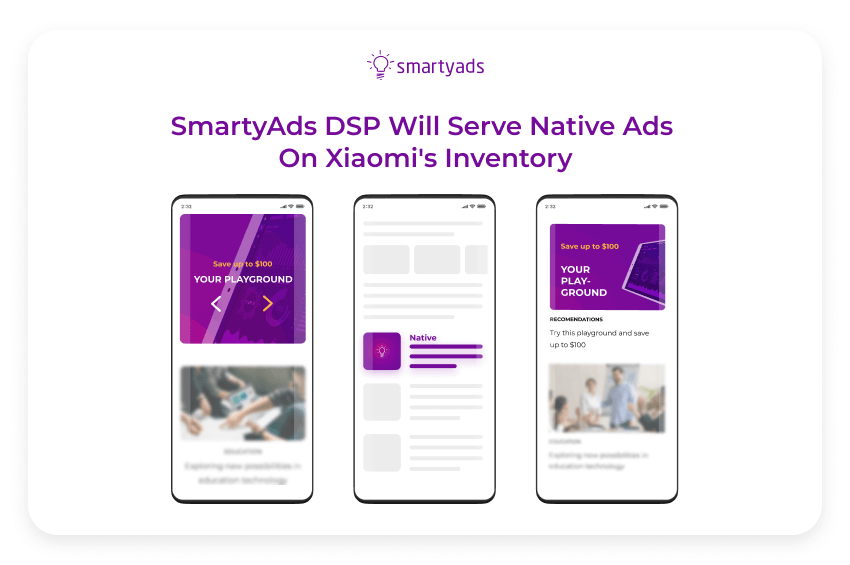 For Xiaomi, this collaboration will deliver perks and benefits to their business with the enhanced monetization opportunities. SmartyAds and Xiaomi are thrilled to let this collab a go as our companies are constantly striving to improve customer experiences and enrich advertising approaches (which should always be seamless, effective, and profitable).
To sum up
The partnership that we struck with Xiaomi is a collaboration with one of the largest global publishers and it signifies the next great achievement on our path to greater advertising reach. By partnering with such renowned traffic providers we ensure that we deliver the best growth opportunities for our advertisers. With this collaboration, advertisers will reach the vast ad inventory featured by Xiaomi. While advertising on Xiaomi's inventory, advertisers of SmartyAds will be able to raise effective and strong mobile native branding campaigns with a global reach and high viewability.
Ready for new traffic opportunities? They wait for you on SmartyAds DSP