In 2020 SmartyAds officially announced the separation of Smarthub - one of the most cherished products in the line of white label solutions. What was the reason for that? As was reported earlier, the technology was acquired by Deox Soft Corp. By now the product became really competitive on the market, and since it gained a solid reputation and weight among other known ad-tech solutions the best decision was to turn it into a standalone business and let it grow and develop independently.
Today we decided to let you peek a little behind the curtains in order to understand what capacities and unique possibilities are hiding under the hood of the white label ad exchange solution. What is white label ad exchange and how it helps brands to raise their own proprietary businesses easily and as quickly in one month - about this read below in detail.
Why we need white label ad network or exchange in the first place
Digital advertising is booming but programmatic digital advertising is what drives this growth the most these days. Programmatic platforms use cookies to determine who should be shown the ads and such targeting makes ad serving precise and relevant that translates into high conversion rates. In the U.S alone programmatic digital display ad spending is expected to reach unprecedented levels. In 2020 online ads bought programmatically will account for $68 billion and by 2021 it will reach a whopping $79 billion.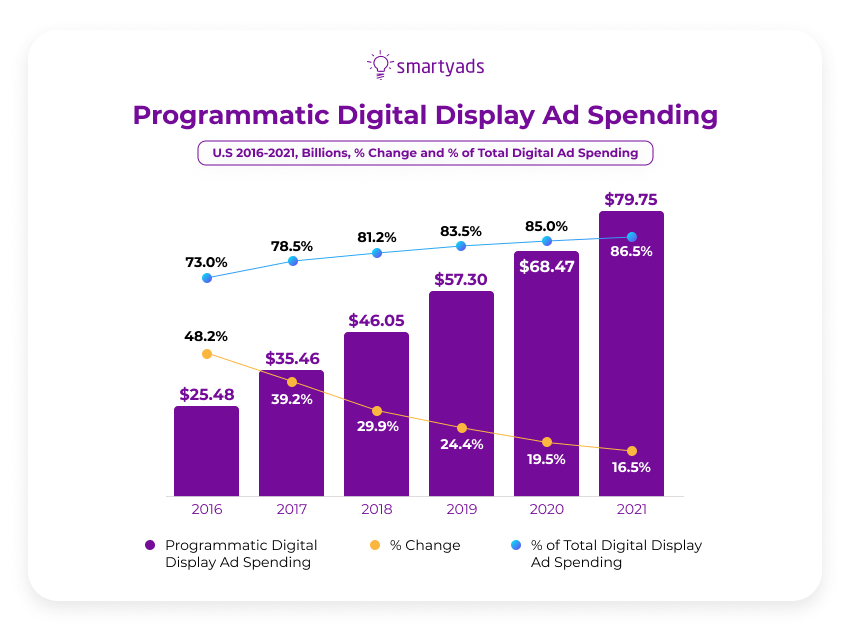 The overall global spend also shows impressive numbers meaning that programmatic advertising is on the rise and will still be actively developing in the near future. With programmatic media trading, the demand side can buy ad inventory automatically, in real time. More importantly, advertisers can choose suitable ad formats, channels, budgets, and deliver the ads only to the narrow demographic niche. Supply-side, meanwhile can automatically sell inventory without remnants.
At the same time, programmatic buying has been continuously overshadowed by such issues as insufficient transparency: the hidden margins and commissions are not always easy to track in the systems that reached this level of automatization. As well, media buyers and sellers around the world have been pointing to the problem of digital advertising fraud that takes away millions of dollars yearly.
The need for transparency and accountability. Bringing programmatic in-house is something that appeared as a natural reaction to these threats. The evolution of digital advertising gave a big push to in-house programmatic. Big brands like Netflix, Kellog, Unilever started shifting their programmatic purchases in-house to continuously protect their inventory and shed away big chunks of commissions they previously paid to third-party ad tech vendors. With the great determination to bring programmatic in-house smaller companies have been struggling with finding resources. Bringing programmatic in-house is affordable for big brands while the smaller companies found their capacities and resources insufficient for building and maintaining ad tech platforms from scratch.
Independent ad tech and white label. Since digital-media ad companies kept striving for independence this need has been stirring the development white label solution concept - the model according to which businesses purchase a ready-made technology from a renowned provider (and brand it as their own). What does white label mean in business? This isn't the same as buying and rebranding the existing and positioned advertising platform. White-labeled advertising and marketing products undergo minor customizations, on-demand integrations, and adjustments to the client but the core is already prebuilt, which in turn, simplifies the installation process and greatly reduces the prices.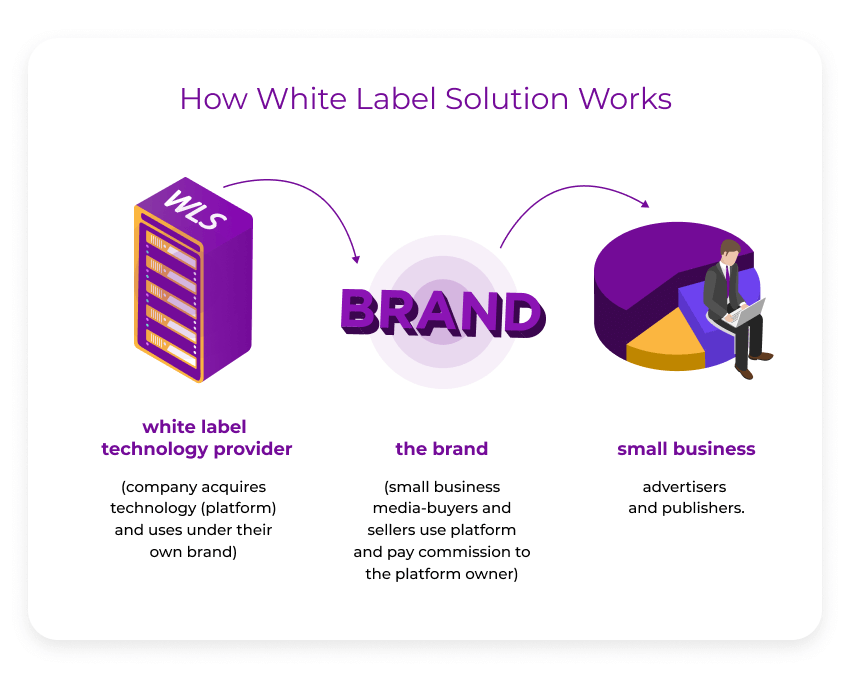 How white label is different from other business models. If you buy let's say a white label ad exchange this means that you can label it as your own and work as a reseller of services. Unlike with a franchise, you become a business that raises, grows, promotes, and markets its own ad tech solution independently, without attachment to the technology provider. Such a platform is fully hosted, continuously maintained, improved, and scaled to match the client's QPS capacities. In other cases (building a platform from scratch or buying an existing one) the mentioned work would require keeping in staff the team of developers, which is not economically justified when you rarely need fundamental adjustments.
Some ad tech providers go further and offer outsourced teams of ad ops, account managers, support representatives, and sales to commission entire client servicing and business development to professionals. For the programmatic newcomers that lack experience and knowledge in the area, this also appears to be a viable solution as it enables them to enter the market with a new completely serviced ad tech product and seize the new opportunities before their competitors.
What is White Label Ad Exchange?
What is white label ad exchange and how is it different from the ad exchange that you build from scratch? In the nutshell, white label ad exchanges or ad networks work as regular market solutions. The difference is, when you buy a white label ad network or exchange, you get the entire platform, not the separate account with a dashboard through which you can trade with other publishers and advertisers. Thus, you become the owner of the platform, you can include and exclude demand and supply partners, mediate the traffic, establish the media-trading rules, terms, and set up your own commissions (capitalize on the traffic that you resell).
In other words, you receive a working mechanism that enables you to extract maximum value from traffic when you match the right demand with supply. It gives you the chance to create an exclusive network that has only trusted partners, the right kind of inventory, and a fraud-resistant advertising environment. It is possible to create your own ad network or exchange from scratch but the fundamental reasons why companies prefer to do it through white label all boil down to the following points:
Saving time: the installation and configuration take less than 1 month.
Scalability: white label platform can scale up to your growing business anytime.
Maintenance: the platform is continuously maintained by tech professionals.
Quality guarantee: unlike technology from scratch, white label exchanges, and ad networks are tested and time-proven which is a guarantee of bug-free smooth functioning.
Saving money: ready-made tech core always makes solutions more affordable than separate coding, designing, licensing, etc.
Human resources: no need to hire developers and tech professionals in staff: fixes and improvements are made in the background mode and without affecting platform operation.
Other cases when brands need white label
Worth pointing out that companies often go for white label ad exchange not only when they need to start a new ad tech business or quickly deploy the new ad tech product. They apply white label products like this for a whole lot of different reasons. For instance, another area of application of the white label ad exchange is when a company already has an advertising business and simply wants to join the real-time bidding network quickly and effortlessly. White label is relatively risk-free if compared with other business models, so companies that have other businesses can also venture and try their chances in advertising.
In the same way, the business owner may want to launch their own marketplace in order to succeed in traffic mediation, to broaden support of various digital ad formats (CTV, video mobile formats), or to integrate partners they want by VAST, XML, or other connection types. Note: each technology provider working according to the white label business conditions offers services according to their own terms, let's see what services clients receive with SmartHub.
What is SmartHub and what makes it special?
SmartHub is a white label ad exchange solution that turns the building of ad tech platforms into a matter of weeks. With this kind of technology, you can enter the new ad tech markets and achieve profitability in a few weeks. How does it become possible? The thing is, SmartHub is equipped with a variety of functions each of which can be used for traffic navigation and optimization. Applying them platform owners can establish their own trading conditions, redistribute the traffic correctly, and channel more of it towards the demand side that needs this or that particular type of traffic. This way the DSPs will bid more on requests coming from SSPs, in turn, it will generate more viewable impressions and thus more revenues. The marketplace will grow more profitable and the platform owner will earn higher commissions. The same effect can't be achieved with any other given ad server or platform because development, installation, and integrations normally take a lot of time, the time within which SmartHub owner already reaches the point of profitability.
How SmartHub white label ad exchange facilitates market entry?
With minimized risks, budget, and time spent, companies obtain all the benefits of the while label business model, however, SmartHub capacities go beyond that. Fully hosted and maintained SmartHub is truly flexible - the ad exchange core of it is prebuilt, which makes the installation quick and affordable, still, the integrations can be adjusted to every client. This way every company can obtain advertising technology that is easy to manage, control, and adjust according to their own KPI.
The Ad Exchange helps you to integrate partners selectively and generate the maximum value from good traffic, the quality of which is constantly monitored by safety scanners. This way for the companies that already have an assembled team of verified partners for integration SmartHub appears to be the number one option that significantly streamlines and simplifies ad tech niche entry.
Every company can launch an open RTB-based marketplace that maximizes ROI leads to transparency and ultimate brand safety. Worth pointing out that SmartHub is not only beneficial for the platform owners but also for their demand and supply partner network. By using SmartHub, each integrated partner can achieve additional opportunities, such as increased transparency, system accountability, and unparalleled safety of the privately operated network. For the supply side, such a solution guarantees a better media-selling environment that enhances inventory value and translates into higher CPM from served ad impressions. Demand-side meanwhile gets more suitable traffic that easily converts.
Making technology and people work as a single unit
What is white label ad exchange from a technological standpoint? Let's review some of the capacities of SmartHub in order to understand the specifics of the operation.
Technology and features. SmartHub is an RTB-driven programmatic marketplace that runs according to the second-price real time media-buying auctions. Media purchases are enabled by the open RTB, VAST, and XML partner integrations.
The platform features include precise targeting, strong RTB bidder, real-time traffic analytics (incoming and outgoing) general stats, white/ blocklists, traffic scanners, 24/7 fraud protection, and a variety of ad formats (video mobile, rich media, desktop, in-app, mobile web, CTV, banner ads). The platform has an in-built system that analyzes what DSPs' bid on to monitor what kind of traffic DSP bids. For instance, the more DSP bids on certain GEO, the more of this traffic will be sent to this DSP (system takes into account traffic format, traffic type, traffic quality/security, domain/bundle, country, size, connection type, OS).
Along with this, the system can aggregate requests and responses logged during a particular period, automatically analyzes bid floors, popular geos, traffic sources, and uses this information to notify the owner about potential issues or problems. By using the reporting option, the owners can investigate which sources have the lowest bid rates or which ad formats generate the greatest profit to optimize the network in the future.
People. Own technical infrastructure built since 2013 helped our company to accumulate essential experience and expertise for creating robust on-demand technology for our clients. Such an advertising ecosystem also provides additional traffic advantages at the point of partner integrations. Product managers, full dev support, server infrastructure support, ad operations, and training support - all these teams take part in the client onboarding which streamlines the process and removes the stress associated with adopting the new technology.
Specialists assist the owners with full dev support, technical support during integrations, UI personalization, and third-party data-provider integrations. Additionally, the team provides ad operations support, training, and continuous dedicated post-purchasing assistance. For those companies that plan to find a servicing and operation team to work with their clients, SmartHub also offers outstaffing ad tech services in order to ease the process of finding narrow niche programmatic employees and to speed up market entry. These professionals organize the trafficking of ad campaigns, optimize their flow, support and consult the clients, and collaborate with the rest of the team on a daily basis.
Results: what companies end up with after SmartHub launch
SmartHub consists of all-sufficient components for new ad tech entry, it enables companies to start a new business quicker than any other solution or ad server. Case study with Raqoon media illustrates that SmartHub has helped the company to achieve payback in 2.6 months and get 262% revenue growth (with 147% ROI growth). The installation and tuning took one month. The company quickly migrated from other technology to SmartHub and saved all their partners in their own self-branded marketplace environment. This way Raqoon media could generate maximum value from their traffic partners, plus, they secured the ecosystem from fraud and obtained complete accountability over the internal processes and media trading.
Their platform is now able to serve billions of ads monthly since they initially selected suitable supply partners and the demand. In other words, the demand was ready to buy those types of inventory that sellers had to offer. By leveraging Smarthub functionality the company could better match supply and demand and achieve greater trading outcomes.
With this, it would be safe to say that white label ad exchange like SmartHub appears as a viable response to programmatic limitations. Let's sum up in bullets what results from companies can count for after installing SmartHub:
The ability to enter the market in less than a month and thus achieve profitability quicker.
The chance to save up on platform building, designing, licensing also helps to simplify the process. No risks to compromise the quality of the product.
The chance to control how the inventory is sold in the marketplace, who buys it, for what price, in which categories, etc.
The ability to shape traffic volumes and encourage more deals within the marketplace, which increases profitability.
The chance to get an ultimately safe trading ecosystem: all partners are known, best world-class scanning systems connected, inventory and seller authorization standards supported.
Security standards ensure safety and protection for user data. GDPR and CCPA friendly data processing mechanisms.
Each company can establish its own advanced trading rules, conditions, and commissions.
As the business grows and the number of served impressions increases, every company can scale up the platform to the right QPS.
The last word
White label ad exchange is a new generation solution that is currently disrupting the online advertising market with its simplicity and affordability. Thanks to the advanced functionality, customer support, and multilayered deeply individualized strategy companies can set up the new business and quickly capitalize on it. The platform owners finally achieve full transparency of programmatic media buying and selling but what's also important they can continuously navigate and optimize the traffic volumes and create favorable trading conditions for themselves and their partners.
Go straight to business in just one month, set up your white label solution with SmartHub!