The arrival of fall 2023 ratings on G2 brings us great pride as we maintain our distinguished status as a high performer among best-demand side platforms year after year. Earlier this year, we were honored to earn a similar title of the winter and spring's high performer, and overall, throughout the years, SmartyAds DSP kept winning this title thanks to the love and devotion of our customers who highly praised our technology and provided us with positive feedback.
G2 stands as the globe's preeminent and most relied-on platform that eases the process of software selection for businesses. Embraced by over 80 million individuals annually, the platform empowers smart software choices through peer reviews, ratings, and comparisons.
We extend our heartfelt gratitude to all our advertisers and media buyers who invest their time in sharing reviews of SmartyAds DSP and the experiences they receive with it. These contributions offer our team and other buyers priceless perspectives. Let's now spotlight some key takeaways.
How SmartyAds DSP captured the title of the high performer this fall
This fall is really rich with events and awards for us; just recently, our DSP won the Best Buy-side Platform title at VideoWeek's EVA Awards, while the company's team of account managers was also acknowledged as the Best Customer Service provider at the ceremony.
As well, for the third consecutive year, SmartyAds DSP has proudly secured its position as a high performer on G2. G2 employs a meticulously crafted methodology, grounded in specific calculations and evaluation criteria, to discern and feature the winning products in its reports.
By visiting SmartyAds' product page, you'll find G2's assigned rating derived from authentic customer feedback. On the SmartyAds page, we can immediately see the aggregated rating that illustrates the strongest features of the platform, such as notifications, geo-targeting, in-app ads, and more. According to user ratings, our DSP is highly praised for ease of use and quality of support – these defining features aptly characterize SmartyAds as a leader in the niche as exactly for those strengths, we were recognized at Videoweek's EVA awards.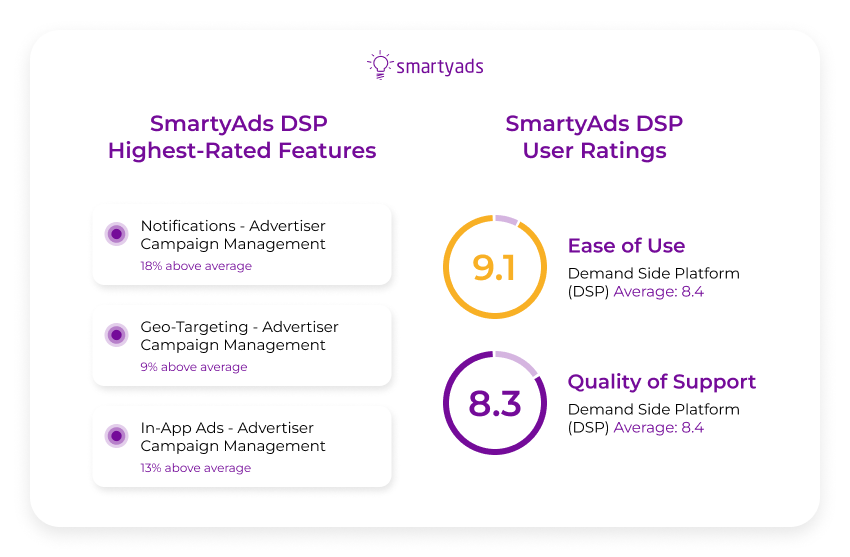 G2 ratings comprehensively gauge customer satisfaction with both the overall product and its specific features. Additionally, they take into account vendor size, market share, and social impact for a well-rounded assessment.
G2 also facilitates user decision-making through convenient comparison grids, streamlining the process of evaluating software options. Thanks to this functionality, it gets easy to discover where each platform excels and what are the strong features of it compared to other options. This way, in one of the comparisons, we've discovered that SmartyAds DSP is particularly strong when it comes to:
Media cost optimization – convenient and smart budget allocation, optimization rules (custom-adjusted traffic selection rules that let you prioritize only efficient sources while excluding those that perform not so effectively), click booster, CPM adapter, and other functionality make the media buying on the platform ultimately efficient;
Targeting. With a diverse range of targeting capabilities, pinpointing the ideal audience from a larger pool is effortlessly achievable. SmartyAds DSP boasts strong targeting options, incorporating geo-targeting, retargeting, and dayparting. This suite of tools effectively refines your search, ensuring you address the right audiences on the right screens at the optimal times;
Ensuring quality traffic and safety. By integrating with esteemed partners such as Pixalate in addition to leveraging our own custom in-house tools, SmartyAds safeguards DSP and mobile DSP platforms against ad fraud. This safeguarding effort directly leads to enhanced viewability and cost-effectiveness for advertisers;
A wide array of ad formats. SmartyAds DSP offers extensive support for diverse ad formats, including video, display, in-app, native, CTV, audio, and even DOOH, establishing itself as a comprehensive omnichannel solution.
Be a part of our journey
With immense enthusiasm, we conclude that it has been an exceptional month for SmartyAds. These G2 and EVA accolades stand as a testament to our unwavering dedication to customer satisfaction, and we remain steadfast in upholding our reputation for delivering impeccable tech platforms, outstanding support, amazing service, and beyond.
Your voice is crucial to shape the future of our products and services. Once you've tried out our platform, we invite you to share your journey. If you've experienced working with SmartyAds DSP and wish to share your feedback, please visit our G2 profile. If you aren't with us yet, register now and witness the ultimate potential of automated media-buying powered by programmatic.
Want to advertise with impact – register at our industry-recognized award-winning demand-side platform.