The further digital advertising advances, the more media buyers realize that using social media platforms is not enough.
Because of this, marketing news is overflowing with new advertising formats like digital audio ads or in-game ads, and media buyers are rushing to try them out to see how much they will affect their brands' revenues.
One important and relatively new format and channel for advertising is OTT, or Over The Top.
What is OTT?
OTT (Over The Top) is TV or video streamed directly over the Internet. Users do not need to pay for traditional cable or satellite TV services to access OTT content.
This content can be watched on various devices: tablets, phones, laptops, PCs, TVs, etc. OTT videos are streamed or available on demand.
Examples of OTT services:
Netflix, Hulu, and Amazon Prime. Many media outlets, networks, and media-buying companies, such as Disney+ and NBC's Peacock, are also launching their own OTT services.
However, don't mistake OTT for another popular trend in TV development — CTV (Connected TV). Connected TV must have a device to stream the video or show. Let's explore it a little more closely.
Read more about Connected TV advertising and marketing here.
How are OTT, CTV, and linear TV different?
OTT Over the Top
OTT is a side service of broadcast TV and video content (usually live or on-demand) offered by Internet service providers.
CTV Connected TV
CTV or Connected TV is an Internet-connected device that the customer uses to watch TV and video online: a Smart TV, a game console, etc. Such connected TV devices are used to display Connected TV ads.
In simple words, a Connected TV device can broadcast OTT content, but Connected TV is not the same as OTT.
Connected TV devices and OTT content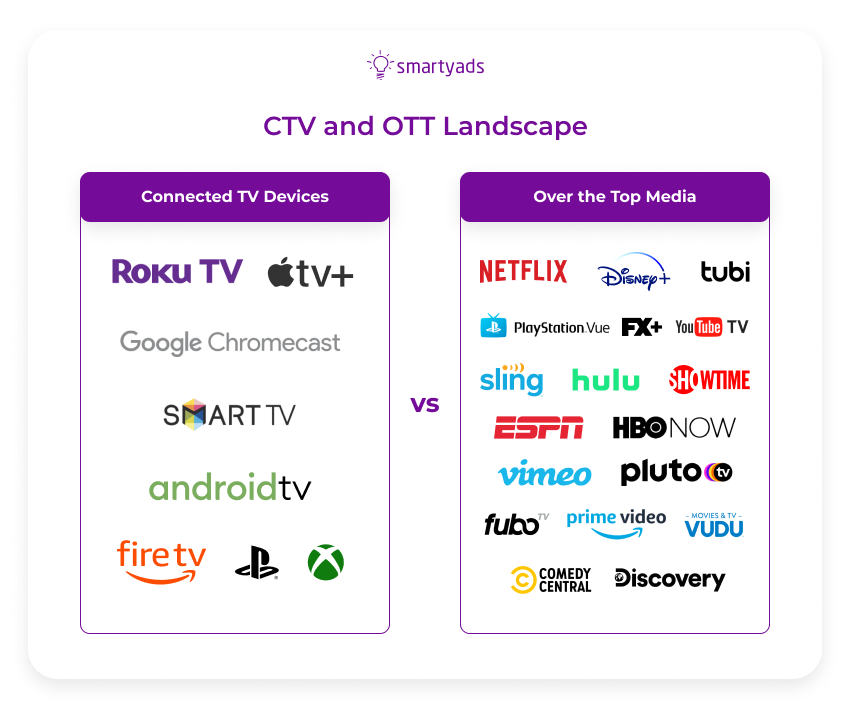 Linear Television
Linear TV is a classic television with a schedule of programs broadcasted on specific channels. To watch linear TV, you need to use an antenna or pay for a cable/satellite TV connection.
About 200 million people in the U.S. use ad-supported streaming services.
America is the second largest AVOD market after India, where more than half a billion users watch video content for free thanks to CTV and OTT advertising.
The differences between OTT, CTV, and Linear TV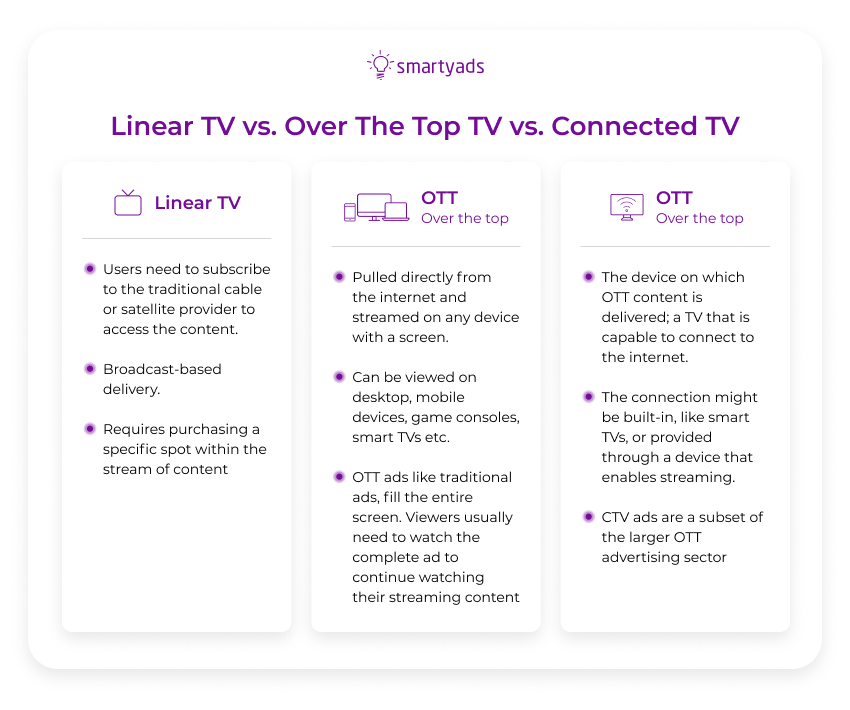 And some more numbers
8 out of 10 AVOD service users also pay for SVOD platforms, and 7 out of 10 use pay TV.
Wait, wait, what is AVOD, SVOD, etc.?
Would we scare you too much if we told you there are also TVOD and MVPD? We hope not, because we promise we'll explain it now!
Transactional video on demand (TVOD)
It's working on a Pay-per-view system. Payment is made for specific content, such as a movie. Some examples are iTunes, Google Play, Vudu, and Vimeo.
Advertising Video On Demand (AVOD)
You can watch videos for free, but you'll also have to watch advertising messages. Resources with free streaming content use built-in advertising integrations.
It is a huge playground for advertising and marketing activities, where digital media buying can be set up automatically (thanks to programmatic technology).
With this, businesses can personalize ads and commercials for different audience segments.
YouTube, Twitch, TubiTV, Hulu, Pluto, and Crackle use this principle.
Subscription Video On Demand (SVOD)
The user can avoid watching advertising messages if they pay for this option. Privileged access is given to those who don't want to watch ads.
This is how Netflix, Disney Plus, Hulu Plus, Amazon Prime Video streaming services work.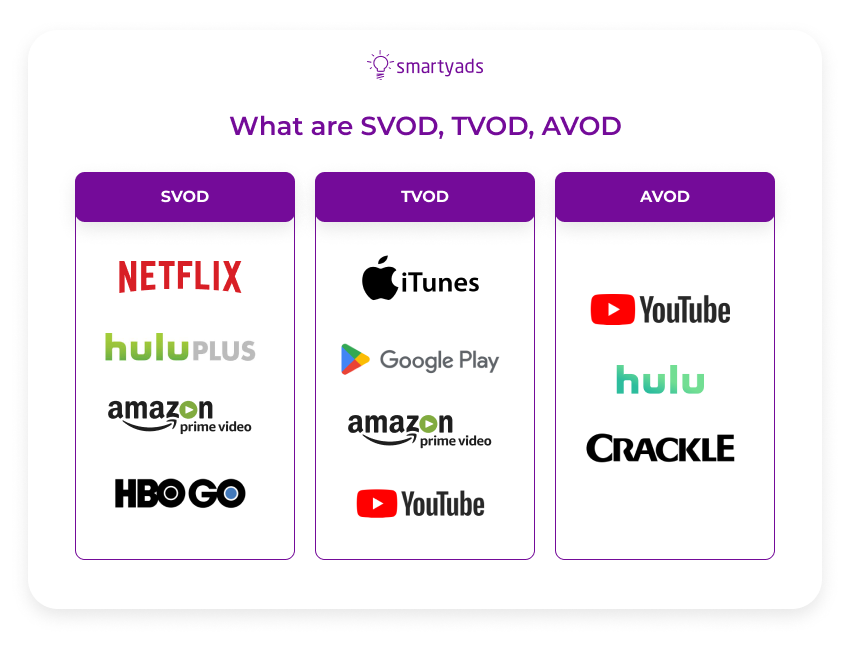 Multichannel program distributors (MVPDs)
They use the payment for streaming and broadcast content. They include streaming services such as AT&T Now, Sling, and YouTube TV.
Video advertising is very important for digital advertising in general and many brands in particular.
Connected TV and OTT advertising play a huge role in developing video advertising, so it will be useful for any marketer to learn about the services on which such advertising can be placed.
What is OTT advertising?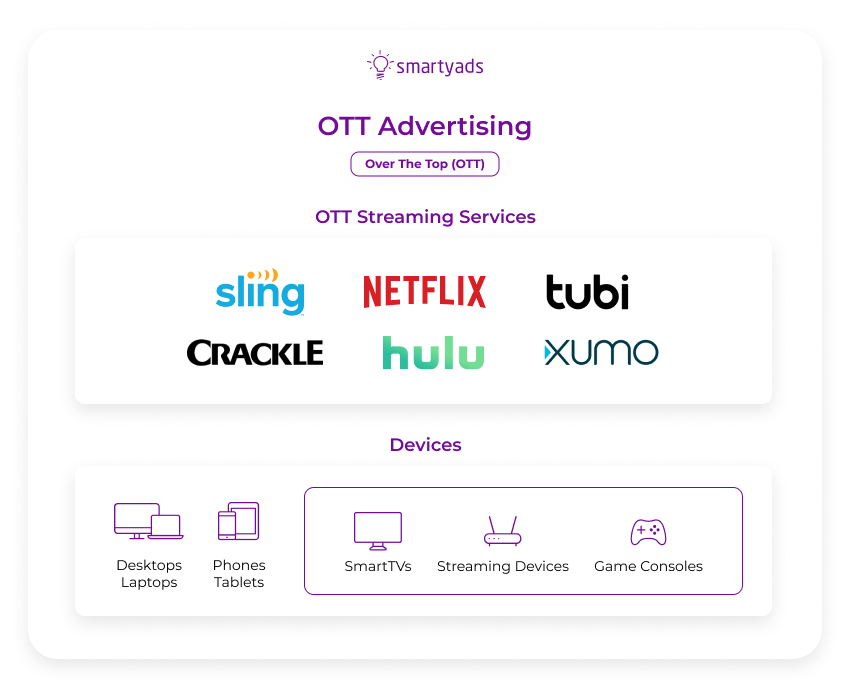 OTT advertising can be enabled by programmatic advertising delivered to viewers via online platforms or streaming devices.
Usually, these are video ads, but OTT allows other types of ads to be displayed, including audio and interactive ads.
There are several types of OTT advertising purchases:
Programmatic advertising
Programmatic advertising is represented by automated media buying initiated by the video hosting through specialized platforms. The method has obvious advantages in terms of optimization and targeting.
Targeting in programmatic personalizes impressions for different users, even though they may be watching the same show.
In other words, the platform primarily considers the user's interests and uses them to select TV advertising that is most suitable for display.
This way, cord-cutters won't be annoyed by watching the ads but will move further down the marketing funnel.
Additionally, this data-driven digital technology allows advertisers to run ads according to budget strategy. Companies and businesses can adjust media selection rules and distribution of marketing budgets.
The OTT business commercials can also be optimized for certain media (depending on the advertising platform's functionality).
Plus, programmatic advertising platforms are also good for companies because this digital technology has real-time reporting and analysis.
Direct purchase on the platform
This method of placing OTT ads involves interaction with the device provider.
Direct purchase from the publisher
Advertisers who want to know for sure where their ads will be placed normally choose direct programmatic deals. Unlike in RTB auctions, in direct deals publisher sells ad inventory directly to the advertiser.
This approach allows you to choose the place and time of display of advertising materials and the option of targeting your audience. Everything would be fine, but such integrations are incredibly expensive.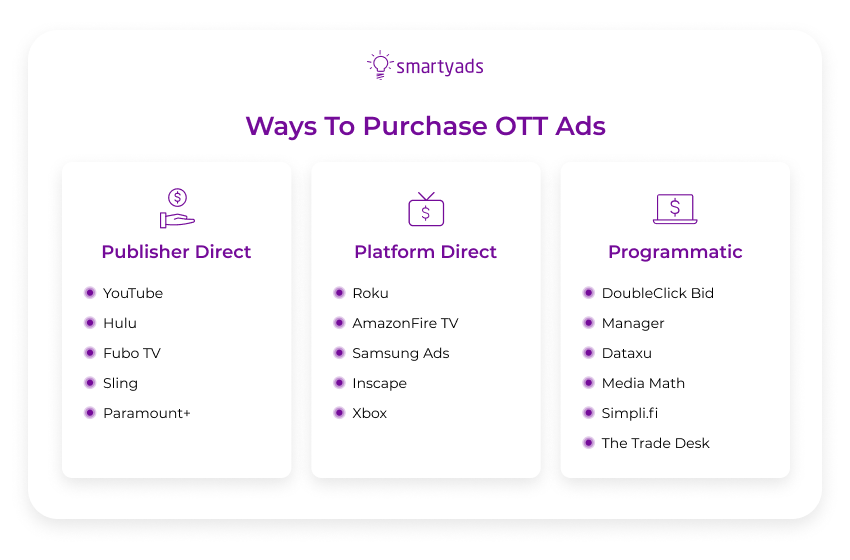 Streaming services do not need to worry about planning the broadcasting grid or the show's geography.
Unlike television, viewers can access long-form content anytime, as long as they have access to a platform in a particular region.
It is predicted that by 2027 the revenue per user from OTT advertising will exceed the revenue from streaming subscriptions.
The grow of Over The Top advertising revenue per user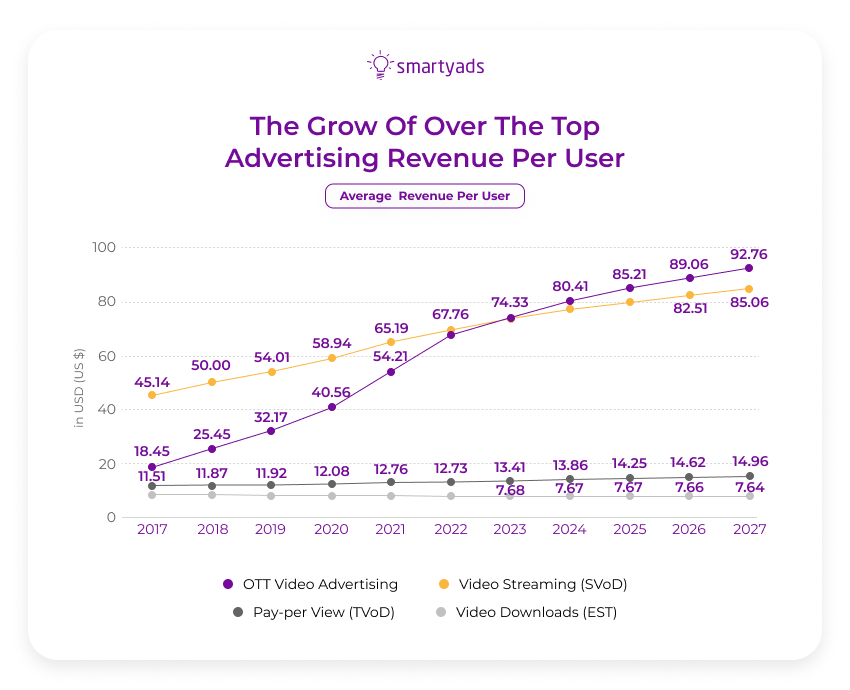 Advertising agencies
Sometimes an advertising agency or business helps a brand create its own OTT advertising service.
For example, the independent advertising agency WorkInProgress helped Dominos gain additional advertising independence in OTT advertising.
And Allstate created a whole infomercial because, at some point, they changed their advertising agency and, accordingly, their TV advertising strategy, which is the basis of their marketing.
A media buying, marketing, or advertising agency can have a huge influence on the development of TV advertising, as well as on the development of TV advertising strategies for certain brands.
Benefits of Connected TV and OTT advertising
Targeting diversity
Connected TV and OTT advertising can use all sorts of targeting, from geolocation to search histories, watched movies, and installed games. Detailed targeting can help the business to address only the right audience on the proper media sources.
A high percentage of ad visibility
With targeted digital advertising, the user is far from wanting to skip it because the more the ad catches on, the greater its usefulness and, therefore, the percentage of visibility.
Opportunities for advanced analytics
Due to the detailed ad customization and more information, the analytics of Connected TV ads and OTT ads are also more advanced.
Advertisers have data about users and current ad campaigns: the percentage of viewing the ad, interaction with it, the number of skips, and users' actions after viewing the ad.
This, in turn, helps to evaluate the effectiveness of ads and optimize them objectively.
Now, let's review popular OTT advertising companies.
The Best OTT Companies and Streaming Services
Everyone knows about Netflix and Roku, but if you're looking for alternative (sometimes cheaper) options for TV advertising.
Knowing about other services where you can place your video ads or launch an OTT advertising campaign is helpful.
Peacock TV

Peacock is NBCUniversal's new streaming service.
The service combines exclusive original movies, NBC favorites, cult films, unscripted TV shows, live events, news, sports, and popular entertainment.
It is a great option for placing OTT advertising and commercials for any business.
The number of active audiences per month: 33 million.
AT&T TV

AT&T TV is a TV service that offers multichannel streaming using Android TV set-top boxes.
Set-top boxes are rented to subscribers if needed. OTT advertising can be placed for the target audience, which is why many companies often use it.
The number of active audiences per month: 17.1 million.
YouTube TV

YouTube TV is a streaming service that offers live streaming, videos, and cloud DVR from over 85 TV networks.
One of the most famous streaming services and a convenient platform for displaying programmatic advertising and launching OTT campaigns.
The number of active user base per month: 3 million.
ZEE5

ZEE5 is an online OTT platform that offers viewers a fully integrated entertainment offering with live and on-demand broadcasts.
Many viewers allow OTT advertising to reach any target audience the brand needs.
The number of active users per month: 100 million.
Acorn TV

Acorn TV is a U.S. subscription video streaming service that offers television shows.
Programs are available on a variety of devices. Available programs include Amazon Fire TV, Apple TV, and Roku. A great option for placing OTT advertising.
The number of active user base per month: 4 million.
Apple TV+

Apple TV+ provides a subscription-based streaming TV service, including Apple Originals.
Available long-form content includes award-winning series, gripping dramas, innovative documentaries, kids' shows, comedies, and more.
The service can be run on many Apple devices, so it's a good opportunity to launch a multichannel OTT ads campaign.
The monthly user pool: 33.6 million.
BritBox

BritBox is an online digital video subscription service.
It focuses on British series and films.
These are mainly current and past series and films provided by the main British public broadcasters (BBC, ITV, Channel 4, and Channel 5), as well as original shows.
It is a goldmine for advertisers targeting their OTT ads on the British market and a good TV advertising platform for many international brands.
The user pool per month: 2 million.
FuboTV

FuboTV is the leading platform for live sports broadcasts. Highly appreciated by sports fans and world cup fans.
The user pool per month: 1.5 million.
Amazon Prime Video

Amazon Prime Video is an Over The Top streaming video platform that allows Amazon Prime members to watch movies and shows.
It's one of the world's most popular video streaming services, so it'll be perfect for your OTT ads.
The user pool per month: 100 million.
HBO Max

Everyone knows about HBO Max — it's a subscription video streaming service.
The service offers a range of original shows, archived content from the company, and additional content licensed by third-party distributors.
The service is relatively young (founded in 2020), but it is still rapidly gaining popularity, and the number of viewers is only growing.
Therefore, it is a great platform for OTT advertising.
The user pool per month: 37.7 million.
Netflix

Only a hermit living in the deep woods without the Internet probably doesn't know about Netflix. But we'll tell you about it anyway.
Netflix is the world's leading streaming entertainment service, with 207 million paid subscribers in more than 190 countries.
The service lets you watch series, documentaries, and movies in a wide variety of genres and languages. It's an excellent option for placing OTT advertising.
The user pool per month: 207.64 million.
Hulu

Hulu is a leading premium streaming service that offers live and pre-recorded shows and films, with and without TV advertising, in and out of the home.
More and more people are abandoning paid subscriptions in favor of free, but with ads, so Hulu would also be a great option for OTT advertising as well as for CTV advertising.
The active user base per month: 39 million.
Paramount+

Paramount+ is an American subscription video-on-demand streaming service owned and operated by ViacomCBS Streaming.
The service offers films, dramas, news, cartoons, and comedies. Perfect for displaying a wide variety of OTT advertising.
The monthly user base: 20 million.
Rakuten TV

Rakuten TV is a video-on-demand (VOD) streaming TV service that offers films and shows that can be streamed to multiple devices.
The service is very close to Netflix, so OTT advertising will also be very good.
The monthly user base: 7 million.
Rakuten Advertising can help any business to promote services or goods effectively with its media platforms: Rakuten Viki, Rakuten Viber, and more.
Rakuten Advertising an exclusive partner of SmartyAds. Ask your manager to find out more about its media opportunities.
Sling TV

Sling TV is a streaming TV service offering virtual multichannel video shows, videos, and Over The Top services that can be streamed through smart TVs, digital media players, and apps.
A great option for placing OTT advertising.
The monthly user base: 7 million.
Showtime

Showtime is a premium television network that provides distributors with traditional and premium multichannel video programming through Apple TV and Amazon Video Channels.
They offer content from the VOD library and live streaming of Showtime's linear TV service.
It's one of the oldest services for providing video content to users, rightfully earning their trust. Therefore, it's one of the best platforms for Over The Top advertising.
The number of active users per month: 27 million.
Tubi

Tubi is the largest free live TV and movie app that gives viewers access to the largest library of premium TV shows and films through streaming on a connected TV device.
It will be good for both Over The Top and Connected TV advertising.
The number of active users per month: 33 million.
Bottom Line
Over The Top is a great platform for media buying and implementing your digital ad strategy, as it can make your business grow.
Today OTT companies are ample, which allows advertisers to choose the most appropriate marketing channels and media for communication with the right audience.
To provide yourself with a quality advertising platform that guarantees brand safety, companies can use well-known marketing automation platforms like SmartyAds.
Advertise with impact, and create your own OTT media opportunities with SmartyAds DSP.