If you plan to start your own digital business, you won't necessarily need to make big money loans. More than 58% of all registered startups manage to stay afloat with a starting capital of less than $25,000, and the third of them even get by $5,000. At the same time, the shortage of money makes a second of the most important reasons why startups quit during the first year (30% of cases).
The situation when the digital product finds no market implementation still leads the top charts of the most popular project failures (42%). Therefore, before you've chosen a niche, you need to carefully study the market, assess risks, draw up a one-page business plan, and only after that design and develop a service that will conquer the world.
As the notion of ad tech went beyond traditional banner placements to include marketing-data, analytics, and other "mad-tech" space platforms, the number of entrepreneurs who decided to build a business in this niche significantly increased. As one of the most highly-promising technological industries, ad tech has plenty of opportunities to offer. 
Planning expenses
For starters, you need to decide what kind of ad tech product you create and what market needs it will satisfy. For instance, while demand-side platforms help advertisers purchase online inventory, supply-side platforms are created to aggregate this inventory from publishers. Ad networks, meanwhile, work as marketplaces for direct media trading between publishers and advertisers. When you have decided what your product is and for whom you make it, it's time to think about money.
It is important to remember that profit from services is not an end achievement point, but the result of solving the problems of your customers. It needs to be planned, otherwise, you risk spending months creating a company that turns out to be unprofitable in the long run.
Here are several questions that'll help you to test yourself:
How much money will I receive during the first year? (incomes)
How much money will I spend during the year? (expenses)
What's the difference between income and expenses? (profit)
At the very beginning, it's not worth building multi-page Excel documents. Your first calculations should literally fit on a paper napkin.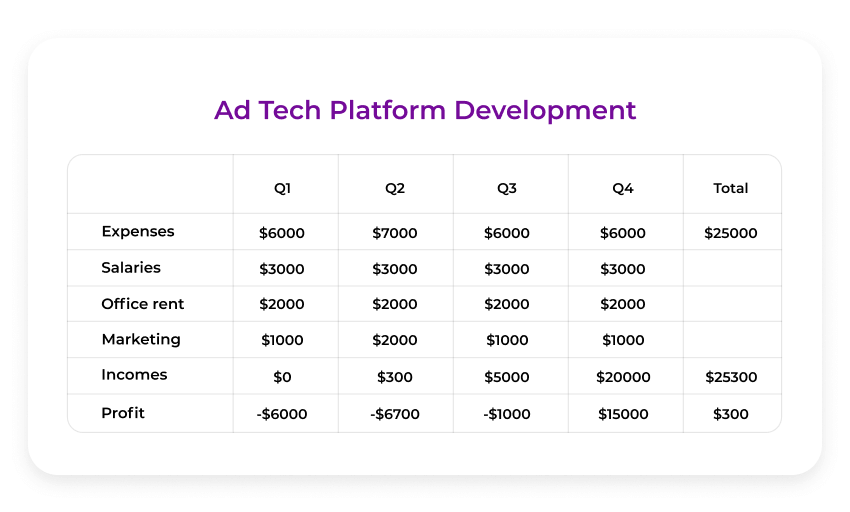 If you look closely at the table, the question arises: where to get all the money that will keep your startup afloat during the first months? For this, you may choose the following options: bank loans, attracting money from investors, crowdfunding, or funding it with your own money.
Assembling the team
Like any other tech solution, ad tech platform building will demand to hire a team of professionals well-versed in various spheres: from technical development to design, testing, and tech assistance. Developers and technical specialists will be in charge of implementing technologies for real-time bidding, data processing, and ad serving - basically everything that it takes to make the platform work.
Also, at a certain stage of product development, you may need to involve SEO specialist, marketer, copywriter, and customer service representatives (on a monthly basis). The main question on this stage is to outsource professionals or hire them in-house?
Many companies apply mixed method: for example, outsource PHP programmers and keep designers on staff, (since they perform many other tasks like developing labels, websites).
The other companies have platform developers in staff, the only thing they need is to outsource designers and copywriters in order to make an attractive website. Different needs of your business will determine the choice.
Building and launching the platform
In the circumstances when you found a very attractive, and most importantly, underrepresented ad tech market niche, the fact how fast you can deploy a working solution will determine everything. Time is money and if you can't fill the vacant niche it will be done by your competitors.
Expect that individual platform development from scratch will take no less than 6 months even if you are promised less. Timing is not only determined by your team's work, add to it necessary procedures like preparing educational materials, pre-project discussion, approving a prototype and technical specifications, official licensing, testing, and integrations.
Another question pops up to the mind: wouldn't it be easier to buy an existing and fully launched platform that excludes all risks associated with these concerns? Indeed, it looks like an easy albeit very expensive type of solution for companies that want to diversify their business. For the small startups, however, this one is not the most optimal.
Plus, due to the fact that a finished solution is already suited to a particular business, it may include too many redundant functions, features, and elements that complicate platform usage. Part of the extra functionality for your platform will have to be disabled, but nevertheless, you will have to pay for it. The white-label platform development is what helps to overcome the majority of these problems.
White Label: ready-made but individual
White Label business model is a relatively new concept that pretty much reminds purchasing a finished platform from another ad tech company. The difference is, ad tech provider gives you a fully tuned and working 'white label' technology that is not labeled and not positioned on market yet.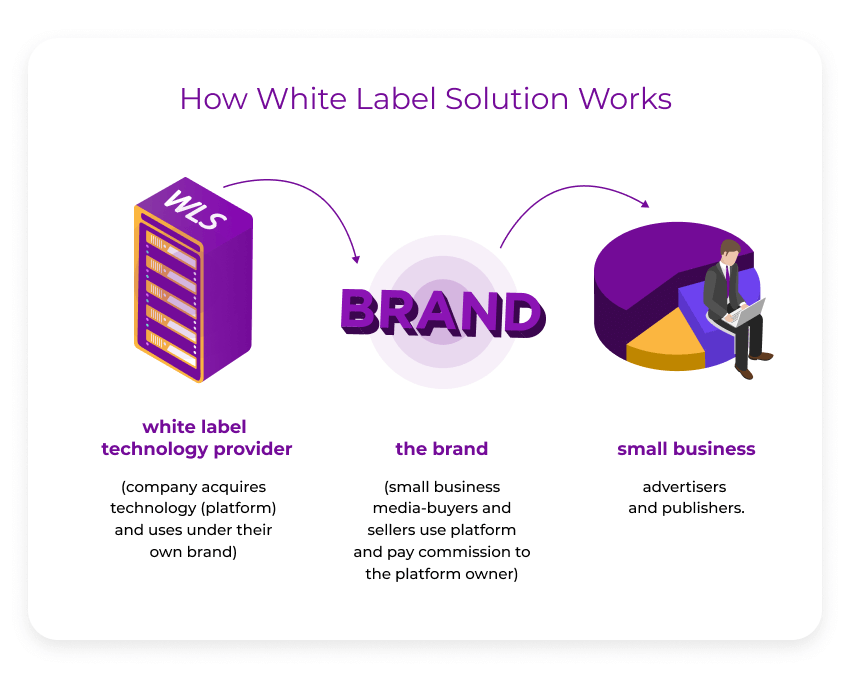 If you build a white label ad exchange using existing tech stack it will mean you won't have to invest money in building it from scratch. The white-label will also remove all hectic work with licensing, testing, and designing, but more importantly, you'll receive a complete software piece, quality of which is time-proved.
In general, it takes several days to several weeks to install and launch a white-label platform (depending on a number of custom features you will require).
However, time and cost-efficiency are not the only reasons why startups prefer to use this model. Sooner or later your platform from scratch will demand updates to scale up and adapt to the new needs of your customers. Unless you don't want to fall behind your competitors you'll need additional investments in platform renovation and further development. The white-label platform, however, is a flexible and custom solution that can be adjusted and changed whenever new needs arise.
The last word
Building your own proprietary ad tech solution is an extremely resource-consuming task, in terms of everything: money, time, people and their efforts. While some entrepreneurs plan it the old way, without guarantees that future solution will measure up with existing ones, others actively build them on white label. Since this model has all perks of a finished solution but excludes its popular disadvantages, it can be an affordable way for small and medium-sized companies to build an ad tech business in the niche they want. 
Need a proved WL platform to let your ad business grow and evolve? Let us know!